Classic Dessert Recipes to Help You Become a Master Baker
Delving into the world of baking can often seem overwhelming. With an endless slew of delicious desserts just dying to be made, the task of determining which ones to begin with can be pretty intimidating, to say the least. Before you try your hand at baked Alaska, tiramisu, and macarons, we suggest starting with these 6 classic dessert recipes. From basic chocolate chip cookies to tantalizing brownies to a magnificent pound cake, these desserts are perfect for casual get togethers, elegant dinner parties, and everything in between.
Keep reading — with a little help from these recipes, you'll be preparing bakery-worthy desserts in no time!
1. Chocolate Chip Cookies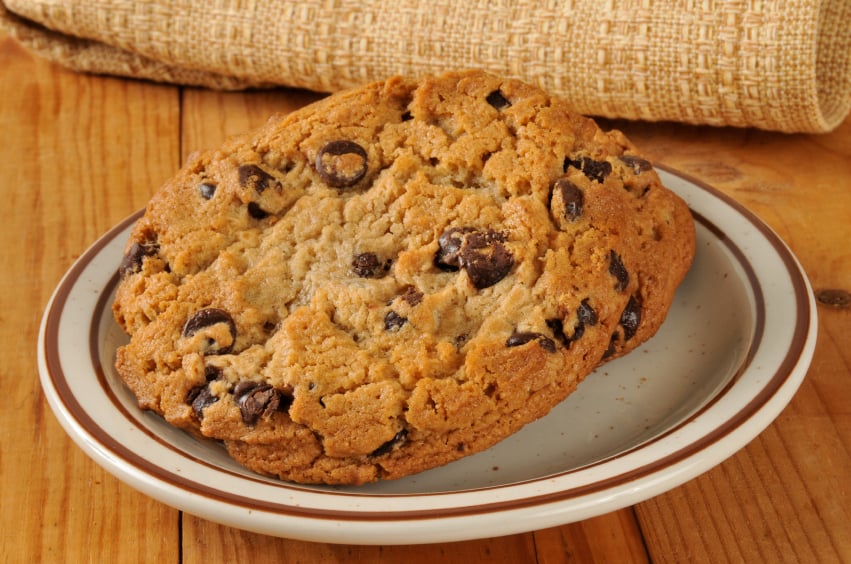 Milk & Cookies Bakery swears by this recipe, featured on The Daily Meal, and soon you will too! Chocolate curls melt into vanilla-flavored dough, which ensures that chocolate is spread evenly throughout each cookie. That isn't the only chocolate in this recipe, either; each cookie has even more sweet flavor due to the chocolate chunks that are also used.
Start by preparing the dough, and then stir in the chocolate chunks and curls, mixing until everything is evenly distributed. Be careful not to overmix — this can make the cookies overly dry. Scoop the dough onto prepared baking sheets, gently flatten each one, and bake. It's important to also avoid overbaking. Part of what makes these cookies so good is there slightly chewy center.
Ingredients:
All-purpose flour, for dusting
2 cups semisweet chocolate chunks
2 cups bittersweet chocolate curls or shavings
Directions: Preheat the oven to 350 degrees Fahrenheit. Line 2 baking sheets with nonstick silicone baking sheets or parchment paper. Set aside.
Prepare the vanilla base dough. While the dough is still streaky, remove the bowl from the mixer and scrape the paddle clean. Lightly flour a clean, flat work surface.
Scrape the dough onto the lightly floured surface. Lightly flour your hands and finish mixing the dough by using a light kneading motion, working until the dough is just blended. Do not overwork the dough, you just want to be certain that all of the ingredients are just blended together.
Using a wooden spoon, stir in the chocolate chunks and curls, mixing until evenly distributed. Portion out tablespoonfuls of dough, roll into balls, and place about 2 inches apart on prepared baking sheets. Gently flatten each one a bit.
Transfer to oven and bake for about 15 minutes, or until lightly browned around the edges and set in the center, being careful not to overbake. Remove from the oven and, using a metal spatula, transfer the cookies to wire racks to cool. Store, airtight, at room temperature for up to a week.
2. Moist Devil's Food Cake
Take a page from Martha Stewart's book, and bake her recipe for moist devil's food cake. This dessert works well for birthdays, dinner parties, and as a simple afternoon snack cake. The rich chocolate cake is made even more decadent due to the heavenly frosting that's slathered all over it. Trust us — this is one recipe worth mastering. We guarantee you'll use it again and again.
Ingredients:
1½ cups unsalted butter, plus more for pans
¾ cup Dutch-process cocoa powder, plus more for pans
½ cup boiling water
2¼ cups sugar
1 tablespoon pure vanilla extract
4 large eggs, lightly beaten
3 cups sifted cake flour
1 teaspoon baking soda
½ teaspoon salt
1 cup milk
Directions: Heat oven to 350 degrees. Arrange two racks in center of oven. Butter three 8-by-2-inch round cake pans; line bottoms with parchment. Dust bottoms and sides of pans with cocoa powder; tap out any excess. Sift cocoa into a medium bowl, and whisk in boiling water. Set aside to cool. In the bowl of an electric mixer fitted with the paddle attachment, cream butter on low speed until light and fluffy.
Gradually beat in sugar until light and fluffy, 3 to 4 minutes, scraping down sides twice. Beat in vanilla. Drizzle in eggs, a little at a time, beating between each addition until the batter is no longer slick, scraping down the sides twice. In a large bowl, sift together flour, baking soda, and salt. Whisk milk into reserved cocoa mixture. With mixer on low speed, alternately add flour and cocoa mixtures to the batter, a little of each at a time, starting and ending with flour mixture.
Divide batter evenly among the three prepared pans. Bake until a cake tester inserted into center of each layer comes out clean, 35 to 45 minutes, rotating the pans for even baking. Transfer layers to wire racks; let cool, 15 minutes. Turn out cakes, and return to racks, tops up, until completely cool.
Remove parchment from bottoms of cakes. Reserve the prettiest layer for the top. Place one cake layer on a serving platter; spread 1½ cups chocolate frosting over the top. Add the second cake layer, and spread with another 1½ cups frosting. Top with third cake layer. Cover outside of cake with the remaining 3 cups frosting. Serve.
3. Caramel-Pecan Brownies
When a sugar craving hits, you'll be grateful you know how to make Kraft's caramel-pecan brownies. Gloriously gooey chocolate, creamy caramel, and pecans work together to create a stunningly sweet dessert. To make this treat, simply microwave chocolate and butter, and add sugar and eggs to the melted mixture, mixing well. Stir in flour, and spread half of the batter into a prepared pan. While your brownies are baking, microwave the caramels and cream, stirring in the nuts.
When the brownies are firm, remove from the oven, spread the caramel mixture over them, and top with the remaining brownie batter. Sprinkle with nuts, bake for a bit longer, and enjoy!
Ingredients:
1 (4-ounce) package unsweetened chocolate
¾ cup butter or margarine
2 cups sugar
4 eggs
1 cup flour
1 (11-ounce) package caramels
⅓ cup whipping cream
2 cups pecan halves, divided
Directions: Preheat oven to 350 degrees Fahrenheit. Line 13-by-9-inch pan with foil, with ends of foil extending over sides. Spray foil with cooking spray. Microwave chocolate and butter in large microwaveable bowl on high 2 minutes or until butter is melted. Stir until chocolate is completely melted. Add sugar and eggs; mix well. Stir in flour until blended. Spread half the batter into prepared pan.
Bake 25 minutes or until top is firm to the touch. Meanwhile, microwave caramels and cream in medium microwaveable bowl on high 2 minutes or until caramels begin to melt; stir until caramels are completely melted. Stir in 1 cup nuts.
Spread caramel mixture over brownie layer in pan; cover with remaining brownie batter. Sprinkle with remaining nuts. Bake 30 minutes or until top is firm to the touch. Cool in pan on wire rack. Lift brownies from pan with foil handles before cutting into squares.
4. Million Dollar Pound Cake
Basic baking staples, including butter, sugar, eggs, flour, milk, and almond and vanilla extract, are all you need to make Southern Living's million dollar pound cake. Once you make this cake, you can serve it as is, dress it up with whipped cream or strawberries, or drizzle it with glaze. It's important to note that you should spend a decent amount of time beating your butter, as the air in it is what helps the cake rise. As you beat the butter, it will become a lighter yellow color, which can take anywhere from 1 to 7 minutes.
Ingredients:
1 pound butter, softened
3 cups sugar
6 large eggs
4 cups all-purpose flour
¾ cup milk
1 teaspoon almond extract
1 teaspoon vanilla extract
Directions: Preheat oven to 350 degrees Fahrenheit. Beat butter at medium speed with an electric mixer until creamy. Gradually add sugar, beating at medium speed until light and fluffy. Add eggs, 1 at a time, beating just until yellow yolk disappears.
Add flour to creamed mixture alternately with milk, beginning and ending with flour. Beat at low speed just until blended after each addition. Stir in extracts. Pour into a greased and floured 10-inch tube pan.
Bake at 300 degrees for 1 hour and 40 minutes or until a long wooden pick inserted in center comes out clean. Cool in pan on a wire rack 10 to 15 minutes. Remove from pan, and cool completely on a wire rack.
5. Applesauce-Chocolate Chip Bundt Cake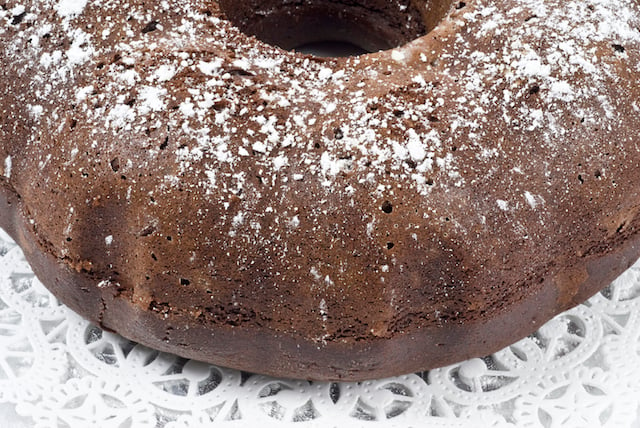 Bundt cakes are a simple, yet sophisticated, dessert perfect for any occasion. Food & Wine's recipe requires only one bowl and relies on cinnamon, cardamom, cloves, pepper, applesauce, and chocolate chips to give it great flavor. It serves 12.
Ingredients:
2½ cups all-purpose flour, plus more for dusting
1½ cups granulated sugar
2 teaspoons baking soda
2 teaspoons cinnamon
1 teaspoon ground cardamom
1 teaspoon salt
½ teaspoon ground cloves
½ teaspoon freshly ground pepper
2 cups unsweetened applesauce
2 large eggs, lightly beaten
½ cup vegetable oil
1 stick unsalted butter, melted
1 (12-ounce )bag semisweet-chocolate chips
Confectioners' sugar, for dusting
Crème fraîche, for serving
Directions: Preheat the oven to 350 degrees Fahrenheit. Butter and flour a 12-cup Bundt pan. In a large bowl, whisk the flour with the granulated sugar, baking soda, cinnamon, cardamom, salt, cloves, and pepper. Whisk in the applesauce, eggs, oil, and melted butter. Fold in the chocolate chips.
Scrape the batter into the prepared pan. Bake for 1 hour and 15 minutes, or until a toothpick inserted in the center comes out with a few moist crumbs attached. Transfer the pan to a rack and let the cake cool for 10 minutes, then invert it onto the rack and let cool completely, about 20 minutes. Sift confectioners' sugar over the cake, slice, and serve with crème fraîche.
6. Lemon Meringue Pie
Refreshing lemon paired with light-as-air meringue will steal the spotlight at the dessert table. Make the pastry, warm the pie shell, and create the pie filling via your stovetop. Spread the filling into the pie shell, cover, and let it refrigerate for 2 hours. Prepare your meringue using egg whites and sugar, spread on top of your filling, and bake until the meringue is slightly brown. Delish's recipe serves 10.
Ingredients:
Filling
½ cup corn starch
1 cup superfine sugar
½ cup lemon juice
1¼ cups water
2 teaspoons finely grated lemon rind
½ stick unsalted butter
3 eggs
½ cup super fine sugar
Pastry
1½ cups all-purpose flour
1 tablespoon powdered sugar
9 tablespoons cold butter
1 egg yolk
2 tablespoons cold water
Directions: In a food processor, pulse flour, powdered sugar, and butter until crumbly. Add egg yolk and the water; process until ingredients come together. Knead dough on a lightly floured surface just until smooth. Cover; refrigerate 30 minutes. Grease 8-inch removable-bottom tart pan. Roll pastry between sheets of parchment until large enough to line pan. Ease pastry into pan, press into base and side; trim edge. Cover and chill for 30 minutes.
Preheat oven to 450 degrees Fahrenheit. Place pan on oven tray. Line pastry case with baking paper; fill with dried beans or rice. Bake 15 minutes; remove paper and beans carefully from pie shell. Bake about 10 minutes; cool pie shell, turn oven off. Meanwhile, combine corn starch and sugar in medium saucepan; gradually stir in juice and the water until smooth. Cook, stirring, over high heat, until mixture boils and thickens. Reduce heat; simmer, stirring, 1 minute. Remove from heat; stir in rind, butter, and egg yolks. Cool 10 minutes.
Spread filling into pie shell. Cover; refrigerate 2 hours. Preheat oven to 450 degrees Fahrenheit. Beat egg whites in small bowl with electric mixer until soft peaks form; gradually add extra sugar, beating until sugar dissolves. Roughen surface of filling with fork before spreading with meringue mixture. Bake about 2 minutes or until browned lightly.