7 Recipes That Make Classic Meals Into Gourmet Sandwiches
Sometimes, you're out of clean forks. Sometimes, you just need a sandwich. Branch out from the cold cuts and sliced cheese, though. Whether you're looking for a new way to eat a favorite meal or a way to love your leftovers, making your meal into a sandwich can be just the way to update a recipe. These recipes don't just take a scoop of last night's dinner and plop it between two slices of bread, though — they're classic meals reimagined as sandwiches.
1. Lasagna Grilled Cheese
No, this isn't a slice of lasagna between two slices of bread. Instead, Joy the Baker takes the two most iconic flavors of lasagna, tomato and ricotta, and transforms them into a lasagna-esque sandwich. It's then griddled to a golden crisp. Beware: Hot ricotta may get everywhere on your first delicious bite.
Ingredients:
4 slices of a good, sturdy bread
2 tablespoons unsalted butter with a dash of olive oil
½ cup part-skim ricotta cheese
2 tablespoons chopped fresh basil
Salt and pepper, to taste
1 (14-ounce) can cherry tomatoes
½ cup shredded mozzarella cheese
Extra salt and pepper for seasoning
Directions: Arrange bread slices on a work surface. Meanwhile, melt butter in a nonstick skillet set over medium-low heat.
In a small bowl, stir ricotta, basil, salt, and pepper well until combined. Add a bit of mozzarella to each bread slice, then top two of the slices with a few cherry tomatoes, smashing slightly to fit. Season with salt and pepper. Add ricotta mixture to the remaining two slices. Close one tomato slice and one ricotta slice to make sandwiches. Cook in skillet until golden on the outside and cheese is melted, about 3 minutes per side. Remove from pan, slice, and serve.
2. Chicken Pot Pie Salad Sandwiches
A mashup of chicken salad and chicken pot pie, these sandwiches don't have to be served as "sliders" on biscuits, but why wouldn't you? For a super easy meal, Cooking Channel uses rotisserie chicken and store-bought biscuits. You are, as always, invited to make your own!
Ingredients:
2 tablespoons unsalted butter
1 small red onion, cut into ½-inch dice
2 sprigs thyme
Kosher salt and freshly ground black pepper
1 small carrot, peeled and cut into ½-inch dice
½ cup dry white wine
¼ cup half-and-half
½ rotisserie chicken, skin and bones discarded, meat shredded
⅓ cup mayonnaise
¼ cup fresh flat-leaf parsley, roughly chopped
1 stalk celery, cut into ⅓-inch pieces
2 ounces sugar snap peas, cut into ¼-inch pieces
6 store-bought biscuits, split
Directions: Melt the butter in a large skillet over medium heat. Add the onions, thyme, a large pinch of salt, and a few grinds of pepper and cook, stirring occasionally, for 5 minutes. Add the carrots and continue to cook until the onions are softened and browned in spots, 3 to 5 minutes more. Add the wine, increase the heat to medium-high, bring the wine to a boil, and cook until reduced by half, 2 to 4 minutes. Turn off the heat, stir in the half-and-half, and mix in the chicken. Transfer the mixture to a large mixing bowl and refrigerate until cool, about 30 minutes.
Discard the thyme. Stir in the mayonnaise, parsley, celery, and snap peas, and season with salt and pepper. Divide the chicken mixture among the biscuits and serve immediately.
3. Shakshuka Open-Faced Sandwich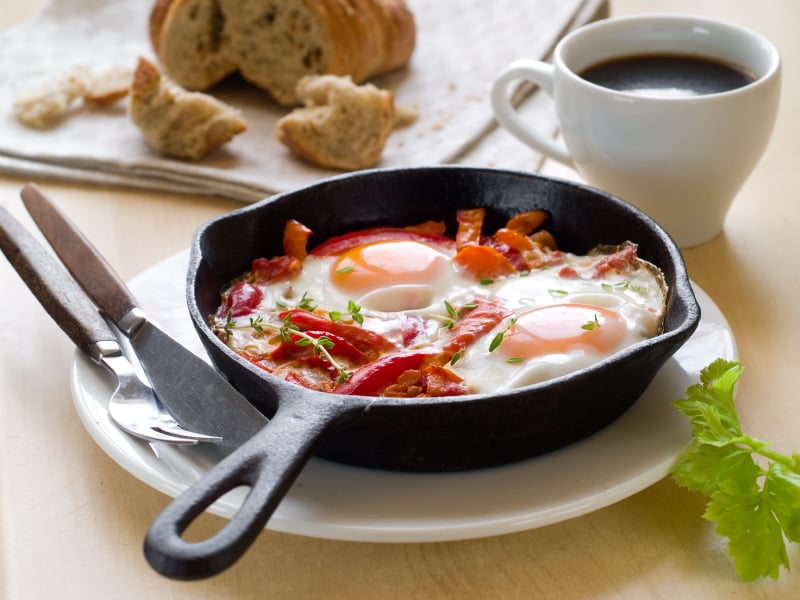 Shakshuka is a classic Middle Eastern dish of eggs cooked in a spiced tomato sauce, often accompanied by red peppers. Here, Stephanie Smith from 300 Sandwiches turns it into an open-faced sandwich in a new way to make an egg-and-cheese sandwich.
Ingredients:
4 eggs
4 English muffins or Portuguese sandwich muffins
1 tablespoon olive oil
4 cloves garlic, crushed
2 cups marinara sauce
1 green bell pepper, cut into strips
1 red bell pepper, cut into strips
1 small red onion, cut into strips
1 tablespoon smoked paprika
1 tablespoon black pepper
¼ cup fresh basil leaves
¼ cup crumbled feta cheese
Directions: Heat olive oil in a large skillet with a lid,. Add garlic and cook, stirring, for about 30 seconds. Add both peppers along with onions. Cook, stirring, for about 5 minutes. Add marinara and simmer for about 5 minutes.
Create four wells in pepper-tomato mixture, then crack one egg into each well. Cover the skillet with the lid and let gently cook for about 6 minutes. When the eggs are nearly done, sprinkle with cheese and basil. Remove from heat.
Toast English muffins until golden brown. On a plate, lay out a split muffin and spoon one egg with peppers and sauce on top. Repeat with remaining ingredients. Serve at once.
4. Bacon Mac-and-Cheese Sandwich
You can either use leftover baked mac and cheese to make this sandwich from Food Network or you can use the recipe provided for easy mac and cheese. If you're a Velveeta user, use Velveeta here. If Velveeta isn't your thing (we seriously understand), use cream cheese instead. Make sure you use a really sharp cheddar.
Ingredients:
Mac and cheese
8 ounces elbow macaroni
Kosher salt
3 tablespoons unsalted butter
3 tablespoons all-purpose flour
3 cups milk
8 ounce processed cheese, such as Velveeta
1½ cups shredded sharp yellow cheddar
Splash hot sauce, or pinch of cayenne
Freshly ground black pepper
Sandwiches
4 cups mac and cheese
8 slices country white bread, buttered
4 slices cheese
8 slices thick-cut smoked bacon, cooked
2 Roma tomatoes, sliced into ¼-inch slices, optional
Hot sauce, optional
Directions: To cook the mac and cheese, boil the pasta according to package specifications to al dente. Drain.
Melt the butter in a medium saucepot over medium heat. Whisk in the flour and stir for a couple of minutes, making sure it's free of lumps and the flour taste is cooked out. Stir in the milk, bring to a simmer, and cook over medium-low until thickened, about 5 minutes. Stir in the processed cheese and cheddar until melted, add the hot sauce, and fold in the macaroni. Sprinkle with salt and pepper.
Evenly spread the mac and cheese in an 8-inch square baking dish. Cover the dish with plastic wrap and refrigerate until firm, about 1 hour. Cut the mac and cheese into 4 equal-size squares.
Preheat a griddle over medium-low heat. Place each mac and cheese square on a slice of bread, then top with 1 slice cheese and 2 slices bacon. Top with a second piece of bread and griddle the sandwich until golden and warm, about 4 minutes per side. Repeat with the remaining ingredients. Serve.
5. French Onion Soup Sandwiches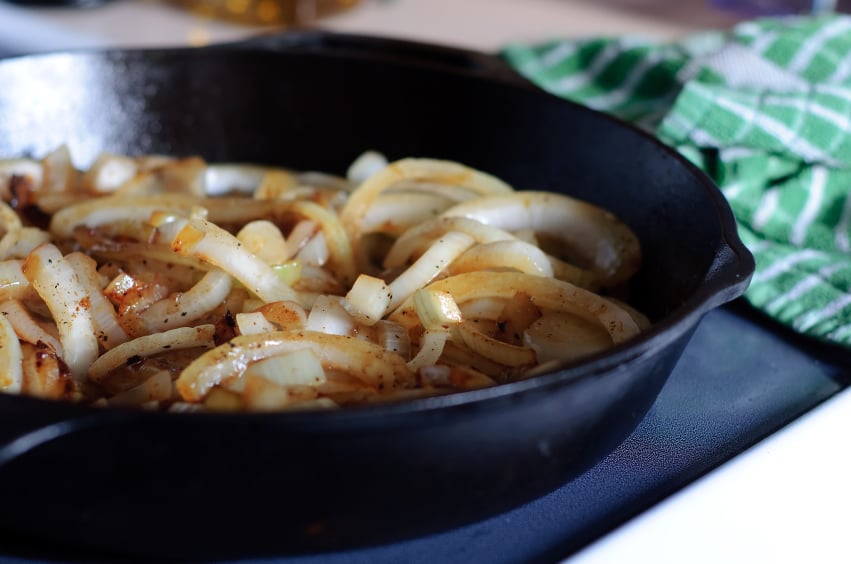 Joy the Baker really likes making things that are decidedly not sandwiches into sandwiches, and she's at it again with these soup sandwiches. If you're really into caramelized onions, make this sandwich. If you have leftover French onion soup, put it back on the stove and cook it all the way down.
Ingredients:
2 medium yellow onions, peeled, cut in half, and sliced into ¼-inch thick semi-circles
3 tablespoons unsalted butter, softened, plus more for buttering the bread
1 tablespoon olive oil
1 scant teaspoon coarse sea salt
1 teaspoon fresh thyme leaves
½ teaspoon fresh-cracked black pepper
Pinch of granulated sugar
3 tablespoons beef broth, beer, or white wine to deglaze the pan
½ cup finely shredded Gruyère cheese; use more cheese to your own taste
4 slices bread
Directions: Heat olive oil and butter in a medium heavy-bottomed sauce pan over medium heat. Add onions and stir to coat. Let cook without stirring for about 4 minutes. Season with salt, pepper, and thyme. Stir well, then cover with a lid. Let cook about 4 minutes, reducing heat if browning too fast. Continue to cook and stir in this manner until onions are very tender and well browned, like a jam.
Once onions are finished, add you liquid of choice. Using a wooden spoon, scrape brown bits from the bottom of the pan. Remove from heat.
Butter one side of each bread slice.  On the unbuttered side, add some Gruyère, onion mixture, then more cheese. Close with another slice of bread. Repeat to make another sandwich.
Cook sandwiches over medium heat in a medium sauté pan until both sides are golden and cheese is completely melted.  Serve immediately.
6. Pot Roast Sandwiches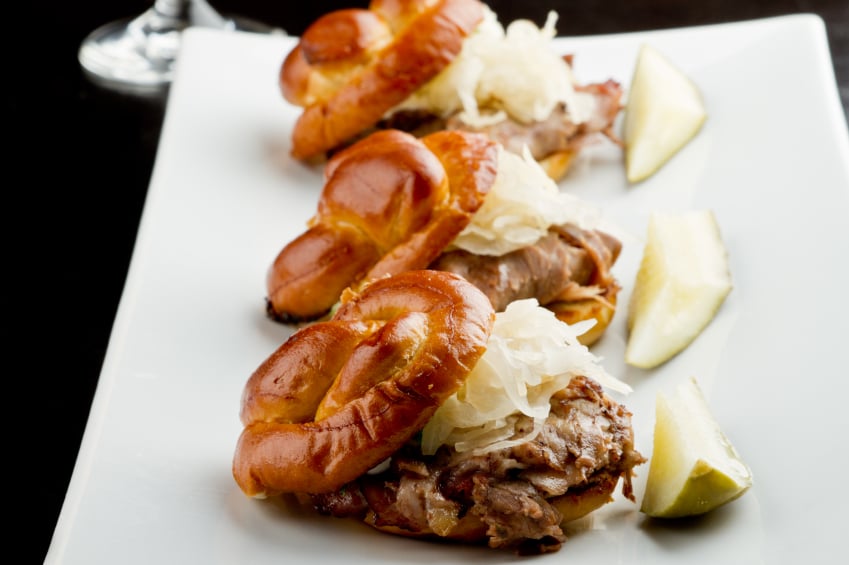 A little reminiscent of a French dip sandwich, these pot roast sandwiches are — you guessed it — a great way to use up leftover pot roast. They're also a wonderful way to get through a pot roast craving without sitting down to a big Sunday dinner. These sandwiches from Oh Sweet Basil don't have carrots and potatoes, so maybe you should make some fries on the side!
Ingredients:
Beef
1½ pound tri-tip
2 bay leaves
½ teaspoon dried thyme
½ teaspoon onion powder
½ teaspoon garlic powder
½ teaspoon dried rosemary
1 teaspoon salt
½ teaspoon black pepper
Gravy
¾ cup beef drippings
1 cup water
2 tablespoons cornstarch
¼ cup cold water
Salt and pepper, to taste
Onions
1 tablespoon butter
1 onion, sliced
Sandwich assembly 
Hoagie rolls or baguette
Butter for toasting
Directions: Add beef, seasonings, and butter to a slow cooker. Cover and cook on low for 8 hours, flipping over halfway through cooking time.
Twenty minutes before the beef is done, add 1 tablespoon of butter to a skillet set over medium heat. WHen melted, add onions and stir well to coat. Reduce heat o low and cook, stirring often, for about 20 minutes.
When the beef is done, remove from slow cooker, then pour drippings into a saucepan. Add 1 cup of water and bring to a boil. Create a slurry with the cornstarch and cold water. While whisking contantly, slowly add slurry to drippings. Once boiling again, reduce heat to medium low and let simmer until thickened, about 10 minutes.
Butter and toast the bread face-down on a skillet, oven, or toaster oven. Meanwhile, shred beef using two forks. Add beef to bread to make sandwiches and top with onions and gravy. Serve.
7. Loaded Turkey Panini
Packed with turkey, pear slices, bacon, crisped sage, Muenster cheese, and goat cheese, this recipe from Pinch of Yum is perfect for your midday meal. It's easy, satisfying, and bursting with vibrant flavors. It yields 1 serving.
Ingredients:
2 slices of thick, sturdy white or wheat bread
1 tablespoon butter
A few slices of turkey
A few sage leaves
A few spoonfuls of cranberry sauce
1 ounce goat cheese
2 slices cooked bacon
1 slice Muenster cheese
Directions: Heat a skillet or panini press to medium-high heat. Arrange bread on a work surface. Layer all ingredients between the bread in this order: turkey, safe, cranberry sauce, goat cheese, bacon, and Muenster. Close sandwich, then spread outside of each bread slice with butter. Transfer to skillet or panini press and cook until golden on the outside and cheese is melted. Remove to a cutting board, slice, and serve.