5 Healthy Versions of Classic Thanksgiving Pies
Skinny or low-fat food options are not always exactly appetizing, but you may be surprised by how seemingly indulgent many of these healthier dessert dishes are. Pumpkin, sweet potato, apple, and pecan pies are quintessential Thanksgiving desserts, and all can be easily turned into healthier, lighter desserts. A few baking substitutions can do wonders for a holiday pie's calorie count, and you don't even have to tell your guests you're serving them the lighter fare — just check out these 5 recipes to see for yourself!
1. Skinny Pumpkin Pie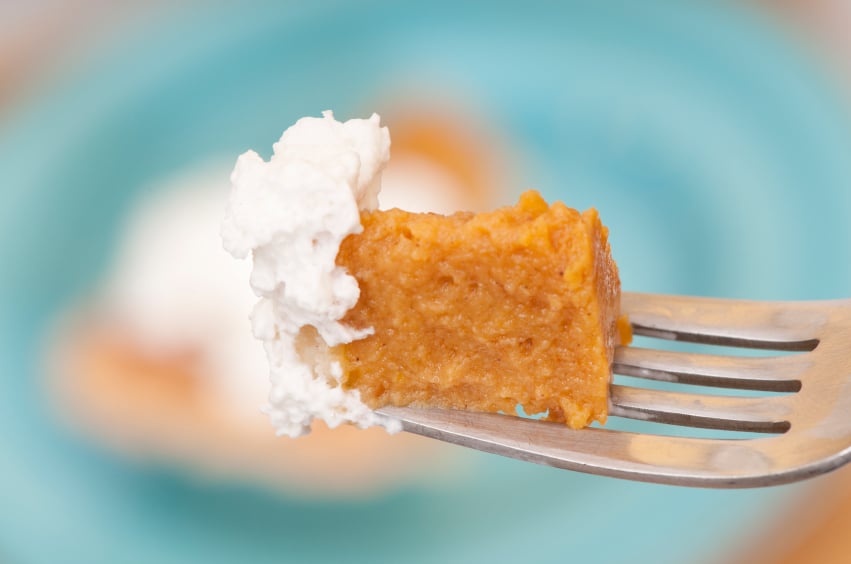 First up is a formula for making your favorite pie the lighter way. This recipe comes from Skinny Taste and Gina's secret is all in the crust. She explains that by enlisting store-bought crust and rolling it out thinner, you actually get a lower calorie count for your pie because you're avoiding the thick calorie-rich crust. Her filling is also lower in calories compared to other pumpkin pie recipes thanks to the use of fat-free milk, light brown sugar, light butter, and 1 egg and 2 egg whites.
Ingredients:
15 ounces canned pumpkin
2 tablespoons light butter, softened
¾ cup light brown sugar, unpacked
½ cup fat free milk
1 large egg
2 large egg whites
¼ teaspoon ground nutmeg
½ teaspoon ground cinnamon
1 teaspoon vanilla extract
1 frozen pie crust sheet
Head to Skinny Taste for the full recipe.
2. Sweet Potato Pie
Instead of buying canned pumpkin for your Thanksgiving dessert, you can also buy canned sweet potato for your pie filling, or bake the superfood fresh and puree it yourself. If you're willing to take a year off pumpkin pie, consider trying this recipe for healthier sweet potato pie from Allrecipes.com. The superfood power of sweet potatoes amps up the nutritional profile of this dish, but it is still decadent-tasting on account of the spices, butter, and sugar that complement the sweet potato perfectly.
Ingredients:
1 sweet potato (1 pound)
½ cup butter, softened
½ cup white sugar
1 cup low-fat milk
2 eggs
½ teaspoon ground nutmeg
½ teaspoon ground cinnamon
1 teaspoon vanilla extract
1 unbaked whole wheat pie crust
Head to Allrecipes.com for the full recipe.
3. Better-for-You Pecan Pie
Next up is an ode to another Thanksgiving classic: pecan pie. Can you just taste the cloyingly sweet dish now? The good news is that there is a way to lighten up the pie, and we are highlighting a recipe from Shape that does so by keeping butter and corn syrup off the dessert's ingredient list. Save those calories for your Thanksgiving leftovers and thank us later.
Ingredients:
1 cup light brown sugar
¼ cup white sugar
¼ cup coconut oil
3 eggs
1 tablespoon all-purpose flour
1 tablespoon 2% milk
1 teaspoon vanilla extract
1 cup chopped pecans
Head to Shape for the full recipe.
4. Healthier Apple Pie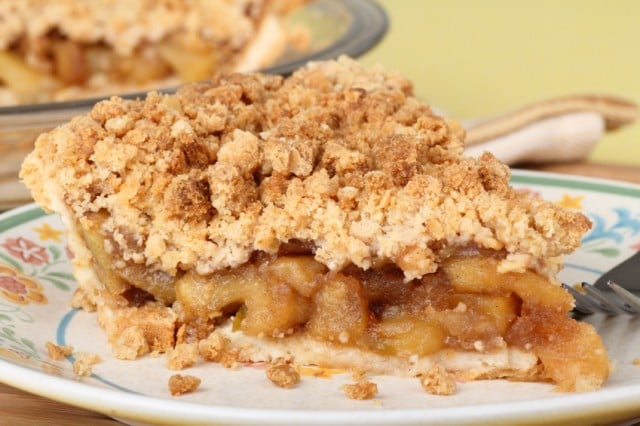 Apple pie is another fan favorite on the fourth Thursday in November, but this is one more dish that doesn't have to be devastating to your diet. Enter: lighter apple pie via Allrecipes.com. The recipe developer behind this formula cuts down on the dish's butter content and completely eliminates its white sugar, letting the natural sugar from the apples shine. You'll be surprised by how much you don't miss the added sugar, and your guests won't even notice … only their skinny jeans will.
Ingredients:
1 recipe pastry for a 9-inch double crust pie
¼ cup unsalted butter
3 tablespoons all-purpose flour
¼ cup water
½ cup packed brown sugar
8 Granny Smith apples — peeled, cored and sliced
Head to Allrecipes.com for the full recipe.
5. Lightened-Up Peanut Butter Pie
And just in case peanut butter is your family's flavor of choice, no matter what the occasion, here's a recipe from Cooking Light that will perfectly round out your big meal. Requiring only 7 ingredients, this pie is easy to make and easy to eat, and its prep work won't stress you out, thanks to shortcuts provided by prepared whipped topping and pre-made graham cracker crusts. Focus your energy on the turkey and rest assured this "healthier" pie can be made ahead of time, and then stored in the refrigerator.
Ingredients:
1 cup powdered sugar
1 cup natural-style, reduced-fat creamy peanut butter
1 (8-ounce) block ⅓-less-fat cream cheese, softened
1 (14-ounce) can fat-free sweetened condensed milk
12 ounces frozen fat-free whipped topping, thawed
2 (6-ounce) reduced-fat graham cracker crusts
20 teaspoons fat-free chocolate sundae syrup
Head to Cooking Light for the full recipe.