Vanilla Dessert Recipes That Are Better Than Chocolate
When most people think of decadent desserts, they think chocolate. But what about those loved one who prefer the other classic flavor, vanilla? There should be options for them, too, and that's why we're pointing the spotlight on vanilla sweet treats today. The flavor derived from orchids of the genus vanilla performs well in all confections it stars in, whether we're talking cakes, cookies, brownies, or puddings, and it is extremely versatile, with The Huffington Post calling it "one of those powerful ingredients we use all the time."
So let's take a break from chocolate and concentrate on vanilla instead. Here are seven recipes where the vanilla flavor especially shines.
1. Very Vanilla Cupcakes
First up we have the very vanilla cupcakes from Sally's Baking Addiction. This cupcake recipe is a classic that never gets old. The cake layer is infused with vanilla and almond extract, while the rich frosting has a healthy dose of vanilla flavor as well. The white chocolate in the frosting melds perfectly with the rich sweetness of vanilla, and the cool combo will have your taste buds so entertained that they won't even miss the others chocolates in this decadent and fun food formula.
Ingredients:
1⅔ cups all-purpose flour
½ teaspoon baking powder
¼ teaspoon baking soda
½ teaspoon salt
1 cup granulated sugar
½ cup unsalted butter, melted
¼ cup yogurt
¾ cup buttermilk
2 egg whites
2 teaspoons vanilla extract
1 teaspoon almond extract
Frosting
6 ounces white chocolate, melted and slightly cooled
1 cup unsalted butter, softened to room temperature
2 cups confectioners' sugar
¼ cup heavy cream
1 teaspoon vanilla extract
¼ teaspoon salt
sprinkles
Directions: Preheat oven to 350 degrees Fahrenheit. Line a muffin pan with paper liners and set aside. In a large mixing bowl, combine flour, baking powder, baking soda, and salt. Whisk to mix. In a medium microwave-safe bowl, microwave butter on high until melted. Add sugar, and whisk to incorporate, then add yogurt, milk, vanilla and almond extracts. Whisk together. Slowly mix dry ingredients into the wet ingredients until only a few lumps remain, being careful not to overmix.
In a stand mixer fitted with the paddle attachment, beat the egg whites until until stiff, but not dry, peaks form. Fold into cupcake batter, then divid batter among prepared muffin cups. Bake for 20 minutes, or until a toothpick inserted in the center comes out with a few moist crumbs attached. Let cool completely.
Using a stand mixer or a handheld mixer, beat the butter on medium speed for 1 minute. Switch the mixer to low speed slowly add confectioners' sugar until combined. Quickly stir the cooled white chocolate. Mix until smooth and creamy. Add cream, vanilla, and salt. Mix once more until well combined.
Frost cupcakes and serve.
2. Soft Batch Frosted Vanilla Cookies
Next up are soft batch frosted vanilla cookies that taste just like the thick, rich Lofthouse cookies you find in grocery stores. This recipe from In Katrina's Kitchen is about to make all of your cookie dreams come true. Everyone loves the frosted Lofthouse cookies, but not everyone wants to eat box after box alone. Make the homemade version of the cookies and share with friends. They're fresher than their grocery store counterparts and are made only with ingredients you recognize.
Ingredients:
¾ cup unsalted butter, softened
¾ cup granulated sugar
1 egg
1 egg yolk
2¼ teaspoons vanilla extract
½ teaspoon salt
2¼ teaspoons baking powder
2¼ cups all-purpose flour
Frosting ingredients
2½ cups powdered sugar
2 to 3 tablespoons unsalted butter, softened
½ tablespoon vanilla extract
3 to 4 tablespoons milk or water
Directions: In a large bowl or stand mixer, cream butter and sugar until fluffy. Add egg, yolk, and vanilla, and mix just to combine. Add salt, baking powder, and flour. Mix until smooth. Cover with plastic wrap and chill for at least one hour.
Preheat oven to 350 degrees Fahrenheit. Line a baking sheet with parchment paper. Using a medium cookie scoop, scoop out portions of dough, transfer to prepared baking sheet, then slightly flatten with your fingers. Bake for 10 to 11 minutes. Allow cookies to rest on baking sheet for 1 minute prior to transferring to a wire rack to cool completely.
Meanwhile mix powdered sugar and butter with a hand mixer until well combined. Add vanilla and milk, 1 tablespoon at a time, until you reach your desired consistency.
Frost cookies, then garnish with sprinkles. Serve or store in an airtight container at room temperature.
3. Vanilla Fudge
And here's a classic vanilla fudge recipe from Martha Stewart. The fudge you indulge in doesn't have to be chocolate, and doesn't have to come from a box. You can easily make the vanilla-flavored kind at home, just as long as you have a candy thermometer. Requiring only 4 ingredients, we think you'll be surprised by just how simple this recipe really is.
Ingredients:
1 tablespoon cold unsalted butter, plus more for pan
1½ cups heavy cream
3 cups sugar
¼ cup light corn syrup
¼ teaspoon salt
Directions: Butter an 8-inch square baking pan; line with parchment paper, allowing a 1-inch overhang. Butter parchment paper, and set aside. Check the calibration of the candy thermometer. Put butter into a large bowl and set over a wire rack; set aside. Put cream, sugar, corn syrup, and salt into a medium heavy saucepan.
Cook over medium-low heat, stirring constantly, until sugar has dissolved, about 10 minutes. Raise heat to medium. Bring mixture to a boil, washing down sides of pan with a wet pastry brush to prevent
sugar crystals from forming. Attach warm thermometer to pan; continue to cook, without stirring, until mixture registers 238 degrees Fahrenheit, 10 to 15 minutes. Immediately pour mixture into bowl with butter. Attach thermometer to bowl. Let mixture cool, undisturbed, until it registers 110 degrees, about 1½ hours. Remove thermometer. Transfer bowl to a work surface. Using a wooden spoon, begin to gently stir mixture. Continue to stir, gradually increasing speed until mixture thickens, lightens in color, and loses its sheen, 4 to 5 minutes.
Pour into prepared pan. Using a small offset spatula, quickly spread fudge to sides of pan, and smooth top. Let fudge cool in pan on a wire rack, about 1 hour. Cover with plastic, and refrigerate until completely set, about 8 hours. Run a sharp knife around nonparchment sides to loosen; lift fudge out. Cut into 64 one-inch pieces.
4. Glazed Vanilla Bean Doughnuts
Everyone likes doughnuts, and these vanilla bean doughnuts from Fine Cooking will especially appeal to everyone, even the staunchest chocolate lovers. Homemade doughnuts are surprisingly easy to make, and they couldn't taste fresher. It's time to face your yeast fears and try your hand at these.
Ingredients:
1 tablespoon dry active yeast
¼ cup warm water (110 to 115 degrees Fahrenheit)
3 tablespoons granulated sugar, divided
1 cup whole milk, at room temperature
1 tablespoon pure vanilla extract
Seeds scraped from ½ vanilla bean
3 large egg yolks, at room temperature
¼ cup unsalted butter, melted and cooled
3½ cups all-purpose flour, sifted, plus more for kneading
1¼ teaspoon table salt
Vegetable oil, for frying
Glaze
1½ cups confectioners' sugar
2 tablespoons whole milk
Pinch salt
Seeds scraped from ½ vanilla bean
Directions: In the bowl of a stand mixer, whisk together yeast, warm water, and 1 tablespoon of the sugar. Let stand until mixture is foamy, about 5 minutes. Whisk in the remaining 2 tablespoons sugar, milk, vanilla extract, vanilla seeds, egg yolks, and butter. Fit in the mixer with paddle attachment and begin mixing on low speed.
Add flour and salt and mix for 3 minutes, scraping down the sides of the bowl and the paddle often to keep the dough moving.
Turn out dough onto a lightly floured work surface and knead by hand several times, dusting with flour as needed. Place dough in a large oiled bowl and cover with plastic wrap. Let rest in a warm place until doubled in bulk, about 1½ to 2 hours.
Turn dough out onto a lightly floured work surface and roll to about ½-inch thick.
Cut out doughnuts with a 3-inch doughnut cutter, place on a parchment-lined baking sheet, and cover with a clean kitchen towel. Let rise for 30 to 45 minutes, or until doughnuts have doubled in size.
Pour 2½ inches of vegetable oil into a 4- or 5-quart pot and heat it to 350 degrees Fahrenheit. Fry doughnuts in batches of no more than 4 until they are deep golden brown, 2 minutes per side, turning only once. Transfer to paper towels to drain.
For the glaze, whisk together the confectioners' sugar, milk, salt, and vanilla seeds until smooth. Spoon glaze over warm doughnuts and serve.
5. Creamy Vanilla Pudding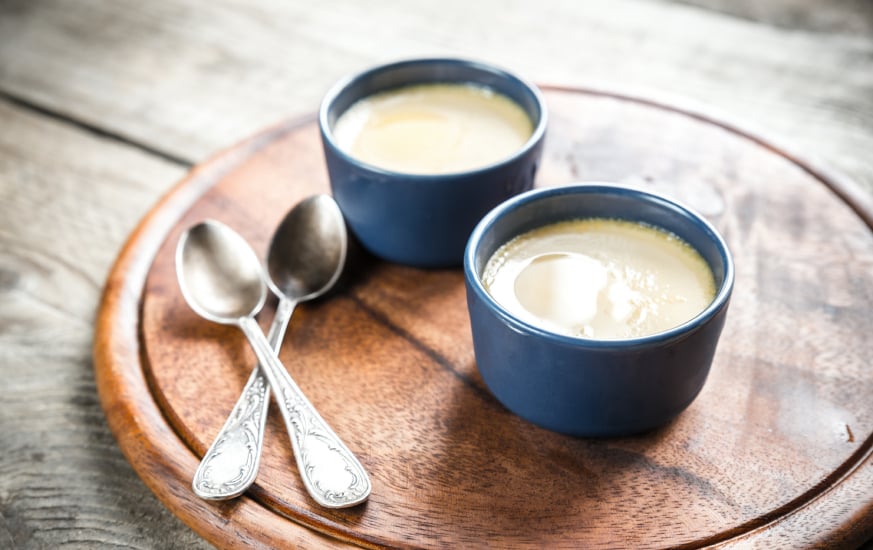 So far, we've covered vanilla desserts you can eat with your hands or with a fork, but now it's time to turn our attention to vanilla sweet treats that require a spoon, like Taste of Home's vanilla pudding. This classic dessert is just as tasty as ever, and it can be made in 20 minutes or less. Feed your loved one this simple sweet and forget all about chocolate.
Ingredients:
2½ cups milk, divided
Pinch of salt
½ cup sugar
3 tablespoons cornstarch
2 egg yolks
1 teaspoon vanilla extract
1 tablespoon butter
Directions: Place 2 cups milk and salt in a saucepan. Sprinkle sugar on milk and do not stir; heat over medium-high. Quickly combine cornstarch with remaining milk; add egg yolks and mix well. When milk comes to a full boil, remove saucepan from the heat and stir in cornstarch mixture. Pudding will begin to thicken. Return to the heat and cook for 1 minute. Remove from the heat; stir in vanilla and butter. Pour into individual dishes. Serve warm.
 6. Vanilla Bean Bundt Cake with Vanilla Glaze and Strawberries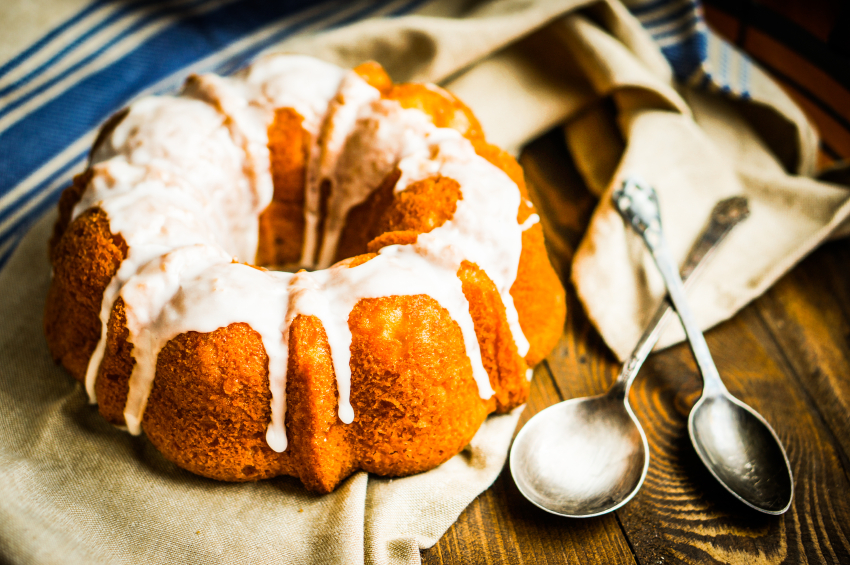 Here's another tantalizing vanilla dessert recipe from Bon Appétit. Bundt cakes are fun and easy to bake, and when whole vanilla beans are involved, it's safe to say they're destined for greatness. This recipe requires only baking staples and yields the perfect cake for any type of soirée.
Ingredients:
Nonstick vegetable oil spray
1 teaspoon bourbon
1 vanilla bean, split lengthwise
1½ cups all-purpose flour
2 teaspoons baking powder
¼ teaspoon salt
½ cup plus 6 tablespoons unsalted butter, room temperature
¾ cup sugar
¼ cup (packed) golden brown sugar
2 large eggs
1 large egg yolk
½ cup buttermilk
Glaze
⅔ cup powdered sugar
4 teaspoons whole milk
1 teaspoon vanilla extract
Strawberries
1½ pounds strawberries, hulled, sliced
3 tablespoons sugar
Directions: Position rack in center of oven and preheat to 325 degrees Fahrenheit. Butter and flour standard Bundt pan, then spray pan with nonstick spray. Pour bourbon into small bowl. Scrape seeds from vanilla bean into bourbon; stir to blend well . Whisk flour, baking powder, and salt in medium bowl to blend. Using electric mixer, beat butter and both sugars in large bowl until light and fluffy. Add eggs and egg yolk 1 at a time, beating until well blended after each addition. Beat in bourbon-vanilla mixture. Add flour mixture in 2 additions alternately with buttermilk in 1 addition, beating just until blended after each addition. Transfer batter to prepared pan; smooth top evenly. Bake cake until tester inserted near center comes out clean, about 55 minutes. Cool in pan on rack 15 minutes. Invert cake onto rack and cool completely.
For glaze: Whisk powdered sugar, 4 teaspoons milk, and vanilla in small bowl to blend, adding more milk by ¼ teaspoonfuls if glaze is too thick to drizzle. Place sheet of foil on work surface. Place cake atop foil. Using spoon, drizzle glaze over cake in zigzag pattern. Let cake stand at room temperature until glaze sets, about 15 minutes.
7. Salty Vanilla Bean Sugar Cookies
Lastly, a classic cookie that gets a spark of sophistication from sea salt. These salty vanilla bean sugar cookies come from A Cozy Kitchen and are the perfect simple dessert. Go the nostalgic route with these cookies but also enjoy the currently popular sweet and savory combo. The flavors of sugar, sea salt, and vanilla bean meld perfectly together, leaving you with a cookie that you'll go to bed dreaming about.
Ingredients:
½ cup white granulated sugar
½ vanilla bean, scraped
½ cup vegetable oil
½ cup butter, room temperature
½ cup confectioners' sugar
1 large egg
2 cups all-purpose flour
¼ scant teaspoon baking soda
¾ teaspoon baking powder
¾ teaspoon sea salt
⅛ teaspoon ground nutmeg
Coating
½ cup cane sugar
1 teaspoon sea salt
Directions: Mix vanilla bean seeds with sugar in a small bowl with your fingers until the vanilla bean seeds are evenly distributed. Beat vanilla sugar, oil, and butter in a stand mixer or in a large bowl with a hand mixer until smooth. Add confectioners' sugar and beat to combine. Add egg, then mix just to incorporate.
Whisk flour, baking soda, baking powder, salt, and nutmeg to combine in a medium bowl. Add the dry mixture to the wet mixture, then mix just until incorporated. Cover the bowl with plastic wrap and refrigerate the dough for at least 2 hours.
Preheat oven to 350 degrees Fahrenheit and line two baking sheets with parchment. Mix together ingredients for coating. Scoop tablespoonfuls of dough, roll into balls, then coat completely in salt and sugar mixture. Transfer to prepared baking sheets, then flatten slightly. Bake for about 13 minutes, or until edges are beginning to brown. If working in batches, keep unbaked cookies chilled.
Remove the cookies from the oven, and cool on the pan for at least 10 minutes before transferring to a rack to cool completely. Serve or store in an airtight food storage container at room temperature.