Healthy Recipes You Can Cook in a Crockpot
Even though slow cookers are a convenient way to make dinner, they haven't always been used to turn out the healthiest of meals. Many recipes from back in the day contain copious amounts of cheese, condensed soup, and other heavily processed ingredients. There's no need to use these fillers when you use real, healthy foods because crockpots build plenty of flavor just by taking a slow approach to cooking. When you want a hearty meal that's still nutritious, try these seven recipes.
1. Slow Cooker Black Bean Soup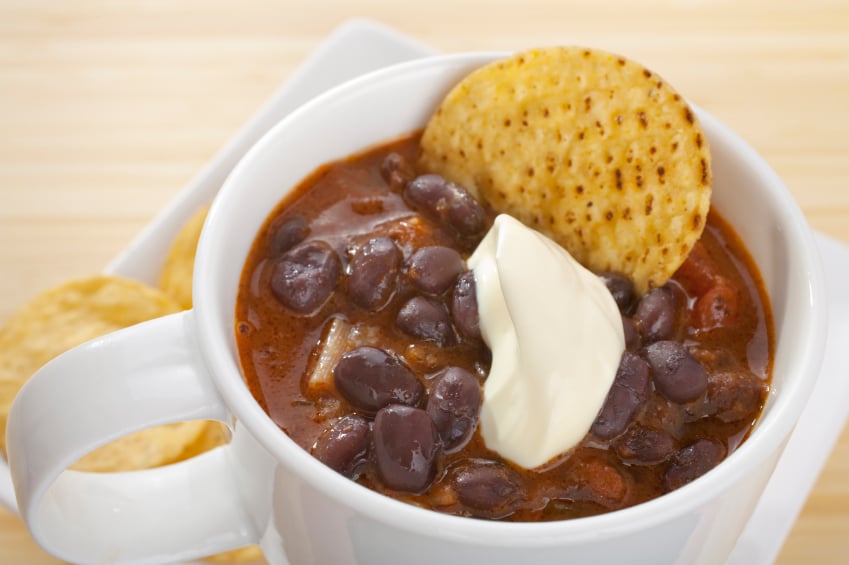 For days when you're really short on time in the morning, Gimme Some Oven's spicy black bean soup is exactly what you need. A little bit of chopping and stirring is all it takes, which means dinner is basically taken care after just 10 minutes of work. It's sort of like a variation on chili, so you can have a lot of fun with toppings. If you typically like a dollop of sour cream on top, try substituting Greek yogurt. It's creamy and tangy with fewer calories.
Ingredients:
1 large white or yellow onion, chopped
2 red bell peppers, cored and chopped
2 carrots, peeled and chopped
5 garlic cloves, minced
1 to 2 jalapeños
4 cups vegetable stock
4 (15-ounce) cans black beans, rinsed and drained
1 bay leaf
2 teaspoons ground cumin
2 teaspoons chili powder
2 teaspoons kosher salt
½ teaspoon cayenne
Optional toppings
Chopped fresh cilantro
Crumbled tortilla chips
Diced avocado
Sour cream
Grated cheese
Directions: In a slow cooker, stir all soup ingredients together. Cover and cook on low for 6 to 8 hours or on high for 3 to 4 hours. Vegetables should be completely tender. Fish out bay leaf and discard. Serve soup as is, or partially purée using a stick blender or a food processor. Serve with desired toppings.
2. Slow Cooker Stout and Chicken Stew
When most people hear the phrase "clean eating," they often think of strict diets comprised of nothing more than greens and grains. It's really a misconception because the goal is to cook using real foods, which includes tons of tasty ingredients. Take this rich stew from Eating Well. Yes, there's beer and bacon, but it's also brimming with protein-rich chicken and plenty of veggies. That being said, it tastes pretty great served with some cooked grains.
Ingredients:
6 tablespoons plus ½ cup all-purpose flour, divided
1 teaspoon salt, divided, plus more
½ teaspoon freshly ground pepper, plus more
2½ pounds boneless, skinless chicken thighs, trimmed
4 teaspoons extra-virgin olive oil, divided
3 bacon strips, chopped
1⅔ cup stout beer
1 pound whole baby carrots or large carrots cut into 1-inch pieces
1 (8-ounce) package cremini or button mushrooms, halved if large
2 cups chopped onion
4 garlic cloves, minced
1½ teaspoons dried thyme
1 cup reduced-sodium chicken broth
2 cups frozen baby peas, thawed
Directions: Combine 6 tablespoons flour with ½ teaspoon each of salt and pepper in a shallow bowl. Dredge chicken thighs in seasoned flour, coating completely, shaking to remove excess. Transfer to a plate.
Heat 2 teaspoons oil in a large skillet over medium-high heat. Add half the chicken and cook until browned, about 2 to 4 minutes per side, then transfer to a 5- to 6-quart slow cooker. Reduce heat to medium and repeat with remaining olive oil and chicken. Make sure chicken is in an even layer in the slow cooker.
Cook bacon in same skillet, stirring often, for about 2 minutes. Sprinkle in remaining ½ cup flour and cook, stirring constantly, for 2 minutes. Gradually add stout, stirring and scraping bottom of the pan. Pour mixture over chicken, then top with carrots, mushrooms, onion, garlic, and thyme. Spread evenly over chicken. Pour broth over top.
Cover and cook until chicken is tender, 4 hours on high or 7 to 8 hours on low. Stir in peas, cover, and cook until heated through, about 5 to 10 minutes longer. Season with remaining ½ teaspoon salt and pepper, to taste. Serve.
3. Slow Cooker Beef and Broccoli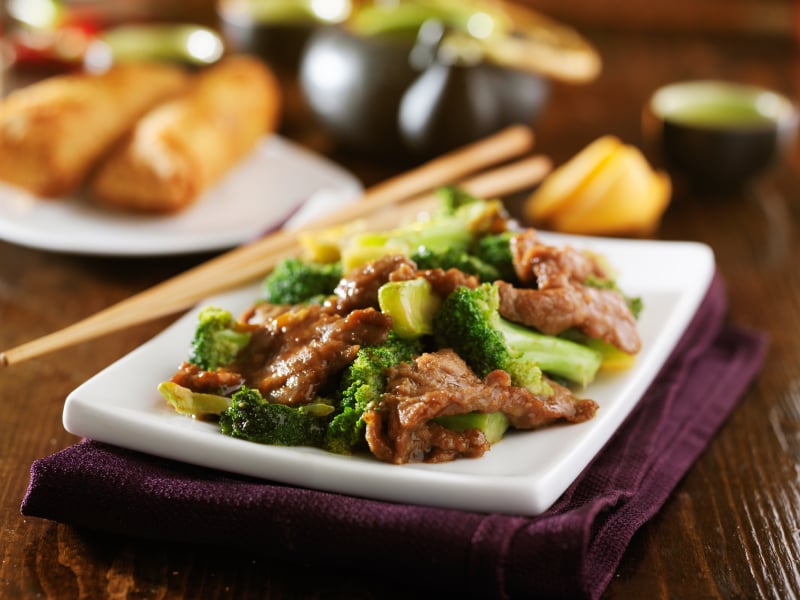 Most of us turn to takeout on days when we get home late, but it isn't a good strategy for eating well. Beef with broccoli is usually pretty shy on the veggies and swimming in a greasy sauce. You can make a version that's both healthier and better tasting using your crockpot thanks to this easy recipe from Divas Can Cook. Instead of stewing the broccoli to death all day, you steam it separately. This extra step only takes a few minutes, so it's definitely worth it. You can even find precut, bagged broccoli designed to steam in the microwave.
Ingredients:
1¼ pounds flank steak, cut into strips
½ cup diced white or yellow onion
3 garlic cloves, minced
Grated ginger, to taste
1 cup chicken or beef broth, warmed
½ cup low-sodium soy sauce
⅓ cup packed brown sugar
1 tablespoon sesame oil
¼ to ½ teaspoon red pepper flakes, plus more
2 to 3 tablespoons cornstarch
3 to 4 cups broccoli, steamed
Cooked white rice
Sesame seeds
Directions: In a slow cooker, combine beef, onion, garlic, and your desired amount of ginger, about 1 tablespoon for a good amount of flavor. Meanwhile, stir together broth, soy sauce, brown sugar, sesame oil, and red pepper flakes in a medium bowl until sugar is fully dissolved. Pour sauce over beef, stir, cover, and cook on low for 3 to 4 hours, or until steak is tender.
Scoop out about ¼ cup of cooking liquid and let cool slightly. Stir in the cornstarch, then stir the slurry into the slow cooker. Allow sauce to thicken, then taste and adjust seasoning. Serve beef with broccoli and rice. Garnish with additional red pepper flakes and sesame seeds.
4. Mediterannean Kale and Cannellini Stew With Farro
The key to making satisfying vegetarian meals is cooking with enough protein and fiber. Better Homes and Gardens' Italian-inspired stew does this perfectly with plenty of cannellini beans, kale, carrots, and farro. The soup is good enough on its own, but a little bit of feta really makes it feel special. You can also substitute Parmesan or another dry, salty cheese.
Ingredients:
4 cups reduced-sodium chicken broth or vegetable broth
1 (14.5-ounce) can no-salt added, diced fire-roasted tomatoes
1 cup farro, rinsed
1 cup coarsely chopped onion
2 medium carrots, halved lengthwise and thinly sliced crosswise
1 cup coarsely chopped celery
4 garlic cloves, crushed
½ teaspoon crushed red pepper flakes
¼ teaspoon salt
4 cups coarsely chopped fresh green kale or Swiss chard
1 (15-ounce) can no-salt added cannellini beans, rinsed and drained
3 tablespoons fresh lemon juice
½ cup crumbled feta cheese
Snipped fresh parsley or basil
Directions: Combine broth, tomatoes, farro, onion, carrot, celery, garlic, crushed red pepper, and salt in a 3½- to 4-quart slow cooker. Cover and cook on high for 2 hours, or until farro is tender, but still chewy. Stir in kale, beans, and lemon juice, cover, and cook 1 hour longer. Serve sprinkled with cheese and parsley or basil.
5. Slow Cooker Pork Chops With Cranberries and Leeks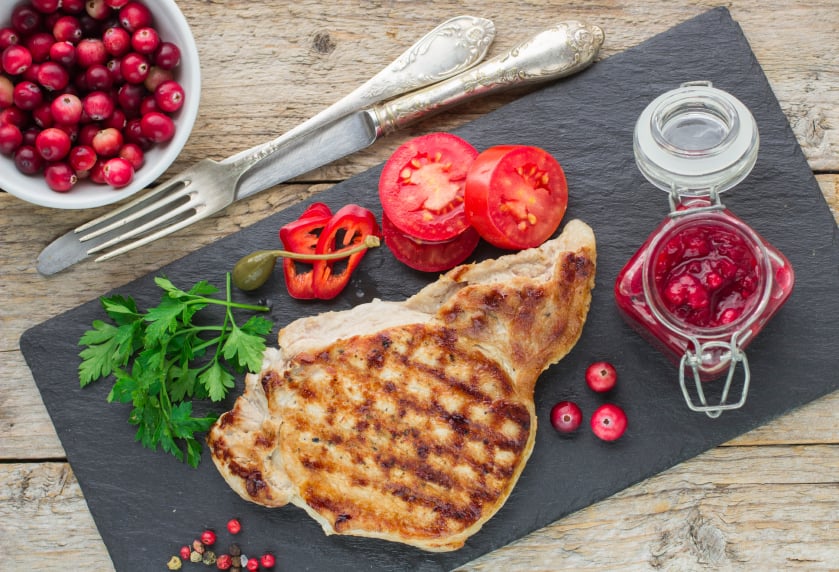 Boneless cutlets are the go-to for fast weeknight dinners. Though bone-in chops, chicken breasts, and other cuts of meat take longer to cook, they tend to stay much juicier and yield a more flavorful dish. Toss them into a slow cooker and you'll get these great results without spending any more time in the kitchen. Try the method with Cookin Canuck's pork chops with leeks and cranberries.
Pork has a reputation for being fatty, but chops are actually a very healthy choice. According to Pork Be Inspired, center-cut chops contain 153 calories and just over 6 grams of fat per 3-ounce portion. While that's more fat than what you get with chicken breast, it means a pork dish will be really flavorful without needing to add a bunch of butter, oil, or cream.
Ingredients:
1¼ (½-inch-thick) bone-in pork chops
¼ teaspoon salt
¼ teaspoon pepper
2 teaspoons olive oil, divided
2 leeks, white parts only, cut in half lengthwise, thinly sliced, washed, and dried
1¼ cups fresh or frozen cranberries
1 tablespoon chopped fresh rosemary
¼ cup dry vermouth
¼ cup chicken or vegetable broth
1 tablespoon maple syrup
Directions: Heat 1 teaspoon olive oil in a large nonstick skillet over medium-high heat. Season chops all over with salt and pepper and cook until browned, about 2 minutes per side. Remove to a plate.
Add remaining oil to pan, reduce heat to medium, and cook leeks until softened, about 5 minutes. Transfer to slow cooker, then arrange chops and any accumulated juices over the top. Add cranberries and rosemary. Whisk the vermouth, broth, and syrup together in a small bowl, then pour into the slow cooker.
Cover and cook on low for about 6 hours, or until pork is fully cooked. Mash any whole berries with a wooden spoon. Serve chops with berries and leeks ladled over the top.
6. Chicken Thighs With Olives and Tomato Sauce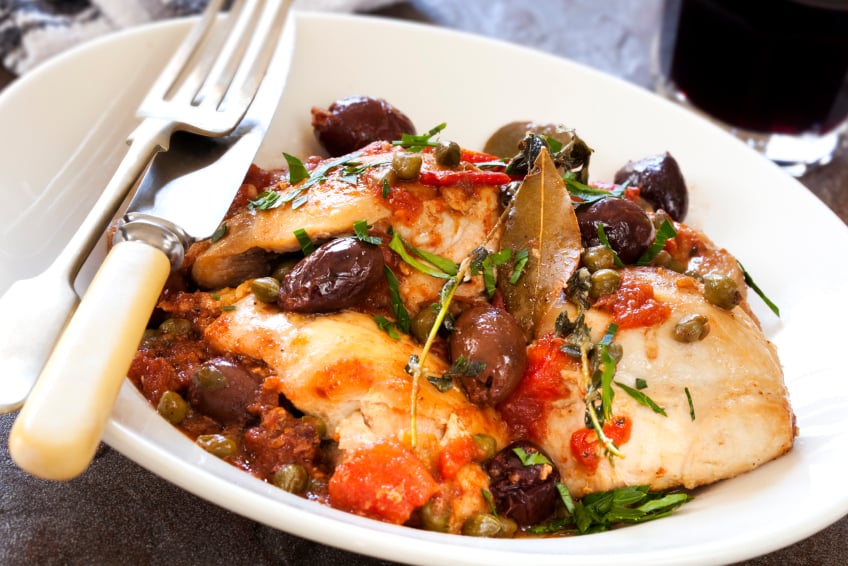 Instead of smothering your chicken with mozzarella and Parmesan cheese, take a healthier approach with Cooking Light's chicken thigh dish. With great taste from white wine, garlic, olives, tomatoes, and chili flakes, you definitely won't feel like you're making any sacrifices. Some sautéed broccoli raab with a little bit of lemon zest is a great way to round out the meal.
Ingredients:
12 bone-in, skinless chicken thighs
1 teaspoon kosher salt, divided
¼ teaspoon freshly ground black pepper, divided
1 teaspoon olive oil
1½ tablespoons minced garlic
¼ cup dry white wine
3 tablespoons tomato paste
2 to 3 teaspoons crushed red pepper
1 (28-ounce) can diced tomatoes, drained
¼ cup sliced pitted Kalamata olives
2 tablespoons chopped fresh flat-leaf parsley
Directions: Season chicken with ½ teaspoon salt and ⅛ teaspoon pepper. Heat oil in a large skillet set over medium-high heat. Add chicken and cook until browned on both sides, about 2 minutes per side. Transfer to a slow cooker. Add garlic to pan and cook for 30 seconds, stirring constantly. Add wine, scraping pan to release brown bits, and cook for 30 seconds. Add wine mixture to slow cooker. Add tomato paste, crushed red pepper, and tomatoes. Cover and cook on high for 4 hours. Stir in remaining salt, remaining pepper, olives, and parsley. Serve.
7. Slow Cooker Sweet Potato and Lentil Soup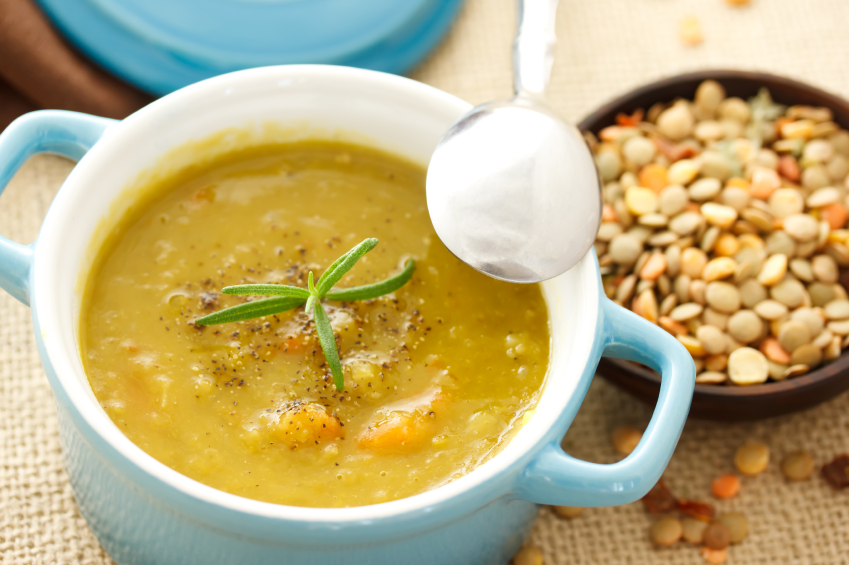 We should probably all be eating more lentils, so get more of the legume in your diet with this fragrant soup from Food Network. It's filled with so much great flavor from curry powder, ginger, and sweet potatoes, you might not even notice this recipe is vegetarian. You don't even need to make a side dish since this soup covers pretty much all of your nutritional needs, but a piece of crusty bread is a nice addition if you're really hungry.
Ingredients:
1 large sweet potato, peeled and diced
3 medium carrots, cut into ½-inch pieces
3 celery stalks, cut into ½-inch pieces
2 leeks, white and pale green parts only, halved lengthwise and cut into ½-inch pieces
¾ cup dried yellow or red lentils
1 (4-inch) piece ginger, peeled and finely grated
1 teaspoon curry powder, divided
Kosher salt
1 tablespoon unsalted butter
2 garlic cloves, thinly sliced
Juice of ½ lemon, plus lemon wedges
½ cup chopped fresh cilantro
Directions: Combine sweet potato, carrot, celery, leeks, lentils, ginger, ¾ teaspoon curry powder, and 1 teaspoon salt in a 4- to 6-quart slow cooker. Add 6 cups water and stir. Cover and cook on low for 8 hours.
Stir soup vigorously with a whisk to form a rough purée. Thin with hot water, if needed.
Melt butter in a small skillet over medium-high heat. Add garlic and remaining curry powder. Cook until fragrant and slightly toasted, about 1 minute. Stir into soup along with lemon juice and cilantro. Season with salt. Serve with lemon wedges.
Follow Christine on Twitter @christineskopec