Cooking With Coconut Milk: 7 Recipes That Star the Creamy Goodness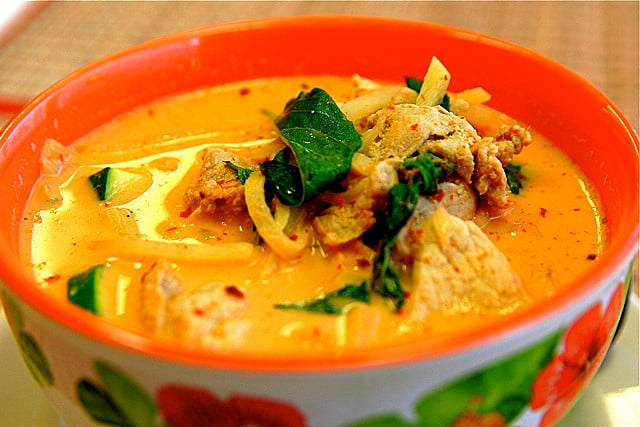 People are going nutty over coconut milk. Whether you attribute coconut milk's newfound popularity to the paleo diet craze, the push to go dairy-free, or the simple desire to change it up in the taste department, it's indisputable that more and more consumers are now cracking open the canned liquid that comes from the grated meat of a brown coconut, and after you get one taste of the creamy goodness, you may understand why.
Coconut milk can be incorporated into a variety of dishes, but it most commonly finds its way into savory Asian-inspired meals, sweet treats, and more. The dairy substitute helps gives Thai food its iconic taste, stands in for milk and cream in indulgent desserts, and also does a good job of upping the flavor of any typical dish thanks to its buttery coconut kick.
We know not all trendy food items are as cool as their reputation boasts, but coconut milk is one popular item that you should consider trying. The canned dairy substitute is cheap, non-perishable, and easy to find. Incorporate it into one of these seven outlined recipes and see if you've been convinced to get crazy about coconut milk.
1. Thai Green Coconut Curry
Starting out savory, we come to this Thai Green Coconut Curry from The Kitchn. We told you coconut milk typically stars in meals that boast a Thai flare. The recipe developer behind this dish promises that it can come together in 3o minutes or less, and deliver an Asian-inspired taste explosion in your mouth. The coconut milk gives this curry a rich, buttery taste, and perfectly complements the green curry paste, sugar, and soy sauce also used. Don't be fooled that curry can only be perfected in a chef's kitchen. This recipe proves that anyone is capable of mastering the Thai favorite, especially when you're armed with coconut milk.
Ingredients:
1 pound zucchini
1 to 1 1/2 pounds boneless chicken breast or thighs
8 ounces frozen cuttlefish balls (optional)
Vegetable oil
2 to 4 ounces Thai green curry paste, such as Maesri
2 cans good quality coconut milk, such as Chaokoh
Fish sauce, to taste
Sugar, to taste
Soy sauce, to taste
Directions: Chop the zucchini into 1/2-inch-wide half moons (cut these in half if the zucchini is very large) and set them aside. Cut the chicken into even, bite-sized chunks about 1-inch long and set aside. Run warm water over the package of cuttlefish balls to soften them. Open the cans of coconut milk and set them to the side.
Heat a drizzle of vegetable oil in a 4-quart (or larger) Dutch oven or heavy pot set over medium-high heat, and when the oil is hot, add the curry paste. (For a fully tongue-tingling experience, use the full 4-ounce can. If you have a lower tolerance for heat, use half the can.) Fry the paste for 2 minutes, stirring frequently. Scoop the thickened coconut solids out of both cans of coconut milk, leaving the watery milk below. Fry this for about 2 minutes with the curry paste, too, until the oil starts to separate out, forming beads on top of the curry paste. Add the chicken pieces and sauté for about 1 minute.
Add the rest of the coconut milk. Add the fish balls if you're using them. Reduce the heat to medium low and simmer until the chicken is cooked through and the fish balls are warm — about 10 minutes. When the chicken is done, add the zucchini and simmer just until they're tender. Taste and adjust seasonings with fish sauce, sugar, and soy sauce until it is balanced enough for your tastes. Serve with rice or rice noodles. This keeps well, freezes well, and does great made the night before and heated up the next day.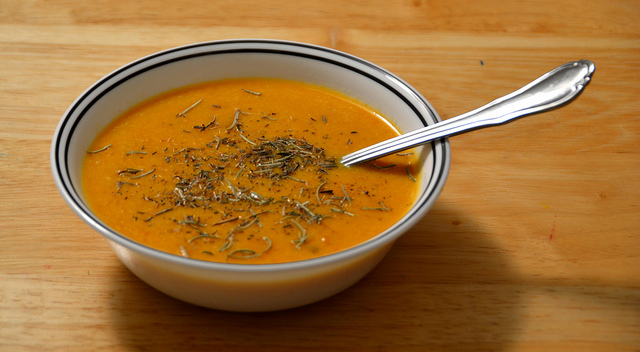 2. Coconut Red Lentil Soup
Next up is another savory dish that packs an Asian-inspired punch, but this meal can be eaten with a spoon. We know summer is upon us, and therefore the craving for warming soups all but goes away. However, we also understand that Thai food is a cuisine that never goes out of season, and that's why we're presenting you with a new dish to check out as the days get longer, and you have more energy at nights to put dinner on the table.
Next time you have the home cooking itch, scratch it by trying out this recipe for Coconut Red Lentil Soup by 101 Cookbooks. The soup incorporates requires 1 14-oz can of coconut milk, and you can bet that the dairy substitute's presence gives the meal a smooth, velvety taste, and also makes it satiating. With healthy portions of coconut milk, curry powder, ginger, and red and yellow lentils, this dish promises to both impress and excite your dinner guests. Just don't tell them that your secret ingredient came out of a can.
Ingredients:
1 cup / 7 ounces / 200 grams yellow split peas
1 cup 7 ounces / 200 grams red split lentils (masoor dal)
7 cups / 1.6 liters water
1 medium carrot, cut into 1/2-inch dice
2 tablespoons fresh peeled and minced ginger
2 tablespoons curry powder
2 tablespoons butter or ghee
8 green onions (scallions), thinly sliced
1/3 cup / 1.5 ounces / 45 grams golden raisins
1/3 / 80 milliliter cup tomato paste
1 14-ounce can coconut milk
2 teaspoons fine grain sea salt
One small handful cilantro, chopped
Cooked brown rice or farro, for serving
Directions: Give the split peas and lentils a good rinse until they no longer put off murky water. Place them in an extra-large soup pot, cover with the water, and bring to a boil. Reduce heat to a simmer and add the carrot and 1/4 of the ginger. Cover and simmer for about 30 minutes, or until the split peas are soft.
In the meantime, in a small dry skillet or saucepan over low heat, toast the curry powder until it is quite fragrant. Be careful though, you don't want to burn the curry powder, just toast it. Set aside. Place the butter in a pan over medium heat, add half of the green onions, the remaining ginger, and raisins. Saute for two minutes stirring constantly, then add the tomato paste and saute for another minute or two more. Add the toasted curry powder to the tomato paste mixture, mix well, and then add this to the simmering soup along with the coconut milk and salt. Simmer, uncovered, for 20 minutes or so. The texture should thicken up, but you can play around with the consistency if you like by adding more water, a bit at a time, if you like. Or simmer longer for a thicker consistency.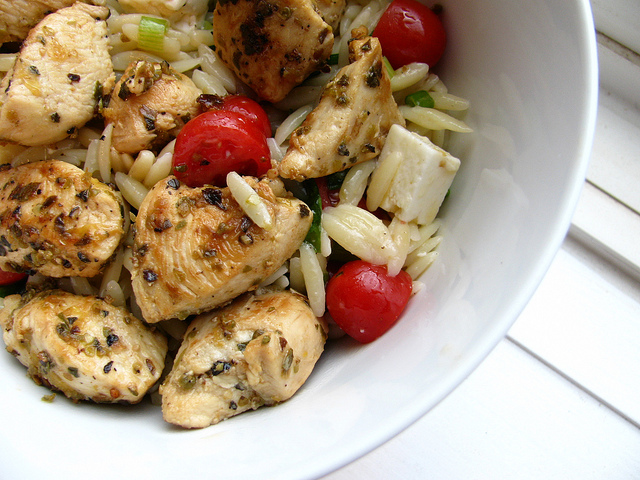 3. Coconut Cauliflower Chicken With Green Onions
Of course, not all coconut milk starring recipes have to have an Asian flare, and this Coconut Cauliflower Chicken With Green Onions by The Gracious Pantry proves it. File this dish in your recipe arsenal for cleaning eating weekday meals, because this Cauliflower Chicken is both healthy and easy.
In this recipe, coconut milk takes a simple chicken dish and takes its taste profile up a notch. What could be another boring poultry recipe becomes something decadent tasting and rich, and it's all thanks to just a can of coconut milk, which helps illuminate new flavors with cumin, garlic, and onion powder. Whether you're paleo, or paleo-no, we promise you'll take a liking to this simple Coconut Cauliflower Chicken, and you'll tip your hat to the canned milk that made all the difference.
Ingredients:
1 (15 ounce) can light coconut milk
2 chicken breasts (about 7 ounces each)
1 medium head cauliflower
1 teaspoon garlic powder
1 teaspoon onion powder
1 teaspoon cumin
2-4 green onions
Directions: Clean your cauliflower and steam it in a large pot. Slice your chicken breasts into strips. Place all ingredients (except the green onions) in a second pot and bring to a boil over medium-high heat. But don't let it boil too hard or it will burn. Just a nice medium boil will do.
Using a meat thermometer, test your chicken when it looks done. It's finished cooking when it reaches 170 degrees Fahrenheit. Ladle into bowls, add as much cauliflower as you like, top with green onions and serve.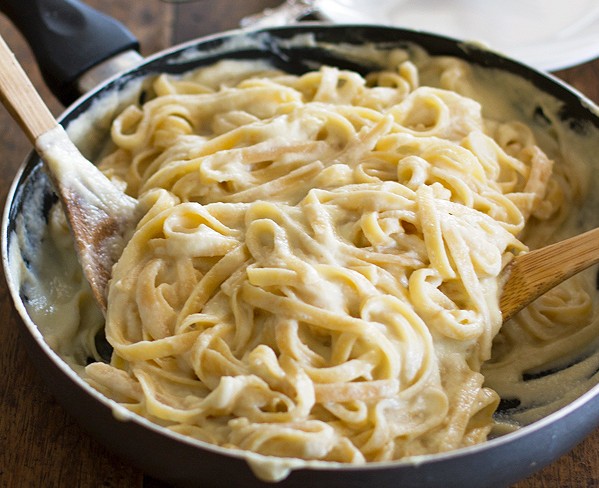 4. Creamy Vegan Alfredo Sauce
The last savory dish we are going to cover before turning our attention to sweet is this Creamy Vegan Alfredo Sauce from Go Dairy Free. Lactose intolerants and dairy naysayers unite: you can still have your alfredo sauce and eat it, too, even if you can't (or don't want to) consume dairy. This Vegan Alfredo Sauce highlights why coconut milk is so good at what it does — it easily takes a dish that seemingly demands a large amount of dairy and replaces it with a substitute that tastes just as good, if not better, than the original.
Most people like to douse their pasta or chicken in alfredo sauce when they're sick of the red stuff, and now everyone can, regardless of allergies or food restrictions. Let coconut milk do its job and replace dairy so you can enjoy a creamy vegan alfredo sauce. No one should be kept from the goodness that is fresh alfredo sauce, and now, no one has to be.
Ingredients:
1 1/2 cups raw cashews (not roasted or salted)
2 1/2 cups water (fresh)
200 milliliters coconut milk (1/2 can full fat coconut milk)
1 vegetable bouillon cube — be sure to check the ingredients when allergies or special diets are a concern
3 cloves garlic, minced (1 1/2 teaspoons fridge minced garlic)
Pepper to taste
Herbamare or salt to taste
Directions: Thoroughly blend all ingredients together. Thin out with more water if desired. Heat and serve over pasta, vegetables, or chicken.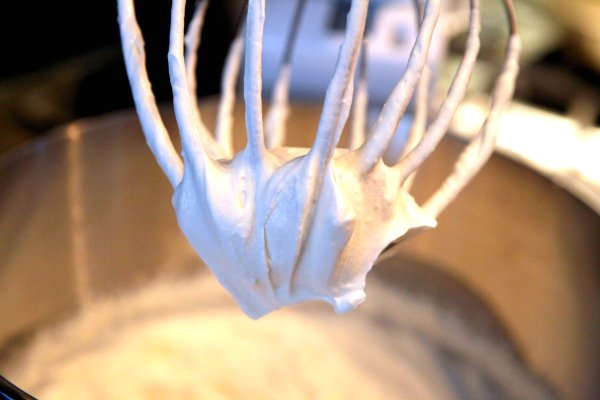 5. Coconut Whipped Cream
Now on to the sweet. The first recipe we're highlighting in that realm is one for Coconut Whipped Cream from Oh She Glows, because you don't know the taste of whipped, non-dairy decadence until you've tried this ice cream or smoothie topping.
Coconut Whipped Cream is simple to make, and even easier to eat. It can amp up the taste appeal of just about any (sweet) dish, and all you need is a whisk and a can of the non-dairy goodness. Grab a hand mixer and get ready. You're about to have a healthy whipped topping on your hands, and it's all our fault.
Ingredients:
1 can of full fat coconut milk
2 to 3 teaspoons of sweetener depending on taste preferences
1/4-1/2 teaspoon of vanilla extract
Directions: Place can of coconut milk in the fridge overnight. The next day, remove the chilled can and flip it upside down. Open the can and pour the liquid coconut into another bowl. Next, scoop the coconut cream into a chilled bowl. Whip the cream with a hand mixer or stand mixer until fluffy. Add in sweetener and vanilla extract and whip it up again.
6. Coconut Mango Frozen Yogurt
We also have a vehicle for you for that whipped coconut cream that also requires the non-dairy goodness, and that dessert would be Coconut Mango Frozen Yogurt from Food & Wine. Yum and yum. This tropical perfection requires only seven ingredients, and is easy to make in the kitchen, and easy on the waistline. Enlisting Greek yogurt as your fat source and coconut milk as your dairy one, you can bet that this frozen yogurt is a great skinny alternative to your usual summer frozen treats. You don't even need any fancy appliances for this faux ice cream — just a little coconut milk and a little patience. Luckily, this frozen yogurt is worth waiting for.
Ingredients:
1 cup plain coconut water
1/2 cup sugar
1 small mango (about 10 ounces), peeled and diced
1 cup fat-free Greek yogurt
1 cup light coconut milk
1 tablespoon fresh lemon juice
2 tablespoons shredded unsweetened coconut
Directions: In a small saucepan, combine the coconut water and sugar and bring to a boil. Cook until reduced to 3/4 cup, about 6 minutes. Let the sugar syrup cool. In a blender or food processor, puree the diced mango with 2 tablespoons of the sugar syrup. Transfer 1/4 cup of the puree to a bowl and whisk in the Greek yogurt, coconut milk, lemon juice, and the remaining sugar syrup. Pour the mixture into a glass baking dish and freeze for 1 hour, until frozen around the edges. Whisk the mixture to break up the clumps and return to the freezer. Freeze for about 2 hours longer, whisking frequently, until the mixture is nearly frozen. Spread the remaining mango puree on top and, using a butter knife, swirl it into the yogurt. Freeze until nearly solid.
Meanwhile, in a small skillet, toast the shredded coconut over moderate heat, stirring constantly, until it's golden, about 3 minutes. Transfer the coconut to a plate and let it cool. To serve, scoop the frozen yogurt into bowls and top with the toasted coconut. Alternatively, in a tall glass, layer the coconut between small scoops of the frozen yogurt, like a parfait.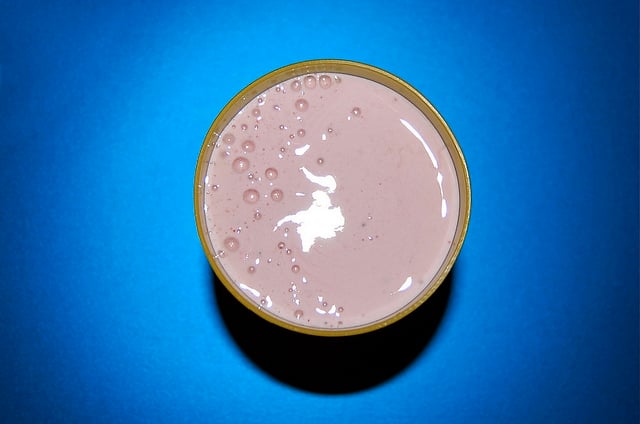 7. Coconut Milk Smoothie
Last but not least, one more way to use up the illustrious coconut milk: throw it in a smoothie. This frozen concoction from My Recipes is perfect for the hot summer months, and the coconutty flavor from the dairy substitute will be sure to get you in the mood, while also helping you stay in shape. The next time a warm morning has you craving a smoothie, throw some frozen fruit, yogurt, and coconut milk in the blender. The buttery coconut flavor really takes your smoothie up a notch, and after you try it once, you'll never return to the dark side ever again.
Ingredients:
1 10-ounce bag frozen blueberries or other fruit
3 ripe bananas
1 cup plain yogurt
1 cup unsweetened coconut milk
2 tablespoons honey
Directions: In a blender, puree the blueberries, bananas, yogurt, coconut milk, and honey. Serve.
More From Wall St. Cheat Sheet: