Cool-Down Dinner: 7 Chilled Soup Recipes
As the temperatures outside rise, it is time to bring down the heat at dinner time, and there are few dishes easier to prepare and serve cold than soup. Just as it can be warming in the winter, soup can be a palate cooler perfect for late spring and summer dining. Even if the sun has you heated up, there is no need to sweat dinner. Instead, you can sit back, relax, and make one of these seven chilled soups.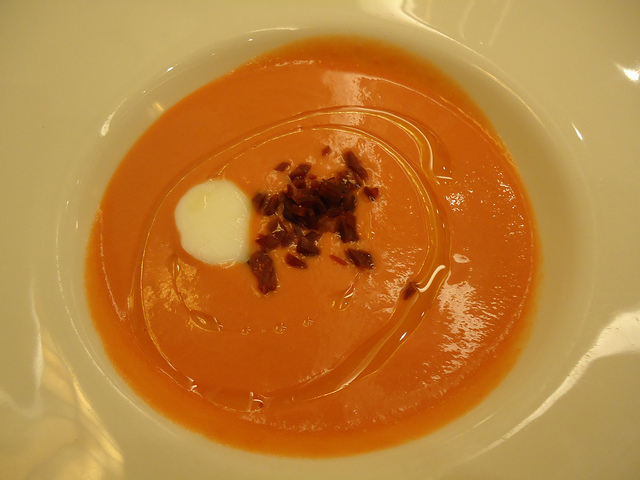 1. Salmorejo
Thicker and creamier than gazpacho, salmorejo will keep you cool and satisfied when the weather turns warm. Try this recipe from Epicurious, which is garnished with Serrano ham and a hard-boiled egg. If Serrano is unavailable, prosciutto is a common substitute.
Ingredients:
3 pounds ripe halved tomatoes
3 toasted, chopped 4-by-4-by-½-inch slices white sandwich bread
¼ cup toasted slivered almonds
4 smashed garlic cloves
1 teaspoon sherry vinegar
½ cup extra-virgin olive oil
salt
Serrano ham or prosciutto, thinly sliced
chopped hard-boiled egg
Directions: Squeeze seeds and pulp from 3 pounds ripe halved tomatoes into a strainer set over a large bowl. Press solids to release as much liquid as possible; discard solids. Core and chop tomatoes; add to bowl.
Combine 3 toasted, chopped 4-by-4-by-½-inch slices white sandwich bread, ¼ cup toasted slivered almonds, and 4 smashed garlic cloves in a blender. Pulse until chopped. Add tomatoes with liquid to blender in batches, puréeing until very smooth. Add 1 teaspoon sherry vinegar. With blender running, gradually add ½ cup extra-virgin olive oil. Purée until emulsified and frothy, about 3 minutes. Season with salt and more vinegar, if desired. Chill until cold, about 2 hours. Season to taste again with salt and vinegar.
Divide soup among small bowls or glasses. Garnish with thinly sliced Serrano ham or prosciutto and chopped hard-boiled egg. Drizzle with more oil.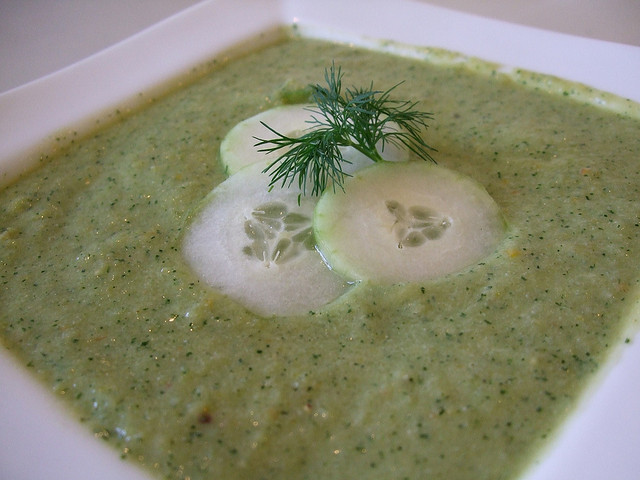 2. Cucumber-Dill Soup
In Entertaining With the Seasons and online, Williams-Sonoma has a recipe for cucumber-dill soup that you must try. It can even be part of your picnic menu. To transport, put the soup in a container that will be easy to serve out of and can be packed in ice until you're ready to serve. If poured into wide-mouthed glasses, guests can sip the soup without having to worry about spoons. This recipe serves six.
Ingredients:
3 English (hothouse) cucumbers, peeled, halved lengthwise, and seeded
1 cup Greek-style or other thick, whole-milk plain yogurt
1 tablespoon fresh lemon juice
3 green onions, including tender green portions, chopped
3 tablespoons chopped fresh dill
1 garlic clove, chopped
1 teaspoon caraway seeds, crushed
1 teaspoon kosher salt
¼ teaspoon freshly ground white pepper
1 cup vegetable stock or reduced-sodium vegetable broth
2 tablespoons fruity extra-virgin olive oil
Directions: Coarsely chop 5 of the cucumber halves and transfer to a large bowl. Add the yogurt, lemon juice, green onions, dill, garlic, caraway seeds, salt, and white pepper. Stir to combine, cover with plastic wrap, and let stand at room temperature for 1 hour to blend the flavors. Dice the remaining cucumber halves and set aside until ready to serve.
In a blender, puree the cucumber mixture until smooth. With the machine running, slowly add the stock and puree until it is fully incorporated, about 30 seconds. Transfer to a pitcher, cover with plastic wrap, and refrigerate until chilled, about 2 hours. (The soup can be prepared up to 12 hours in advance and stored in an airtight container in the refrigerator. If it separates, simply stir it until emulsified.) Just before serving, stir in the diced cucumber and olive oil. Pour the soup into widemouthed glasses or cups and serve immediately.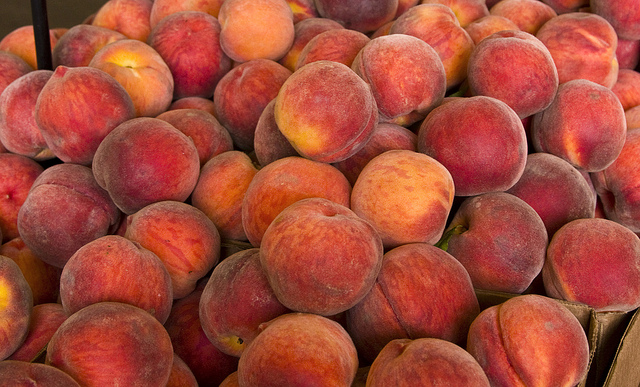 3. Chilled Peach Soup
Jennifer's Kitchen both adds a recipe to your chilled soup arsenal and gives you another way to capitalize on peach season. If you can't find orange-peach-mango juice concentrate, it is recommended that you use pineapple juice concentrate instead; orange juice is not advised because it will give the soup a tart taste.
Ingredients:
4 medium to large fresh peaches
¼ cup frozen orange-peach-mango juice concentrate
½ cup full-fat coconut milk (unsweetened)
⅛ teaspoon salt
2 teaspoons lime juice, scant
1 teaspoon vanilla
½ cup sliced strawberries (approximately)
Directions: Bring a medium pan of water to boil. Place peaches in boiling water for 40 seconds. Using a slotted spoon, remove peaches from water and place in a colander. Rinse briefly with cold water. (Or you can plunge them in ice water for a few seconds.)
When peaches are cool enough to handle, remove the skins. The skins should peel off easily. (You may want to make a small incision in the skin with a knife to get it started.) Cut peaches into large slices, discarding the pit. Place peaches into a blender jar. Add all remaining ingredients, except strawberries, and blend until very smooth. Place in refrigerator for 20 minutes to 2 hours to chill. Garnish with sliced strawberries before serving.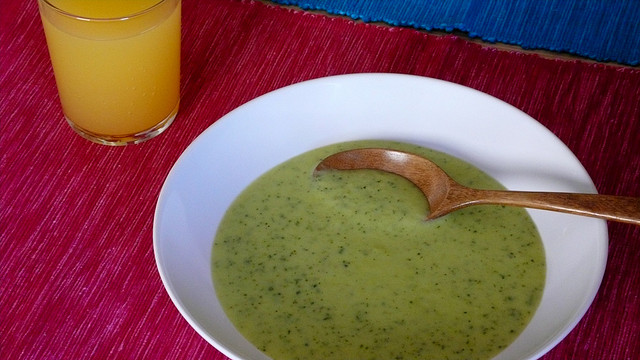 4. Zucchini Basil Soup
Again, fresh, seasonal produce becomes the star of this chilled-soup show. The Little Epicurean used zucchini to make a creamy soup that can also be served warm. For a crunch factor, try a panini side dish or garnish the soup with a few croutons.
Ingredients:
2 pounds zucchini, chopped into cubes
1 cup onion, chopped
3 garlic cloves, minced
3 tablespoons olive oil
3½ cups water
½ cup basil leaves, packed
kosher salt and fresh ground black pepper, to season and taste
Directions: Julienne skin from one zucchini (½ a zucchini if they are large). Set aside. Chop remaining zucchini into cubes of roughy equal sizes. In a large pot, heat olive oil. Once warm, add chopped onions and minced garlic. Cook at medium heat for 30-45 seconds, until garlic is fragrant. Add zucchini cubes and stir to combine. Lower heat to medium-low and cook until zucchini has started to soften, about 3-5 minutes.
Pour 3½ cups water into pot and bring to a simmer. Keep pot partially covered. Cook for 10-15 minutes, until zucchini is tender. Remove from heat. Let soup slightly cool. Transfer ⅓ of soup into a blender with ⅓ of basil leaves. Puree until smooth. Repeat until all of the soup has been pureed. Be careful when blending hot liquids.
In a small pot, bring salted water to a boil. Blanch zucchini skins. Drain. Season soup with salt and pepper. Serve soup chilled with zucchini skin garnish.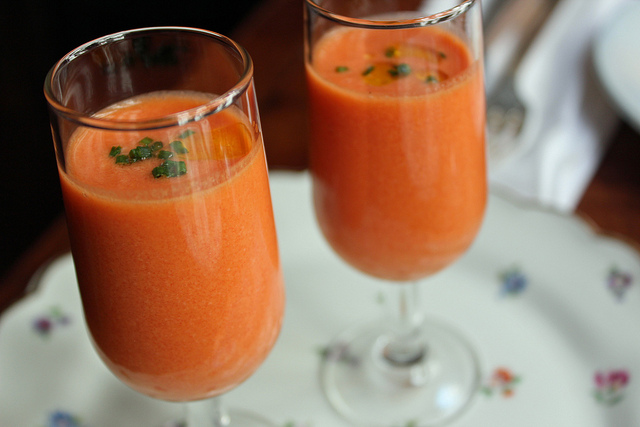 5. Gazpacho Shooters
Rachel Ray's gazpacho shooters are served cold, but the flavors are hot, hot, hot thanks to a jalapeño chili. The shooter-sized serving makes it a fantastic appetizer or starter for warm-weather dining.
Ingredients:
2½ cups tomato juice, divided
1 clove garlic
1 jalapeño chile
1 cup peeled and finely chopped English cucumber
½ cup finely chopped green bell pepper
Handful of cilantro leaves
Directions: Using a food processor, puree 1 cup tomato juice, garlic, and jalapeño chile. Transfer to a large bowl; add remaining tomato juice, cucumber, pepper, and a handful of cilantro leaves. Serve chilled in twelve 2-ounce shot glasses, topped with additional cilantro leaves.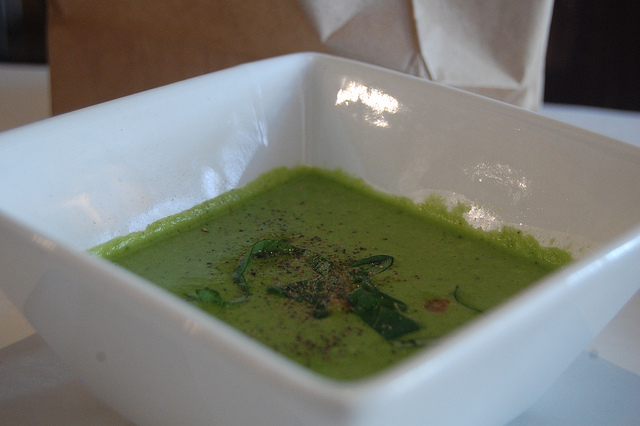 6. Avocado Soup
With avocado in the soup and as a garnish, Eat Boutique's recipe will satisfy any avocado addicts, and it makes for a light meal. The slightly tart flavor imparted by the limes keeps the soup from being too one-note in terms of taste. It makes four servings.
Ingredients:
2½ avocados, cut into pieces
½ cup fresh cilantro, chopped
1 small garlic clove
5 tablespoons fresh lime juice
zest from 1 lime
½ teaspoon kosher salt
½ teaspoon freshly cracked black pepper
3 cups chicken or vegetable stock
Garnish
1 ear of white corn, kernels removed
1 small red baby onion, diced
½ an avocado, diced
1 lime juice
sprinkle of salt
paprika
Directions: In a food processor, add the avocados, cilantro, garlic, zest, and fresh lime juice. Process until smooth, about 3 minutes. With the food processor running, slowly add the stock. Continue mixing until creamy, about 3 minutes. Season with salt and pepper to taste. Pour into a large glass bowl, cover with plastic wrap, and let chill in the refrigerator for at least 1 hour.
In a small bowl, combine all of the garnish ingredients except the paprika. Stir. Set aside until it is time to serve the soup. Ladle the soup into a bowl and float about a tablespoon of the garnish on the top of the soup. Sprinkle a little paprika over the top.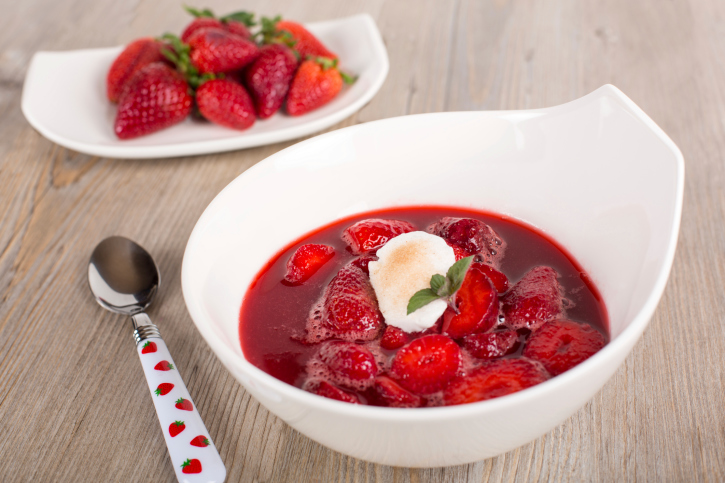 7. Rhubarb Soup
Take a break from the green soups for dinner and make a vibrant, chilled dessert soup with this recipe from Food 52. Rhubarb soup is commonly seen in Norway, and it is delightful when topped with whipped cream.
Ingredients:
4 cups rhubarb, cut into 1-inch pieces
¾ cups sugar or honey
1 cup water
1 cup white wine (a light, fruity variety, such as pinot grigio)
4-5 cardamom pods lightly crushed, or 1 teaspoon ground cardamom
1 teaspoon vanilla extract
1 cup strawberries, washed and sliced (optional)
sweetened whipped cream for serving
2 teaspoons cornstarch, dissolved in about ¼ cup warm water
Directions: In a medium pot, bring the rhubarb, sugar/honey, water, wine, cardamom, vanilla, and strawberries (if using) to a boil. Lower the heat to very low and simmer until the rhubarb is soft and falling apart, 20-25 minutes. Remove the cardamom pods (if using ground cardamom, then just continue). Turn the heat up to medium and stir in the dissolved cornstarch. Stir until the soup thickens, 2-3 minutes, then remove from heat. Allow to cool to room temperature, or chill in the refrigerator. Serve in bowls, generously topped with sweetened whipped cream. If desired, you can also put cubes of pound cake in the bottoms of the bowl and spoon the soup over them.
More From Wall St. Cheat Sheet: