Craving Control: 10 Satisfying Snacks Under 200 Calories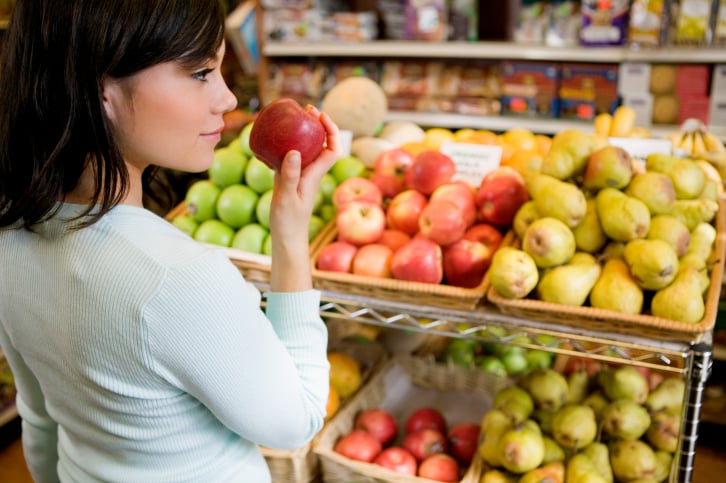 According to WebMD, snacks are an encouraged part of your daily diet — if handled responsibly, they can stave off overeating at mealtime, while also allowing you to perform at peak energy levels throughout the day. It can be challenging to cut down on calories without cutting down on deliciousness, but look no further! There are plenty of snacking options out there that can pack in the satisfaction without you packing on the pounds, and we've collected some of the best for you right here. Bon appétit!
Note: The below calorie counts were calculated using online Calorie Counter.
1. Small or Medium Apple With Peanut Butter (178 calories)
Everyday Health recommends this sweet and salty snack, writing that, "Fresh fruits like apples have lots of vitamins and minerals in addition to natural sugars to boost your energy," according to health education specialist Laura Catalusci. Combined with one tablespoon of peanut butter's powerful protein kick, this combo is a great way to tide yourself over until the next meal.
2. Salty Honey Greek Yogurt (181 calories)
According to U.S. News and World Report, Greek yogurt is "high in protein, which helps promote fullness." Four ounces of the stuff packs 10-15 grams of protein. Add 1 ½ tablespoons of honey along with a pinch of sea salt to your taste preference, and you've got Shape magazine's recommendation for a hearty 181-calorie fuel-up.
3. Mini Watermelon Salad (146 calories)
Shape recommends this fiber- and protein-fueled addition to your day — one cup of diced watermelon sprinkled with ¼ cup of crumbled feta cheese and mint leaves for taste. According to Livestrong, "Foods that are low in energy density are best for people who are trying to lose weight. Low-energy density foods tend to contain very little fat and a lot of fiber or water, and this describes watermelon perfectly since it is 92 percent water." That, plus the protein power of cheese, makes one satisfying miniature meal. (Did we mention it happens to be delicious?)
4. Half a Turkey and Cheese Sandwich (190 calories)
One piece of whole wheat bread, three ounces of turkey breast, and a slice of cheese are less than 200 calories combined and are a delicious way to switch up a dull snacking routine, says SheKnows. Lean meats like turkey are a perfect low-calorie (and high protein!) comfort food to push you through until dinnertime.
5. 10 Carrot Sticks With 2 Tablespoons Creamy Veggie Dip (150 calories)
According to Calorie Count, carrot sticks are about five calories a pop — and while they may be small, they offer the added benefit of being supporting your body with beta-carotene and Vitamin A. Couple them with deliciously rich creamy vegetable dip (approximately 132 calories in two tablespoons, says Everyday Health), and you'll be a happy, healthy, no-longer-hungry snacker.
6. 1 Cup (Or More) of Raw Veggie of Your Choosing (Varies; 1 Cup Broccoli, 30 calories)
According to Livestrong, "Vegetables are chock-full of important nutrients that provide a wealth of health benefits, including a reduced risk of cardiovascular disease, type 2 diabetes, macular degeneration, some cancers, and diverticulitis." If you're a vegetable person, then you probably don't need reminding how low in calories they are; a single-cup serving of any raw veggie you can think of will pack less than 200 calories, and this quantity of heart healthy snack will tame your growling stomach until the next mealtime.
7. Almond Graham Crackers (157 calories)
8. Tuna With Crackers (145 calories)
Combine two ounces of canned tuna with a tablespoon of light mayonnaise. This She Knows-recommended savory snack is perfectly accompanied by 5 whole grain crackers, or if you prefer, any kind of raw vegetables for crunchy, low-calorie dipping.
9. 2 100-Calorie Bags of Popcorn (200 calories)
With some of those 100-calorie pack options out there, it's hard not to down about six without thinking twice. Fortunately, the same disaster can be prevented with with popcorn, according to Everyday Health. "Popcorn is a whole grain and a good source of fiber," adds nutrition consultant Jessica Fishman Levinson. According to WebMD, fiber "has the power to help fill you up without filling you out" — and as we all know, feeling satisfied is key to maintaining healthy eating habits!
10. 

½

Cup Any Flavor Sorbet (Varies; 

½

 Cup

Häagen-Dazs

 Raspberry Sorbet, 122 Calories)
For a cooling and sweet summertime snack, try a ½ cup of sorbet in any flavor, says Everyday Health. Sorbet calorie contents range by brand, but this serving size will ensure you don't break 200 calories on your quest to cool down.
More From Wall St. Cheat Sheet:
Want more great content like this? Sign up here to receive the best of Cheat Sheet delivered daily. No spam; just tailored content straight to your inbox.