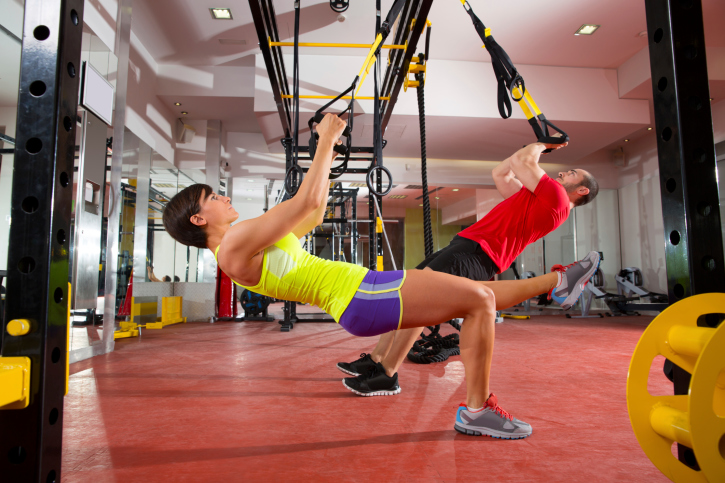 You've probably heard someone talk about CrossFit at some point. It's everywhere; gyms talk about it, commercials advocate for it, and users (CrossFitters) swear by it. So, what exactly is it? It's a training program that builds strength and conditioning through high intensity workouts. "Our program delivers a fitness that is, by design, broad, general, and inclusive. Our specialty is not specializing. Combat, survival, many sports, and life reward this kind of fitness and, on average, punish the specialist," the CrossFit website states. It's a combination of running, rowing, weightlifting, and gymnastics and is used by police academics, military special operations units, and athletes everywhere. The workouts take place in "boxes," or what non-CrossFitters call gyms, which have the bare necessities — everything you need for CrossFit, but little else, says Greatist.
Sounds intense, right? It is, but there's a reason this workout is so popular: it gets results, and it pushes you. Here's what you should know before embarking on your CrossFit journey.
Who is CrossFit for?
Anyone and everyone. The program adjusts scale load and intensity based on the participant, but the actual program stays the same no matter what, meaning the particular workout prescribed that day is designed for everyone who comes to the class, according to Nerd Fitness. There aren't separate classes in which skill levels or age groups are divided — it's you and everyone else, no matter what. It may not be up your alley if you are a looking for a specialized workout (let's say you only want to focus on running or power lifting) because CrossFit's motto is just the opposite: it refuses to specialize.
In addition, sport-specific athletes who are training for a certain sport may not want to do CrossFit (at least in their on-season), and people who like working out solo may be a little leery of the group-oriented training (unless you use the website), writes Nerd Fitness.