Cure Your Sweet Cravings With These 6 Marvelous Meringue Desserts
Light and sweet, meringue is a delicious confection that can be enjoyed as a snack or for dessert. It can also be used to enhance and improve other popular treats, creating rich tortes, heavenly cupcakes, and lovely layered cakes. Before you can prepare these tantalizing treats, though, you need to learn how to prepare the perfect meringue, which is made by whipping egg whites. This process causes the protein in the egg whites to unfold, forming film that traps the air bubbles and causing the sugar to stiffen to foam, explains What's Cooking America.
It's important to note that meringue recipes work better with eggs that are at least 3 or 4 days old. This is because thin, older egg whites are more easily whipped to a higher volume than thick, fresh egg whites. Cold eggs separate more easily, and it's of the upmost importance to ensure your eggs are completely separated. What's Cooking America warns that even a bit of fat or egg yolk can wreck a meringue. Finally, after separating, allow the egg whites to come to room temperature — this enables your egg white to foam to 6 to 8 times its original volume.
Ready to bake a magical meringue dessert that will have your guests oohing and aahing? Select any one of these 6 recipes. No one will be able to resist a tempting meringue treat!
1. Meringue, Chocolate, and Kirsch Cream Layer Cake
Layers of cream, meringue, and chocolate combine to create this divine layer cake. Meringue is baked in four rounds and coated in a rich chocolate mixture. To assemble, spread whipped cream over the bottom meringue layer before topping it with the second meringue round. Repeat this process until you run out of rounds, and then top the final meringue and sides of the cake with the remaining whipped cream. Gourmet's recipe via Epicurious is not hard to prepare; it just takes a bit of time and patience. The final result, however, is one that is well worth the wait.
Ingredients:
Vegetable oil, for greasing
3 tablespoons all-purpose flour, plus additional for dusting
½ cup granulated sugar
5 large egg whites, at room temperature for 30 minutes
3 ounces almonds or hazelnuts, toasted, chopped, and finely ground in a food processor (¾ cup)
5½ ounces fine-quality bittersweet chocolate (not unsweetened), chopped
¼ cup water
1 teaspoon instant-coffee granules
1½ cups chilled heavy cream
3 tablespoons confectioners sugar
1 tablespoon kirsch or Cognac
Garnish: grated bittersweet chocolate or chocolate curls
Directions: Put oven racks in upper and lower thirds of oven and preheat oven to 425 degrees Fahrenheit. Oil 2 large baking sheets and dust with flour, knocking off excess. Trace 2 (8-inch) rounds on each baking sheet with a fingertip, using an inverted plate or a saucepan lid as a guide.
Whisk together flour and granulated sugar in a small bowl. Beat egg whites with a pinch of salt in a bowl using an electric mixer at medium-high speed until they just hold stiff peaks. Fold in sugar mixture gently but thoroughly, then fold in nuts. Divide meringue among circles, spreading to fill in circles thinly and evenly.
Bake meringues in upper and lower thirds of oven, switching position of sheets halfway through baking, until golden brown, 8 to 10 minutes total. Loosen meringue rounds with a large metal spatula and transfer to racks to cool.
While meringues cool, heat chocolate, water, and coffee in a small heavy saucepan over moderately low heat, stirring until smooth. Cool to lukewarm, then spread chocolate evenly over tops of meringue rounds. Cool at room temperature until chocolate is set, about 3 hours.
Beat cream with confectioners sugar and kirsch in a bowl with cleaned beaters until it holds stiff peaks. Arrange 1 meringue round, chocolate side up, on a cake stand or plate, then spread ⅓ cup whipped cream over it. Top with a second round and spread with ⅓ cup whipped cream. Repeat, then top with remaining meringue round. Frost top and side of torte with remaining whipped cream.
2. Lemon Meringue Cupcakes
Breathe new life into lemon meringue pie by turning the popular dessert into cupcakes. A light lemon batter is baked and topped with lemon curd and meringue frosting, which consists of sugar, water, light corn syrup, and egg whites. Fresh, zesty, and simply stunning, Martha Stewart's Lemon Meringue Cupcakes are perfect for any occasion. The recipe yields 24 servings.
Ingredients:
3 cups all-purpose flour
1 tablespoon baking powder
½ teaspoon salt
1 cup (2 sticks) unsalted butter, room temperature
2 cups sugar
4 large eggs, room temperature
Finely grated zest of 3 lemons (about 3 tablespoons), plus 2 tablespoons fresh lemon juice
1 teaspoon pure vanilla extract
1 cup buttermilk
Directions: Preheat oven to 325 degrees Fahrenheit. Line standard muffin tins with paper liners. Whisk together flour, baking powder, and salt.
With an electric mixer on medium-high speed, cream butter and sugar until pale and fluffy. Add eggs, one at a time, beating until each is until incorporated, scraping down sides of bowl as needed. Beat in zest and vanilla. Add flour mixture in three batches, alternating with two additions of buttermilk and lemon juice, and beating until just combined after each.
Divide batter evenly among lined cups, filling each three-quarters full. Bake, rotating tins halfway through, until golden brown and a cake tester inserted in centers comes out clean, about 25 minutes. Transfer tins to wire racks to cool completely before removing cupcakes. Cupcakes can be stored overnight at room temperature, or frozen up to 2 months, in airtight containers.
To finish, spread 1 tablespoon lemon curd onto middle of each cupcake. Fill a pastry bag fitted with a large open-star tip with frosting. Pipe frosting onto each cupcake, swirling tip slightly and releasing as you pull up to form a peak. Hold a small kitchen torch 3 to 4 inches from surface of frosting, and wave it back and forth until frosting is lightly browned all over. Serve immediately.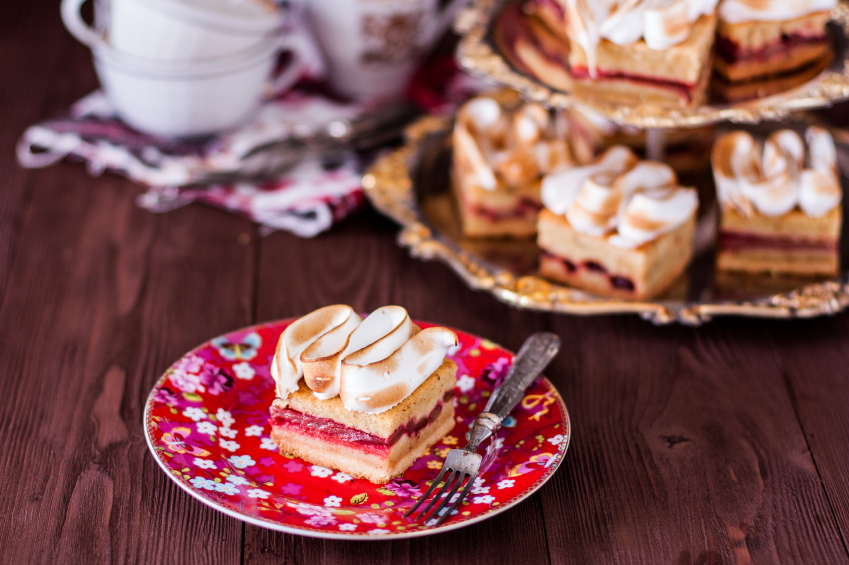 3. Rhubarb Meringue Dessert
Taste of Home's springtime dessert is one you'll want to make year-round. Homemade crust provides the base for a rich rhubarb filling, which is then topped with light-as-air meringue. If you're using frozen rhubarb, measure it while it's still frozen, then thaw completely. Drain in a colander, but do not press the liquid out. The recipe yields 12 to 15 servings — perfect for your next spring potluck!
Ingredients:
2 cups all-purpose flour
2 tablespoons sugar
1 cup cold butter, cubed
Filling
2 cups sugar
⅓ cup all-purpose flour
1 teaspoon salt
6 egg yolks, lightly beaten
1 cup heavy whipping cream
5 cups sliced fresh of frozen rhubarb
Meringue
6 egg whites
½ teaspoon cream of tartar
¾ cup sugar
1 teaspoon vanilla extract
Directions: In a small bowl, combine flour and sugar; cut in butter until crumbly. Press into a greased 13-by-9-inch baking dish. Bake at 350 degrees Fahrenheit for 20 minutes. Cool on a wire rack. In a large bowl, combine the sugar, flour and salt. Stir in egg yolks and cream. Add rhubarb. Pour over crust. Bake at 350 degrees Fahrenheit for 50 to 60 minutes or until set.
In a large bowl, beat egg whites and cream of tartar on medium speed until soft peaks form. Gradually beat in sugar, a tablespoon at a time, until stiff peaks form. Beat in vanilla. Spread over hot filling. Bake for 12 to 15 minutes or until golden brown. Cool on a wire rack. Refrigerate for 1 to 2 hours before serving. Refrigerate leftovers.
4. Strawberry-Chocolate Meringue Torte
Layers of meringue, chocolate, strawberry, and cream await you with Cooking Light's dessert. Bake your meringue rounds, sprinkling with chocolate chips at the end of their baking time, and allow to cool. Spread whipped cream over one round, followed by a strawberry mixture. Top with the remaining meringue, cream, and strawberries, and drizzle your assembled torte with melted chocolate. The recipe yields 8 servings.
Ingredients:
4 large egg whites
¼ teaspoon salt
¼ teaspoon cream of tartar
1 cup sugar
2 cups sliced strawberries
1 teaspoon sugar
¼ cup semisweet chocolate chips, divided
2 cups frozen reduced-calorie whipped topping, thawed and divided
Directions: Preheat oven to 250 degrees Fahrenheit. Cover a large baking sheet with parchment paper. Draw 2 (8-inch) circles on paper. Turn paper over, and secure with masking tape. Beat egg whites, salt, and cream of tartar at high speed of a mixer until foamy. Gradually add 1 cup sugar, 1 tablespoon at a time, beating until stiff peaks form.
Spread half of the mixture into each circle on prepared baking sheet using the back of a spoon. Bake at 250 degrees for 1 hour or until the meringues are crisp. Sprinkle strawberries with 1 teaspoon sugar; cover and set aside.
Sprinkle each meringue with 1½ tablespoons chocolate chips. Return the meringues to oven; turn off heat, and let stand for 5 minutes. Spread the softened chocolate with a spatula. Cool meringues to room temperature.
Place 1 meringue on a serving platter; spread 1 cup whipped topping over top. Arrange half of strawberry mixture over the whipped topping. Top with remaining meringue; spread 1 cup whipped topping over top. Arrange the remaining strawberry mixture over the whipped topping. Place 1 tablespoon chocolate chips in a small microwave-safe bowl. Microwave at high 1 minute or until chips are soft. Stir chocolate; drizzle over top of torte.
5. Heath Bar Meringue Dessert
In Food.com's indulgent dessert, layers of meringue are separated with whipped cream and toffee bits and chilled overnight. Light, fluffy, and unbelievably sweet, this treat will take center stage at the dessert table. The recipe yields 16 servings.
Ingredients:
6 egg whites
1¾ cups white sugar
1 pint whipping cream
1 teaspoon vanilla
12 Heath candy bars or 2 (8-ounce) bags toffee pieces
Directions: Chill the candy. Chill the bowl and beaters for the cream. Make 2 meringues. Beat 3 whites with ¾ cup plus 2 tablespoons sugar for each one. Spread each meringue on waxed paper to make two 9-by-12-inch layers. Bake at 325 degrees Fahrenheit for 45 minutes. Remove paper and cool completely. Chop the bars to small bits. Beat the cream and vanilla. Make 2 layers. Place one meringue on serving tray. Spread half the whipped cream on top. Sprinkle half the candy on top of the cream. Repeat for second layer. Chill overnight.
6. Mini Chocolate-Meringue Cupcakes
Just when you thought meringue couldn't get any tastier, Giada De Laurentiis delivers this recipe via the Food Network for Mini Chocolate-Meringue Cupcakes. Rich, creamy chocolate, light meringue, and a tantalizing topping combine to create bite-size sweets that boast big flavor. It yields 18 to 30 mini cupcakes.
Ingredients:
Cupcakes
2 large egg yolks, at room temperature
¼ cup vegetable oil
⅔ cup sugar
2 tablespoons unsweetened cocoa powder
1 teaspoon pure vanilla extract
½ teaspoon ground cinnamon
⅛ teaspoon fine sea salt
½ cup semisweet chocolate chips, melted
¼ cup cake flour
3 large egg whites, at room temperature
Topping
1 cup semisweet chocolate chips, melted
1 tablespoon vegetable oil
Directions: For the cupcakes, arrange an oven rack in the center of the oven and preheat the oven to 350 degrees Fahrenheit. Line a 24-count mini-muffin pan with 1.25-inch diameter paper liners and set aside. In a medium bowl, using an electric hand mixer, beat the egg yolks, vegetable oil, ⅓ cup of the sugar, cocoa powder, vanilla extract, cinnamon, and salt, at high speed until smooth, about 2 minutes. Mix in the melted chocolate chips and stir until smooth.
In a separate bowl, using an electric hand mixer, beat the egg whites at high speed until they hold soft peaks, about 3 minutes. With the machine running, gradually add the remaining ⅓ cup sugar and continue to beat until the mixture holds stiff peaks, about 2 minutes. Stir ⅓ of the egg white mixture into the chocolate mixture. Using a spatula, fold the remaining egg white mixture. In batches, sift the flour over the batter and fold it in using a spatula. Fill each paper liner to the top with batter and bake for 12 minutes until puffed. Remove from the oven and let cool for 15 minutes.
For the topping, in a small bowl, combine the melted chocolate chips and oil. Stir until smooth. Using a fork, drizzle the chocolate mixture over the cupcakes. Allow the topping to harden for at least 1½ hours at room temperature before serving. Store at room temperature in an airtight container.
More from Life Cheat Sheet:
Want more great content like this? Sign up here to receive the best of Cheat Sheet delivered daily. No spam; just tailored content straight to your inbox.