Hearty Breakfast Recipes Using Spicy Chorizo Sausage
Breakfast can seem like a never ending rotation of scrambled eggs, cereal, and oatmeal. While those are all good options, your morning meal can definitely benefit from an injection of Mexican flavor. Fresh chorizo is one of the easiest ways to guarantee tons of taste. Make one of these five recipes, and you'll have no problem getting out of bed.
1. Spicy Breakfast Strata with Chorizo, Red Pepper, and Cheddar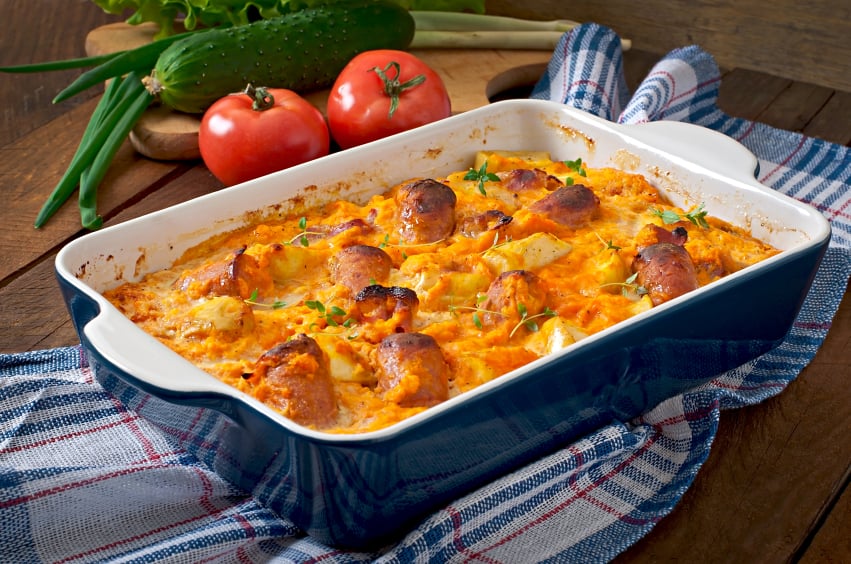 This brunch favorite often seems like something that belongs at a baby shower, but it doesn't have to be. This kicked-up rendition from Inquiring Chef, adapted from Bon Appétit, is sure to become a fast favorite. All you have to do is cook the sausage and peppers, then layer the mixture with some bread cubes, cheese, and a simple egg mixture. After an hour in the oven, it will be ready for you to devour.
Though this casserole takes some time, it's really easy to put together. You can even speed things up by assembling it a day ahead. Cover it with plastic wrap, and pop it in the refrigerator. In the morning, just toss it in a preheated oven. You might want to make it over the weekend, because leftovers make phenomenal breakfasts all week.
Ingredients:
6 eggs
2½ cups milk
2 cups sliced green onions
½ cup whipping cream
½ teaspoon salt
1 pound Mexican chorizo, casings removed
1 large red bell pepper, seeded, and cut into ½-inch-wide strips
1 (1-pound) loaf French bread, cut into ½-inch cubes
2 cups grated sharp cheddar cheese
Directions: Preheat oven to 350 degrees Fahrenheit. Butter a 13-by-9-inch baking dish. Whisk the first five ingredients in a large bowl to combine. Season generously with pepper, and whisk to combine. Set aside.
In a large skillet set over high heat, cook sausage on one half, and bell pepper on other half. Break up sausage with a spoon, and cook until sausage is fully cooked, and peppers are browned on edges, about 7 minutes. Arrange one-half of bread cubes in bottom of prepared dish. Pour half of egg mixture over bread, then sprinkle with half of cheese, and top with half of sausage mixture. Repeat layers. Let stand at least 20 minutes. Bake until strata is puffed and brown, about 1 hour. Cool slightly, and serve.
2. Salsa-Simmered Tortillas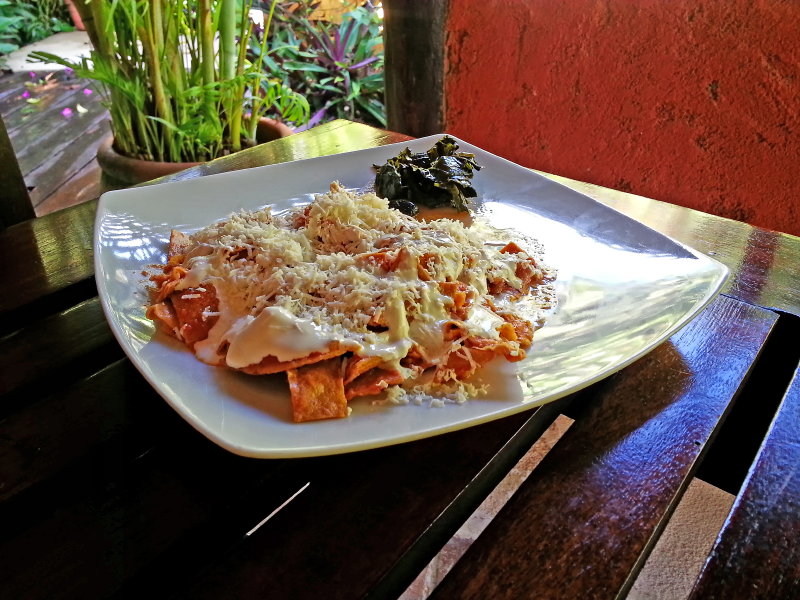 Though chilaquiles are all the rage on brunch menus across the country, the dish has very humble origins. The excellent breakfast was really invented out of necessity as a way to use up leftover tortillas that quickly turn stale. Once smothered in a delicious sauce, they take on a new life. Try your hand at the classic Mexican meal with Saveur's simple recipe. It's spicy and completely satisfying.
Start by broiling some peppers and tomatoes, then peel, and purée. Fry up some tortillas, brown the sausage, and then stir everything together. Top with cilantro, cheese, and some sour cream. This breakfast will make any takeout sandwich seem sad.
Ingredients:
6 plum tomatoes, cored
2 garlic cloves, unpeeled
1 jalapeño, halved, and seeded
1 small white onion, quartered
2 tablespoons vegetable oil, plus more
4 chipotle chiles en adobo
4 tablespoons roughly chopped cilantro
1½ tablespoons toasted sesame seeds
¼ teaspoon dried oregano
10 (6-inch) corn tortillas, cut into 1½-inch squares
6 ounces Mexican chorizo, removed from casing, broken into chunks
¼ cup sour cream
2 ounces cotija or feta cheese, crumbled
4 radishes, thinly sliced
Kosher salt
Directions: Preheat broiler and place rack 6 inches from heating element. In a medium bowl, toss tomatoes, garlic, jalapeño, and onions with 2 tablespoons vegetables oil to coat. Transfer to a foil-lined baking pan and broil, turning occasionally as skins on peppers and tomatoes begin to blacken, about 10 minutes. Transfer vegetables to food processor, and add chipotles, 2 tablespoons cilantro, sesame seeds, oregano, and ¼ cup water. Blend until smooth, about 1 minute. Set aside.
Add vegetable oil to a deep 12-inch cast-iron skillet to a depth of 1 inch. Heat over medium-high heat until a deep-fry thermometer registers 350 degrees Fahrenheit. Working in batches, add tortillas, and fry, stirring occasionally, until brown and crisped, about 3 minutes per batch. Remove tortillas using a slotted spoon, and transfer to a paper towel-lined baking sheet. Lightly season with salt, and repeat with remaining tortillas. Set aside.
Heat a large, deep nonstick skillet over medium-high heat. Add chorizo and cook, stirring frequently, breaking meat with a wooden spoon, until fully cooked, 8 to 10 minutes. Add tomato sauce, and stir to combine. Season with salt, to taste. Bring to a simmer, and add chips. Stir to coat, and let simmer 2 minutes, just until tortillas begin to soften. Transfer mixture to a platter and garnish with remaining cilantro, sour cream, cheese, and radishes. Serve.
3. Chorizo and Guacamole Corn Cakes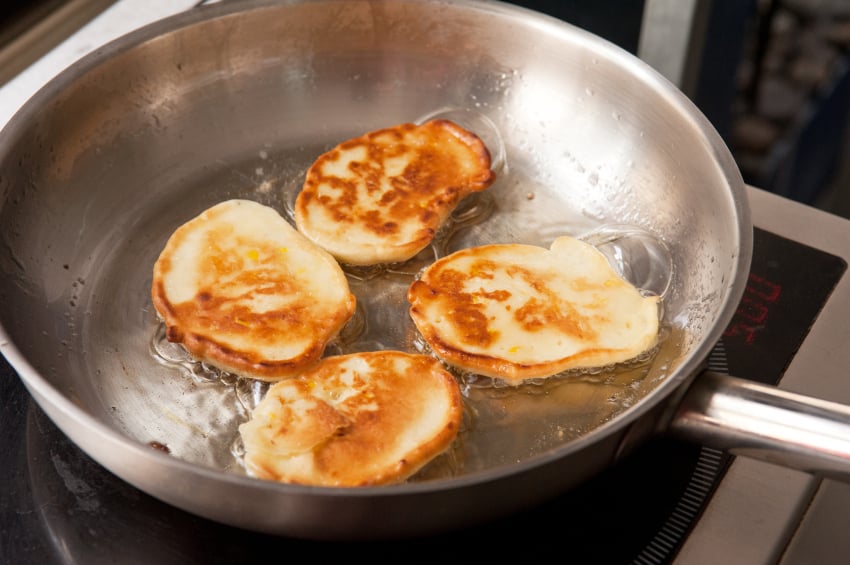 It seems like carb lovers are always forced to go the sticky and sweet route for breakfast. But these tasty stacks from The Wicked Noodle, which contain chorizo, guacamole, and a runny egg, prove that pancakes can do savory just as well as any other breakfast food. While the name might sound a little bit daunting, this recipe uses purchased guacamole and corn muffin mix to make the process really easy. The only hard part is deciding whether you want to share.
Ingredients:
1 (8.5-ounce) box corn muffin mix
1 egg
2 tablespoons melted butter
¾ cup milk
¼ cup minced cilantro, plus more
1 pound Mexican chorizo
1 (7-ounce) package guacamole
4 eggs, cooked to your liking
Directions: Preheat oven to 200 degrees Fahrenheit. Combine muffin mix, egg, butter, milk, and cilantro until combined. Set aside. Cook chorizo in a large skillet until completely cooked. Remove to a paper towel-lined plate to drain.
Spoon ¼-cup measures of batter onto a nonstick skillet coated with cooking spray. Cook until tops begin to bubble and undersides are golden, flip and cook until second side is golden. Transfer finished corn cakes to oven to keep warm between batches.
Stack three corn cakes on each plate. Top with chorizo, guacamole, and finish with an egg. Sprinkle with cilantro, and serve.
4. Chorizo, Potato, and Mushroom Tacos
Tacos might be the most popular street food on the planet. Everything from Korean barbecue to fried soft shell crabs are right at home in a soft tortilla with some toppings, so it's no surprise that they make great breakfast food. And they don't have to be brimming with scrambled eggs to qualify as something appropriate for the morning. These Chorizo, Potato, and Mushroom Tacos from Serious Eats taste just as good in the a.m as they do in the evening.
This recipe comes together surprisingly fast, too. Brown up some chorizo, then add onions and mushrooms right to the same skillet. Finish by adding the grated potato, and cook for 5 minutes longer. Wrap up the filling, top with your favorite garnishes, and go in for a big bite. Who needs eggs and toast when you can have chorizo and tortillas?
Ingredients:
6 ounces Mexican chorizo, casings removed
½ tablespoon canola oil
½ yellow onion, sliced
3 ounces mushrooms, sliced
2 small red skinned potatoes, peeled, and grated
Cilantro
Tortillas
Salt
Salsa
Directions: Cook chorizo in a skillet set over medium heat, breaking up with a wooden spoon, about 4 minutes. Turn heat to medium-high, and add oil as needed. Then add onion and mushrooms. Cook 3 minutes longer, stirring occasionally until veggies start to become tender.
Add grated potatoes, and cook another 5 minutes, until potatoes are fully cooked, stirring occasionally. Season with salt, to taste. Serve in tortillas, and top with salsa and cilantro.
5. Black Bean Chorizo Torta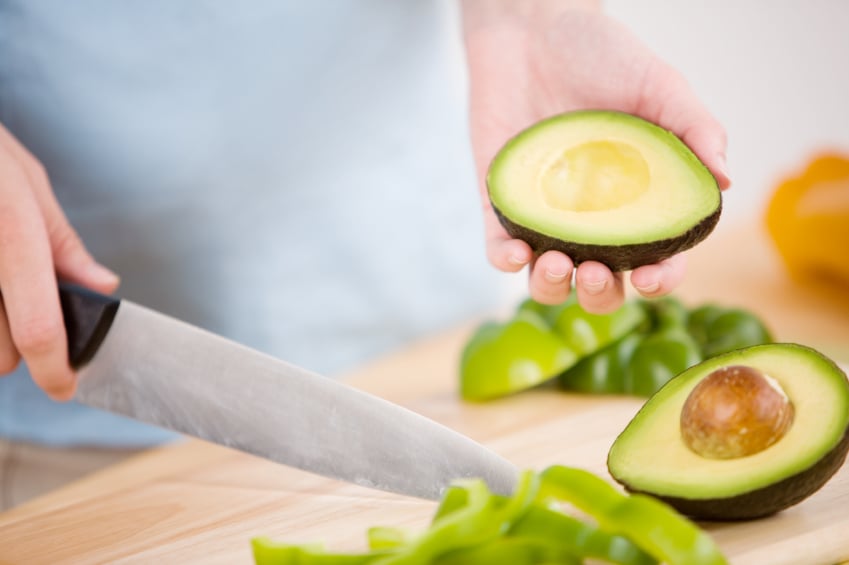 They may not be as widely available as tacos, but tortas are starting to get a little bit more attention in the culinary world. Mexican food master Rick Bayless even launched a casual restaurant chain devoted to the sandwiches. One of his most delicious recipes, featured on Frontera Fiesta, is also one of his simplest. Just toast some rolls, then fill with a quick chorizo and bean filling. Top with slices of avocado, some cheese, and a little bit of salsa. It's a breakfast sandwich unlike anything you've had before.
Ingredients:
8 ounces Mexican chorizo, casings removed
3 to 4 tablespoons vegetable oil
2 (15-ounce) cans black beans
Salt
4 crusty sandwich rolls
6 ounces Mexican queso fresco, or other fresh cheese, sliced ¼-inch thick
1 ripe avocado, pitted, and sliced into ¼-inch-thick slices
Chile sauce or salsa
Directions: Heat a large heavy skillet over medium heat and add chorizo. Cook, breaking meat with a wooden spoon, until fully cooked, 8 to 9 minutes. Add 1 to 2 tablespoons oil, and beans. Mash and cook, until heated through, and beans are consistency of mashed potatoes, 10 to 15 minutes. Keep warm over low heat.
Heat another large skillet over medium heat. Slice rolls, and scrape a bit of bread from center of each piece. Brush insides with oil, and cook until golden brown, about 2 minutes.
Smear ½ cup of chorizo and bean mixture onto bottom half of each roll. Top with cheese, avocado and salsa, or chile sauce. Add tops of rolls, and serve.
More from Culture Cheat Sheet: