Diet-Friendly Desserts at 8 Popular Restaurants
Here's something scary: Did you know it was possible to cram 2,700 calories into a single dessert dish? Uno Pizzeria knows, and they prepare it daily!
Terrifying truths like this make going out to dinner slightly more of a minefield for dieters. But the fact that such decadent desserts exist does not, by any means, imply that you have to skip out entirely! Many restaurants offer delicious lighter options for an after-dinner treat. And while it may be hard to resist the Mega-Sized Deep Dish Sundae (read on to find out more about that offender), with a hint of know-how and self-restraint, you can be shedding some serious calories and fat intake off your diet.
Below we've listed a few of the most popular chain sit down restaurants in the U.S. and how you can avoid falling into the trap of overindulgence while you're watching your weight — and not at the expense of taste!
1. T.G.I. Friday's
A cursory look the the T.G.I. Friday's menu will indicate the presence of yet another dietary danger zone. Stay in the clear by ordering the Kids' Orange Sherbet (150 calories, 0 grams fat). It doesn't offer much in the way of nutritional benefits, but it is the least compromising in terms of calorie and fat contents.
T.G.I. Friday's also offers a refreshing Triple Berry Smoothie option (210 calories, 3.5 grams fat, 3 grams saturated fat) — it isn't on the dessert menu, but it's a sweet summertime treat that will keep you satiated after a hearty meal.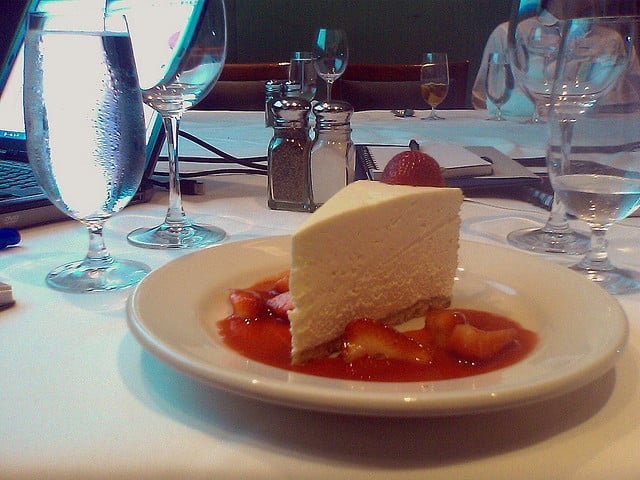 2. Chili's
The least offensive dessert item on the current Chili's menu is the 750-calorie cheesecake. We cannot, in good heart, tell you that this 47 grams of fat-loaded cheesiness is diet-friendly. According to this menu reference, your true best option is to a) ask a server about child's dessert portions — these can vary by location, b) opt for a side of sweet Cinnamon Apples (270 calories, 11 grams fat, 3,5 grams saturated fat, 1 gram protein), or c) forgo dessert just this once.
Do not, under any circumstances, order the Skillet Chocolate Chip Cookie. It is jam-packed with nearly 1,500 calories of rich chocolate goodness. In fact, we're sort of wondering how you ended up at Chili's to begin with — maybe you could resist the sizzling call of the 1,880-calorie Bacon Ranch Steak Quesadilla? Was it the Siren song of the 1,830-calorie Big Mouth Bites? Whichever it may be: Escape while you still can!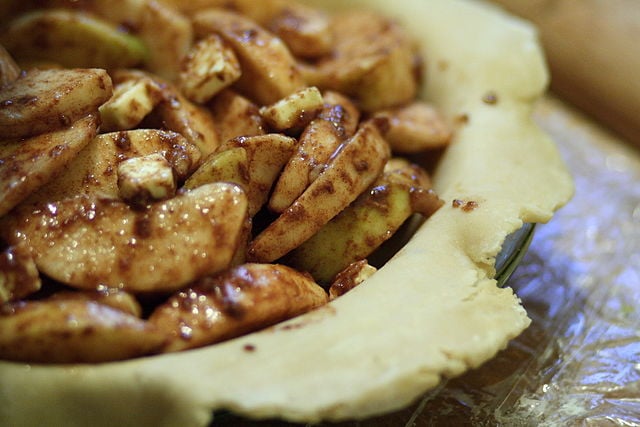 3. Uno Chicago Grill
Uno's lighter dessert options are considerably less offensive, given that you make the right choices. We recommend Mini All American Hot Apple Crumble (320 calories, 14 grams fat, 8 grams saturated fat, 3 grams protein, 31 grams sugar). It has more sugar than we'd like to advise, but it's the least of the demons on this dessert section.
Even more importantly: Do not "accidentally" stumble your way into ordering the Mega-Sized Deep Dish Sundae. With a name like that, it certainly isn't a dieter's dream — and with 2,700 calories and 130 grams of fat (76 grams saturated fat), we'd additionally advise to keep an ambulance on standby.
4. Macaroni Grill
The title for Most Suspicious Entrant in this competition goes to Macaroni Grill, whose labyrinthine website appears to offer no indication of nutritional details for its dessert menu items (calorie counts for dinner offerings can be found here). With the information that we did find, we concluded the the best possible route here — aside from skipping dessert entirely — is ordering a Kids' Vanilla Gelato. Be sure to ask your server for additional nutritional information.
5. Applebee's
The Applebee's official menu has a couple of worthy contenders for those of us who aren't prepared to gobble a 1,600-calorie Blue Ribbon Brownie. Try the Mini Salted Caramel Pretzel Bites — a reasonable portion containing 420 calories, 10 grams of fat, 4.5 grams saturated, and 7 grams protein. Not a bad protein kick! If you want to chop off even more calories, try the Brownie Bite (370 calories 17 grams fat 10 grams saturated 4 grams protein). It may be higher in fat, but it's a fair enough trade-off for the sake of overall health.
Note: Don't be scared off by the "mini" label. Most "mini" restaurant options may be miniature compared to the colossal portions of standard-sized desserts, but these are a sufficient — often generous — amount of food for one person to handle, particularly following dinner.
6. Cheesecake Factory
If you were thinking of having a diet cheat day and splurging for some cheesecake, think again. The average calorie count for all these varieties of cheesecake appears to be around 1,000. You'll be even worse off ordering one of the specialty desserts — for example, the 1,680-calorie Chocolate Truffle Tower Cake.
Instead, opt for a 110-calorie goblet of strawberries with fresh whipped cream, if only to see what kind of goblet comes with it. Alternately, you'd be wise to spring for the 280-calorie dish of ice cream or a 180-calorie strawberry smoothie. Just don't order them all (though at 570 cumulative calories, these three desserts combined still contain fewer calories than the "diet-friendly" 600-calorie Low Carb Original Cheesecake.
7. Ruby Tuesday
Try to go simple here, especially if you just ate a Bacon Cheese Pretzel Prime Burger (1,777 calories, 113 grams of fat — and this doesn't include your side of fries). Ruby Tuesday's has a Chocolate Chip Cookie dessert option (180 calories, 9 grams fat). If this is too boring for you, you can cheat a little bit by ordering the Red Velvet Cupcake (285 calories, 11 grams of fat). We won't tell.
8. Olive Garden
Olive Garden's menu, while famous for its rich Italian dishes, is one of your best options for lighter restaurant dining as well. The restaurant has a Dolcini menu filled with smaller treats to satisfy your sweet tooth without packing in a few thousand calories. The best option for health-conscious diners here is the Strawberry & White Chocolate Cake Mini Dessert, containing 210 calories and 11 grams fat.
All five dolcini options have under 300 calories, making any of them an excellent alternative for, say, the 920-calories-excluding-toppings Zeppoli dish. If you're looking for a sweet, refreshing alternative to the standard dessert menu here, Olive Garden has several smoothie options, all containing 200 calories or fewer.
More from Wall St. Cheat Sheet: