Dinner for Breakfast: 5 Recipes Putting Your Last Meal First
It is time to turn breakfast on its head and eat dinner instead. Well, maybe not a full dinner complete with sides and main courses, but it is about time that we stopped pigeon holing ingredients and dishes to a specific time of the day. "Breakfast is defined as the day's first meal," Keri Gans, MS, RD, CDN wrote in U.S. News. "In other words, you simply need to start the day with food, which certainly doesn't need to be typical breakfast foods if you don't like them." We'll take that a step further and say even if you do like breakfast foods, it can be good to mix your routine up every now and then — so get ready for pasta prepared in pajamas, because we're bringing you 5 recipes that use "dinner" foods in breakfast recipes.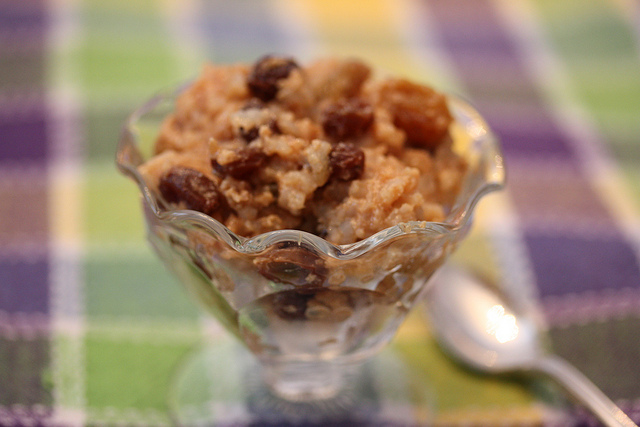 1. Brown Rice Breakfast Pudding
Chard in Charge won't have you straying too far from your breakfast comfort zone with this rice pudding – but it can be a great way to use up leftover brown rice. In fact, you'll want it to be your day old rice since that works best. That said, using rice that has been sitting around for more than three days is cautioned against, because it might have harmful bacteria. Other toppings to consider include fresh and dried fruit, as well as glazed nuts.
Ingredients:
1 cup cooked brown rice
1/2 cup unsweetened almond milk
1 teaspoon maple syrup
1 teaspoon pure vanilla extract
Pinch of sea salt, optional
Juice of 1 orange (4-6 tablespoons)
1 teaspoon fresh orange zest (about 1 whole orange)
1 teaspoon brown rice flour, more as needed to thicken
1 1/2 tablespoons dark chocolate chunks, roughly chopped
Directions: In a medium sauce pan, combine brown rice, almond milk, orange juice, orange zest, maple syrup, salt and vanilla extract. Bring to a boil over medium high heat. Stir continuously to prevent a "milk skin" from forming on the surface. When a boil is achieved, reduce heat to medium low and stir in the brown rice flour. The pudding should thicken up immediately, but if it doesn't keep adding 1/2 teaspoon until you desired thickness is achieved. Pour thickened brown rice into a bowl and sprinkle with dark chocolate and extra orange zest. Enjoy immediately while hot.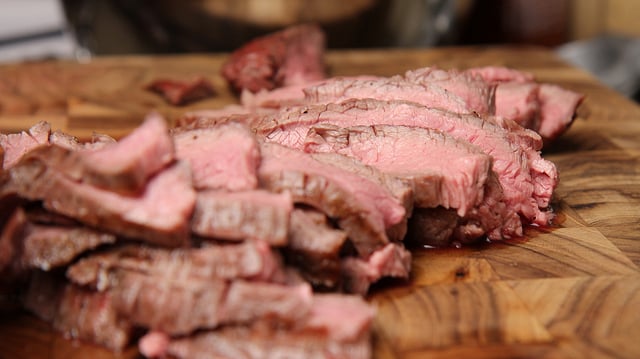 2. Leftover Steak Hash
Don't get stuck eating your leftover steak for dinner, because with For the Love of Cooking you could be eating it for breakfast as part of a hash. This dish serves between 2 and 3 people, making it a great breakfast to share.
Ingredients:
3 cups of potatoes, diced
1 sweet yellow onion, diced
1 1/2 – 2 cups of leftover steak, diced
2 tablespoons leftover caramelized onion (optional)
1-2 tablespoons olive oil
Sea salt and freshly cracked pepper, to taste
1 clove of garlic, minced
Sea salt and freshly cracked pepper, to taste
Paprika, to taste
1 green onion, chopped for garnish
Directions: Boil the diced potatoes in water for 4-5 minutes; drain. Heat the olive oil in a large skillet over medium heat; add the onion and sauté for 2 minutes then add the potatoes. Push the potatoes down in the pan with your spatula and leave alone for 3-4 minutes. Flip the potatoes to brown on the other side. Continue to leave the potatoes alone for 3-4 minutes before flipping. Once the potatoes and onions are golden brown, add the diced steak and caramelized onions and heat through. Season with paprika, sea salt, and freshly cracked pepper, to taste. Serve immediately and enjoy!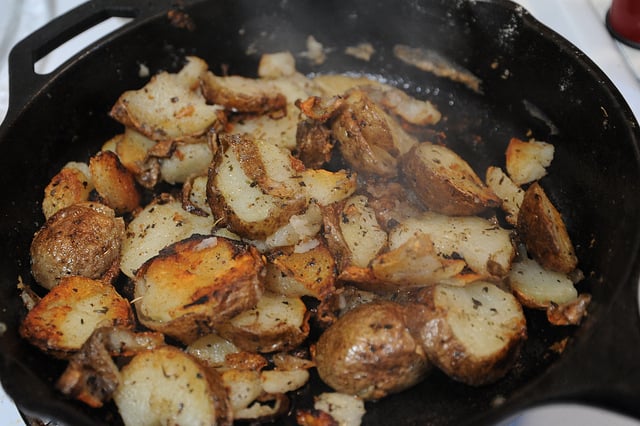 3. Breakfast Tacos
When you think of breakfast tacos, eggs probably come to mind, but that doesn't always have to be your go-to option. For a protein-filled taco in the morning, try using leftover turkey, chicken, or any other meat instead. Macheesmo put leftover turkey to use in this recipe, which is highly adaptable to your tastes.
Ingredients:
1 large Russet potato, cubed
1 cup leftover turkey, chopped
1/2 cup onion, diced
1 jalapeño, minced (optional)
1 cup grated cheese
1 teaspoon paprika
1-2 tablespoons olive oil
Salt and pepper
Fresh oregano or thyme
Flour tortillas
Hot sauce
Directions: Add a drizzle of oil to a large skillet and get it hot over medium-high heat. Then add your cubed potatoes and let them cook until they start to get crispy, about 8-10 minutes. Season the potatoes as they cook with salt and pepper and maybe a pinch of paprika. Once the potatoes are crispy, add your onions and pepper this way they won't burn while the potatoes cook. Add the turkey in with the veggies and toss everything together. The turkey should warm up quickly and even crisp up a bit on some parts.
Microwave your tortillas for a few seconds just to soften them up and then add some grated cheese to them. Pile on the turkey mixture and garnish with some fresh herbs if desired.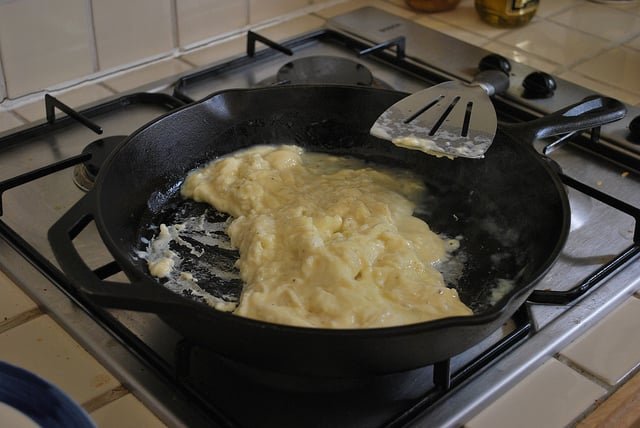 4. Egg and Pasta Scramble
But sometimes, eggs are definitely an ingredient you want with breakfast — even when they are will non-traditional ingredients like pasta. For a new take on scrambled eggs, make this Italian egg and pasta scramble from the Food Network; it serves four.
Ingredients:
1/2 cup orzo pasta
10 large eggs
1/2 teaspoon salt
1/4 teaspoon freshly ground black pepper
2 ounces smoked mozzarella, cut into ½-inch cubes
2 tablespoons thinly sliced fresh basil leaves
1 tablespoon butter
4 ounces pancetta, coarsely chopped
1/2 cup chopped onion
8 thin asparagus stalks, trimmed, cut crosswise into ½-inch pieces
Directions: Bring a large saucepan of salted water to a boil. Add the orzo and cook until al dente, stirring occasionally, about 5 minutes. Drain the orzo. Whisk the eggs, salt, and pepper in a medium bowl to blend. Stir in the cheese and basil. Set aside.
Melt the butter in a large nonstick skillet over medium heat. Add the pancetta and saute until crisp and golden, about 5 minutes. Add the onion and saute until tender, about 2 minutes. Add the asparagus and saute until crisp-tender, about 2 minutes. Add the orzo and stir to coat. Add the egg mixture. Using a rubber spatula, stir the mixture until the eggs are softly set, about 4 minutes. Transfer the egg mixture to a serving bowl and serve.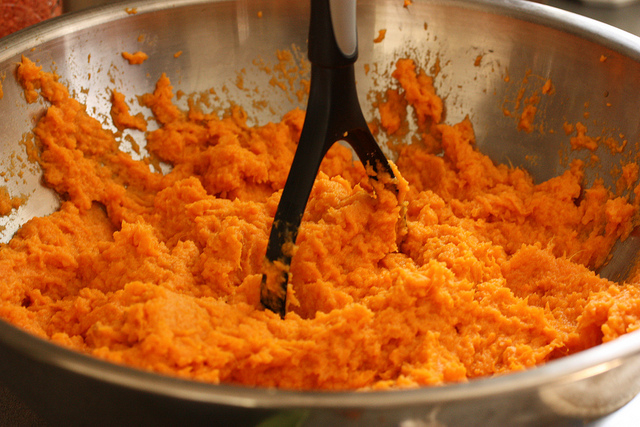 5. Mashed Sweet Potatoes with Greek Yogurt
You don't have to give up enjoying a sweet breakfast when you swap the placement of meals either, instead just use sweet potatoes. That might not have been the intent of this recipe for Food & Wine but maple syrup and greek yogurt are already parts of breakfast, so why not bring sweet potatoes over to the morning too?
Ingredients:
2 pounds sweet potatoes or yams, peeled and cut into 1/2 inch pieces
1 tablespoon brown sugar
1 tablespoon maple syrup
1/2 teaspoon ground cinnamon
1/2 cup Greek yogurt
Directions: Place the sweet potatoes in a large pot and fill with cold water to cover the potatoes. Bring the water to a boil over high heat, then reduce heat to medium-low and then simmer for 10-15 minutes or until the sweet potatoes are tender when pierced with a fork. Drain the sweet potatoes in a colander, shaking the colander to help remove excess water. Pour the potatoes into a large bowl. Add the brown sugar, maple syrup, cinnamon, and Greek yogurt to the sweet potatoes. Mash to your desired texture and serve warm.
More From Wall St. Cheat Sheet: