It is time to turn breakfast on its head and eat dinner instead. Well, maybe not a full dinner complete with sides and main courses, but it is about time that we stopped pigeon holing ingredients and dishes to a specific time of the day. "Breakfast is defined as the day's first meal," Keri Gans, MS, RD, CDN wrote in U.S. News. "In other words, you simply need to start the day with food, which certainly doesn't need to be typical breakfast foods if you don't like them." We'll take that a step further and say even if you do like breakfast foods, it can be good to mix your routine up every now and then — so get ready for pasta prepared in pajamas, because we're bringing you 5 recipes that use "dinner" foods in breakfast recipes.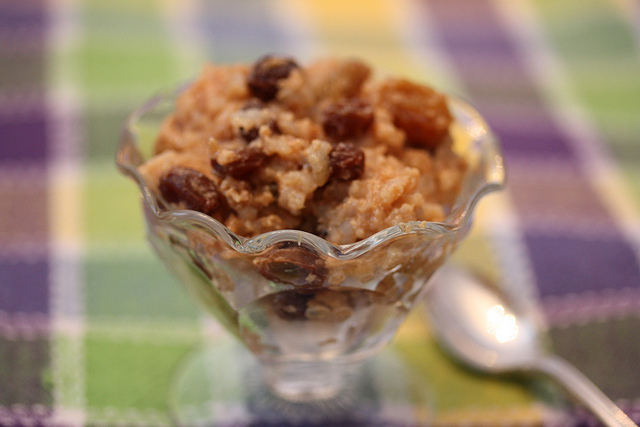 1. Brown Rice Breakfast Pudding
Chard in Charge won't have you straying too far from your breakfast comfort zone with this rice pudding – but it can be a great way to use up leftover brown rice. In fact, you'll want it to be your day old rice since that works best. That said, using rice that has been sitting around for more than three days is cautioned against, because it might have harmful bacteria. Other toppings to consider include fresh and dried fruit, as well as glazed nuts.
Ingredients:
1 cup cooked brown rice
1/2 cup unsweetened almond milk
1 teaspoon maple syrup
1 teaspoon pure vanilla extract
Pinch of sea salt, optional
Juice of 1 orange (4-6 tablespoons)
1 teaspoon fresh orange zest (about 1 whole orange)
1 teaspoon brown rice flour, more as needed to thicken
1 1/2 tablespoons dark chocolate chunks, roughly chopped
Directions: In a medium sauce pan, combine brown rice, almond milk, orange juice, orange zest, maple syrup, salt and vanilla extract. Bring to a boil over medium high heat. Stir continuously to prevent a "milk skin" from forming on the surface. When a boil is achieved, reduce heat to medium low and stir in the brown rice flour. The pudding should thicken up immediately, but if it doesn't keep adding 1/2 teaspoon until you desired thickness is achieved. Pour thickened brown rice into a bowl and sprinkle with dark chocolate and extra orange zest. Enjoy immediately while hot.