Dinner Recipes: 6 Ways to Give Pie a Try Tonight
It's time to put a piece of pie on your dinner plate. Why would you want to do this? We're glad you asked. Often filled with meat, cheese, and vegetables, a savory pie can be a fulfilling and substantial part of your dinner. When you use a pre-made crust, you can have dinner on the table in a flash — or you could use a crustless pie recipe and eliminate that aspect entirely. Plus, over the years people have been inventive with the flavor profiles, turning kid favorites like pizza into a pie you can dish out to even the pickiest of eaters. But from here on out, we'll let the pies speak for themselves. Keep reading for six savory pies to make tonight.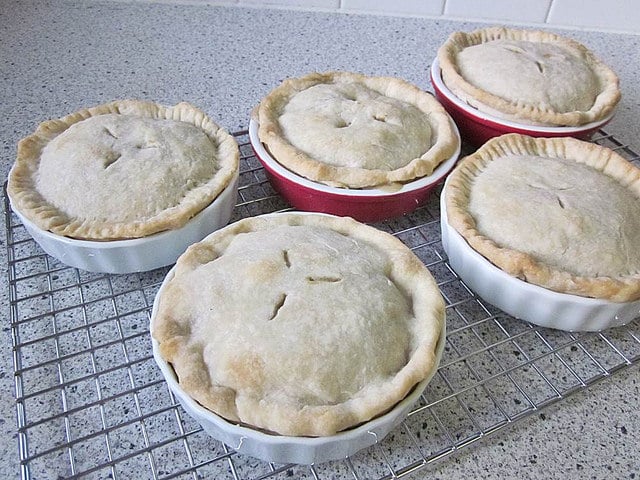 1. Pizza Pot Pies
For a pizza-flavored pie that isn't a pizza pie, we're turning to Betty Crocker's pizza pot pies. The pies are baked in individual casserole dishes, ramekins, or whatever you have that is ovenproof and between 10 and 12 ounces. Other potential ingredients include peppers, pepperoni, or olives.
Ingredients:
1 pound lean ground beef or Italian sausage
½ cup chopped onion
½ cup chopped green bell pepper
1 can (8 ounces) pizza sauce
1 can (4 ounces) sliced fresh mushrooms
1 cup shredded mozzarella cheese (4 ounces)
1 cup Original Bisquick mix
¼ cup very hot water
Directions: Heat oven to 375 degrees Fahrenheit. Grease four 10- to 12-ounce casseroles. Cook ground beef, onion, and bell pepper in 10-inch skillet over medium heat, stirring frequently, until beef is brown; drain. Stir in pizza sauce and mushrooms. Heat to boiling, stirring occasionally; reduce heat. Simmer uncovered 5 minutes, stirring occasionally. Spoon beef mixture into casseroles. Sprinkle ¼ cup cheese on each.
Combine Bisquick mix and very hot water; beat vigorously 20 seconds. Turn dough onto surface dusted with Bisquick mix; gently roll in Bisquick mix to coat. Shape into ball; knead about 10 times or until smooth. Divide dough into four balls. Pat each ball into circle the size of diameter of casserole. Cut steam vent in each circle with knife or cookie cutter. Place each circle on beef mixture in casserole. Bake 15-20 minutes or until very light brown.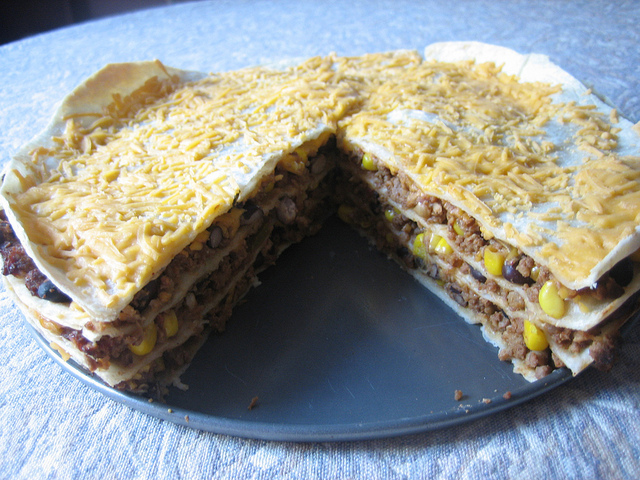 2. Quesadilla Pie
Take a break from the dough and frozen puff pastries with this Simply Recipes pie made from tortillas. You will want to brush the pan with butter so that the tortillas do not stick while baking, and brushing the top tortilla on the pie will give it a golden brown hue; this recipe serves four.
Ingredients:
4 large flour tortillas (9-10 inches in diameter)
butter
½ pound grated cheese, either mild or sharp cheddar, or Monterey Jack
Possible fillings
beans, cooked (black beans, pinto beans)
tomatoes, chopped
summer squash, chopped
onions (green onions, red onions, onion greens)
mushrooms (if using a lot, sauté first to remove moisture)
cooked shredded chicken, pork, or beef
chiles, either from cooked green chiles, chopped pickled jalapeños, or salsa
cumin and/or chili powder for extra heat
Garnishes
chopped avocado
chopped cilantro
thinly sliced iceberg lettuce dressed with vinegar and salt
sour cream
salsa
Directions: Preheat oven to 350 degrees Fahrenheit. Butter the bottoms and sides of a pie dish approximately the same size as your tortillas. Place one tortilla on the bottom of the pie dish. Sprinkle some shredded cheese over the tortilla. Add your chosen filling ingredients, layering the tortillas. Make sure each layer has a generous sprinkling of cheese. Top off your layers with one last flour tortilla. Spread a little butter over the surface of this tortilla.
Cover the dish with aluminum foil. Put in oven for 30 minutes. Then remove the foil and increase the heat to 400 degrees Fahrenheit. Cook for another 15-20 minutes, until the top is lightly browned and cheese is bubbly. Remove from oven. Let cool for 10 minutes before serving. Cut into quarters. Serve with garnishes.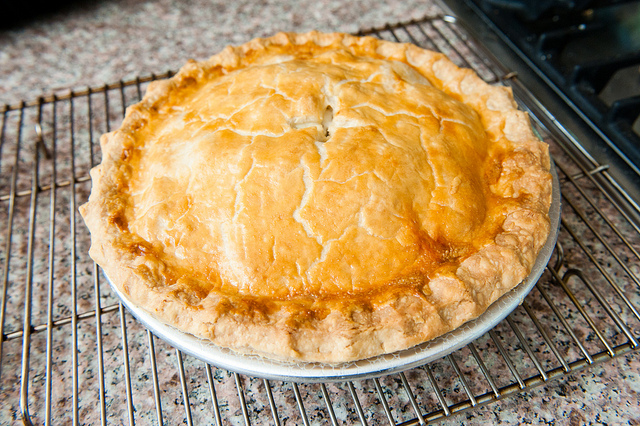 3. Chicken Pot Pie
Chicken pot pie lovers will want to make note of this Taste of Home recipe, because it makes a double batch. Not that they need to eat it all right then and there — instead, one pie can be for dinner and the other can be stored in the freezer, covered and then baked when ready to eat. Everyone else can simply cut the recipe in half.
Ingredients:
2 cups diced peeled potatoes
1¾ cups sliced carrots
1 cup butter, cubed
⅔ cup chopped onion
1 cup all-purpose flour
1¾ teaspoons salt
1 teaspoon dried thyme
¾ teaspoon pepper
3 cups chicken broth
1½ cups milk
4 cups cubed cooked chicken
1 cup frozen peas
1 cup frozen corn
2 packages (14.1 ounces each) refrigerated pie pastry
Directions: Preheat oven to 425 degrees Fahrenheit. Place potatoes and carrots in a large saucepan; add water to cover. Bring to a boil. Reduce heat; cook, covered, 8-10 minutes or until vegetables are crisp-tender; drain. In a large skillet, heat butter over medium-high heat. Add onion; cook and stir until tender. Stir in flour and seasonings until blended. Gradually stir in broth and milk. Bring to a boil, stirring constantly; cook and stir 2 minutes or until thickened. Stir in chicken, peas, corn, and potato mixture; remove from heat.
Unroll a pastry sheet into each of two 9-inch pie plates; trim even with rims. Add chicken mixture. Unroll remaining pastry; place over filling. Trim, seal, and flute edges. Cut slits in tops. Bake 35-40 minutes or until crust is lightly browned. Let stand 15 minutes before cutting.
If taking the pie(s) out of the freezer, let sit out on the counter for 30 minutes before baking. Preheat the oven to 425 degrees Fahrenheit and place pie(s) on a baking sheet, loosely covering the edge(s) with foil. Bake for 30 minutes, then lower the temperature to 350 degrees Fahrenheit. Bake for an additional 70-80 minutes or until crust is golden brown and a thermometer inserted in center reads 165 degrees Fahrenheit.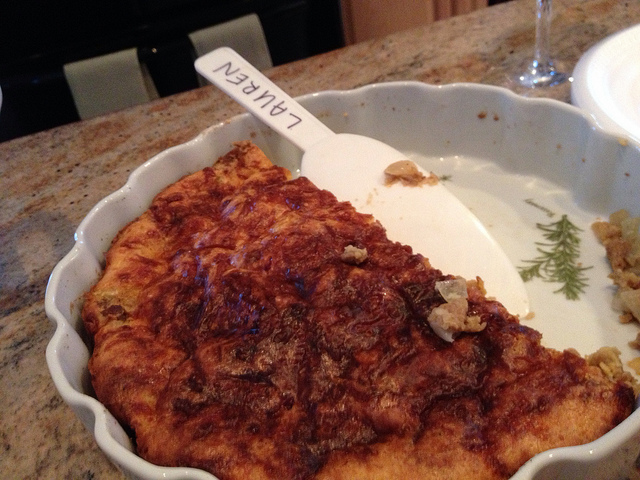 4. Cheeseburger Pie
Your tastebuds will be singing out cheeseburgers in paradise after you make this recipe from Ben Rayl via Parade. A total comfort food, this cheesy, meat-filled dish serves between 4 and 6 people, and for Rayl, it is a nostalgic dish to prepare and enjoy.
Ingredients:
1 pie crust, standard
1 tablespoon olive oil
1 onion, chopped
1 red pepper, chopped
2 cloves garlic, minced
1 pound ground beef
1 cup tomato sauce
1 teaspoon oregano
1 teaspoon salt
½ teaspoon black pepper
½ cup dry bread crumbs
1 egg
¼ cup milk
½ teaspoon salt
½ teaspoon dijon mustard
2 cups cheddar cheese, grated
Directions: Preheat oven to 425 degrees Fahrenheit. Line a 9-inch pie pan with the crust and prick all over with a fork. Cover with aluminum foil and pastry weights and bake for about 15 minutes. Remove the foil and weights, then bake for about 5-10 more minutes, until browned.
While the crust is baking, you can prepare the filling. Heat the oil in a heavy-bottomed skillet, then cook the onion and pepper until they begin to soften, about 4 minutes. Add the garlic and cook for another minute or two, then add the ground beef and cook until browned, breaking it up often. Stir in the tomato sauce, the oregano, salt, pepper, and bread crumbs, and remove from heat. In a small bowl, beat together the egg and milk, then whisk in the salt, mustard, and cheese, and set aside.
Spoon the beef evenly into the pie crust, then spread the cheese mixture over the top, all the way to the edges. Bake for about 20-25 minutes, or until the cheese topping is golden brown. If the edges begin to brown too quickly, make a foil ring to cover only the edges for the final 10 minutes of baking.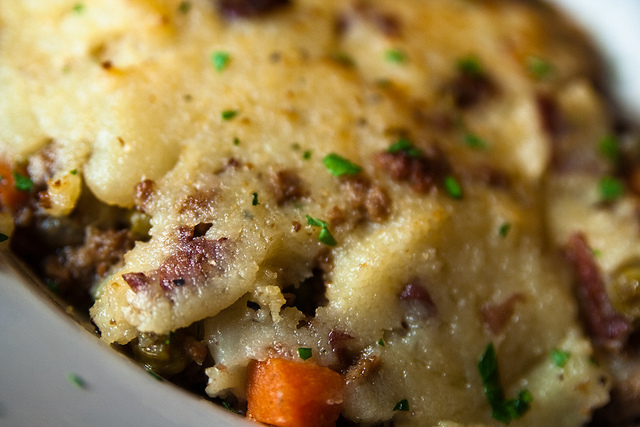 5. Shepherd's Pie
Alton Brown's shepherd's pie from the Food Network will be a hit around the dinner table. Ground beef can be substituted for lamb, although according to The Guardian, this will make it a Cottage Pie instead of a Shepherd's Pie. The two terms have been used interchangeably, and even though there is a distinction, each is a delightful combination of meat, potatoes, vegetables, and seasonings. The recipe serves 8.
Ingredients:
1½ pounds russet potatoes
¼ cup half-and-half
2 ounces unsalted butter
¾ teaspoon kosher salt
¼ teaspoon freshly ground black pepper
1 egg yolk
Meat filling
2 tablespoons canola oil
1 cup chopped onion
2 carrots, peeled and diced small
2 cloves garlic, minced
1½ pounds ground lamb
1 teaspoon kosher salt
½ teaspoon freshly ground black pepper
2 tablespoons all-purpose flour
2 teaspoons tomato paste
1 cup chicken broth
1 teaspoon Worcestershire sauce
2 teaspoons freshly chopped rosemary leaves
1 teaspoon freshly chopped thyme leaves
½ cup fresh or frozen corn kernels
½ cup fresh or frozen English peas
Directions: Peel the potatoes and cut into ½-inch dice. Place in a medium saucepan and cover with cold water. Set over high heat, cover and bring to a boil. Once boiling, uncover, decrease the heat to maintain a simmer, and cook until tender and easily crushed with tongs, approximately 10-15 minutes. Place the half-and-half and butter into a microwave-safe container and heat in the microwave until warmed through, about 35 seconds. Drain the potatoes in a colander and then return to the saucepan. Mash the potatoes and then add the half-and-half, butter, salt, and pepper, and continue to mash until smooth. Stir in the yolk until well combined.
Preheat the oven to 400 degrees Fahrenheit. While the potatoes are cooking, prepare the filling. Place the canola oil into a 12-inch sauté pan and set over medium-high heat. Once the oil shimmers, add the onion and carrots and sauté just until they begin to take on color, approximately 3-4 minutes. Add the garlic and stir to combine. Add the lamb, salt, and pepper, and cook until browned and cooked through, approximately 3 minutes. Sprinkle the meat with the flour and toss to coat, continuing to cook for another minute. Add the tomato paste, chicken broth, Worcestershire, rosemary, and thyme, and stir to combine. Bring to a boil, reduce the heat to low, cover, and simmer slowly for 10-12 minutes or until the sauce is thickened slightly.
Add the corn and peas to the lamb mixture and spread evenly into an 11-by-7-inch glass baking dish. Top with the mashed potatoes, starting around the edges to create a seal to prevent the mixture from bubbling up ,and smooth with a rubber spatula. Place on a parchment-lined half sheet pan on the middle rack of the oven and bake for 25 minutes or just until the potatoes begin to brown. Remove to a cooling rack for at least 15 minutes before serving.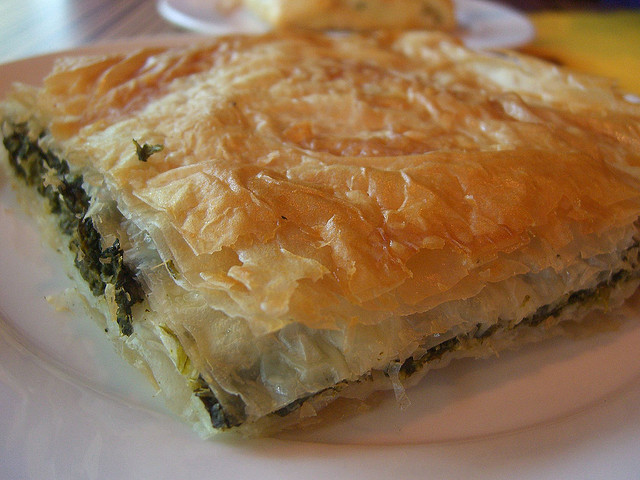 6. Spinach Pie
Another pie that can be frozen ahead of time is Martha Stewart's spinach pie. It can be stored, fully assembled, in the freezer for three months and does not need to sit out on the counter before baking. You can get 12 servings out of the dish.
Ingredients:
½ cup plus 2 tablespoons olive oil
4 medium onions, chopped
6 garlic cloves, minced
coarse salt and ground pepper
6 packages frozen chopped spinach (10 ounces each), thawed and squeezed dry
1 pound feta cheese, crumbled
½ cup grated Parmesan cheese
½ cup plain dried breadcrumbs
2 teaspoons dried dill
8 large eggs, lightly beaten
8 ounces frozen phyllo sheets, thawed and thinly sliced
Directions: For the filling, in a large nonstick skillet, heat 2 tablespoons oil over medium-high heat. Add onions and cook, stirring occasionally, until translucent, 3-5 minutes. Add garlic and 2 teaspoons salt; cook until garlic is tender, 1-2 minutes. Transfer mixture to a large bowl; stir in spinach, feta, Parmesan, breadcrumbs, dill, 2 teaspoons salt, and ½ teaspoon pepper. Fold in eggs until combined. Divide mixture evenly between two 9-inch springform pans or two 9½-inch deep dish pie plates; press firmly to flatten.
To make the topping, in a large bowl, gently toss sliced phyllo to separate, then toss with remaining ½ cup oil until coated. Divide phyllo between pies, covering the tops evenly and completely. (To freeze, cover pies tightly with plastic wrap, being careful not to flatten topping. Bake within three months; do not thaw first.)
Preheat oven to 375 degrees Fahrenheit. Bake until heated through and topping is golden brown, about 75 minutes for frozen pie and 30 minutes for unfrozen pie.
More From Wall St. Cheat Sheet: