6 Savory Dinner Recipes That Leave You With the Best Leftovers
Brown bag lunches can be downright boring. Turkey sandwiches, simple salads, and a standard apple can get pretty dull after a day or two. If you're in a midday meal rut, it may be time to spice things up a bit. The best and easiest way to do that is by preparing delicious dinners that taste just as good for lunch the next day. These savory recipes will ensure you never suffer through a tasteless lunch again.
1. Cauliflower Rice Stir Fry
This Paleo-friendly dish is packed with good-for-you nutrients, including your daily recommended intake of vitamin A and vitamin C. The benefits keep on coming — there's zero cholesterol, it's low in sodium, and chock-full of delicious veggies. It makes for a satisfying supper, but this recipe from  Martha Stewart's Whole Living, which yields 2 servings, tastes just as great for lunch the following day. Whether you reheat it in the microwave or eat it cold as you would a salad, you're in for a tasty midday meal.
Ingredients:
2 cups cauliflower florets
2 tablespoons coconut or extra-virgin olive oil, divided
1 sliced red onion, divided
4 minced cloves garlic, divided
Coarse salt
¼ cup low-sodium vegetable broth
1 tablespoon minced fresh ginger
1 thinly sliced small red chili
2 cups broccoli florets
1 julienned large carrot
½ red bell pepper, stemmed, seeded, and diced
Juice of ½ lemon
2 tablespoons shelled pumpkin seeds
2 tablespoons fresh cilantro leaves
Directions: Pulse cauliflower florets in a food processor until finely chopped. Heat 1 tablespoon coconut oil in a large skillet over medium heat. Add ½ sliced red onion and 2 minced cloves garlic and cook, stirring, until tender, about 6 minutes. Add cauliflower and season with coarse salt. Stir in vegetable broth and steam, covered, until broth has evaporated and cauliflower is tender, about 6 minutes. Transfer to a bowl and cover. Wipe the pan and heat 1 tablespoon of oil over medium-high heat.
Add ½ sliced red onion and cook, stirring until tender, about 5 minutes. Add 2 minced cloves garlic, ginger, and chili and cook 1 minute. Add broccoli florets, carrot, and bell pepper and cook, stirring until tender, about 5 minutes. Season with a sprinkle of salt. Remove from heat and add lemon juice. For each serving, top cauliflower with the vegetables, and sprinkle with 1 tablespoon pumpkin seeds and 1 tablespoon cilantro.
2. Peppery Whole Wheat Pasta With Wilted Chard
Healthy whole-wheat pasta, flavorful vegetables, and zesty seasonings ensure this dish from The Kitchn is oozing with fresh flavor. It's also a perfect dinner-to-lunch recipe; the leftovers taste great warmed up or straight out of the refrigerator. The key to this dish, which yields 6 to 8 servings, is the fresh-cracked black pepper, so go ahead and lay it on nice and thick.
Ingredients:
1 pound whole-wheat pasta, like penne or farfalle
1 large onion, diced
8 ounces button mushrooms, sliced
1 bunch chard, stems removed and diced, leaves cut into ribbons
2 pre-cooked sausage links (8 ounces), sliced (optional)
4 to 5 garlic cloves, minced
3 ounces cream cheese, marscapone, or other soft creamy cheese
½ cup pasta water, saved from cooking pasta
Kosher salt
Freshly cracked black pepper
Directions: Cook the pasta in a large amount of boiling water with a good palmful of salt. Just before draining, use a measuring cup to dip out about a half cup of the starchy pasta water and set it aside. Heat 1 teaspoon of olive oil in a large skillet or dutch oven over medium-high heat. Add the onion with a pinch of salt and cook until the onion is softened and translucent. Add the mushrooms and another pinch of salt. Cook until the mushrooms have released their liquid, the liquid has boiled away, and the mushrooms are turning golden. Stir in the diced chard stems and the sausage. Cook until the stems are softened and the sausage is warmed through.
Clear a space in the middle of the pan and add the garlic. Cook just until the garlic is fragrant, then stir it into the rest of the vegetables. Lower the heat to medium and stir in the chard leaves. Continue stirring frequently until the leaves are bright green and wilted. Stir in the cooked pasta and the cream cheese. When the cheese has melted, pour in half of the reserved cooking water to make a creamy sauce. If the sauce seems too thick, pour in the remaining pasta water a little at a time. Grind the fresh pepper right over the pasta, adding as much as you'd like. Season with additional salt, if desired. Leftovers will keep refrigerated for up to one week.
3. Pepperoni Pizza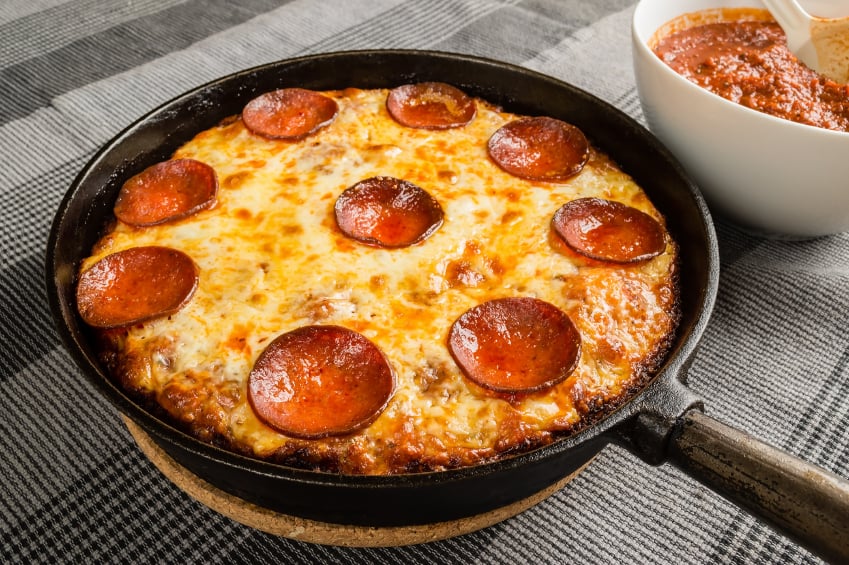 Pizza is perfect for next-day leftovers. It can be eaten hot or cold (depending on your preference) and always tastes just as great the following day. The best part about Eating Well's pizza recipe, though, is how healthy it is. By using whole-wheat pizza dough and a mouthwatering tomato sauce that's packed with fiber, you won't ever have to feel guilty about indulging in more than one slice. This recipe yields 6 servings and contains 280 calories, 6 grams of fat, and 35 grams of carbs in each piece.
Ingredients:
1 pound prepared whole-wheat pizza dough, thawed if frozen
1 cup canned unseasoned pumpkin puree
½ cup no-salt-added tomato sauce
½ teaspoon garlic powder
1 cup shredded part-skim mozzarella cheese
½ cup grated Parmesan cheese
2 ounces sliced turkey pepperoni
Directions: Place the oven rack in the lowest position; preheat to 450 degrees Fahrenheit. Coat a large baking sheet with cooking spray. Roll out the dough on a lightly floured surface to the size of the baking sheet. Transfer to the baking sheet. Bake until puffed and lightly crisped on the bottom, 8 to 10 minutes. Then whisk the pumpkin purée, tomato sauce, and garlic powder in a small bowl until combined. Spread sauce evenly over the baked crust. Top with mozzarella, Parmesan, and pepperoni. Bake until the crust is crispy on the edges and the cheeses have melted, about 12 minutes.
4. Zesty Marinated Chickpea Salad
PopSugar's chickpea salad actually tastes better after sitting in the fridge for a day. The zesty flavors seem to pop more after sitting for a while, creating a brown bag meal that you'll look forward to munching on. It should also help fight off any afternoon snack cravings; the marinated chickpeas are deliciously satisfying. This recipe yields 4 to 6 servings.
Ingredients:  
1 large or 2 small shallots, finely diced (about 1 cup)
About 1 cup red wine vinegar
3 (15 ounce) cans chickpeas, drained and rinsed (about 4 cups)
1 cup finely diced celery (3 to 4 stalks)
1 cup finely chopped parsley
2 tablespoons chopped fresh oregano
2 garlic cloves, minced
½ teaspoon minced peperoncini
1 cup extra-virgin olive oil
Zest and juice of 1 lemon
About ½ teaspoon kosher salt
Freshly cracked black pepper, to taste
2 sprigs rosemary
Directions: Add the shallot and enough red wine vinegar to cover it to a small mixing bowl. Set aside for 15 minutes. Meanwhile, combine the chickpeas, celery, parsley, oregano, garlic, peperoncini, olive oil, lemon zest and juice, salt, and a few cracks of black pepper in a large mixing bowl. Drain the shallot, reserving the shallot-infused vinegar. Add the shallot to the chickpea mixture and toss gently to combine. Nestle the rosemary sprigs in the salad, cover the bowl tightly with plastic wrap and refrigerate for at least an hour, making sure to turn the mixture a couple of times while marinating. Remove the rosemary sprigs, then season to taste, adding a splash or two of the reserved shallot vinegar if desired. Serve at room temperature.
5. Chicken Noodle Casserole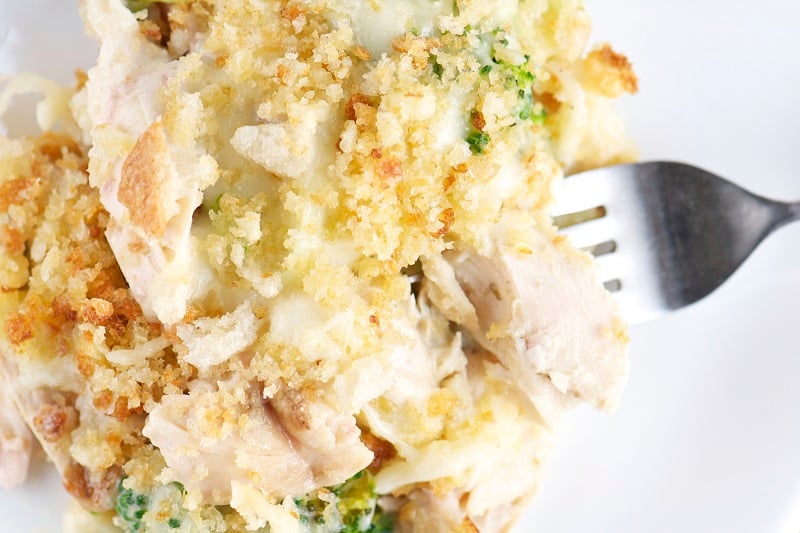 Each savory bite of this casserole, as shown on Allrecipes.com, is packed with savory chicken and noodles and is topped off with the perfect amount of crunch. This dish makes 6 servings, and takes 30 minutes to prepare. If you're looking to enhance your casserole's flavor for lunch the next day, sprinkle a little cheese on top before warming it up.
Ingredients:
4 skinless, boneless chicken breast halves
6 ounces egg noodles
1 (10.75-ounce) can condensed cream of mushroom soup
1 (10.75-ounce) can condensed cream of chicken soup
1 cup sour cream
Salt, to taste
Ground black pepper, to taste
1 cup crumbled buttery round crackers
½ cup butter
Directions: Poach chicken in a large pot of simmering water. Cook until it's no longer pink in the center, about 12 minutes. Remove from pot and set aside. Bring chicken cooking water to a boil and cook pasta in it. Drain. Cut chicken into small pieces, and mix with noodles. In a separate bowl, mix together mushroom soup, chicken soup, and sour cream. Season with salt and pepper. Gently stir together cream soup mixture with the chicken mixture. Place in a 2-quart baking dish.
Melt the butter in a small saucepan, and remove from heat. Stir in crumbled crackers. Top casserole with the buttery crackers. Bake at 350 degrees Fahrenheit for about 30 minutes, until heated through and browned on top.
6. Hoisin-Glazed Salmon with Quinoa
This Good Housekeeping recipe, which yields 4 servings, gives salmon a whole new flavor. You can eat this same dish for lunch the next day, or you can mix it up a bit by putting your leftover salmon on a mix of greens, chopped carrots, radishes, celery, and scallions for a delicious and satiating salad.
Ingredients:
3 tablespoons hoisin sauce
¼ teaspoons Chinese five-spice powder
4 (6-ounce) pieces skinless salmon fillet
1 cups quinoa
2 cups water
1 tablespoons rice vinegar
1 tablespoons reduced-sodium soy sauce
1 bunch radishes, trimmed and thinly sliced
2 green onions, thinly sliced
Directions: Preheat the oven to 400 degrees Fahrenheit. In small bowl, combine hoisin and five-spice powder. In a 13 x 9-inch glass or ceramic baking dish, place salmon flat side down. Spread the hoisin mixture on top of salmon. Bake salmon 15 to 17 minutes or until opaque throughout. Meanwhile, in 12-inch skillet, toast quinoa on medium 5 minutes or until fragrant and golden, stirring frequently. Stir water into toasted quinoa; heat to boiling on high. Reduce heat to low; cover and simmer 15 minutes or until water is absorbed. Remove skillet from heat and stir in vinegar, soy sauce, radishes, and green onions until blended. Serve salmon with quinoa.