Dress for Success: 10 Must-Haves for Your Spring Workouts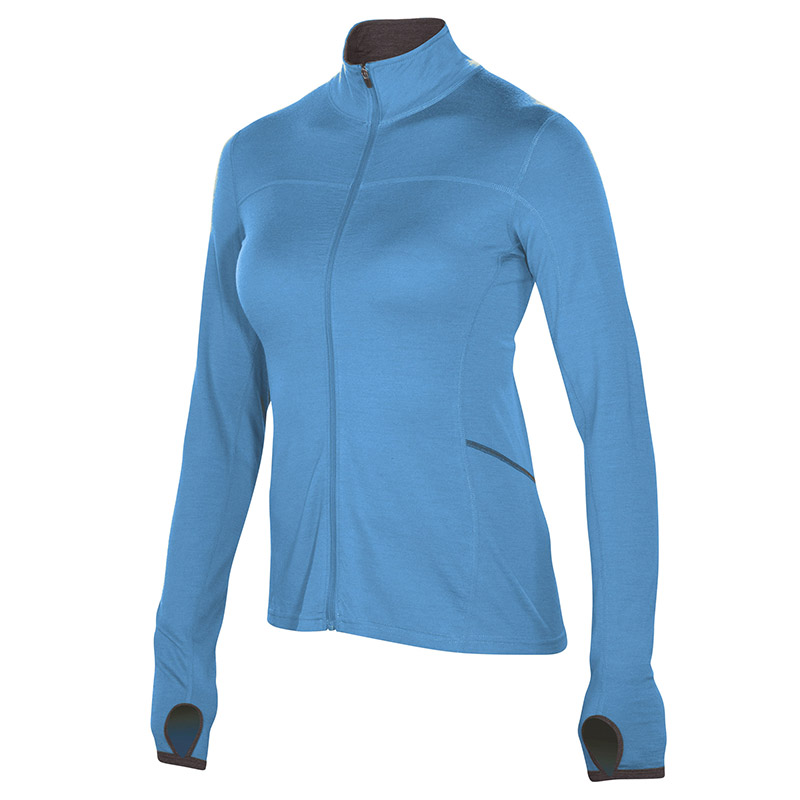 Spring is finally in the air. With the green grass and (hopefully) warmer weather, it's a great time to take a break from the gym and take your workouts outdoors. The downside? Spring can be a little unpredictable. One day it's cold, the next it's hot, and before you know it, it's raining. So, how exactly are you supposed to work up a sweat outside when the weather is so up and down? Prepare for the weather by dressing smart. Layering and wearing lightweight material are both important when it comes to staying comfortable outdoors during the spring. Here's a list of essential items you'll need for your spring workout wardrobe.
1. Ibex Indie Full Zip Long Sleeve
While spring is definitely bringing better temperatures than what we saw during the winter, it can still be pretty cold out. Except for the occasional above-average day, spring temps seem to linger in the 40- to 50-degrees Fahrenheit range. That's too warm to bundle up, but too cold to head outside in a tank top. That's where the Ibex Indie Full Zip Long Sleeve comes in, writes Fit Sugar. It's made from merino wool, so it's warm, but it's also super thin and lightweight, making it a great jacket for the in-between weather. Also, the full zipper makes it easy to take off and put around your waist if you start getting too warm. Other fun features and details, such as the thumbholes, will prevent wind from getting up your sleeves. Fit Sugar writes that it washes well and manages to be fitted but not too tight — a must-have for any spring workout.

2. Free Country Misty Packable Windbreaker
This is another great jacket option for unpredictable spring weather. "For most of America, spring has been a wild ride of temperature highs and lows, creating a constant struggle when deciding what to wear. This ultra lightweight jacket could not be a better remedy for that ongoing dilemma because it packs into a built-in pouch, no bigger than a book," writes Spa Week Daily. You can get this jacket in a bunch of fun colors, and it's also wind and water resistant, making it especially perfect for those situations where you get caught outside in the rain.

3. Electric Yoga Down Vest
This vest comes with lightning bolt quilting, designed to keep you warm while remaining lightweight. It even comes with its own packable bag, so you can easily stash it once it finally warms up for good, writes Self. This vest, which is $128, is perfect for wearing over a long-sleeve shirt during an outdoor workout, especially on a day when it's a little bit chillier outside.

4. Tasc Performance Surprise Stripe 1/2 Tight
Fun fact about these pants: they're made out of bamboo. The bamboo helps to keep the pants lightweight, breathable, odor resistant, and ridiculously soft, per Spa Week Daily. The pants are great for outdoor yoga, an afternoon run, or a long walk. For those days where the sun is peaking out, you'll be protected from the rays. The pants are UPF 50+, which keeps out 99.9 percent of the sun's harmful rays. You can pick up a pair of these pants for $68.

5. Tifosi Readers
Spring is hopefully planning to bring you a fair share of sunny days, meaning you'll need to get a solid pair of sunglasses for your outdoor routines. The Tifosi Readers ($50) are a hybrid that's part wraparound sport sunglasses, part bifocals. There are small areas of magnification (rated at either +1.5 or +2.0) that are placed low on their special lenses, which can be snapped into any of four Tifosi frame options, according to Outside. Tifosi is already well-known for its great sports eyewear, and this pair in particular is designed with a great goal in mind: protect your eyes while letting you see further into the distance.

6. Running Sleeves
"Maybe I'm just picky, but running with a jacket tied around my waist really messes with my rhythm — almost as much as leaving the jacket on and getting totally overheated. Set yourself free from excess clothing by sporting a pair of Rainbow Brite-style UPF 50+ Sugoi arm sleeves ($25) instead," per Self. The sleeves are thin, lightweight, and easy to peel off and put in a pocket if you get too warm. It doesn't get much better than that!

7. THRIV Natural Performance Crew Tee
This is a great T-shirt to layer under one of your outdoor spring jackets, or on a particularly warm spring day, wear by itself. It's lightweight and comfortable and has a silky smooth texture. THRIV clothing has anti-odor technology and UPF 50+ to protect your skin from the sun, per Active. What else does this shirt ($24.99) offer? It's made from a blend of 55 percent organic cotton, 40 percent Viscose from Bamboo, and 5 percent Elastane. It truly is a perfect spring must-have.

8. 2XU Performance Track Pant
For $89.95, you get a flattering, streamlined fit, concealed inner pockets for storing essentials (necessary for a long outdoor workout), an elastic hem for adjustable leg length, and 3D thermal — a 3D knot mesh fabric for optimal warmth, moisture management (they'll get rid of sweat) and thermo regulation. Even better? You get all of that while maintaining a lightweight feel. Another great perk for these track pants is that you don't even need to remove your shoes to get them on and off, writes Self.

9. Brooks Infiniti Tights
Runner's World recommends these tights for your chillier outdoor workouts. They're snug, warm, and, as an added bonus, have hidden pockets and reflective stripes. These Brooks Infiniti tights are $75 and are made with a moisture-wicking compression fabric that helps get rid of your sweat. If you're worried that the tights are too warm for your spring workouts, Brooks has it covered. You can also get these in capri form.

10. The North Face Stormy Trail Jacket
"Think of TNF's Stormy Trail as a nylon pump rather than a traditional running shell. This jacket is designed to push out hot air. The first step in enjoying the Stormy Trail's superior ventilation is surprising. You cinch the mesh-powder, skirtlike lining tight. (In the Stormy Trail, this skirt is what handles the heat your body produces.) The jacket wants to push the air up and out — through generous vents built into its front, midback, and shoulder areas," per Outside. This design will ensure you feel comfortable, no matter the weather. It's also waterproof, which is great for fighting off unpredictable rain showers. TNF ($165) is well-designed, has a great fit, and includes a zippered key pocket and hood.
More From Wall St. Cheat Sheet: