Drunken Watermelon and 5 Other Recipes for Alcohol-Infused Fruit
Let's talk about a less-than-healthy side to fruit — or if you prefer to see things on the optimistic side, a possibly healthy addition to alcohol. Naturally sweet and abundant in summer, fruit is a great match for liquor at your next over-21 picnic or gathering. You'll need to be careful with these six boozy offerings, especially if you let the fruit soak for any considerable amount of time. The bite to the alcohol lessens with time, just as the potency of the fruit increases. Check out the following six ways you'll be eating or drinking alcohol infused fruit this summer.
1. Stoli Doli
Stoli (Stolichnaya vodka) Doli (Dole pineapples) debuted at Capital Grille in Providence, Rhode Island in 1990, Boston Common explains. This simple combination of pineapple and vodka lends itself to copycat recipes, meaning that you don't need to travel to Providence to try it out. What you will need is patience. "Capital Grille has pineapple flown in from Hawaii and it is sliced and put into a large, glass jar," Jim Kinney, general manager at Capital Grille, is quoted as saying in Baltimore Style. "The jar is then filled with Stoli vodka and left to sit for seven days. You can't touch it until day eight. The result is no bite — just a nice, pineapple taste. We serve it in a martini glass." 
Ingredients:
1 fresh pineapple, cut into pieces
1 (750 milliliter) Stolichnaya vodka (or preferred brand)
Directions: Place the pineapple pieces into a large container and pour the vodka over them. Cover and refrigerate for 7 days. Serve in a martini glass to emulate the original.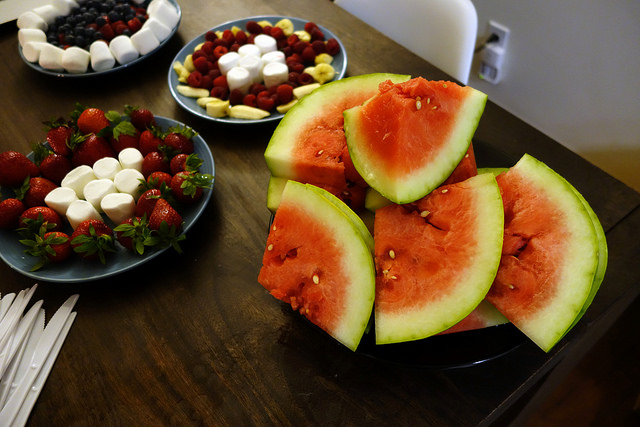 2. Drunken Watermelon
You'll be looking forward to fresh watermelons even more this year now that you know you can infuse one with rum. But don't keep the secret to yourself, you'll be the toast of the picnic among the over 21-crowd when you make AllRecipes.com's drunken watermelon.
Ingredients:
1 seedless watermelon
1 1/2 cups rum, or as needed
Directions: Rinse the outer rind of the watermelon thoroughly and pat dry. Set the watermelon in a position so it will not roll over. Press the tip of a funnel through the rind of the melon. If using a plastic funnel, you may need to cut a hole.
Situate the melon on a towel in the bottom of the refrigerator or on the counter. Pour rum into the funnel a little at a time, refilling as it seeps into the melon. Allow the melon to marinate at least a few hours before removing the funnel. Slice just before serving.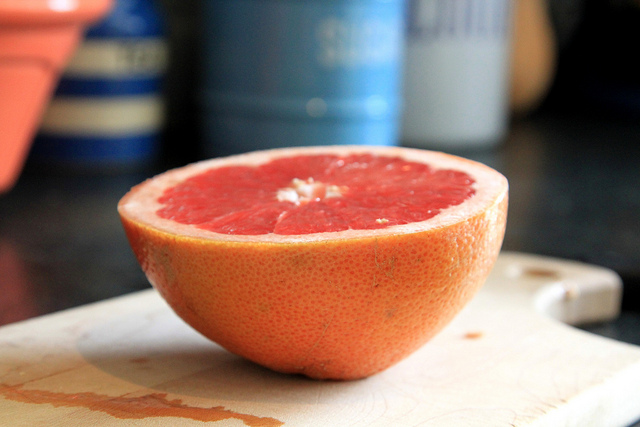 3. Gin Grapefruit Salad
People have been cutting the tang out of grapefruit with sugar or other sweeteners for years, but have you ever considered adding a bit of gin to that mix, too? AllRecipes.com did, and the result was this boozy grapefruit salad.
Ingredients:
8 cups refrigerated grapefruit, drained and juice reserved
1/4 cup white sugar
3 fluid ounces gin
8 leaves fresh mint, minced
8 whole mint leaves
Directions: Mix grapefruit, 1/2 cup reserved juice, and sugar in a bowl until sugar dissolves. Transfer grapefruit mixture to 8 serving cups; top each with about 1 teaspoon gin. Sprinkle minced mint over each cup. Garnish each cup with 1 mint leaf.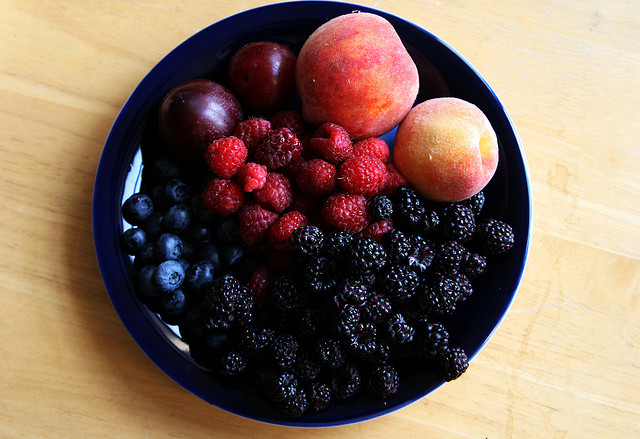 4. Daphne Oz's Drunken Fruit Salad
For a little more fruit diversity and a break from hard liquor, try this fruit salad from Daphne Oz for The Chew. Choose your Presecco (or Cava or Champagne) based on how sweet you want the dish to taste.
Ingredients:
3 freestone peaches (sliced and pits removed)
3 plums (sliced and pits removed)
3 nectarines (sliced and pits removed)
1 pint blackberries
1 pint raspberries
1/2 bottle Prosecco
1 vanilla bean
1 tablespoon mint (leaves only and chopped)
Juice and zest of two limes
whipped cream
2 sprigs of thyme (leaves only)
2 tablespoons honey
Directions: Combine all of the fruit in a large bowl. Squeeze lime juice over the fruit, scrape vanilla bean into the bowl. Add lime zest, honey, and thyme to fruit. Fold everything together and allow the flavors to marry. Fold mint into whipped cream. To serve, put fruit salad in wine glass. Top each glass with some prosecco and whipped cream.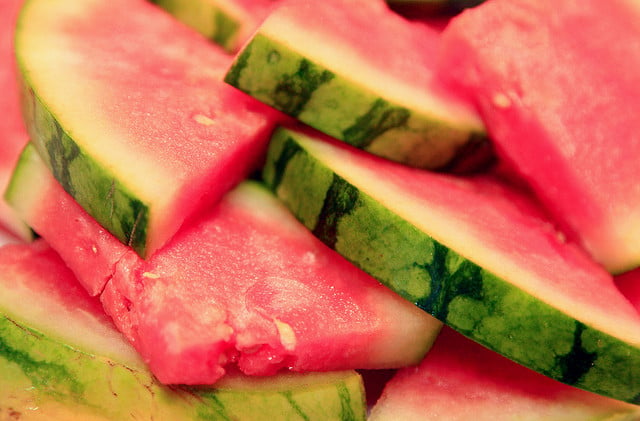 5. Tequila-Soaked Watermelon Wedges
When you think tequila and Triple Sec this summer, don't think margaritas on the rocks, or blended concoctions. Thanks to Martha Stewart, you'll be thinking about watermelon instead. The longer the fruit soaks in alcohol, the longer the flavors will be absorbed. It makes about 4 servings.
Ingredients:
1 small seedless watermelon, red or yellow, quartered and cut into 1-inch-thick wedges
1 cup sugar
3/4 cup water
1/2 cup tequila
1/4 cup Triple Sec
2 limes, halved or cut into wedges
Flaked sea salt or coarse salt
Directions: Arrange watermelon in a single layer in two 9 x 13-inch baking dishes. Bring sugar, water, tequila, and Triple Sec to a boil in a small saucepan. Cook, stirring, until sugar dissolves, about 1 minute. Let cool slightly. Pour syrup over watermelon wedges, and refrigerate for at least 45 minutes. Remove watermelon from syrup, and arrange on a platter. Squeeze limes over melon and season with salt.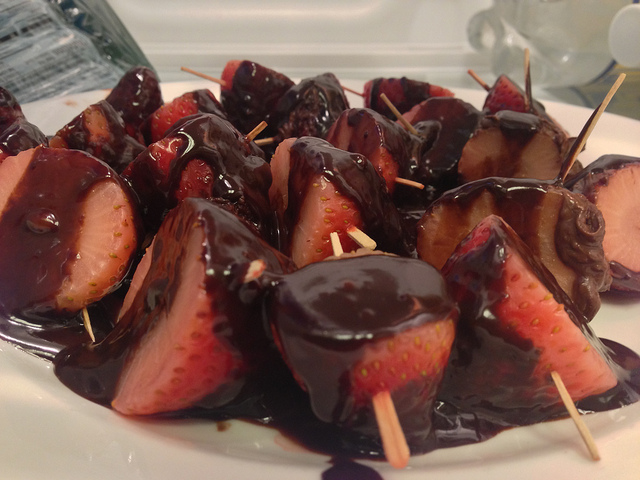 6. Vodka Chocolate Covered Strawberries
Chocolate covered strawberries are a dime a dozen, but vodka soaked strawberries that then get drizzled in chocolate? That is an offering that will get any of drinking age guest talking. You could go all out, adding vodka to the sauce, like this recipe from Examiner does, but if you don't find the thought of vanilla vodka appetizing, it will be equally decadent with plain chocolate sauce.
Ingredients:
1 pint fresh strawberries
3 cups vodka of choice
12 ounces very good chocolate of choice, chopped into small pieces
1 cup heavy whipping cream
3 tablespoons vanilla vodka (optional)
Directions: Clean berries and cut off steams. Place berries in bowl and cover with vodka. Cover tightly and place in refrigerator. Soak for at least 3 hours or overnight.
For the chocolate sauce, place chopped chocolate into a bowl. Heat cream until almost boiling; add vanilla vodka if using and stir well. Immediately pour over chocolate and stir until smooth. When ready to serve, remove berries from vodka and drizzle with chocolate. (You can drink the strawberry flavored that is leftover.)
More From Wall St. Cheat Sheet: