Kate Middleton's Pregnancy Sheds Light on Health Condition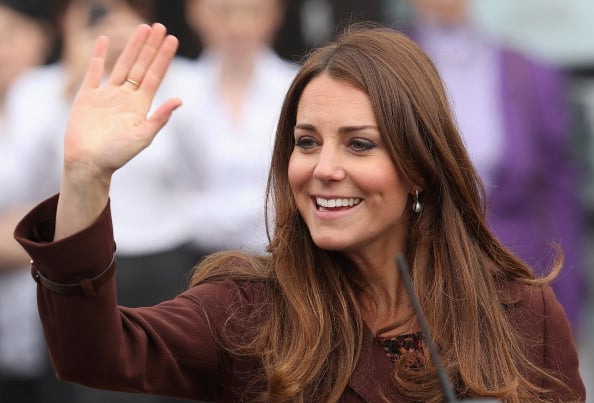 Earlier this month, it was reported that the Duchess of Cambridge, Kate Middleton, was pregnant with her second child with Prince William. "Their Royal Highnesses The Duke and Duchess of Cambridge are very pleased to announce that The Duchess of Cambridge is expecting their second child," the statement from the Palace read. "The Queen and members of both families are delighted with the news."
Apart from the great news that the adorable Prince George will soon have sibling, the royal pregnancy once again brings an important health issue to light: hyperemesis gravidarum, which is more commonly known as acute morning sickness. While hyperemesis gravidarum affects 1 to 2 percent of pregnant women, according to The Children's Hospital of Philadelphia, it did not make headlines until the Duchess of Cambridge became pregnant the first time around.
What is it? Roughly half of all pregnant women experience morning sickness in their first trimester — a condition where the expecting mother experiences nausea and vomiting, especially during the morning hours. But for some women, the symptoms are severe and they suffer the symptoms throughout their pregnancy during all hours. This can leave the expecting mother dehydrated, hospitalized, and result in weight loss, according to Medscape.
As for what causes this condition, scientists do not have an exact answer. They do; however, predict that the change in hormones plays a role in the severe symptoms. The Cleveland Clinic reports that rising levels of hormones such as HCG (human chorionic gonadotropin) and estrogen is responsible for the acute morning sickness. Doctors have noticed that hyperemesis gravidarum is more common in mothers carrying twins and mothers who suffered from hyperemesis gravidarum in their first pregnancy can expect it in their second — as is the case with the Duchess of Cambridge.
"Women who are affected by this illness should avoid stress and try to get as much rest as possible," write the authors of "Treatment of Hyperemesis Gravidarum," published in journal Obstetrics & Gynecology. "If emotional support is needed, the patient can see a psychologist to help address the debilitating symptoms. Supportive counseling or crisis intervention may be necessary."
The researchers add: "Modification of the amount and size of meals consumed throughout the day may help relieve symptoms. Having smaller amounts of food and fluids more often can help prevent mild cases of nausea and vomiting from worsening. The meals should contain more carbohydrate than fat and acid. Protein-rich meals also decrease symptoms. Lighter snacks, including nuts, dairy products, and beans, are often endorsed. Drinks that contain electrolytes and other supplements are advised. If certain foods or food preparations trigger nausea, they should be avoided."
Apart from the constant discomfort, hyperemesis gravidarum is not a significant concern for the expecting mother unless the weight loss is so severe that it affects the growth of the fetus. What's more, the loss of fluid can lead to electrolyte imbalances and nutritional deficiencies. Should the case get very severe, then doctors may advise the expecting mother to be hospitalized, where she will stop consuming liquids and foods and will receive the necessary electrolytes via intravenous (IV) fluids.
More from Life Cheat Sheet:
Want more great content like this? Sign up here to receive the best of Cheat Sheet delivered daily. No spam; just tailored content straight to your inbox.