Easter Hunt Made Easy: 5 Recipes For a Simple Yet Satisfying Feast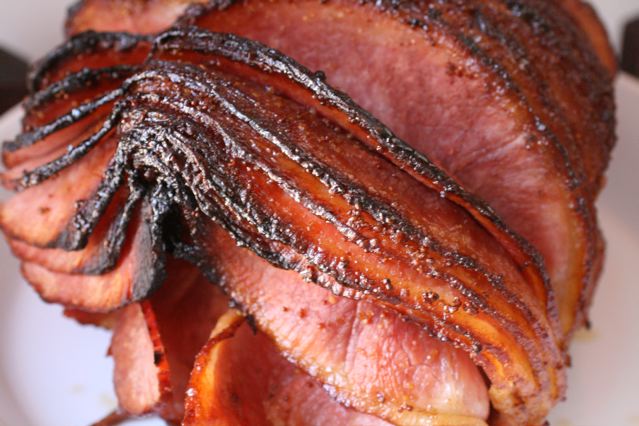 It's time to nail down your perfect Easter dinner menu. That means picking the dishes that will delightfully indulge you and your guests, but won't be so overwhelming that they'll keep you a slave to your kitchen the whole holiday. When it comes to constructing your dinner menu, remember to pick a direction and stick to it, whether you decide to go a traditional, contemporary, or trendy route. You can pull off just about any dinner angle you want to take, but just in case you're craving a traditional yet easygoing feast this spring, take a look at what we think makes up the perfect menu. With just five dishes to prepare, and some that you can make ahead of time, the highlighted recipes we share today promise a simple yet satisfying holiday, and some dishes especially stand out because of their hint of sophistication.
1. Glazed Easter Ham
First, we offer the traditional ham because, for many, Easter is not Easter without this main meat course. Some people are intimidated at the idea of cooking this meat, but as long as you have The Pioneer Woman's recipe, there's no reason to fear. She provides a fool-proof method for preparing the good stuff, and once you have this formula in your Easter arsenal, you'll never go looking for another ham recipe again.
Ingredients:
1 whole fully cooked bone-in ham (15-18 pounds)
Whole cloves
3 cups brown sugar
1/2 cup spicy brown mustard
1 can Dr Pepper or Coke
3 tablespoons apple cider vinegar
Directions:
Preheat the oven to 325 degrees Fahrenheit. Score the surface of the ham in a diamond pattern about 1/8-inch deep. Place cloves in the middle of each diamond. Place the ham in a large roasting pan with a rack, tent it with foil, and bake for 2 to 2 1/2 hours — or longer, depending on the package directions. (Some hams may require 3 to 3 1/2 hours at a lower temp; just check the package.)
Heat the brown sugar, mustard, vinegar, and soda in a small saucepan until bubbly. Cook until reduced and a bit thicker, about 15 minutes.
After about 2 hours of baking time, remove the foil and brush the glaze on the ham in 20 minutes intervals (put the ham back in the oven, uncovered, in between) until it's nice and glossy. Remove from the oven and allow to rest 15 to 20 minutes before carving.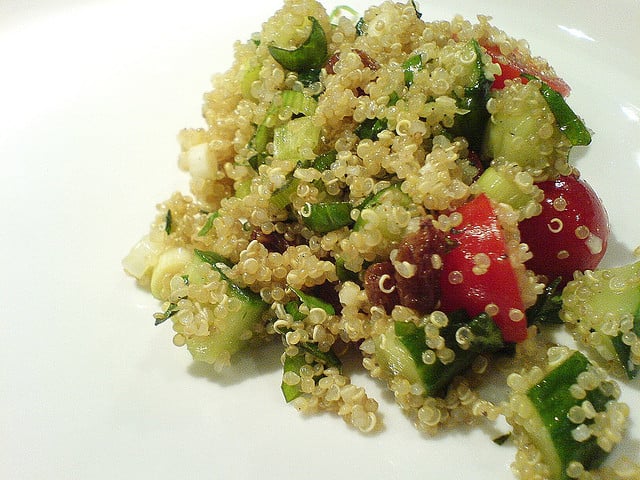 2. Quinoa With Herbs and Mixed Olives
Next up is a light side dish by Rachael Ray herself. Quinoa With Herbs and Mixed Olives is the perfect side dish to accompany your ham, as the healthy whole grain accompaniment will complement your other fresh flavors on the dinner table, without overstuffing your guests. Quinoa has undeniably been a hip dish as of late, and just in case you have some gluten free or health conscious eaters on your hands, you'll be sure to have covered all the bases with this quinoa side dish.
Ingredients:
2 tablespoons extra-virgin olive oil
1 small onion, finely chopped
1 clove garlic, finely chopped
1 1/2 cups quinoa, well rinsed
Salt
1/2 cup pitted and thinly sliced black and green olives
1/2 cup pine nuts, toasted
1/3 cup fresh basil leaves, finely chopped
1/3 cup cilantro leaves, finely chopped
1/3 cup flat-leaf parsley leaves, finely chopped
Directions:
In a large saucepan or deep skillet, heat the olive oil over medium heat. Add the onion and cook, stirring often, until softened, about 3 minutes. Add the garlic and cook just until fragrant, about 30 seconds. Add the quinoa and cook, stirring for 1 minute.
Stir in 2 1/4 cups water, season with salt and bring to a boil over high heat. Lower the heat, cover and simmer until the water is absorbed, about 15 minutes. Let stand for 5 minutes. Add the olives, pine nuts, basil, cilantro, and parsley and toss with a fork to combine; season with salt.
3. Honey Glazed Carrots
And staying in the spirit of Easter, also make sure you prepare these Honey Glazed Carrots from Sunny Anderson as your veggie side dish on the big day. Everyone might not all be a fan of carrots in theory, but when prepared with butter, honey, and some seasoning, you won't have many guests turning them down, and this simple dish will prove to be a surprising showstopper on your dining room table.
Ingredients:
Salt
1 pound baby carrots
2 tablespoons butter
2 tablespoons honey
1 tablespoon lemon juice
Freshly ground black pepper
1/4 cup chopped flat-leaf parsley
Directions:
In a medium saucepan, bring water to a boil. Add salt and then carrots and cook until tender, 5 to 6 minutes. Drain the carrots and add back to pan with butter, honey and lemon juice. Cook until a glaze coats the carrots, 5 minutes. Season with salt and pepper and garnish with parsley.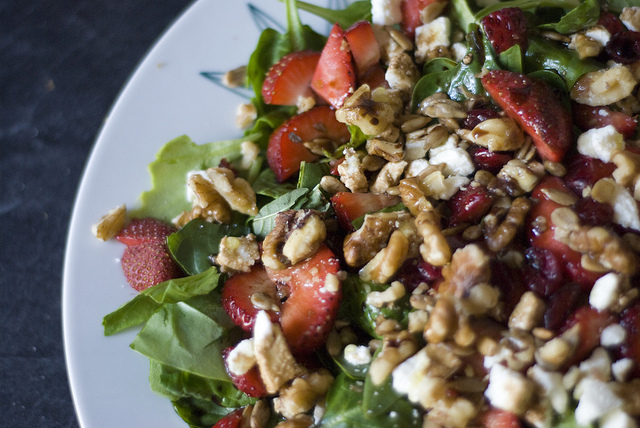 4. Avocado Strawberry Spinach Salad with Poppyseed Dressing
Moving right along, to meet your greens needs on Easter, make this fresh Avocado Strawberry Spinach Salad with Poppyseed Dressing from Gimme Some Oven. The gorgeous and flavorful dish is loaded with spinach, cheese, fresh berries, avocados, and nuts, and it will complement your other light dishes perfectly. The poppyseed dressing puts this salad over the top, and before you know it, your guests may be reaching over the ham for seconds of this salad. Don't say we didn't warn you.
Ingredients:
For the salad:
6 cups fresh baby spinach
1 pint strawberries, hulled and sliced
1 avocado, diced (or you can double this to 2 avocados!)
4 ounces crumbled gorgonzola or blue cheese
1/4 cup sliced almonds, toasted
half a small red onion, thinly sliced
For the dressing:
1/2 cup avocado oil (or any oil, such as olive oil)
3 Tablespoons apple cider vinegar
2 Tbsp. honey
1 Tbsp. poppy seeds
pinch of ground dry mustard (optional)
salt and pepper
Directions:
To make the salad, toss all ingredients together with your desired amount of dressing until combined. Serve immediately. To make the poppyseed dressing, whisk all ingredients together until combined.
5. Glazed Lemon-Blueberry Poppyseed Bundt Cake
Last, you need dessert, of course. Bake seasonally and catch the tail end of citrus season by whipping up this Glazed Lemon-Blueberry Poppyseed Bundt Cake from Cooking Light. You won't regret it. With all the chocolate consumption that is bound to occur on Easter morning, your guests will be craving something light and fresh by the end of your big Easter meal, and this is the perfect dessert to satisfy those requests.
Ingredients:
For the cake:
Cooking spray
1 1/2 tablespoons dry breadcrumbs
1 3/4 cups granulated sugar
3/4 cup butter, softened
4 large eggs
13 3/4 ounces all-purpose flour (about 3 cups)
1 tablespoon baking powder
1 tablespoon poppy seeds
1/2 teaspoon baking soda
1/2 teaspoon salt
1 1/2 cups fresh blueberries
3/4 cup nonfat buttermilk
1/3 cup fresh lemon juice (about 3 lemons)
1 teaspoon vanilla extract
1 teaspoon lemon extract
For the glaze:
1 cup powdered sugar
1 tablespoon nonfat buttermilk
1 tablespoon fresh lemon juice
Directions:
Preheat the oven to 350 degrees Fahrenheit. To prepare cake, coat a 12-cup Bundt pan with cooking spray; dust with breadcrumbs. Combine granulated sugar and butter in a large bowl; beat with a mixer at medium speed until light and fluffy (about 5 minutes). Add eggs, one at a time, beating well after each addition. Weigh or lightly spoon flour into dry measuring cups; level with a knife. Combine flour and next 4 ingredients (through salt); stir with a whisk. Add blueberries to flour mixture; toss to coat. Combine 3/4 cup buttermilk, 1/3 cup juice, and extracts. Add flour mixture and buttermilk mixture alternately to sugar mixture, beginning and ending with flour mixture. Pour batter into prepared pan.
Bake at 350 degrees Fahrenheit for 45 minutes or until a wooden pick inserted in center comes out clean. Cool pan on a wire rack 10 minutes. Remove cake from pan; cool on rack. To prepare glaze, place powdered sugar in a small bowl; add 1 tablespoon buttermilk and 1 tablespoon juice, stirring with a whisk until combined. Pour glaze over warm cake; cool completely.
More From Wall St. Cheat Sheet: