Easy and Delicious Baked Chicken Recipes
Chicken is already incredibly popular, and according to The Washington Post, it is poised to become the most consumed meat product in the world over the next five years. With its wonderful, lean taste, tender texture, and richness in protein, chicken makes a very versatile meal base, and baking it is one of the best ways for cooks of all skill levels to explore that culinary potential.
Baked chicken is a no-fail approach to family dinner, and don't worry about getting tired of it: These seven delicious recipes offer diverse takes on the world's favorite poultry product.
1. Creole Baked Chicken
Influenced by the traditions of Louisiana's first settlers, Creole cuisine has a wide variety of influences: French, Spanish, Portuguese, German, English, African, and Native American, reports The Daily Beast. With such a far-reaching spread of inspirations to draw from, it's no surprise that this style of cooking offers endless possibilities for zest and creativity. Food Network's recipe incorporates thyme, rosemary, cayenne, and a host of vegetables into its sauce for a colorful and zesty dinner. The recipe takes 2 hours to complete and yields 6 to 8 servings.
Ingredients:
8 chicken pieces (2 each legs, wings, breasts, thighs) or 6 skin-on chicken breasts
1 fresh lemon, halved
2 tablespoons onion powder
2 teaspoons dried thyme
1 teaspoon dried rosemary, ground to a powder
1 teaspoon salt
¼ teaspoon ground black pepper
2 tablespoons minced fresh flat-leaf parsley
Creole sauce
1 tablespoon grapeseed oil
1 shallot clove, minced
1 clove garlic, lightly crushed with the side of a knife blade and minced
½ teaspoon finely minced fresh rosemary leaves
1 teaspoon fresh thyme leaves, minced
1 (29- to 32-ounce) can crushed tomatoes
Salt and freshly ground black pepper
1 cup halved grape tomatoes
1 red bell pepper, stem and seeds removed, and diced
1 yellow bell pepper, stem and seeds removed, and diced
1 small white onion, diced
½ teaspoon cayenne pepper
1 teaspoon Creole seasoning
4 tablespoons butter, cubed
Directions: Preheat oven to 350 degrees Fahrenheit. Put chicken in a baking dish and squeeze lemon juice over. Combine onion powder, thyme, ground rosemary, salt, and ground black pepper in a small bowl. Sprinkle the spice mixture over the chicken, cover with foil, and bake until the chicken is thoroughly cooked, about 45 minutes to 1 hour. Remove foil during the last 10 to 15 minutes of baking time. Remove from oven.
While the chicken is in the oven, prepare the sauce. Over medium heat in a sauce pot, heat grapeseed oil. Saute shallots and garlic until shallots turn translucent; avoid burning the garlic. Stir in rosemary and thyme, add crushed tomatoes, season with salt and pepper, cover, and let simmer for 15 minutes. Add grape tomatoes, red and yellow bell peppers, diced onion, cayenne, and Creole seasoning, and simmer for an additional 15 minutes. Remove from heat and whisk in butter.
Remove chicken from oven, transfer to a platter, and let rest. Spoon sauce over and sprinkle with minced parsley leaves.
2. Oven Barbecue Chicken
Create a simplified variation of tender barbecue chicken in your oven with this recipe from Pioneer Woman. A ketchup-based barbecue sauce has been recommended for this dish, as it pairs well with the peach preserves and garlic. This recipe takes 40 minutes to complete and yields 4 servings.
Ingredients:
3 cups barbecue sauce
½ cup peach preserves
1 clove garlic
Hot sauce (optional)
12 whole chicken thighs
Olive oil for brushing
Directions: Preheat oven to 400 degrees Fahrenheit. In a medium saucepan, combine barbecue sauce, peach preserves, garlic, and hot sauce and heat over medium heat for 5 to 10 minutes. Set aside.
Drizzle olive oil on two rimmed baking sheets and place chicken thighs skin side down in the pans. Roast for 25 minutes. Remove from oven, coat the thighs in the barbecue sauce, then use a spatula to carefully flip them over to the other side. Brush the tops with more sauce and return to the oven for 7 minutes. Remove from oven, brush on more sauce, and return to the oven for another 7 minutes. Remove from oven, brush on sauce, and increase the temperature to 425 degrees Fahrenheit.
Continue roasting for another 5 to 7 minutes, or until the sauce is starting to brown around the edges and the thighs are totally cooked through. Remove from the oven and let sit for at least 10 minutes before serving.
3. Peruvian Style Baked Chicken with Green Sauce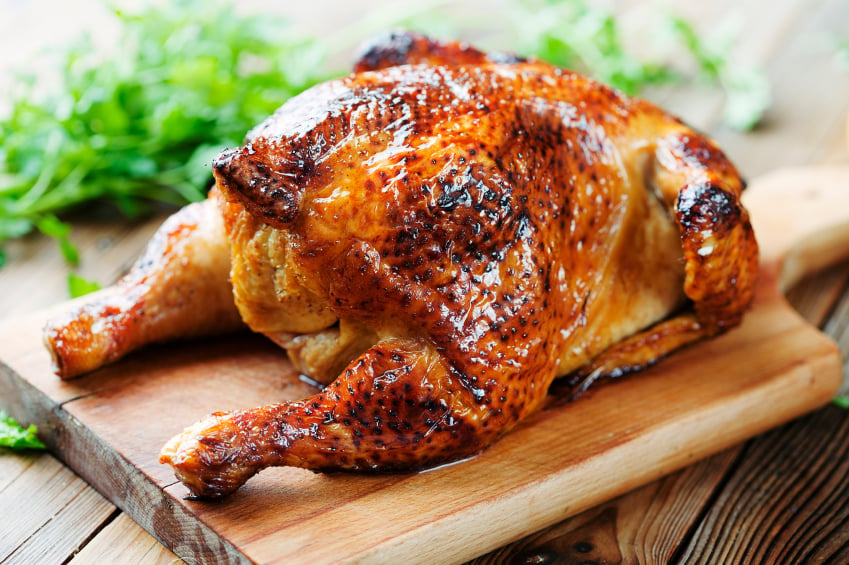 Inspired by a staple Peruvian dish, Chicken a la Brasa, Once Upon a Chef's creation is marinated in an excitingly spiced sauce, offering adventurous eaters kicks of paprika, cumin, and oregano. The accompanying creamy green sauce lends your palette an ideal balance of flavors — just watch out for that jalapeño kick at the end (add them incrementally to reach your desired level of heat)! The recipe takes 2 hours to complete and yields 4 servings.
Ingredients:
For the chicken
3 tablespoons extra virgin olive oil
¼ cup lime juice, from 2 limes
4 large garlic cloves, roughly chopped
1 tablespoon kosher salt
2 teaspoons paprika
1 teaspoon black pepper
1 tablespoon cumin
1 teaspoon dried oregano
2 teaspoons sugar
4 pound whole chicken
For the green sauce
3 jalapeño chili peppers, seeded if desired, and roughly chopped
1 cup fresh cilantro leaves
2 cloves garlic, roughly chopped
½ cup mayonnaise, best quality such as Hellmann's
¼ cup sour cream
1 tablespoon fresh lime juice, from one lime
½ teaspoon salt
⅛ teaspoon freshly ground black pepper
2 tablespoons extra virgin olive oil
Directions: In a blender or food processor, combine all of the ingredients except the chicken, blending until smooth. Remove the giblets from the inside of the chicken and pat the outside of the chicken dry with paper towels; place in a bowl, breast side up, with the legs facing you. Loosen the skin from the flesh over the breasts and legs; avoid tearing the skin or pushing all the way through. Spoon about ⅔ of the marinade evenly underneath the skin and spread the remaining ⅓ evenly over the skin. Marinate the chicken in the refrigerator for at least 6 hours or overnight.
Preheat oven to 425 degrees Fahrenheit. Line a roasting pan with aluminum foil. Tie the chicken legs together and place in oven. Roast for 20 minutes, until the skin is golden. Lower the heat to 375 degrees and continue roasting for about an hour and 10 minutes more, or until the juices run clear. Tent the chicken with foil and let rest for about 20 minutes. Tilt the chicken over the roasting pan to release the juices, then transfer to a cutting board. Carve the chicken and serve with green sauce.
To make the sauce, in a blender or food processor, combine all of the ingredients except the olive oil, blending into a smooth sauce. With the motor running, open lid and slowly drizzle in olive oil (It may seem running at first, but it will thicken). Transfer the sauce to a bowl, cover and refrigerate until ready to serve.
4. Caramelized Baked Chicken Legs and Wings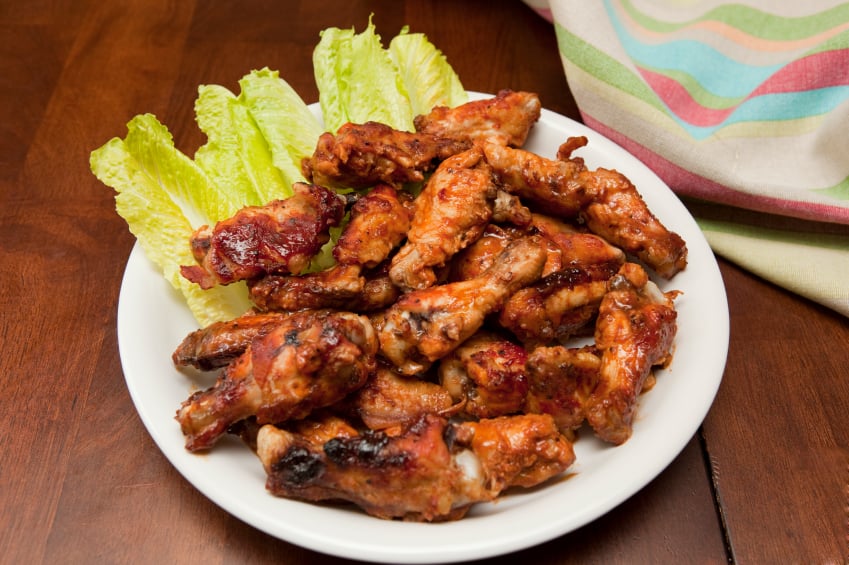 Food has a simple, sweet solution to tonight's baked chicken dinner, with no marinating required! The sauce on this chicken requires ingredients you likely have on hand anyway: ketchup, honey, and soy sauce. For best results, be sure to let the chicken cook until sauce has fully caramelized. Recipe takes an hour and 35 minutes to make and yields 6 to 8 servings.
Ingredients:
2½ pounds chicken legs
1⅔ tablespoons olive oil
½ cup soy sauce
1⅔ tablespoons ketchup
¾ cup honey
2 to 3 garlic cloves, minced
Salt and pepper
Directions: Preheat oven to 350 degrees Fahrenheit. Place chicken in a 9-by-13-inch baking dish. In a bowl, mix together the oil, soy sauce, ketchup, honey, garlic, salt, and pepper. Pour over the chicken. Bake for 1 hour, or until sauce is caramelized.
5. Double Plum Baked Chicken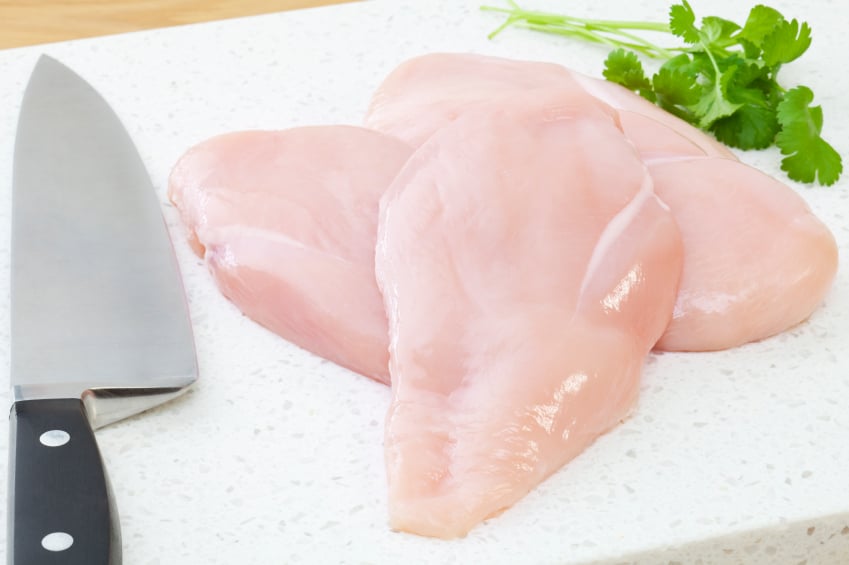 Plum wine is an especially popular type of fruit wine in southeastern Asia. Incorporating the drink along with dried plums into this dish's sauce will temper the heat of the chile sauce and spicy Chinese mustard. If you don't have plum wine on hand, you can substitute a light, sweet wine in its place. Cooking Light offers this double baked chicken for a quick weeknight dinnertime dish: It takes just 30 minutes to make and yields 4 servings.
Ingredients:
1 tablespoon olive oil, divided
⅓ cup sliced shallots
2 teaspoons minced peeled fresh ginger
½ cup plum wine
¾ cup fat-free, lower-sodium chicken broth
1 teaspoon chile sauce (such as sambal oelek)
1 teaspoon Chinese mustard
½ cup halved dried plums (about 9)
4 (6-ounce) skinless, boneless chicken breast halves
¼ teaspoon salt
¼ teaspoon freshly ground black pepper
¼ cup (½-inch) slices green onions
Directions: Preheat oven to 425 degrees Fahrenheit. Over medium-high heat, heat a medium saucepan. Add 1 teaspoon oil to pan; swirl. Add shallots and ginger; sauté 1 minute. Add wine; bring to a boil. Cook 1 minute. Add broth, chili sauce, and mustard; bring to a boil. Cook until reduced to ¾ cup. Stir in plums. Remove from heat.
In a large skillet, heat remaining 2 teaspoons oil over medium-high heat; swirl. Sprinkle chicken with salt and pepper. Add chicken to pan, and sauté for 3 minutes. Turn chicken over; pour plum mixture over chicken. Bake at 425 degrees Fahrenheit for 6 minutes or until done. Let chicken stand 5 minutes. Sprinkle with green onions.
6. Crispy Baked Chicken
A cornmeal coating on your baked chicken will give it a crispy, mouthwatering crunch — akin to fried chicken, but much healthier! Throwing this cornmeal-crusted chicken in the oven for about 50 minutes will result in a tender, juicy, family ready meal. The addition of chili powder and oregano to your breading is what gives this chicken a delightful added punchiness. Taste of Home's recipe takes an hour and 5 minutes to complete and yields 4 to 6 servings.
Ingredients:
½ cup cornmeal
½ cup all-purpose flour
1½ teaspoons salt
1½ teaspoons chili powder
½ teaspoon dried oregano
¼ teaspoon pepper
½ cup 2 percent milk
1 broiler/fryer chicken (3 to 3½ pounds), cut up
⅓ cup butter, melted
Directions: Preheat oven to 375 degrees Fahrenheit. Combine the first six ingredients in a small bowl. Pour milk in another small bowl. Dip chicken in milk, then roll in the cornmeal mixture.
Place chicken in a greased 13-by-9-inch baking pan. Drizzle with butter. Bake, uncovered, for 50 to 55 minutes or until juices run clear.
7. Chicken Thighs With Orange Sauce
Give your chicken an exciting, tangy flavor by dressing it up with a spiced orange glaze. Rosemary and thyme lend a delicate balance to the colorful citrus sauce. This baked and spiced variation is a healthier offshoot to the popular batter-fried Chinese takeout dish. This recipe from About Southern Food serves 4 people and takes an hour to make.
Ingredients:
1 tablespoon olive oil
½ cup chopped onion
1 cup frozen orange juice concentrate, about 8 ounces
½ teaspoon dried leaf thyme
½ teaspoon crumbled dried leaf rosemary
¼ teaspoon salt
Dash ground black pepper
1 tablespoon soy sauce
3 tablespoons packed light brown sugar
6 to 8 boneless chicken thighs
Olive oil
Salt and pepper
Directions: Preheat oven to 375 degrees Fahrenheit. Heat 1 tablespoon of olive oil over medium heat in a medium saucepan. Saute the onion until softened. Add orange juice, thyme, rosemary, ¼ teaspoon salt, dash of pepper, soy sauce, and the brown sugar. Simmer, stirring frequently, for 5 minutes.
Wash chicken and pat dry. Arrange in a foil-lined greased baking dish. Brush lightly with olive oil and sprinkle with salt and pepper. Bake for 20 minutes. Brush the sauce over the chicken thighs and bake for 15 to 20 minutes longer, or until cooked through.
Bring the remaining sauce to a boil; serve with the chicken.