Easy and Delicious Dinner Recipes Using Jarred Salsa
Arriving home after work or a day of running errands usually leaves most people feeling like putting up their feet for a while, but that's not really an option when your stomach is growling and there's nothing for dinner. Picking up the phone to order pizza or Chinese food might seem like the best option, but you can cook up something delicious in less time than it takes to wait for the delivery driver to get to your door. Just take a little help from a store-bought, flavor-packed condiment. Salsa is probably your go-to topping for tacos and nachos, but it's a versatile ingredient that can seriously speed up your dinner prep. The next time you're feeling frazzled, turn to one of these seven recipes using jarred salsa and you'll be chowing down in no time.
1. Black Bean and Salsa Soup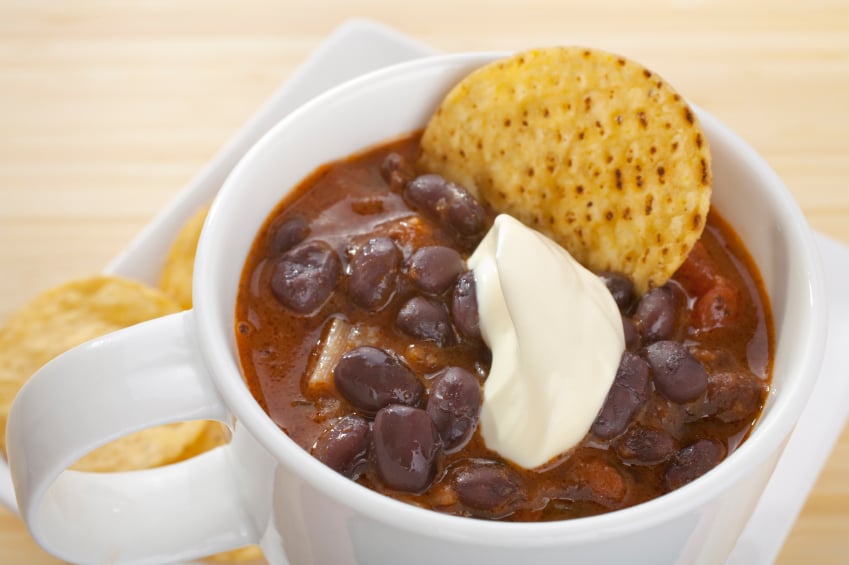 Soup usually takes an entire afternoon of simmering, but this black bean version from Allrecipes.com will be ready in 20 minutes. Just puree cooked beans, salsa, some vegetable broth, and a little bit of cumin until smooth. Heat the mixture over the stove until it's bubbling, then garnish each bowl with a dollop of sour cream and a sprinkle of green onion.
This simple recipe is great as is, but feel free to dress it up by adding a little bit of minced chipotle or some chili powder to the soup. And don't forget to customize toppings. Crushed tortilla chips, cilantro, hot sauce, and shredded cheese are all great choices.
Ingredients:
2 (15-ounce) cans black beans, drained, and rinsed
1½ cups vegetable broth
1 cup chunky salsa
1 teaspoon ground cumin
4 tablespoons sour cream
2 tablespoons thinly sliced green onion
Directions: Combine beans, broth, salsa, and cumin in a blender or food processor. Blend until mostly smooth. Transfer mixture to a saucepan set over medium heat. Let mixture heat through, stirring occasionally.
Ladle into four bowls, and top each with 1 tablespoon of the sour cream and a sprinkle of green onion.
2. Salsa Verde Pizza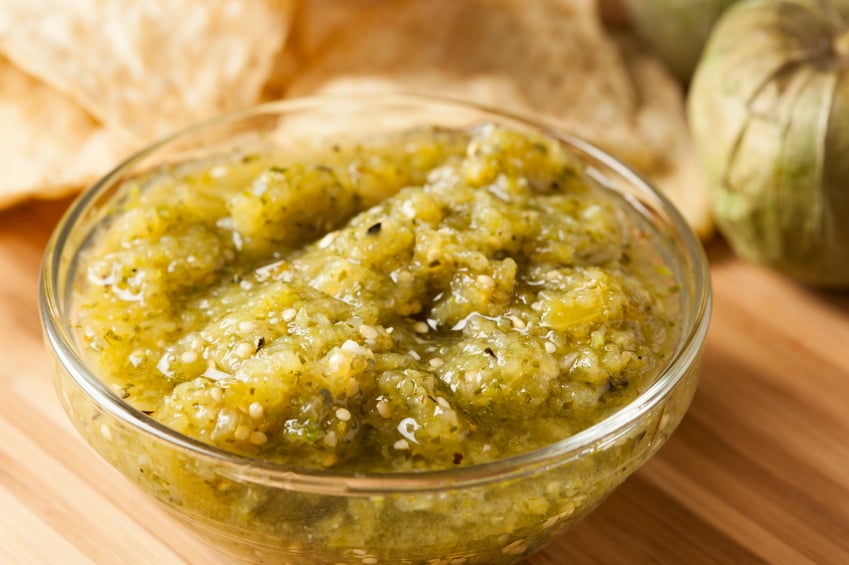 Pizza is one of those incredibly flexible foods that takes well to just about any variation, and this green salsa version from Thursday Night Pizza shows how well it works with Mexican flavors. While all of the components can be cooked at home, this recipe tastes just as good with purchased ingredients. It'll also be a complete cinch to throw together at the last minute.
Just roll out the dough, smear with some salsa, then sprinkle on the chicken, olives, scallions, and cheese. Toss it in the oven, then finish it off with a final flourish of cheese and cilantro. One bite of this pie will leave you wondering why you ever enjoyed delivery taco pizza with that slimy, wilted lettuce on top.
Ingredients:
1 (14- to 16-ounce) ball pizza dough
5 ounces queso fresco, crumbled
½ cup cooked chicken, shredded
½ cup salsa verde
2 scallions, white and greens, sliced
1 (2.5 ounce) can sliced black olives, drained
Handful fresh cilantro leaves
Directions: Place pizza stone on oven rack about 8 inches away from broiler. Preheat oven to 500 degrees Fahrenheit. Let heat for at least 30 minutes.
Dust dough with flour and place on a floured surface. using hands, or a rolling pin, stretch and roll into a 12-inch circle. Dust a pizza peel with flour, and transfer dough to peel.
Spoon salsa onto dough, spreading evenly, leaving a ½-inch border. Sprinkle with shredded chicken, all but 2 tablespoons of scallions, and all of olives. Top with all but 2 tablespoons of the cheese.
Increase oven heat to broil 10 minutes before ready to bake. Then, slide pizza from peel to the hot stone using a quick movement. Broil pizza 5 to 7 minutes, rotating halfway through, until bottom is crisp and top is blistered. Transfer pizza to cutting board. Let cool at least 5 minutes. Sprinkle with reserved scallions, queso fresco, then finish with cilantro. Slice and serve.
3. Mexican Lasagna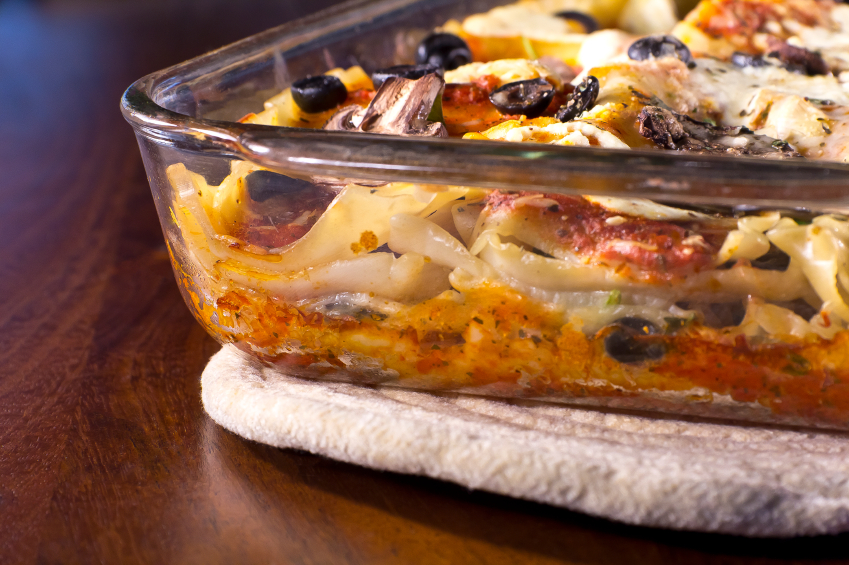 Take an Italian classic south of the border with Taste of Home's hearty lasagna. This stick-to-your ribs supper takes a little bit of time to layer, but it's really easy since there's no need to cook the noodles first. Filled with meat, beans, cheese, salsa, and sour cream, it's a satisfying meal that will feed at least 12 people. We like to serve it with a side of crunchy slaw, like this one from Food.com.
Ingredients:
2 pounds ground beef
1 (16-ounce) can refried beans
1 (4-ounce) can green chiles
1 (1-ounce) envelope taco seasoning
2 tablespoons spicy salsa
12 ounces uncooked lasagna noodles
4 cups shredded Colby-jack cheese, divided
1 (16-ounce) jar mild salsa
2 cups water
2 cups sour cream
1 (2.25-ounce) can sliced olives, drained
3 green onions, chopped
1 medium tomato, chopped
Directions: Preheat oven to 350 degrees Fahrenheit. In a large skillet, brown beef over medium heat until cooked; drain excess fat. Stir in beans, chiles, taco seasoning, and spicy salsa.
Grease a 13-by-9-inch baking dish, then layer in one-third of meat mixture. Sprinkle with 1 cup of cheese. Repeat layers 2 more times.
Combine salsa with water; pour over top. Cover pan with foil and bake 1 hour, until heated through. Top with sour cream, olives, onions, tomatoes, and remaining cheese. Bake, uncovered, 5 minutes. Let stand 10 to 15 minutes. Serve.
4. Simple Jambalaya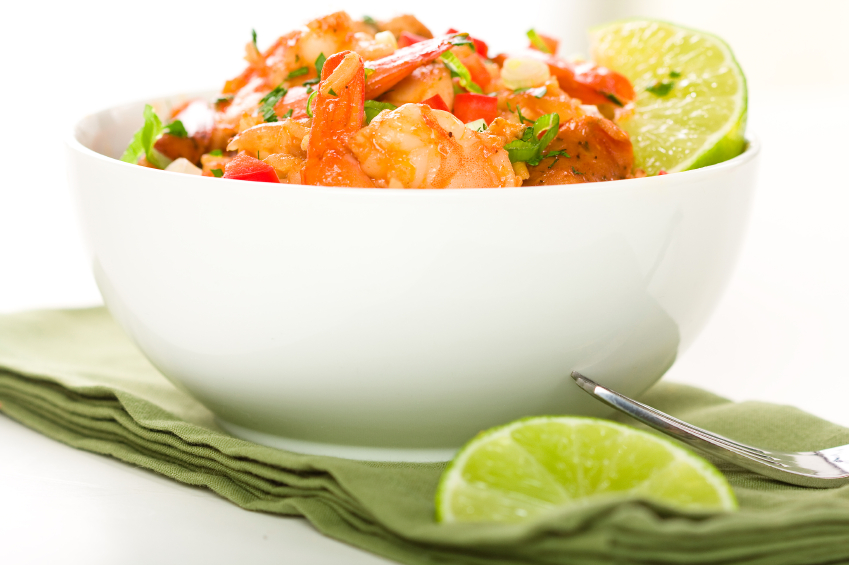 Traditional jambalaya takes lot of time and work to get to the finish line. This speedy version from Everyday Home Cook, adapted from a dish in Campbell's Classic Recipes, shows off the same flavors in a fraction of the time with a little help from jarred salsa, quick-cooking rice, and some condensed soup. Start by cooking the chicken and sausage, then add the salsa and soup. Stir in the rice, let it cook, then finish with the shrimp and peas. A sprinkle of sliced green onions would make a nice finishing touch.
Ingredients:
1 teaspoon vegetable oil
½ pound boneless, skinless chicken breasts, cut into 1-inch pieces
½ pound sweet or spicy Italian sausage links
¼ teaspoon garlic powder
1 (10.5-ounce) can condensed french onion soup
½ cup salsa
1 cup uncooked quick-cooking rice
1 to 2 cups water
½ cup frozen peas
½ pound raw shrimp, peeled and deveined
Directions: Heat oil in a medium skillet. Cook chicken and sausage until cooked all the way through. Drain fat from skillet and remove sausage. Slice sausage into ½-inch-thick slices. Add sausage back to skillet along with garlic powder, soup, and salsa. Bring to a boil. Add rice, stir, then cover, and reduce heat. Stir mixture every few minutes, adding water as needed, until rice is almost finished. Add peas and shrimp. Simmer until shrimp are cooked and most of liquid is absorbed. Serve.
5. Veracruz Style Red Snapper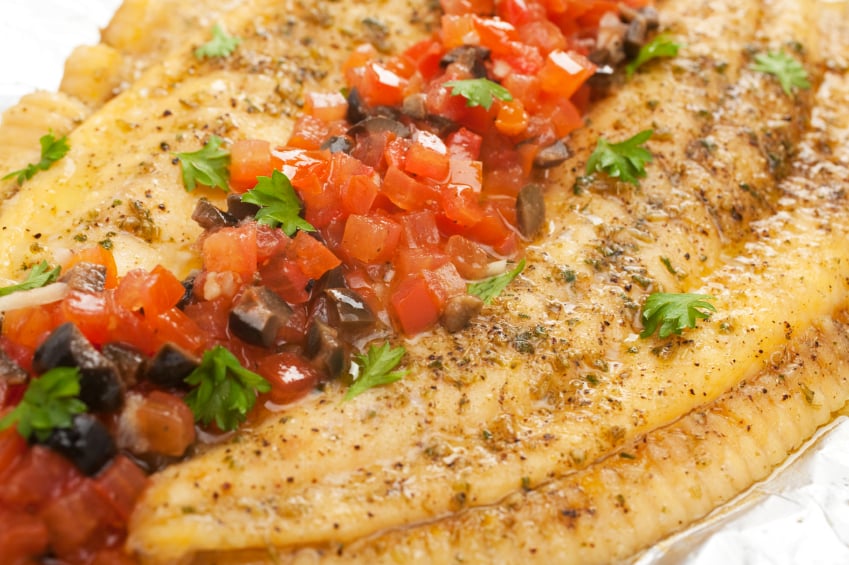 This classic Mexican seafood supper gets the speedy treatment with Cooking Light's recipe by dressing up some bottled salsa with olives and a little bit of cilantro. While beans aren't a traditional ingredient in this dish, they add extra fiber and protein to make this meal even more satisfying. Though this recipe calls for red snapper or tilapia, any thin white-fish fillets will work just as well. Use whatever looks freshest at your store.
Ingredients:
4 (6-ounce) red snapper or tilapia fillets
Cooking spray
½ teaspoon ground cumin
¼ teaspoon salt
¼ teaspoon red pepper flakes
¼ cup chopped fresh cilantro
¼ cup chopped, pitted green olives
¼ cup bottled salsa
1 (16-ounce) can pinto beans, drained
1 (14.5-ounce) can diced tomatoes, drained
4 lime wedges
Directions: Preheat grill or broiler. Coat both sides of fish with cooking spray, and sprinkle with cumin, salt, and pepper flakes. Place fish on grill rack, or broler pan coated with cooking spray. Cook fillets 5 minutes on each side, until flesh flakes with a fork.
Combine cilantro and remaining ingredients, except lime wedges. Serve fish with salsa and lime wedges.
6. Salsa Verde Easy Slow Cooker Pulled Pork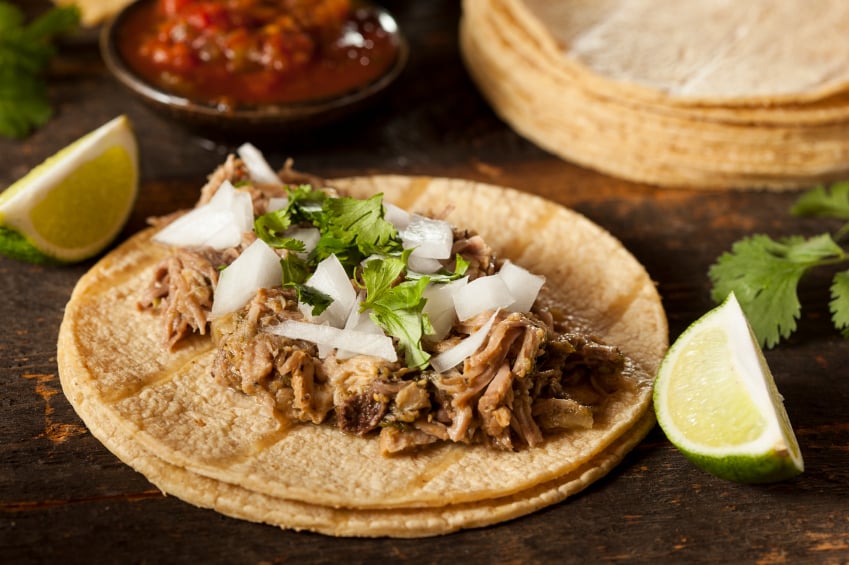 Pulled pork usually gets slathered in a sweet sauce for a barbecue feast. There's nothing wrong with that, but it's nice to change things up sometimes. This version from Well Plated by Erin, featured on Imperial Sugar, gets dressed up with some green salsa and a few spices. While this recipe takes some planning because of the slow-cooker method, it can be assembled in minutes. Add everything to the insert, set the crockpot, and you'll walk into the house with dinner nearly ready.
Tacos are an obvious choice for this tender meat, but it also makes a great sandwich. Pile the pork onto buns, top with some shredded cabbage, a sprinkle of cilantro, and drizzle with a purchased chipotle barbecue sauce.
Ingredients:
Pork
1 (16-ounce) jar salsa verde
1 tablespoon chili powder
1 tablespoon cumin
2 teaspoons minced garlic
2 teaspoons sugar
1 teaspoon kosher salt
1 (2.5- to 3-pound) pork loin, trimmed of excess fat
To Serve
Prepared rice or tortillas
Shredded cheese
Sour cream
Chopped cilantro
Lime wedges
Directions: In a 4-quart slow cooker, stir salsa, chili powder, cumin, garlic, sugar, and salt together. Add pork; turn to coat. Spoon some of salsa over top. Cook, covered, until meat is cooked and fork-tender, 6 hours on low, or 4 hours on high.
Remove meat to a large platter and shred with 2 forks. Return pork to slow cooker, and stir to combine with cooking liquid. Serve with rice or tortillas, and toppings.
7. Spicy Tuna Melt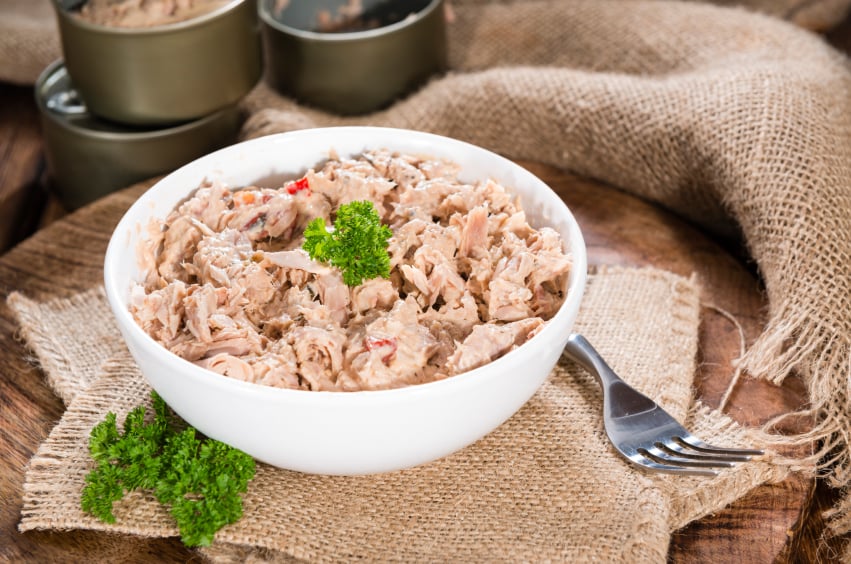 Forget the tuna melts of your youth, because this version from Martha Stewart's Everyday Food offers a completely different take on the sandwich. The tuna salad is just some canned fish mixed with salsa and mayo. Pile the mixture onto bread, then top with spicy pepper jack cheese. Broil the sandwiches until the cheese melts, slice, and dig in.
Ingredients:
2 (6-ounce) cans solid light tuna in water, drained and broken into pieces
¾ cup salsa
¼ cup mayonnaise
Coarse salt and ground pepper
1 baguette
1½ cups grated pepper jack cheese
2 tablespoons fresh parsley, roughly chopped
Directions: Heat broiler, arrange rack in top position. In a medium bowl, mix tuna, salsa, and mayo; season with salt and pepper. Cut baguette in half lengthwise and place, cut side up, on a rimmed baking sheet. Top bread with tuna mixture, then sprinkle with cheese. Broil until cheese melts and starts to turn golden, 5 minutes. Slice into pieces, sprinkle with parsley, and serve.