Easy Chicken Recipes Using 5 Ingredients or Fewer
Chicken is the basis of some of the best dishes out there, and while we do all appreciate its versatility and taste, we don't all have time to labor over a complicated dish. Fortunately, there are an abundance of chicken-based recipes that cooks of any skill level can throw together in a snap — with 5 ingredients or fewer!
Rather than spending all day in the kitchen, try these chicken recipes — each is quick, delicious, and takes fewer than 5 ingredients to complete.
1. Simple Crockpot Chicken Teriyaki
Put simply, crockpots make cooking easier. This method of cooking is invitingly hands-off, and the results are mouthwatering. Just throw your chicken in with teriyaki sauce, brown sugar, garlic, and broth, then let the mixture stew for about 6 hours, depending on the level of heat you opt to use. When you return to the crockpot, you'll be greeted with a piping hot meal, slow-cooked to perfection. This dish from Key Ingredient takes about 6 hours to slow-cook and yields 4 servings.
Ingredients:
1 pound chicken (sliced or cubed)
1 cup chicken broth
½ cup teriyaki or soy sauce (with or without sesame seeds)
⅓ cup brown sugar
3 minced garlic cloves
Head to Key Ingredient for the full recipe. 
2. Chicken and Ziti Casserole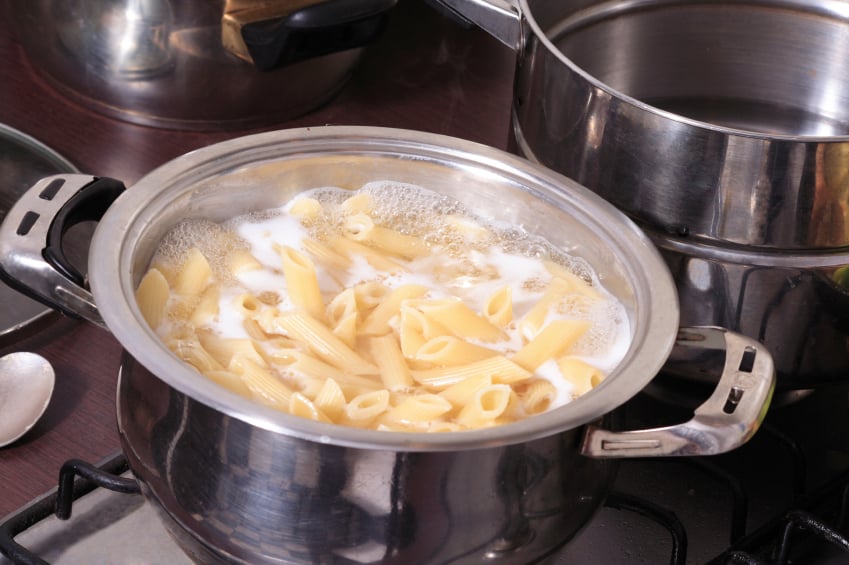 A simple chicken and ziti casserole is as simple a dish to make as it is delicious to eat. Enjoy the irresistible taste of gooey, melted mozzarella over cooked pasta draped in red sauce. The addition of chicken to this recipe is an easy way to give tonight's dinner just the protein boost you need. This dish from Moms Who Think yields 4 servings and takes about 35 minutes to complete.
Ingredients:
1 jar spaghetti sauce
4 cups cooked ziti (6 ounces uncooked)
1½ cups cubed cooked chicken
1 cup shredded mozzarella cheese
1 tablespoon grated Parmesan cheese
Head to Moms Who Think for the full recipe. 
3. Chicken and Dumplings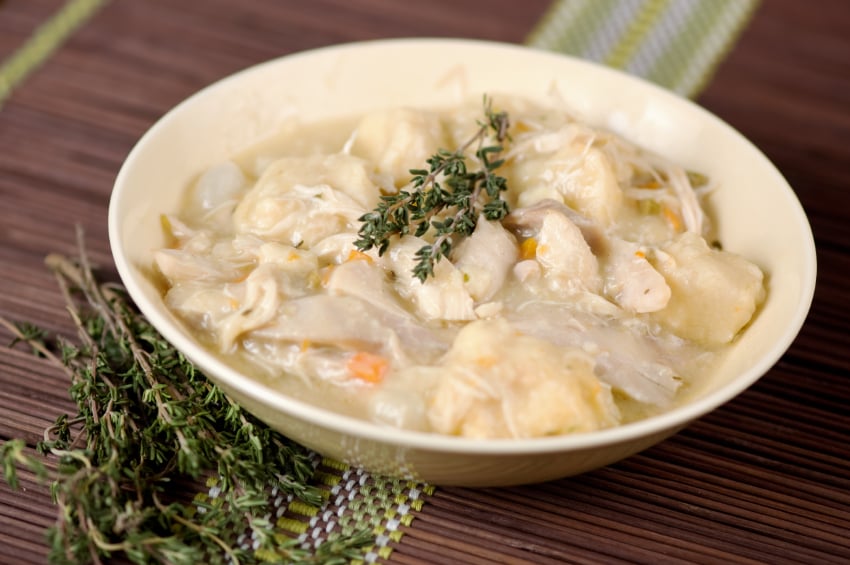 The tantalizing down-home flavors of chicken and dumplings certainly merit the time it takes to cook them. Although this dish from Farm Flavor requires a bit of a wait, the chicken component is a hands-off dish that can be left to cook to perfection by its own devices. This recipe is steeped in tradition and will have your family craving more good old-fashioned cooking! The recipe takes about 2 hours to complete (and trust us, it's worth it!) and yields 4 to 6 servings.
Ingredients:
1 (4- to 5-pound) chicken
Just enough water to cover the chicken
4 cups all-purpose flour
¾ cup shortening
Salt and black pepper, to taste
Head to Farm Flavor for the full recipe. 
4. Chicken with Walnut Cheese Wrapped in Bacon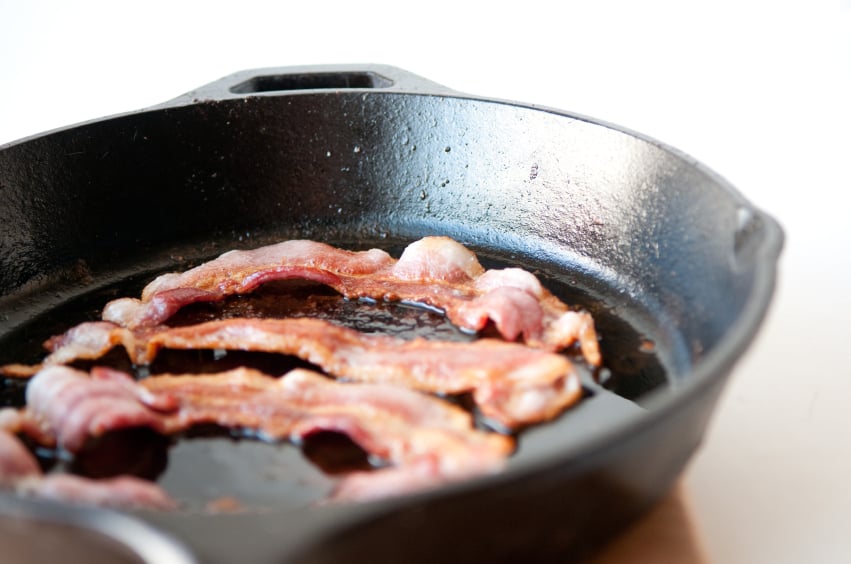 Aside from the cheese (which doesn't need to be added), this recipe makes for a paleo-friendly, protein-packed dish. It's a simple combination of 4 hearty ingredients that will leave you and your family satiated for hours. If you prefer a sweet and savory twist on the classic, try substituting candied walnuts or pecans in this meal. This recipe from Allrecipes takes 55 minutes to complete and yields 4 entrée-sized servings.
Ingredients:
2 boneless, skinless chicken breasts, halved horizontally
8 ounces crumbled blue cheese
6 ounces walnut halves
8 slices bacon
Head to Allrecipes for the full recipe. 
5. White Chicken Chili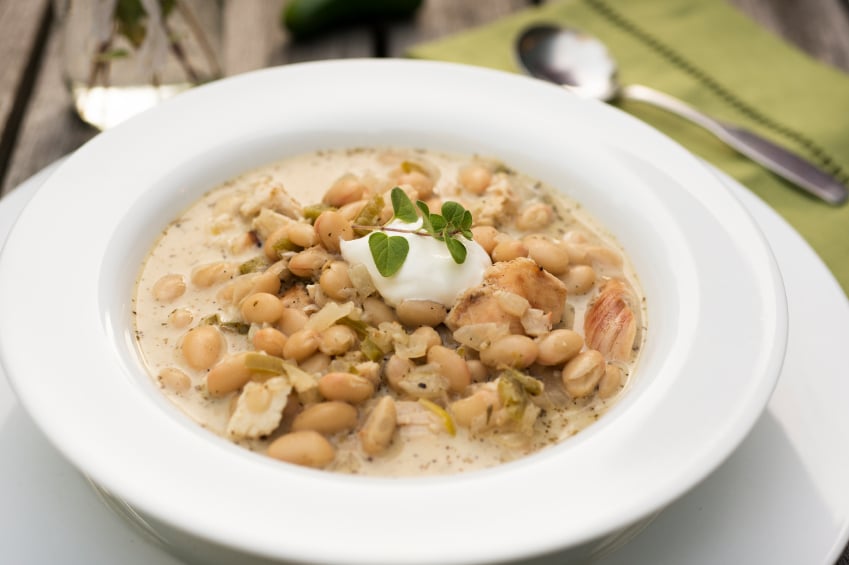 There is perhaps no better comfort food in this world than chili. What's even better is that this hearty chicken chili dish requires just 5 simple ingredients. This dish from Damn Delicious takes 15 minutes to complete and yields 6 servings. Try serving it along with toppings such as cilantro, avocado, Monterey Jack cheese, sour cream, or crumbled tortilla chips for an added punch of flavor or texture.
Ingredients:
6 cups chicken broth
3 cups cooked shredded chicken
2 (15-ounce) cans Great Northern beans, drained
2 cups salsa verde
1 teaspoon ground cumin
Head to Damn Delicious for the full recipe. 
6. Provolone and Olive Stuffed Chicken Breasts
These stuffed chicken breasts are remarkably elegant considering how easy they are to prepare at home. Try browning the chicken in a skillet ahead of time to lend it a beautiful coloring. The dish is relatively low in calories and is packed with protein, making it a heart-healthy choice for this evening's dinner. This recipe from EatingWell takes 50 minutes to complete and yields 4 servings.
Ingredients:
¼ cup shredded provolone cheese, preferably aged
3 tablespoons chopped California ripe olives
4 boneless, skinless chicken breasts (1-1¼ pounds total)
1 large egg white
½ cup plain dry breadcrumbs
Head to EatingWell for the full recipe.