Easy Homemade Holiday Recipes: 7 Party Snacks Made with Chex Cereal
Crunchy Chex cereal squares are mild in flavor and unique in texture, making them a wonderful addition to party mixes for all occasions. The holidays are no exception to that rule — we doubt there's a holiday guest out there who could refuse a scoop of a sweet or savory Chex-powered party blend. Best of all, these mixes are quick to make and keep well in an airtight container (if they aren't all eaten up on the first day, that is).
Serve any of these 7 Chex-based party mixes at your holiday party to impress guests without making yourself crazy in the kitchen.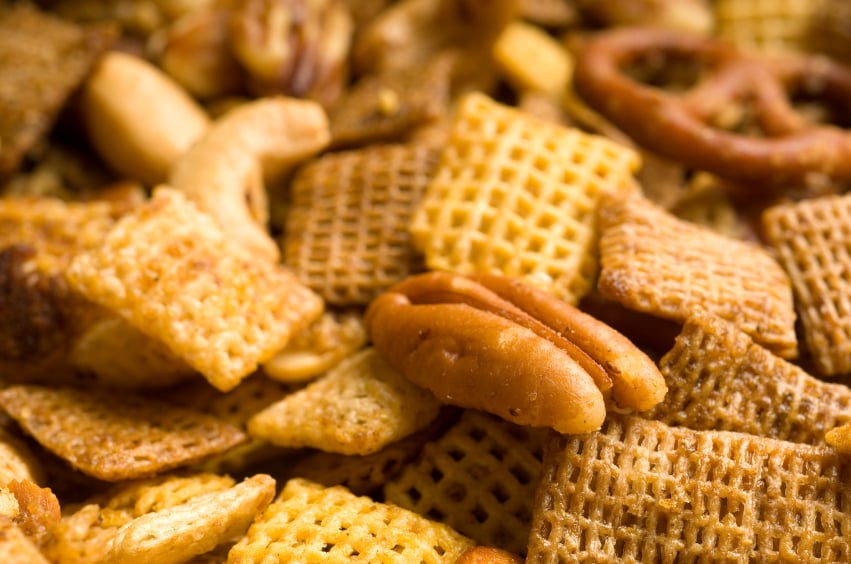 1. Garlic Chex Mix
Buns In My Oven recommends using Corn and Rice Chex for optimal taste and texture in her Fresh Garlic Chex Mix. This thoroughly seasoned mix combines the flavors of onion, Worcestershire, seasoned salt, and garlic to yield bold and delicious results. Adding a dash of hot sauce gives it a distinct kick that your guests will love. The mix stores well in a covered container for up to 1 week.
Ingredients:
4½ cups corn Chex
4½ cups rice Chex
1 cup mixed nuts
1 cup small pretzels
1 cup plain pita chips, broken into small pieces
6 tablespoons butter
3 tablespoons Worcestershire sauce
2 tablespoons seasoned salt
2 teaspoons onion powder
Dash hot sauce
3 cloves garlic
Directions: Heat oven to 250 degrees Fahrenheit. Line a large rimmed baking sheet with foil.
Add the cereal, nuts, pretzels, and pita chips to a large bowl.
Add the butter to a small sauce pan and heat until melted over medium heat. Next, remove from the heat and stir in the Worcestershire sauce, seasoned salt, onion powder, and hot sauce.
Grate the garlic on a microplane grater into the butter mixture. Stir well. Pour the butter mixture over the cereal, stirring as you pour. Stir well to coat everything. Spread the mixture out on the baking sheet. Bake for 1 hour, stirring carefully every 15 minutes.
2. Peppermint Crunch Muddy Buddies
For a true taste of the holidays, serve your guests Peppermint Crunch Muddy Buddies. This mix blends the sweet flavors of powdered sugar and white chocolate with the fresh taste of peppermint for a wonderfully winter-appropriate snack. Guests will love how the dish melts in their mouths with each bite, and we doubt any friend or family member will be able to stop after just one scoop!
Ingredients:
4 cups rice Chex cereal
1 cup white chocolate chips
4 candy canes, crushed
⅓ cup powdered sugar
Directions: Place Chex cereal in a large zip bag. Set aside
Place chocolate chips in a microwave-safe bowl and melt on medium powder for 2 minutes. Stir chips, then return to microwave and heat 30 seconds at a time until all chips are melty. Stir until smooth.
Pour melted chocolate into bag and seal bag. Shake the bag gently to coat all cereal in chocolate. Open the bag, sprinkle in crushed candy canes, seal and shake. Open the bag, add powdered sugar, seal and shake until all cereal is coated with powdered sugar. Allow chocolate to set 10-15 minutes. Store in airtight container.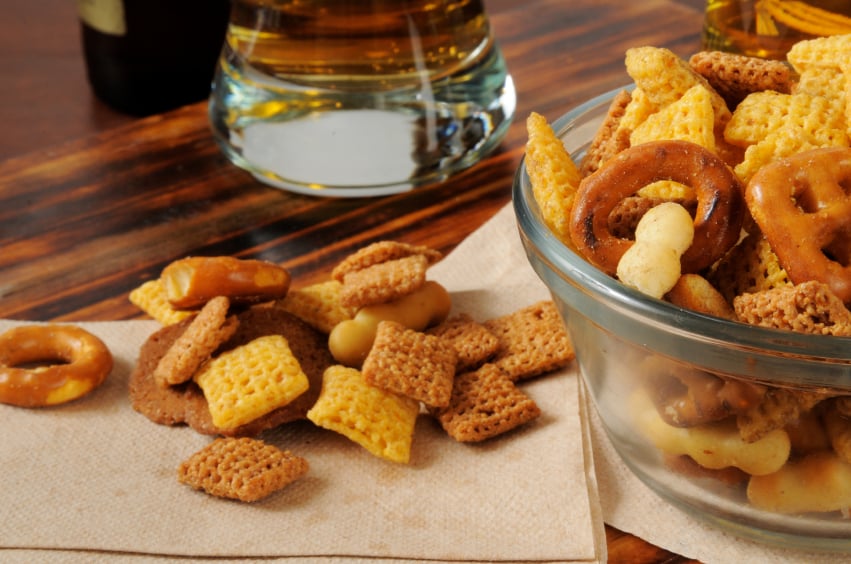 3. Buffalo Cheddar Chex Mix
Half Baked Harvest's Buffalo Cheddar Chex Mix is a one-of-a-kind blend of all your favorite snack foods, rolled up into one spicy and salty treat. Simply combine pretzel nuggets, grated cheddar cheese, pita chips, nuts, and 3 varieties of Chex — plus generous serving of hot sauce — to achieve an out-of-this world snack time flavor. This dish is simple to make, requires some basic ingredients, and is perfect for feeding a crowd, making it a great pick for the hectic holiday season. The recipe takes an hour and 15 minutes to make and yields 12 cups. Keep leftovers stored in an airtight container to maintain that fresh-made flavor.
Ingredients:
3 cups Corn Chex
3 cups Rice Chex
2 cups Wheat Chex
2 cups mixed nuts (or 1 cup peanuts)
2 cups sourdough pretzel nuggets
2 cups pita chips
¾ cup butter, melted
¾ cup hot sauce
1½ teaspoons seasoned salt
3 to 4 ounces sharp cheddar cheese, finely grated
4 ounces blue cheese, crumbled (optional)
Directions: Preheat oven to 250 degrees Fahrenheit.
In large bowl, mix the Chex cereals, mixed nuts, pretzels and pita chips. Set aside.
Melt the butter in a bowl and mix in the hot sauce and seasoned salt. Pour the buffalo sauce over the cereal mixture, tossing well for 3 to 5 minutes or until the cereal mixture is evenly coated. Spread evenly over two greased baking pans. Sprinkle the cheese over top of both baking pans.
Bake 1 hour, stirring every 15 minutes. Remove from the oven and toss with blue cheese. Allow the cheese to melt five minutes, then spread on paper towels to cool, about 15 minutes.
4. Peanut Butter Snickerdoodle Snacks
Cinnamon lends a seasonally spiced touch to this sweet, nutty mixture from Crazy For Crust. The dish combines the usual suspects — Chex cereal, powdered sugar, and white chocolate — with rich peanut butter, resulting in indulgent (if somewhat messy) Peanut Butter Snickerdoodle Snacks. For truly irresistible snacking, re-shake the treats in another layer of powdered sugar before serving. You can keep leftovers stored in an airtight container for up to 5 days.
Ingredients:
8 cups Rice Chex
1½ to 2 cups powdered sugar
1 cup white chocolate chips
½ cup peanut butter
¼ cup unsalted butter
1 teaspoon vanilla extract
2½ teaspoons ground cinnamon
Directions: Place your Chex cereal in a very large bowl. Line a cookie sheet with parchment paper. Place 1½ cups of powdered sugar in a large gallon size zip bag and set aside.
Place white chocolate chips, peanut butter, and butter in a medium sized microwave-safe bowl. Microwave on high power in 30-second increments, stirring between each, until melted and smooth. Stir in the vanilla and cinnamon. Pour the peanut butter mixture over the Chex cereal and stir to coat.
Place coated cereal in the powdered sugar bag. Seal tightly and shake until all the cereal is coated with the powdered sugar. Spread on a cookie sheet and let harden.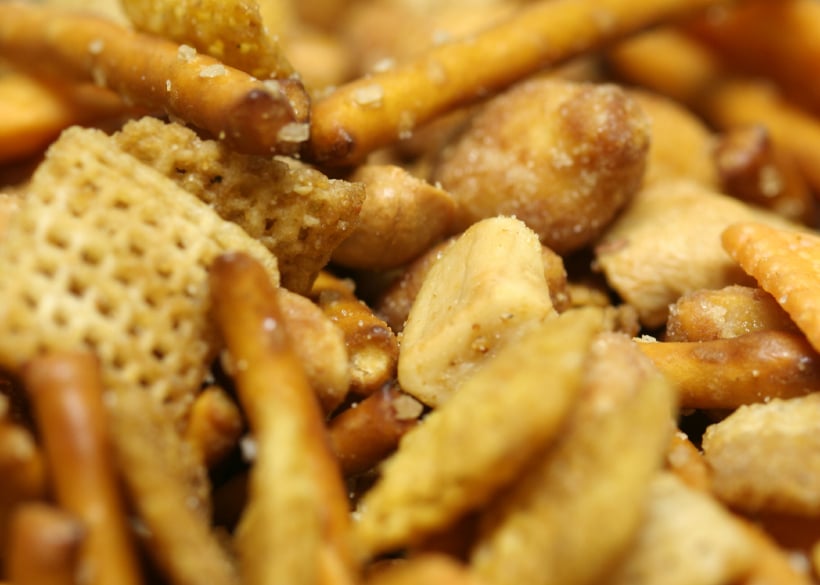 5. Spicy Sriracha Chex Mix
Kick the flavors up a notch this season with a Spicy Sriracha Chex Mix from My Bacon Wrapped Life. The heat lovers at your party won't be able to stop themselves from digging into this simple-yet-addictive dish. It's both spicy and salty without being overpowering, and offers wide textural variety, as Chex, pretzels, cheddar crackers, and more seamlessly work their way into the bold medley of munch-worthy flavors. The recipe takes about an hour and 10 minutes to make and yields 10 servings.
Ingredients:
6 cups mixed Chex cereal
1½ cups cheddar-flavored crackers
1½ cups pretzels
1 cup peanuts
4 tablespoons unsalted butter
¼ cup Sriracha
2 tablespoons soy sauce
1 teaspoon grated ginger (or powdered ginger)
1 teaspoon grated garlic (or garlic powder)
Directions: Preheat your oven to 250 degrees Fahrenheit.
Mix the Chex, cheddar crackers, pretzels, and peanuts in a large bowl. In a small microwave-safe bowl, combine the butter, Sriracha, soy sauce, ginger, and garlic. Microwave the mixture in 15-second intervals until the butter is melted. Stir to combine.
Spread the mixture evenly over a large rimmed baking sheet. Bake for an hour, stirring every 15 minutes, until the Chex Mix is crunchy. Allow to cool. Once cool, store in an airtight container.
6. Salted Hazelnut Peanut Puppy Chow
Everyone can agree that adding Nutella chocolate-hazelnut spread to your dessert makes it all the more delicious. The same goes for this Salted Hazelnut Peanut Puppy Chow from A Latte Food. The dish combines butter and Nutella for a rich start, adding salty peanuts, honey-roasted peanuts, Chex, and powdered sugar to culminate in a delectable, snack-able dish.
Ingredients:
¼ cup butter
½ cup Nutella
¼ teaspoon sea salt
½ cup honey roasted peanuts
½ cup salted peanuts
3 cups rice Chex cereal
1 cup powdered sugar
Directions: In a small saucepan, melt the butter and Nutella over low-medium heat, stirring constantly. Once smooth, sprinkle in the sea salt, and remove from heat.
In a large mixing bowl, gently mix the peanuts and rice cereal. Next, pour the warm chocolate mixture over the cereal mix. Gently stir until the cereal mix is coated with the Nutella mix.
In a large zip bag, pour in the powdered sugar. Next, pour the cereal mix into the bag. Zip the bag closed (leaving in air) and shake the bag until the cereal is coated with powdered sugar. Once completely coated, pour into a bowl or air-tight container, and enjoy!
7. Reindeer Chow
Yammie's Noshery shares this recipe for holiday-themed Reindeer Chow, which combines decadent white chocolate with marshmallows, pretzels, and peanuts for an incredible sweet and salty snack. Try using red and green M&Ms to add a bit of extra holiday pizzazz. You'll have this Reindeer Chow ready to go in minutes: Just stir, melt, pour, wait, and eat!
Ingredients:
2 cups Rice Chex
1 cup pretzels
1 cup mini marshmallows
½ cup M&Ms
½ cup salted peanuts
1½ cups white chocolate chips or chopped white chocolate
Directions: Combine the Chex, pretzels, marshmallows, M&Ms, and peanuts in a large bowl. Set aside.
Melt the white chocolate and pour over the Chex mixture and stir to coat evenly. Spread onto a large sheet of parchment and let cool until hardened.
More from Life Cheat Sheet:
Want more great content like this? Sign up here to receive the best of Cheat Sheet delivered daily. No spam; just tailored content straight to your inbox.