Easy Pasta Salad Recipes You Can Take to Work for Lunch
Some of the most iconic American dishes include beef stroganoff, spaghetti and meatballs, tuna noodle casserole, and chicken noodle soup. No matter the format, we can't get enough of noodles. According to a 2011 survey by the National Pasta Association, 56% of Americans said they couldn't live without the slurpable starch. While most people think to make a steaming bowl of noodles for supper, most of those dishes don't translate well to the confines of a brown paper sack. Cold, gloppy marinara just doesn't sound very good. Instead of giving up the versatile ingredient for your midday meal, give it the cold treatment with one of these five pasta salad recipes. Lunch can't come soon enough.
1. Southwest Pasta Salad with Creamy Avocado Dressing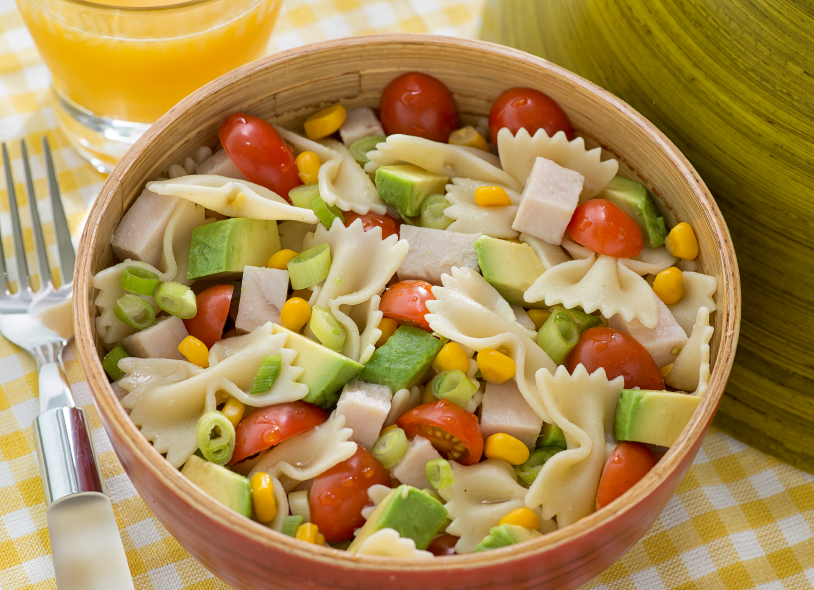 If you're craving a creamy sauce but don't want to be weighed down by mayo, this Tex-Mex inspired salad is for you. Maria Lichty came up with this concoction when she helped cater a family party. "It has become one of our favorite pasta salads," she says. She's packed in all of the typical southwestern suspects, like black beans, corn, and tomatoes, but the real standout is the dressing. Lichty says, "it is rich and creamy, but in a healthy kind of way."
For some recipes, delicious results mean you have to do a ton of work. Luckily, this is one dish that manages to keep things pretty simple. You'll have to do some chopping, but the avocado dressing comes together in a few minutes. Lichty says, "just throw all of the ingredients in your blender or food processor and blend until smooth." Once you toss it with the pasta, veggies, and beans, pack it into a food storage container for a spectacular feast.
Visit Two Peas and Their Pod for the recipe.
2. Greek Pasta Salad with Red Wine Vinaigrette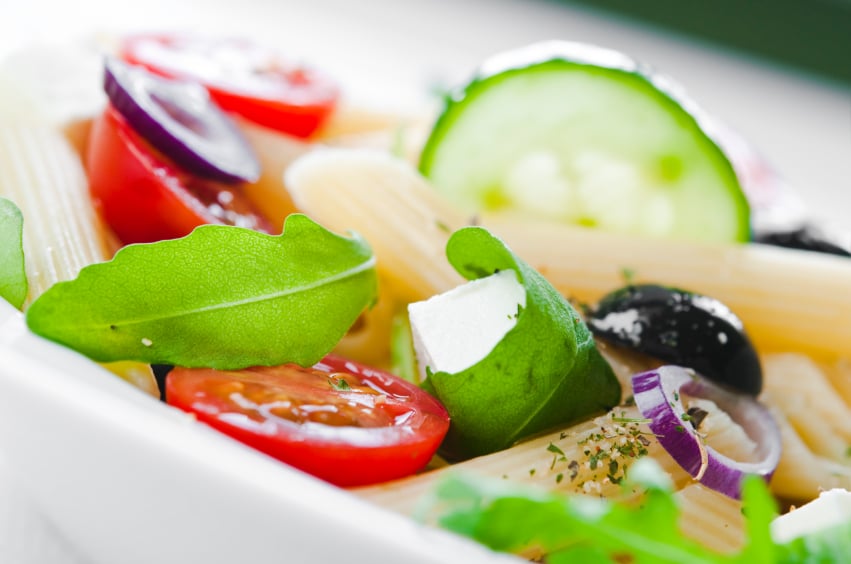 Like many, Kelly Senyei loves the pasta salads that show up at potlucks. She used them as inspiration, but wanted to add some more flavor. She says she took the standard "one step further by making a quick and easy pasta salad dressing the real star of the show." Her vinaigrette, packed with garlic, lemon, and oregano, definitely doesn't disappoint.
While this recipe is simple enough to prepare during the week, you might want to make it in advance. It's one instance where the salad tastes better after it sits. Senyei says she likes to "stash it in the fridge and let the overnight flavor crew work its magic." That's reason enough to get cooking.
Visit Just a Taste for the recipe.
3. Creamy Pesto Pasta Salad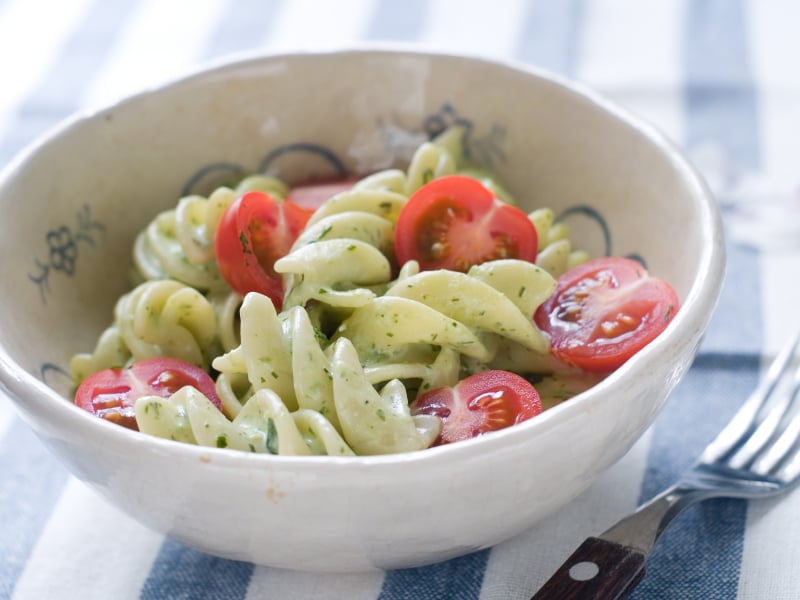 When you're craving something cool and creamy, this dish hits the spot. Morgan Eisenberg crafted this dreamy recipe as a way to showcase a beloved sauce. "One of my favorite ingredients to enjoy when the warm weather hits is pesto," she says. "I don't know what it is about the stuff, but it just screams 'sunny, happy days' to me." Her obsession paid off, because this is one of the most delicious lunches you could hope to bring to work.
While this recipe is wonderful the way it is, you can make substitutions depending on what have on hand. You could add broccoli florets, peas, or sliced zucchini. If you can't find mozzarella pearls, just dice up a larger piece. Whatever you do, just don't change that dressing. It's completely delectable.
Visit Host the Toast for the recipe.
4. Tuna Pasta Salad with Dill and Peas
For a satisfying all-in-one meal, a cold salad filled with bowties, tuna, and peas will definitely do the trick. This recipe "is perfect for snacking, perfect for lunch, perfect for a picnic, and perfect for summer," Lauren Brennan says. And it's equally good at room temperature as it is cold, so make it for dinner tonight and save the leftovers for lunch tomorrow.
Short on time? Don't sweat it, because Brennan designed this recipe for speed. You can have it on your table in under 30 minutes without breaking a sweat.
Visit Lauren's Latest for the recipe.
5. Spicy Peanut Chicken Soba Noodle Salad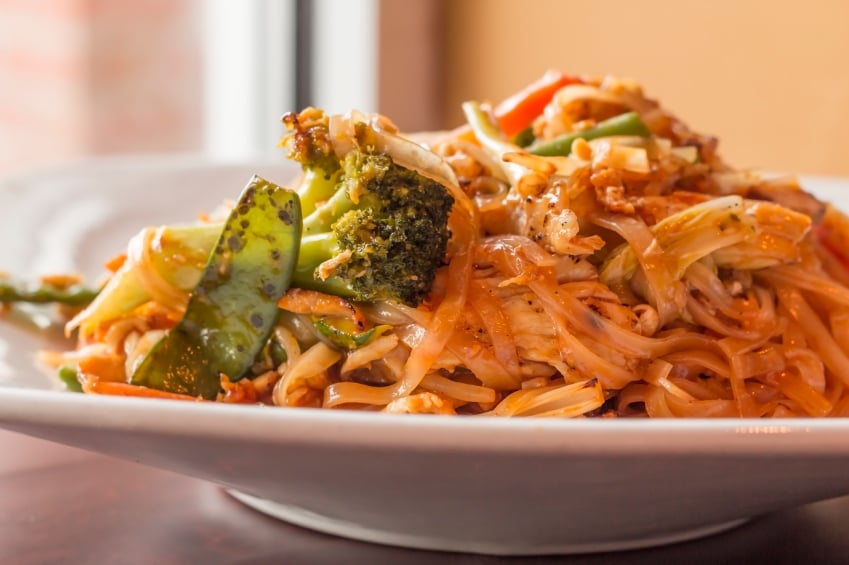 Bring a little taste of something exotic to your lunchbox with Lindsay Ostrom's peanut-sauced soba noodles. They're spicy, creamy, and completely satisfying. They're also ridiculously easy. Ostrom finds herself looking to create recipes with as few pots as possible, since she doesn't have a dishwasher. And she definitely has the noon-time meal in mind. She says, "our fridge is stocked to the brim with grab-and-go soba noodle lunch containers."
It's easy to add extra add-ins to these noodles. "Add greens if you'd like greens," Ostrom says. "Or don't, because it's really, really good with just the crunchy rainbow bell peppers, the shredded chicken, the chewy soba noodles, and the knock your socks off spicy peanut sauce." Whichever route you take, you're sure to love the results.
Visit Pinch of Yum for the recipe.