Easy Recipes That Turn Leftover Rice Into a New Dish
Having leftover rice is a frustrating problem. No one wants to eat day-old rice on its own, but at the same time, there are only so many helpings of the white, brown, and wild stuff you can have. Some home chefs have their serving sizes down to a science, but if you're one of those people who just can't gauge how much your family is going to eat on a given night, rest assured that with these recipes, your leftover rice won't go to waste.
In fact, it might even have a better taste when enlisted in these creative food formulas. Whether you're craving something savory or sweet, we guarantee there's a recipe on this list that'll get you excited about your leftovers.
1. Rice Pudding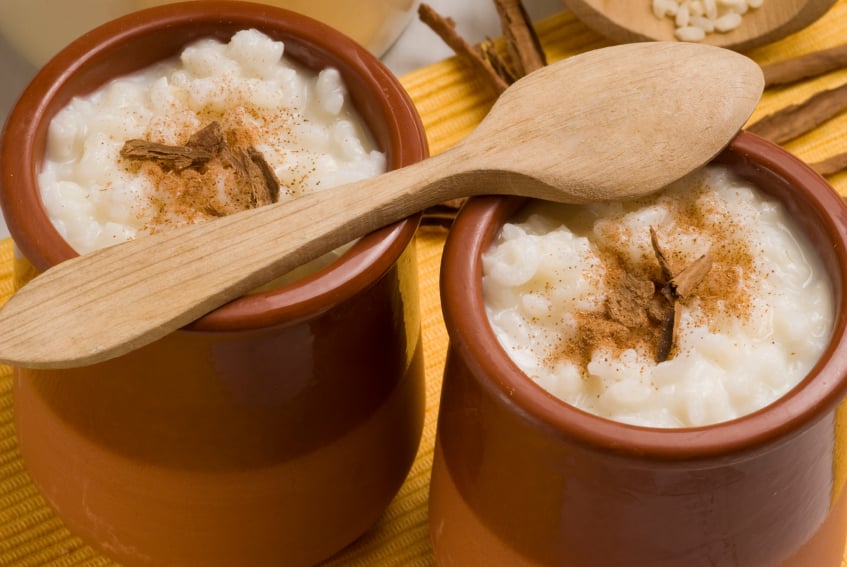 First up is a rice pudding recipe from Taste of Home. Rice pudding is an old-fashioned dessert that many forget about, but after your first bite, you'll kick yourself for not perfecting the recipe earlier. Requiring only 5 ingredients, this is a sweet treat you can make post-dinner or the day after.
Ingredients:
2 cups cooked long grain rice
2 cups whole milk
3 tablespoons plus 1 teaspoon sugar
⅛ teaspoon salt
1 teaspoon vanilla extract
Whipped cream, optional
Directions: Combine the rice, milk, sugar, and salt in a large saucepan. Cook, uncovered, over medium heat for 20 minutes or until thickened. Stir often. Remove from the heat, and stir in vanilla. Spoon into serving dishes. Serve warm; top with whipped cream if desired.
2. Fried Rice
Fried rice is another fan favorite, and this recipe highlighted on Food Network is sure to be a winner. Your cooked rice is about to meet its match with veggies, ham, garlic, and the most important ingredient: eggs.
Ingredients:
⅓ cup vegetable oil
⅓ pound black forest ham, diced
1 onion, diced
Salt and pepper
3 cloves garlic, finely chopped
2-inch piece fresh ginger, peeled and finely chopped
3 whole scallions, thinly sliced on the bias, white and green separated
1⅓ cups medley frozen corn, peas, carrots
4 large eggs, lightly beaten
4 cups cold cooked long-grain rice, white or jasmine rice, grains separated
Directions: Heat a large heavy-bottomed nonstick skillet over high heat, adding 1 tablespoon of oil when the pan is hot. Add the ham and cook, stirring occasionally, until lightly browned. Add the onions, season with salt and pepper, and cook for 1 to 2 minutes. Add the garlic, ginger, and scallion whites and stir-fry for about 30 seconds. Add the frozen vegetables. Cook until just defrosted but still crisp. Transfer contents of the skillet to a large bowl.
Return the pan to the heat, adding 2 more tablespoons of oil. Add the eggs; season with salt and pepper. Stir the eggs and cook until almost set but still moist, then transfer egg to the bowl. Break the eggs up with a wooden spoon or spatula.
Return the pan to the heat and add the remaining oil. Add the rice to the pan and use a spoon to break up any clumps. Season with salt and pepper and stir-fry the rice to coat evenly with oil. Stop stirring, and then let the rice cook undisturbed until its gets slightly crispy, about 2 minutes. Stir the rice again, breaking up any new clumps. Add the scallion greens. Transfer to the bowl. Stir all the ingredients together with the rice, taste, and adjust the seasoning with salt and pepper, if needed. Serve.
3. Stuffed Peppers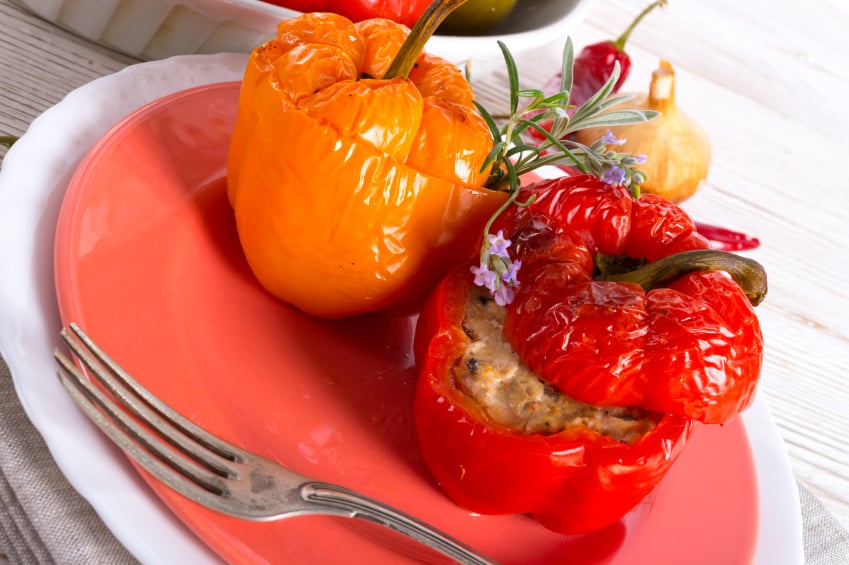 Use up your leftover brown rice by making stuffed peppers. These vegetarian stuffed peppers from Kalyn's Kitchen pack a punch and will leave your eaters full for hours thanks to the fiber and protein that come with these hearty peppers. This formula enlists mushrooms and feta, but the flavor combinations you have with stuffed peppers are truly endless.
Ingredients:
6 fresh bell peppers, any color, bottoms and tops sliced off
2 cups cooked brown rice
2 teaspoons olive oil
1 onion, finely chopped
12 ounces mushrooms, chopped small
2 to 3 teaspoons Greek seasoning
Fresh ground black pepper, to taste
1 cup and ¼ cup crumbled feta cheese
Directions: Preheat oven to 375 degrees Fahrenheit. Spray a baking dish with nonstick cooking spray or olive oil. Cut off the bottoms of the peppers, making sure to cut as little as possible to make a flat bottom so the peppers will stand up. Slice off the tops of the peppers, making sure to just cut off the stem. Remove any seeds and membranes from inside the peppers and place in your baking dish.
Finely chop the pepper tops and bottoms that you sliced off, as well as the onion and mushrooms. Heat 1 teaspoon of oil in a large nonstick frying pan, add onions and peppers, and sauté over medium-high heat until they're barely starting to soften, about 4 minutes. Place peppers and onions on a plate, add 1 teaspoon more oil to pan, add chopped mushrooms, and cook until the mushrooms have released their liquid, the liquid has evaporated, and mushrooms are just starting to brown, about 6 minutes.
Add the sautéed onions and peppers back into the pan with the mushrooms, add the Greek seasoning and black pepper to taste, and cook 1 minute more. Stir in the cooked rice, add 1 cup of the crumbled Feta, and gently combine. Fill each pepper with the stuffing, place each in the baking dish, cover the dish with foil, and cook for 30 minutes.
When done cooking, remove the dish from the oven, and put 2 teaspoons crumbled feta on the top of each pepper, pressing it down a little if needed to get it to stick. Bake 20 to 30 minutes more, until the feta is starting to melt and lightly brown, and peppers are done.
4. Arancini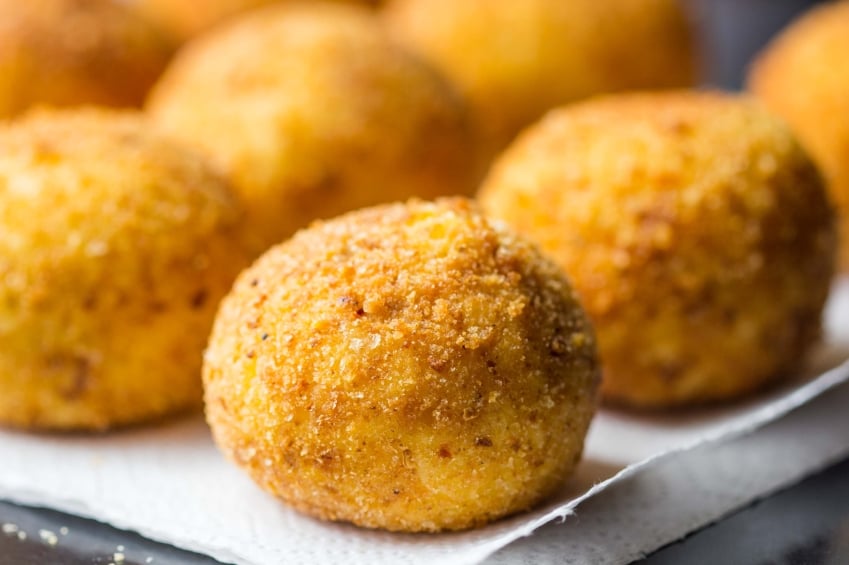 Are you acquainted with arancini? If not, prepare for your mind to be blown. Arancini are stuffed rice balls that are typically coated with breadcumbs and then fried. It doesn't get more decadent than that, and Just a Taste has the instructions you need to make arancini in your very own kitchen. One bite of these rice balls and you'll be thanking your lucky stars your eaters didn't finish their rice from the night before.
Ingredients:
2 cups cooked white rice, cooled
½ cup grated Parmesan
3 eggs
8 small cubes fresh mozzarella
1 cup Italian-style breadcrumbs
Oil, for frying
1 cup marinara sauce
Directions: Place a large pot over medium heat, adding enough vegetable oil to rise 4 inches in the pot.
Combine the rice, Parmesan, and 1 egg in a medium bowl. Use your hands to thoroughly combine the mixture. Take a small portion of the mixture, forming a ball around a cube of mozzarella. Whisk together the remaining 2 eggs. Dip each arancini in the eggs and then in the breadcrumbs, shaking off any excess. Once the oil reaches 375 degrees Fahrenheit, add 2 or 3 of the breaded arancini to the pot, frying them until golden brown and cooked throughout.
Use a slotted spoon to remove the fried arancini from the pot and transfer them to a paper towel-lined plate. Immediately salt the arancini. Repeat the frying process with the remaining arancini.
5. Spicy Tuna Rolls
Last but not least: spicy tuna rolls. This recipe found on Epicurious might seem intimidating, but if you're willing to hunker down in the kitchen, anyone can master their favorite rolls usually reserved for takeout. We promise the fruits of your labor will be spicy and delicious.
Ingredients:
4 green Thai chiles, stemmed, coarsely chopped
1 tablespoon plus 1 teaspoon grated peeled fresh ginger
1 tablespoon toasted sesame seeds
1 garlic clove, coarsely chopped
½ teaspoon kosher salt plus more for seasoning
¼ cup sunflower or vegetable oil
2 teaspoons toasted sesame oil
1 teaspoon distilled white vinegar
1 pound sashimi-grade yellowfin tuna fillets, cut into ⅛-inch cubes
4 toasted dried nori sheets, halved lengthwise
1½ cups cooked short-grain rice, cooled
Directions: Purée chiles, ginger, sesame seeds, garlic, and ½ teaspoon salt in a mini-processor until paste forms. Transfer to a medium bowl. Stir in both oils and vinegar. Season dressing with salt. Add tuna; gently toss just to coat.
Place nori sheets on a work surface with short side facing you. Spread about 2 rounded tablespoons rice evenly on bottom third of each sheet. Divide tuna mixture among rolls, spooning over rice. Top with fillings. Roll into cones or log shapes, using a few grains of cooked rice as "glue" to seal.