6 Simple Recipes That Let You Cook Like a Master Chef at Home
Mastering the art of cooking doesn't have to be hard. Whether you're a novice chef or have several years of experience under your belt, you can hone your kitchen skills by following straightforward and easy-to-understand recipes for impressive breakfasts, dinners, and desserts. These dishes prove you don't need to spend several stressful hours in the kitchen in order to make a perfect soufflé, a show-stopping beef wellington, or an elegant lobster dinner. Ready to transform into a kitchen-confident master chef? These simple recipes are here to help!
1. Three-Cheese Soufflé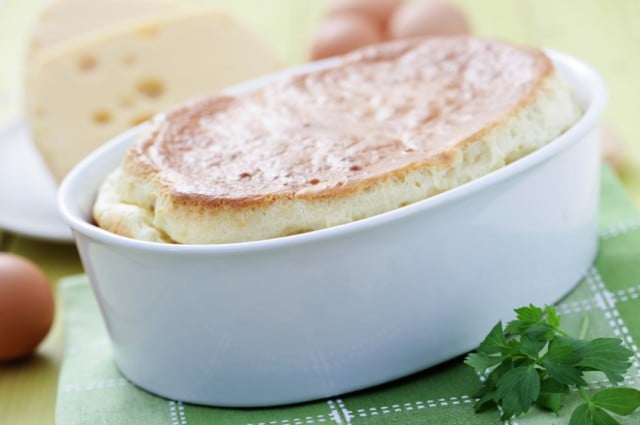 There's no denying that delicate soufflés can be finicky and hard to prepare. Fortunately, Jim Tuttle's recipe via Steamy Kitchen delivers a foolproof method for preparing a savory three-cheese soufflé. You'll coat the bottom of your soufflé dish (or ramekin) with shredded cheese and then beat your eggs, sour cream, and milk in a mixing bowl. Add the remaining ingredients to your egg mixture, beating one more time, and then pour it into your dish and bake. Breakfast doesn't get any better than this!
Ingredients:
7 large eggs
4 ounces sour cream
⅓ cup whole milk
Freshly ground black pepper
1 teaspoon dry mustard
¼ teaspoon ground nutmeg
¼ teaspoon hot sauce
1 tablespoon butter, softened
1 ounce grated cheddar cheese
1 ounce grated Muenster cheese
1 ounce grated Gruyere cheese
Directions: Preheat oven to 350 degrees Fahrenheit. Using an electric blender, blend together the eggs, sour cream, and milk for 30 seconds. Blend in the black pepper, dry mustard, nutmeg, and hot sauce. Brush the butter all over the inside of the soufflé dish. Layer the cheese in the soufflé dish, then pour the egg mixture gently over the top.
Leave 1 inch of space at the top of your dish. Place the soufflé dish in the oven, then carefully pour the remaining egg mixture to fill to the top of the dish. Bake for 55 to 60 minutes; the soufflé will be golden-brown, puffy like a balloon, and will have risen up to 3 inches above the ramekin. Serve immediately.
2. Beef Wellington
Thanks to Allrecipes.com's easy-to-follow directions, there's a good chance you'll find yourself frequently preparing beef wellington. When preparing this dish, keep in mind that it should always be served with a slightly pink center. The recipe yields 8 servings.
Ingredients:
2½ pounds beef tenderloin
2 tablespoons butter, softened
2 tablespoons butter
1 onion, chopped
½ cup sliced fresh mushrooms
2 ounces liver pâté
2 tablespoons butter, softened
Salt and pepper, to taste
1 (17.5-ounce) package frozen puff pastry, thawed
1 egg yolk, beaten
1 (10.5-ounce) can beef broth
2 tablespoons red wine
Directions: Preheat oven to 425 degrees Fahrenheit. Place beef in a small baking dish and spread with 2 tablespoons softened butter. Bake for 10 to 15 minutes, or until browned. Remove from pan and allow to cool completely. Reserve pan juices. Melt 2 tablespoons butter in a skillet over medium heat. Sauté onion and mushrooms in butter for 5 minutes. Remove from heat and let cool.
Mix together pâté and 2 tablespoons softened butter, and season with salt and pepper. Spread pâté over beef. Top with onion and mushroom mixture.  Roll out the puff pastry dough and place beef in the center. Fold up and seal all the edges, making sure the seams are not too thick. Place beef in a 9-by-13-inch baking dish, cut a few slits in the top of the dough, and brush with egg yolk.
Bake at 450 degrees Fahrenheit for 10 minutes, then reduce heat to 425 degrees Fahrenheit for 10 to 15 more minutes, or until pastry is a rich golden brown. Set aside and keep warm. Place all reserved juices in a small saucepan over high heat. Stir in beef stock and red wine; boil for 10 to 15 minutes, or until slightly reduced. Strain, and serve with beef.
3. Steak with Drunken Mushrooms, Caramelized Onions, and Roasted Blue Cheese Potatoes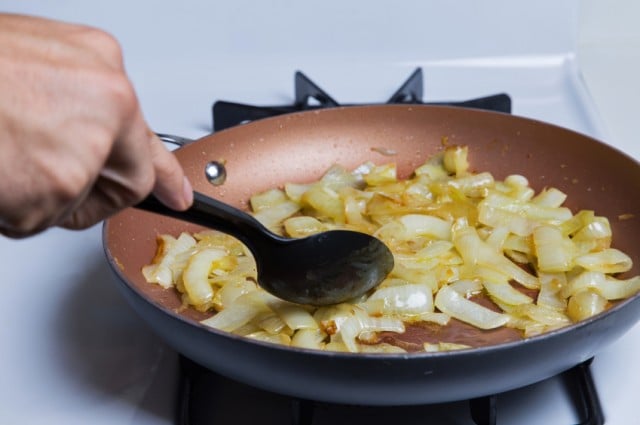 Every guy needs a steak recipe he can turn to when hosting an intimate gathering. The Kitchn's steak with drunken mushrooms, caramelized onions and roasted blue cheese potatoes is an invigorating dinner that's chock-full of rich flavors and zesty seasonings. Basic ingredients and 30 minutes are all you need to make this memorable meal.
Ingredients:
20 fingerling potatoes, washed and halved
Salt and freshly ground pepper
Olive oil
2 ounces blue cheese, crumbled
2 red or sweet yellow onions, peeled and sliced
12 to 15 large button mushrooms, sliced
2 cloves garlic, minced
12 ounces dark beer
2 thick steaks
Directions: Preheat oven to 425 degrees Fahrenheit. Toss the potatoes with salt and olive oil, and spread on a baking sheet or metal pan. Roast in a 425-degree Fahrenheit oven for 20 to 30 minutes. Place onion, pinch of salt, and dash of oil in a medium-sized sauté pan over medium-high heat. Caramelize onions and remove from pan to a plate. Add mushrooms, garlic, and a few tablespoons of oil.
Stir until coated. Keep mushrooms on medium-high heat for 5 minutes, and then add half the beer. Continue to stir mushrooms occasionally until they have sunk below the level of the liquid in the pan. Add onions back to the pan and remaining beer. Continue stirring over medium heat until sauce has reduced and thickened, about 6 to 10 minutes.
You want it to form a gravy but not a paste, so watch carefully. Remove from heat and set aside. In a separate heavy-bottom pan, such as a cast-iron skillet, heat 2 tablespoons oil over high heat. Add steaks and season the exposed sides with salt and pepper. Cook for 4.5 minutes, then flip. Season again and cook for an additional 4.5 minutes.
Remove from pan and rest, covered with foil, on a cutting board. Check the potatoes. If tops are browned and potatoes are tender, remove and sprinkle blue cheese on top of each one. Place back in oven and turn to broil. Continue cooking for additional 5 minutes. Reheat mushrooms and onions plate them on top of the steak. Remove potatoes from the oven and serve.
4. Quick and Spicy Shrimp Ceviche
Don't be intimidated by this seafood dish — you'll be pleasantly surprised at just how simple it is to prepare. Whole Foods Market's recipe, which yields 4 servings, tastes best when it's served very cold. To transform your ceviche into a delicious meal, serve it rolled up in Taste of Home's homemade tortillas.
Ingredients:
1 pound small peeled and deveined shrimp
Salt, to taste
⅓ cup lime juice
1 cup salsa
1 small cucumber, peeled, seeded, and chopped
1 ripe avocado, diced
1 small jalapeño pepper, seeded and thinly sliced
4 lettuce leaves
Tortilla chips or corn tortillas
Directions: Boil shrimp in salted water until just cooked through, 2 to 3 minutes. Drain and chill. Put shrimp in a nonmetal bowl and add lime juice and salsa. Stir well, cover, and refrigerate for 20 to 30 minutes. Add cucumbers, avocado, and jalapeños and toss gently. Arrange lettuce leaves on plates and top with shrimp ceviche. Serve with tortilla chips or tortillas on the side.
5. Boiled Lobster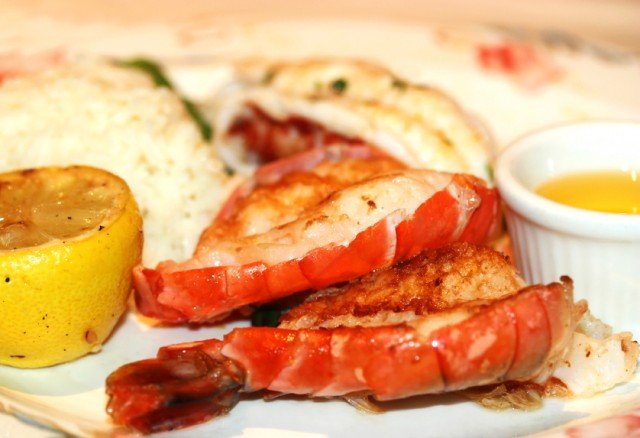 Impress your dinner guests with Food Network's boiled lobsters. To prepare this restaurant-worthy dinner, simply boil your lobsters in salt water and serve them with melted butter and a touch of lemon juice. The recipe yields 4 servings and takes 25 minutes to make. When you're preparing lobster, make sure you keep them alive until they are cooked; their flesh begins to deteriorate shortly after they die.
Ingredients:
2 or 3 tablespoons salt
4 live lobsters (about 1½ pounds each)
½ cup (1 stick) melted butter
Lemon wedges
Directions: Fill a large stockpot about half full of water. Add the salt and bring to a boil. When the water has come to a rolling boil, plunge the lobsters headfirst into the pot. Clamp the lid back on tightly and return the water to a boil over high heat. Reduce the heat to medium.
Cook the lobsters for 12 to 18 minutes, until the shells turn bright red and the tail meat is firm and opaque when checked. Lift the lobsters out of the water with tongs and drain in a colander. Place underside up on a work surface and, grasping firmly, split the tails lengthwise with a large knife. Drain off the excess liquid. Serve with melted butter and lemon wedges.
6. Café con Leche Custard Cups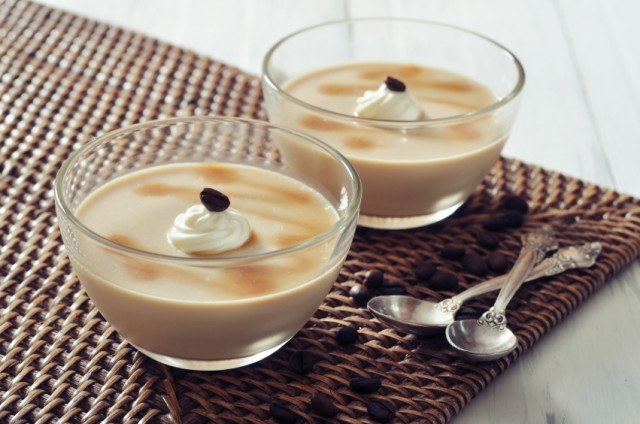 Southern Living delivers a decadent dessert that takes longer to cool than it does to make. After whisking and cooking your ingredients in a saucepan, you'll chill your custard in ice, whisking occasionally, for 30 minutes. Top your finished custard with whipped topping and garnish, and you'll have a sophisticated dish that will impress even the most refined palates.
Ingredients:
⅓ cup all-purpose flour
⅛ teaspoon salt
2½ cups 2% reduced-fat milk
1 (14-ounce) can fat-free sweetened condensed milk
2 egg yolks
2 tablespoons instant coffee granules
2 teaspoons vanilla extract
¾ cup thawed reduced-fat whipped topping
Garnishes: Chopped and whole chocolate-covered espresso beans, 100-calorie shortbread cookies
Directions: Combine flour and salt in a 2-quart heavy non-aluminum saucepan. Whisk in reduced-fat milk and next three ingredients, whisking until smooth. Cook over medium heat, whisking constantly, 10 to 12 minutes or until thickened. Remove from heat; stir in vanilla. Fill a large bowl with ice.
Place pan in ice and whisk custard occasionally until completely cool, about 30 minutes. Spoon ½ cup custard into each of eight 5-ounces cups or glasses. Top each with 1 to 2 tablespoons whipped topping, filling completely. Scrape top with a knife to level whipped topping. Garnish, if desired.
More from Culture Cheat Sheet: