Eat Like a Star: 7 Celebrity Trainer-Approved Recipes
Everyone occasionally falls prey to feeling a bit envious of the toned and healthy bodies celebrities always seem to be rocking. However, more often than not, they're not doing it on their own. Most celebs rely on the help of trainers to ensure they're working out properly and eating correctly. While many of us aren't prepared to shell out thousands of dollars to enlist the help of these trainers, we can still reap the same benefits.
Fortunately, many trainers are willing to share some of their tips and tricks, particularly when it comes to recipes. We've compiled 7 delicious dishes that have been approved by the most elite Hollywood trainers. Your breakfasts, lunches, dinners, and desserts are about to get a whole lot healthier!
1. French Toast With Ricotta
Harley Pasternak, one of Hollywood's top personal trainers, has worked with huge stars including Jessica Simpson and Megan Fox. Pasternak explains to People how anyone can put a healthy spin on a breakfast classic. The recipe yields 4 servings.
Ingredients:
1 ½ cups egg whites
1 ½ cups skim milk
2 teaspoons granulated sugar substitute
½ teaspoons salt
8 slices whole-grain bread
Ground cinnamon
½ cup reduced fat ricotta cheese
Directions: Whisk together egg whites, milk, sugar substitute, and salt. Pour into a shallow dish. Dip two bread slices in egg white mixture, coating well. Remove bread from egg mixture; drain excess liquid. Cook bread in a lightly greased large nonstick skillet over medium heat, about two minutes on each side or until golden. Repeat with remaining bread and egg mixture. Sprinkle toast with cinnamon; top each serving with 2 tablespoons ricotta cheese. Serve immediately.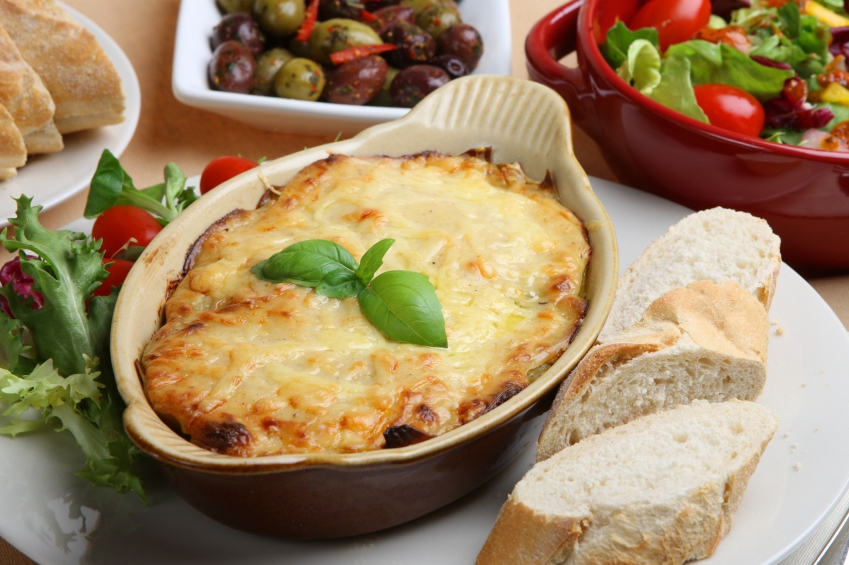 2. Low-Fat Vegetable Lasagna
Healthy pasta really does exist! Jillian Michaels has created a low-fat lasagna recipe that's oozing with cheese, onions, spinach, and mushrooms. Use whole-wheat noodles for an extra healthy dinner dish. The recipe yields 8 servings, with each containing 243 calories and 7.7 grams of fat.
Ingredients:
9 lasagna noodles, uncooked
1 medium yellow onion, chopped
1 teaspoon vegetable oil
2 cloves garlic, crushed
8 ounces mushrooms, sliced thin (optional)
¼ cup fresh parsley, chopped
¼ tablespoon salt
1 (10 ounce) package frozen spinach, thawed, drained thoroughly
½ teaspoon dried oregano
½ teaspoon dried basil
2 cups meatless tomato sauce
15 ounces low-fat ricotta cheese
¾ cup shredded part-skim mozzarella cheese
2 tablespoon grated Parmesan cheese
Directions: Prepare pasta according to package directions; drain and cover with cool water until ready to use. While pasta is cooking, combine onions and oil in a skillet over medium heat until golden, about 5 minutes. Add the garlic and cook about 1 minute. Spoon out half the onions and reserve for later. Add the mushrooms to the onions in the skillet. Cook, stirring over medium heat, until the mushrooms are tender and slightly browned, about 7 minutes. Add the parsley and a pinch of salt; transfer to a bowl.
Add the reserved cooked onion and the spinach to the skillet. Cover and cook over medium heat until the spinach is wilted, about 3 minutes. Uncover and cook over medium heat to evaporate any excess moisture, about 1 minute. Season with a pinch of salt. Heat oven to 350 degrees Fahrenheit. Drain the lasagna and pat dry with paper towels. Mix the oregano and basil with the tomato sauce. Spread 1 cup tomato sauce in the bottom of a 13 by 9 by 3-inch pan. Arrange 3 lasagna pieces, slightly overlapping, in the pan.
Spoon the spinach mixture on top in an even layer. Spread with half of the ricotta. Sprinkle with ¼ cup of the shredded mozzarella cheese. Arrange a layer of 3 more lasagna pieces. Spread with the mushrooms, the remaining ricotta mixture, and ¼ cup of the mozzarella. Top with the remaining 3 pieces of lasagna, 1 cup of tomato sauce, and ½ cup of the mozzarella cheese. Sprinkle with Parmesan cheese. Bake until brown and bubbly, about 45 minutes.
3. Turkey Meatball Soup
Tracy Anderson has worked with mega-stars, including Cameron Diaz, Gwyneth Paltrow, and Kim Kardashian. On her blog, she explains how to make a hearty turkey meatball soup that's filled with meatballs, noodles, greens, and seasonings.
Ingredients:
2 cups chicken or vegetable broth
½ cup rice noodles
4 small turkey meatballs
¼ cup chopped scallions
¼ teaspoon cumin
1 tablespoons olive oil
2 garlic cloves, finely chopped
2 tablespoons Tamari
1 bunch greens (beet top green, mustard greens, chard, spinach)
Salt and pepper to taste
Directions: Mix ground turkey, a pinch of salt, a pinch of pepper, 1 tablespoon of garlic, and 1 tablespoon of onion powder in a small bowl. Form into small balls, no larger than the width of a quarter. Sauté them in a skillet on medium heat until they're fully cooked and nicely browned. Toss in soup mixture. Add all ingredients except for scallions and greens. You will add those at the end just before serving.
4. Blueberry Tofu Cheesecake
Fitness expert Ramona Braganza has trained A-listers such as Jessica Alba, Halle Berry, and Anne Hathaway. On her blog, she explains how you can transform calorie-riddled cheesecake into a healthy dessert you can feel good about indulging in.
Ingredients:
Graham cracker pre-baked pie crust
Filling
2 packages of medium or firm tofu, drain the water
2 cap fulls of vanilla extract
2 packages of stevia
2 tablespoons of honey
Topping
1 cup of blueberries
1 tablespoon of flour
1 cap full of vanilla extract
1 package of stevia
Directions: To make the filling, blend all together in a blender until it is creamy, scraping down the sides as necessary so that all the ingredients are blended. Pour filling into the crust. To make the topping, simmer blueberries in a small pot, squashing them into a purée, add the flour and stir, then add vanilla and stevia and stir. Pour berries on top of tofu then refrigerate for an hour or until firm before serving.
5. Fruit Smoothie
Looking for a recipe that's perfect for a quick breakfast or snack? Joel Harper, who has worked with Dr. Oz and Olympic medalists, reveals to Fitness a super easy and extremely healthy smoothie recipe.
Ingredients:
1 cup of flax milk
½ banana
½ papaya or mango
Handful of blueberries
1 scoop of Vanilla Clean Series Protein Powder
4 ice cubes
Dash of cinnamon
Directions: Place all ingredients in a blender and blend until smooth.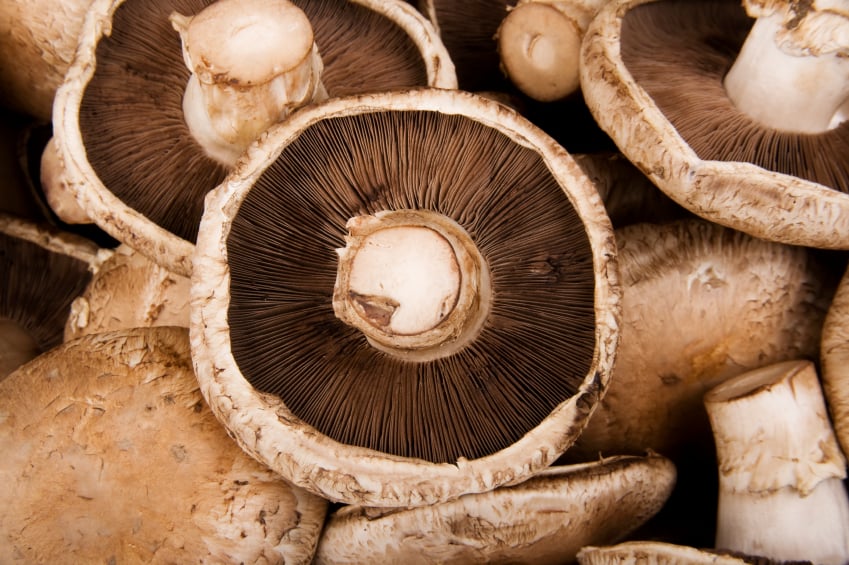 6. Healthy Quinoa Burgers With Portobello Mushroom Buns
Lucas James, whose clients include a variety of pro athletes and celebs, has put his stamp of approval on this recipe for healthy quinoa burgers. One burger contains just 162 calories and 2.7 grams of fat, creating a guilt-free dinner you can enjoy any day of the week.
Ingredients:
1 cup cooked quinoa
1 small yellow onion
½ cup grated/shredded zucchini
¼ cup buckwheat flour
2 garlic gloves (minced)
1 egg (beaten)
8 large portobello mushroom caps (washed and stemmed)
¼ teaspoon cayenne pepper
Olive oil cooking spray
Pinch of salt and pepper
Directions: Preheat oven to 375 degrees Fahrenheit and line 2 baking sheets with parchment paper. Spray large skillet with olive oil and sauté onions over medium heat. In a large bowl combine quinoa, flour, garlic, zucchini, and onion. Add spices and egg to mixture and mix well. Form 4 patties and place on a baking sheet. Bake for 20 minutes. Flip, then bake for an additional 5 minutes. Place portobello mushrooms on the other baking sheet. Spray them with olive oil and lightly sprinkle with salt and pepper. Place in over for 10 minutes. Flip and bake for an additional 5 minutes. Dry mushrooms with paper towel before building burgers. Layer with your favorite burger toppings.
7. Beet and Stone Fruit Salad
Lou Ferrigno, a personal trainer and bodybuilder, is well-known on the Hollywood scene. He recommends this easy-to-make salad for a lunch or dinner that's packed with flavor and nutrients. The salad contains 140 calories and 5.4 grams of fat.
Ingredients:
1 large beet
1 ounce goat cheese
1 nectarine
3 tablespoons of balsamic vinegar
Fresh mint (optional)
Directions: Cut off the stalk of the beet. Place beet in pot and cover with water. Bring to a boil, then reduce heat to medium. Cook for 30 minutes. Once the beet can be easily punctured by a knife, remove and let cool. Rub the skin off and cut the ends. Slice beet and nectarine. Drizzle with balsamic vinegar. Crumble goat cheese on top. Add some fresh mint for a bit of zest.
More From Life Cheat Sheet:
Want more great content like this? Sign up here to receive the best of Cheat Sheet delivered daily. No spam; just tailored content straight to your inbox.