Prepare Tender and Juicy Chicken Dinners Using These Recipes
Looking for ideas for tonight's supper? We suggest pulling out the poultry that's been residing in your fridge or freezer and whipping up delicious chicken dinners for your family. Not only is it guaranteed to be filled with moist flavors and tender textures, but the lean meat is also chock-full of health benefits.
ActiveBeat explains the popular dinner item is high in protein, may help prevent bone loss, and aids in heart health. In addition, poultry is a rich source of phosphorous — an important mineral that supports your teeth, bones, kidney, liver, and central nervous system — and selenium, which plays a role in metabolic performance. Combine your chicken with rice and cheese for a sensational skillet dinner, whip up an easy bistro chicken dish, or serve bourbon chicken for an irresistibly saucy supper. Which of these five recipes will you make first?
1. Easy After-Work Chicken Francaise
After a long day of work, the last thing you want to do is come home and spend hours slaving over the stove. With AllRecipes.com's easy after-work chicken francaise, you won't have to spend more than 45 minutes preparing dinner, making this a great weeknight dish. Pan-frying the chicken gives it a nice, crisp outside, while broth, lemon juice, and parsley sprigs add light and fresh flavors to your plate of poultry. The recipe yields 4 servings. You can easily complete this meal by serving your chicken with rice, noodles, vegetables, or a salad.
Ingredients:
2 cups all-purpose flour
Salt and ground black pepper, to taste
1 pound thin-sliced chicken breast cutlets
2 eggs, beaten
½ cup vegetable oil
½ cup butter
¼ cup lemon juice
2 cups chicken broth
2 tablespoons all-purpose flour
4 sprigs fresh parsley
1 lemon, cut into wedges
Directions: Season 2 cups flour with salt and pepper. Coat chicken cutlets in seasoned flour, shaking off excess, then dip in egg. Heat vegetable oil in a large skillet over medium heat. Pan-fry chicken until golden brown on both sides, 5 to 7 minutes; transfer to a plate. Melt butter in the same skillet; cook and stir remaining 2 tablespoons flour in butter for 5 minutes, then add chicken broth and lemon juice. Simmer until thickened, about 10 minutes. Return chicken to the skillet. Continue simmering until chicken is no longer pink in the center, about 15 more minutes. Serve chicken with parsley sprigs and lemon wedges.
2. Cheddar, Chicken, and Rice Skillet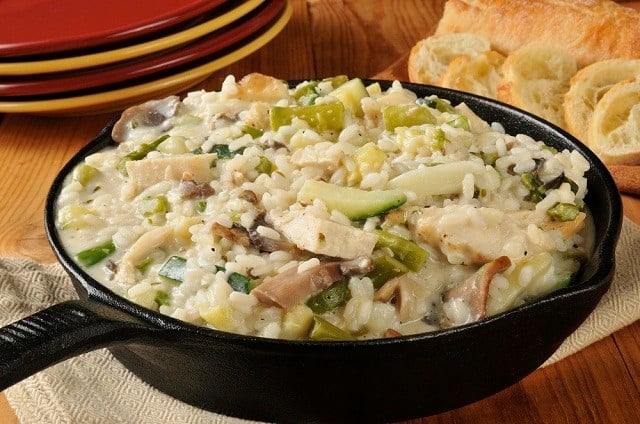 It only takes 30 minutes to whip up Kraft's cheddar, chicken, and rice skillet. Filled with zesty flavors and hearty ingredients, this easy-to-make meal will certainly be a hit at your dinner table. For a little more pizzazz, sprinkle your dish with black pepper or a few dashes of hot pepper prior to serving. You can also substitute 2 cups of small broccoli florets for the green pepper strips, or include both for an extra veggie-packed meal. The recipe yields 4 servings.
Ingredients:
½ cup lite zesty Italian dressing
1 pound boneless skinless chicken breasts, cut into strips
2 cups instant brown rice, uncooked
1¼ cups fat-free reduced-sodium chicken broth
1 green pepper, cut into strips
2 tomatoes, chopped
1 cup 2% milk shredded mild cheddar cheese
4 green onions, sliced
Directions
: Heat
dressing in large nonstick skillet on medium-high heat. Add chicken; cook and stir 2 minutes. Stir
in rice, broth, and peppers. Bring to boil; cover. Simmer on low heat 5 minutes or until chicken is done and rice is tender. Let stand, covered, 5 minutes or until liquid is absorbed. Add tomatoes, cheese and onions; mix lightly.
3. Easy Bistro Chicken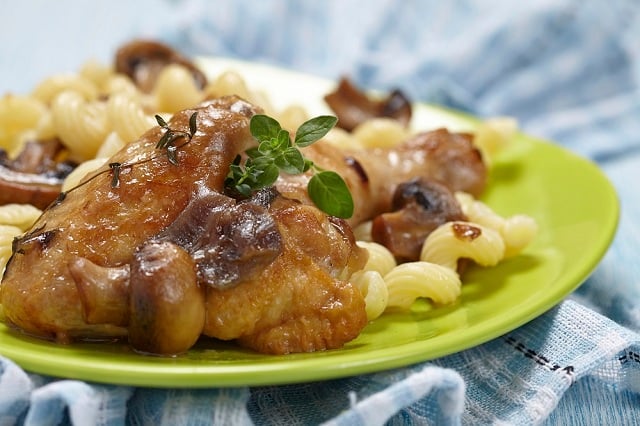 It only takes one pot to prepare Cooking Light's Italian-inspired chicken dish. A myriad of ingredients, including onion, garlic, basil, parsley, wine vinegar, olives, and capers are slowly simmered with chicken, resulting in a dish that is both flavorful and tender. The recipe yields 8 servings. This dish isn't complete until you've piled your chicken atop pasta and paired it with a salad, like Food Network's bistro chef's salad.
Ingredients:
2 tablespoons olive oil, divided
4 (6-ounce) chicken breast halves, skinned
4 chicken thighs (about 1 pound), skinned
4 chicken drumsticks (about 1 pound), skinned
2 cups chopped onion
4 garlic cloves, minced
1 cup chopped celery
½ cup chopped fresh basil
½ cup chopped fresh flat-leaf parsley
½ cup red wine vinegar
¼ cup sliced green olives
¼ cup capers
1 tablespoon sugar
Dash of ground red pepper
2 bay leaves
1 (28-ounce) can Italian-style tomatoes, undrained and chopped
8 cups hot cooked macaroni or cavatappi
Parsley sprigs (optional)
Directions: Heat 1½ teaspoons oil in a large nonstick skillet over medium-high heat. Add chicken breast halves to pan; sauté 2 minutes on each side or until lightly browned. Remove from pan. Add 1½ teaspoons oil and remaining chicken pieces; sauté 2 minutes on each side or until lightly browned. Remove chicken from pan.
Heat 1 tablespoon oil in pan. Add onion and garlic; sauté 5 minutes. Add celery; sauté 5 minutes. Add basil and next 8 ingredients. Return chicken to pan; bring to a boil. Cover, reduce heat, and simmer 20 minutes.
Uncover and simmer 25 minutes or until chicken is tender. Discard bay leaves. Serve with pasta. Garnish with parsley sprigs, if desired.
4. Bourbon Chicken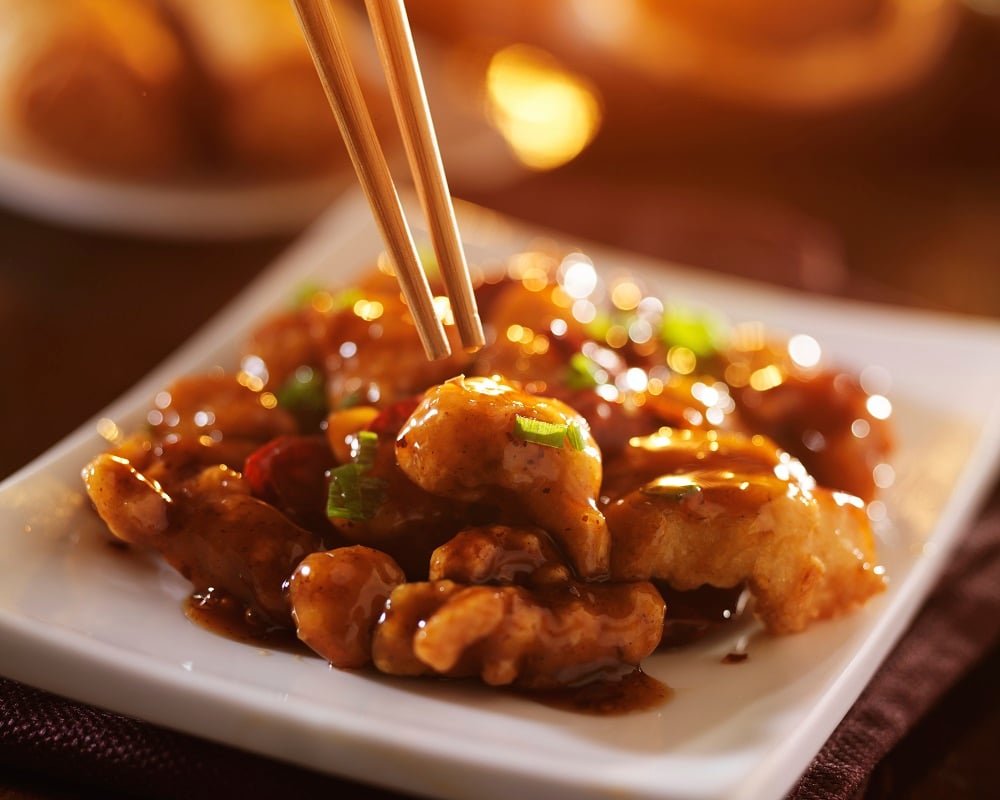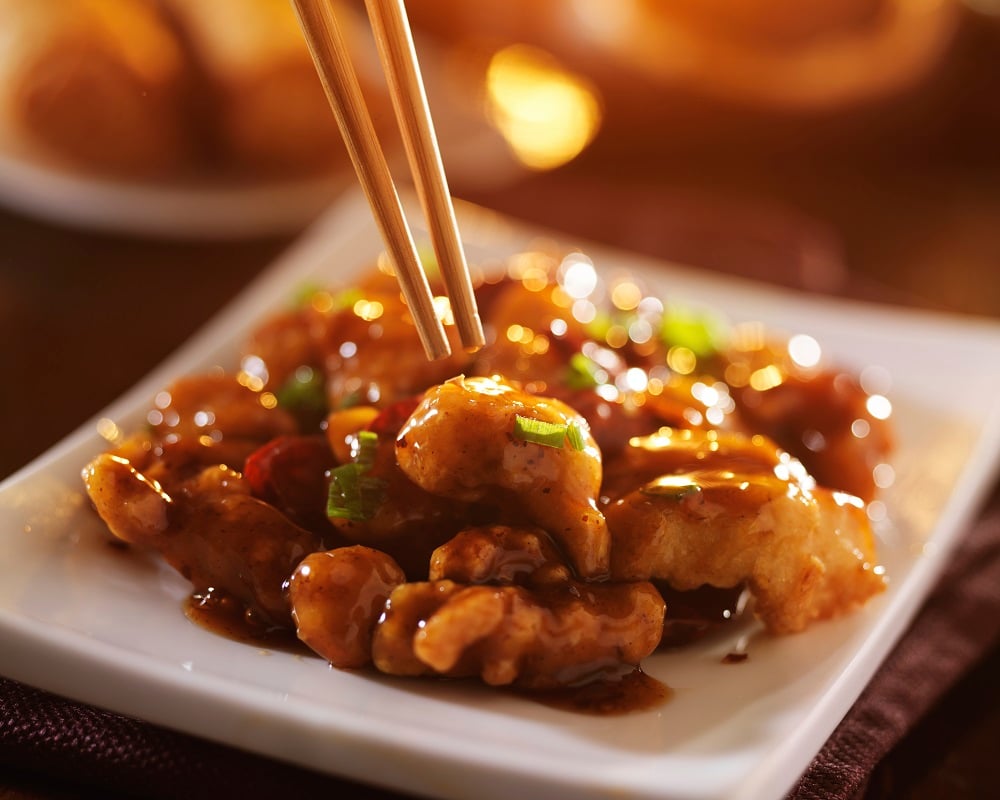 There's no need to order Chinese food when you can make Food.com's bourbon chicken instead. Ginger and crushed red pepper flakes give this dish the perfect amount of warmth, while apple juice, brown sugar, ketchup, cider vinegar, and soy sauce create a tangy sauce that pairs perfectly with chicken. Serving this dish with Fine Cooking's basic fluffy white rice will complete your meal.
Ingredients:
2 pounds boneless chicken breasts, cut into bite-size pieces
1 to 2 tablespoons extra-virgin olive oil
1 garlic clove, crushed
¼ teaspoon ginger
¾ teaspoon crushed red pepper flakes
¼ cup apple juice
⅓ cup light brown sugar
2 tablespoons ketchup
1 tablespoon cider vinegar
½ cup water
⅓ cup soy sauce
Directions: Heat oil in a large skillet. Add chicken pieces and cook until lightly browned. Remove chicken. Add remaining ingredients, heating over medium heat until well mixed and dissolved. Add chicken and bring to a hard boil. Reduce heat and simmer for 20 minutes. Serve over hot rice and enjoy.
5. Amanda Freitag's Lemon Chicken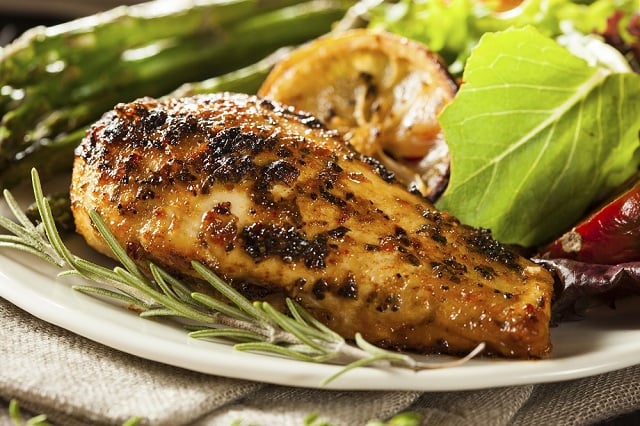 Amanda Freitag, of New York's Empire Diner, reveals to Bon Appétit how to prepare chicken that is both flavorful and tantalizingly tender. Brining the chicken ensures it's perfectly seasoned and keeps the flesh juicy. If you'd prefer to skip the step in which you quarter a chicken, simply use two bone-in breasts and two bone-in thighs instead. The recipe yields 2 servings.
Ingredients:
1

pound

lemons (about 4 large), halved

1

large onion, chopped

¼

bunch

parsley

1

garlic clove, sliced

1

bay leaf

½

cup

kosher salt

½

cup

sugar

1

teaspoon

black peppercorns
Chicken
1

 (

3½- to 4-pound) chicken, quartered

4

tablespoons

olive oil, divided

2

lemons, halved

Kosher salt, freshly ground pepper

2

pounds

small carrots, scrubbed

1

cup

low-sodium chicken broth

1

teaspoon

finely grated lemon zest

¼

cup

fresh lemon juice

½

cup

fresh ricotta
Directions: Bring lemons, onion, parsley, garlic, bay leaf, salt, sugar, peppercorns, and 4 cups water to a boil in a large heavy pot, stirring occasionally until salt and sugar are dissolved. Let cool, then add 2 cups ice to brine; stir until melted. To prepare the chicken, cut wings from chicken breasts. Cut through leg joint to separate thighs and drumsticks; set thighs aside. Use a sharp knife to score chicken skin along the length of each drumstick. Remove skin from drumsticks; set skin aside. Place breasts and thighs in brine.
Chill at least 3 hours and up to 1 day. Preheat oven to 425 degrees Fahrenheit. Heat 1 tablespoon oil in a medium skillet over high heat. Cook lemons, cut side down, until charred, about 2 minutes. Transfer to a plate. Remove chicken from brine. Rinse, pat dry, and season with salt and pepper. Heat a large ovenproof skillet over medium-high heat. Add chicken to skillet, skin side down. Cook until golden brown, about 8 minutes. Turn and cook 4 minutes longer.
Transfer to oven and cook until an instant-read thermometer inserted in thickest part of thigh registers 165 degrees Fahrenheit, 12 to 15 minutes. Meanwhile, toss carrots with 2 tablespoons oil on a rimmed baking sheet. Season with salt and pepper and roast, tossing halfway through, until browned and tender, 15 to 20 minutes; keep warm.
Cook chicken skin, fat side down, in a cast-iron skillet over medium-low heat, pressing down to flatten and help skin make contact with the pan, until golden brown and crisp, 5 to 7 minutes. Turn and cook until other side is brown and crisp, 5 to 7 minutes. Drain on paper towels; season chicken crackling with salt. Transfer roasted chicken breast and thighs to a cutting board.
Bring broth and lemon juice to a boil in skillet, stirring and scraping up any browned bits, and cook until liquid is reduced by half, 6 to 8 minutes; season pan sauce with salt and pepper. Stir ricotta, lemon zest, and remaining 1 tablespoon oil in a small bowl; season with salt and pepper. Serve chicken with carrots and a spoonful of lemon ricotta, drizzled with pan sauce, with crackling and charred lemons alongside.