Enjoy National Almond Day Using One of These 7 Dessert Recipes
February 16 is National Almond Day, celebrated annually in honor of the delicious and versatile nut that's been a part of our cultures and cuisines since as early as 2000 BCE, reports Purdue University. Livestrong adds that almonds are rich in vitamins, minerals, health fats, and antioxidants, meaning we can dig into a few almond-based treats this week without feeling too guilty (OK, maybe we're stretching a bit). Recognize National Almond Day this week by whipping up one of these 7 amazing almond desserts.
1.
Baci di Dama 
(Almond-Butter Cookies With Chocolate Filling)
Pass The Cocoa explains that translated into English, "Baci di Dama" means "lady's kisses" adding that these are "simple cookies requiring just a few ingredients that turn into a buttery and delicious sandwich cookie." The light, indulgent sweets are tinged with essence of almond, and each bite packs a delightful hint of nutty bliss. Try sandwiching a layer of semi-sweet chocolate between the buttery morsels to truly bring this dessert to life. This recipe yields about 25 cookies.
Visit Pass The Cocoa for the recipe.
2. Buttery Almond Pastry Braid
"You guys know I'm all about pastry braids lately because they're so darn beautiful with minimal time and effort," writes blogger Julie Ruble of Willow Bird Baking. "This one is a buttery almond masterpiece reminiscent of an almond croissant. If you love almond, you have to try it." Cream cheese and butter lend the almond dough base an irresistibly moist texture. The pastry is stuffed with a decadent almond paste, then topped off with a simple and sweet powdered sugar glaze. Sprinkle sliced almonds to the top to yield a truly marvelous texture.
Visit Willow Bird Baking for the recipe.
3. Almond-Orange Biscotti
"Slightly hard and crunchy, sweet but not too sweet, and ideal to serve with coffee, tea, or even wine, these rustic biscotti are easy to make and they turn out the same each time you make them — perfect!" raves Grab A Plate. These dunkable morsels combine tangy orange zest with almond. If you're feeling extra-indulgent, drizzle melted chocolate of your choice over top of the dish. Grab A Plate recommends serving these Italian-inspired treats along with a scoop of ice cream.
Visit Grab A Plate for the recipe.
4. Mexican Hot Chocolate Almonds
"Balancing the earthy nutty flavor [of almond] with the enchanting spices of cinnamon and cocoa, this simple snack truly is a tiny treasure," explains My Darling Vegan. Bold cinnamon and a dash of zesty cayenne combine with rich cocoa to bring your almond snacking to a whole new level of deliciousness. Even better, the recipe is quick and simple, requiring less than 20 minutes in the kitchen.
Visit My Darling Vegan for the recipe.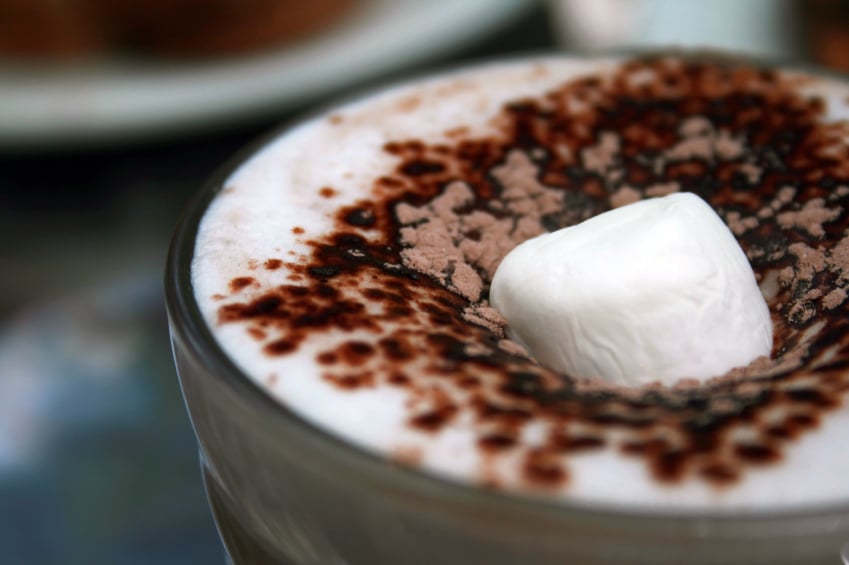 5. Disaronno Drinking Chocolate With Almond Marshmallows
Disaronno's website proudly writes that the secret formula behind this famous Italian liqueur remains a secret. Still, the bittersweet almond essence of the digestive is undeniable at first sip. Infuse your hot chocolate with its rich, bold flavors to create a luxuriously creamy and drinkable dessert. You can further intensify your beverage's almond flavors with the addition of homemade almond marshmallows, bringing out the natural sweetness of the nut with each sip.
Visit A Balance Of Tastes for the recipe.
6. Almond Pear Cake
The all-star combination of fruit and nut flavors worked beautifully with the aforementioned biscotti, so let's revisit the pairing with A Better Happier St. Sebastian's Almond Pear Cake. "Roasting the almonds to make your own meal gives it a rich almond flavor, with nothing artificial tasting here," explains blogger Jillian Guyette. The naturally-flavored cake is dense, moist, and sweet. The delightful crumble topping is accented with sugared pears for a delicate, satiating finish.
Visit A Better Happier St. Sebastian for the recipe.
7. Amaretto Cheesecake
"This Amaretto Cheesecake is the bee's knees," writes Life, Love & Sugar. "It is thick, creamy and full of Amaretto flavor, and it was a massive hit!" The dessert's light vanilla wafer crust is loaded with a smooth, almond-infused cheesecake. The cake's density is nicely offset by an airy almond mousse, making for a tantalizing dessert dish you'd expect to encounter in a five-star Italian restaurant.
Visit Life, Love & Sugar for the recipe.
More from Life Cheat Sheet:
Want more great content like this? Sign up here to receive the best of Cheat Sheet delivered daily. No spam; just tailored content straight to your inbox.