Make Perfectly Tender Steaks With These Recipes
There is only one problem when it comes to thick, juicy, mouthwatering steak: figuring out how to prepare it. To help you prepare the most mouth-watering dinner ever, we've rounded up seven must-try recipes. If you're interested in relaxing with a nice glass of wine, we've got you covered there too with recommendations tailored to each recipe.
1. Steak With Burgundy Mushroom Sauce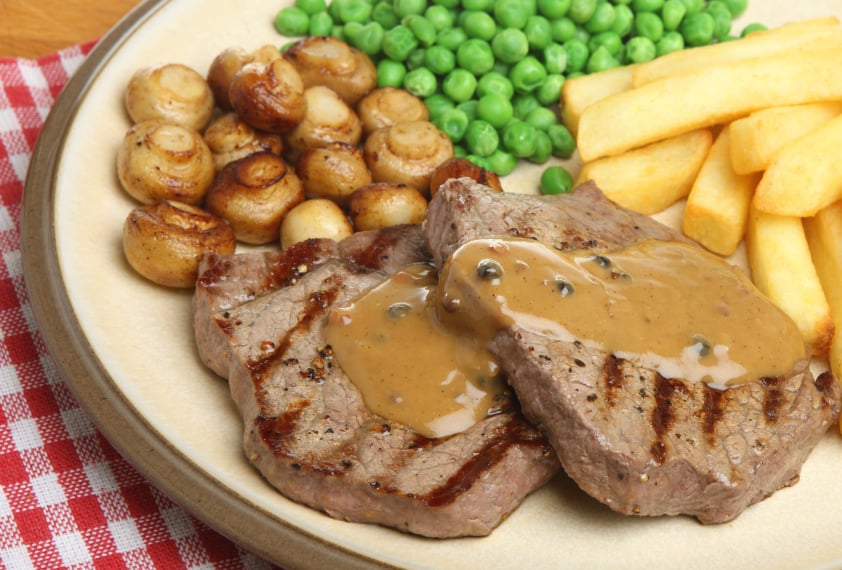 In The Pioneer Woman's steak recipe, you cook with wine. Since you never want to cook with a wine you wouldn't drink, you can relax by drinking what remains after you finish cooking. It yields 4 servings.
Ingredients:
4 whole steaks (examples: sirloin, ribeye)
½ cup butter
1 pound white mushrooms, sliced
4 cloves garlic, minced
3 whole green onions, sliced
salt and pepper, to taste
1 tablespoon butter
Fresh parsley, minced, to taste
Directions: In a large skillet, melt butter over high heat. Throw in mushrooms, garlic, and green onions and cook, stirring occasionally until mushrooms are nice and golden. Pour in wine and stir, scraping bottoms of the pan. Allow to cook for several minutes or until liquid is reduced by at least half. At the end, add 1 tablespoon butter and stir into sauce. Add parsley and stir together. Add a little more wine if needed.
Fry a steak in a separate skillet till medium rare. Spoon mushrooms sauce over the top. If you're cooking with a Cab, you can't go wrong with the 2011 Butcherblock Cabernet Sauvignon. Earthy with a hint of fruit, it is a great wine for sipping and sautéing.
2. Filet Mignon With Roquefort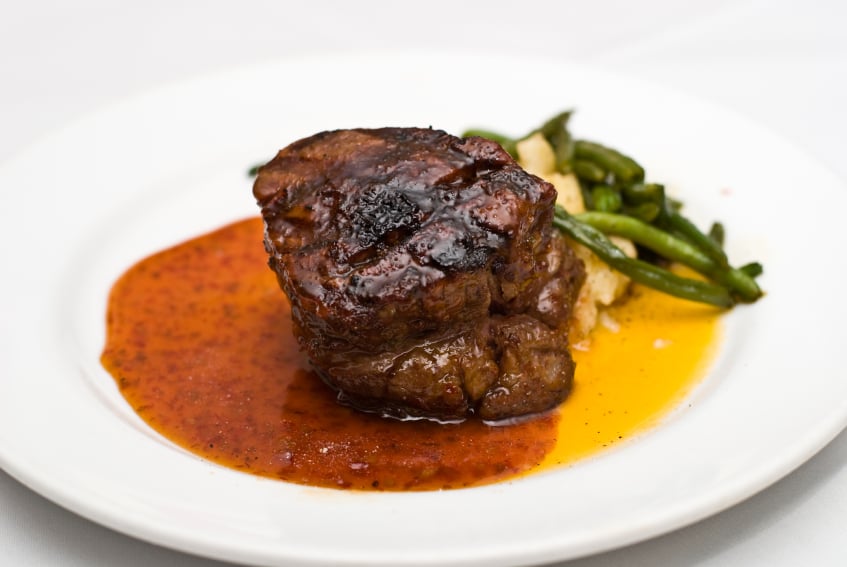 The Roquefort sprinkled on top of perfectly cooked steaks will melt slightly, imparting its tangy, cheesy flavor to the steak in Good Housekeeping's recipe. Called the "King of Cheeses" by Gourmet Sleuth, Roquefort's distinct taste isn't for everyone, and another blue cheese or Gorgonzola are potential substitutions.
Ingredients:
2 teaspoons olive oil
4 (4-ounce) beef tenderloin steaks (1 inch thick), trimmed of fat
½ teaspoon salt
¼ teaspoon coarsely ground pepper
1 ounce Roquefort cheese, crumbled (about ¼ cup)
Directions: In 12-inch skillet, heat oil on high until hot. On waxed paper, evenly season steaks, on both sides, with ½ teaspoon salt and ¼ teaspoon coarsely ground black pepper.
Add steaks to skillet and cook 10 minutes for medium-rare or until desired doneness, turning over once. Transfer steaks to 4 dinner plates, top with Roquefort, and serve with a berry-flavored Syrah.
3. Flat Iron Steak With Herb Butter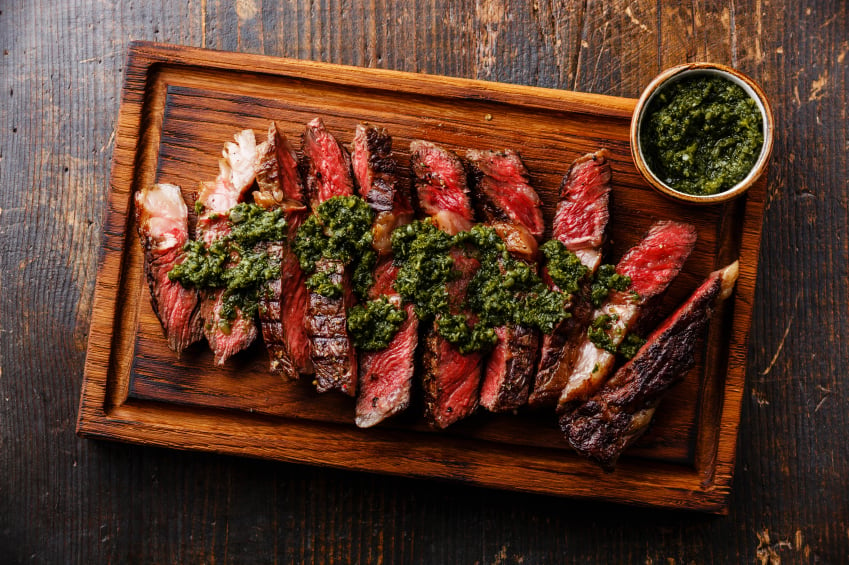 When cheese doesn't appeal to you for a steak topping, try the herb butter from Marlow & Sons in Brooklyn, via Saveur. Keep the herbed butter recipe handy, not only can you use it on the steak, but any time you want butter that offers a little more than your usual spread. The recipe serves 4.
Ingredients:
4 (8 ounce) flat iron steaks
Kosher salt and freshly ground black pepper, to taste
8 tablespoons unsalted butter, softened
3 tablespoons roughly chopped flat-leaf parsley
3 tablespoons roughly chopped chives
1 shallot, finely chopped
4 tablespoons canola oil
Directions: Rub steaks generously with salt and pepper and set aside to let rest for at least 30 minutes at room temperature. Combine the butter, parsley, chives, and shallots with a fork in a medium bowl. Season lightly with salt and pepper; cover with plastic wrap and set aside.
Heat 2 tablespoons oil in a 12-inch cast-iron skillet over medium-high heat. Add 2 steaks and cook, flipping once, until seared and medium rare, about 8 minutes. Transfer steaks to a plate and let rest for 5 minutes. Repeat with remaining oil and steaks. To serve, smear each steak with 2 tablespoons of the herb butter. Get out on the patio, and pair your dinner with a glass of dry red wine, like the 2010 Redux Cabernet Sauvignon. The strong red has a slight vanilla hint from being aged in new French oak barrels.
4. Balsamic and Rosemary-Marinated Florentine Steak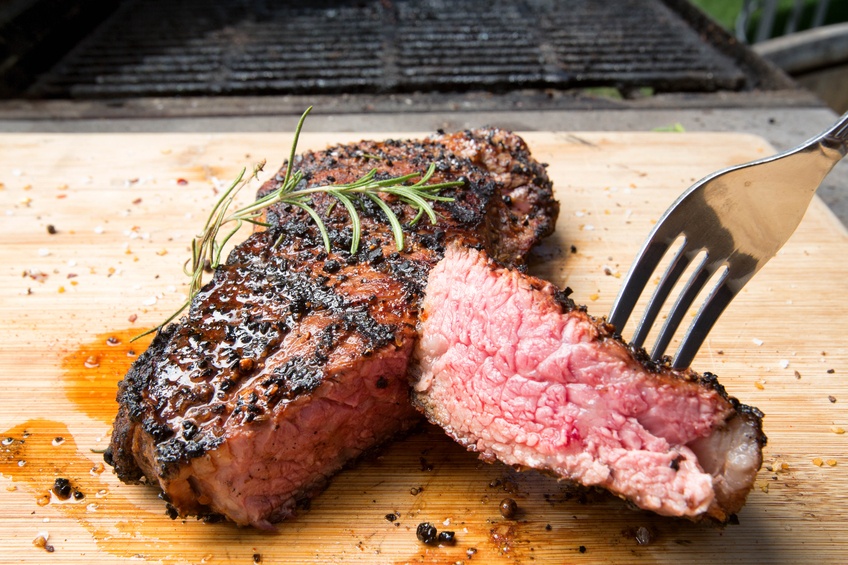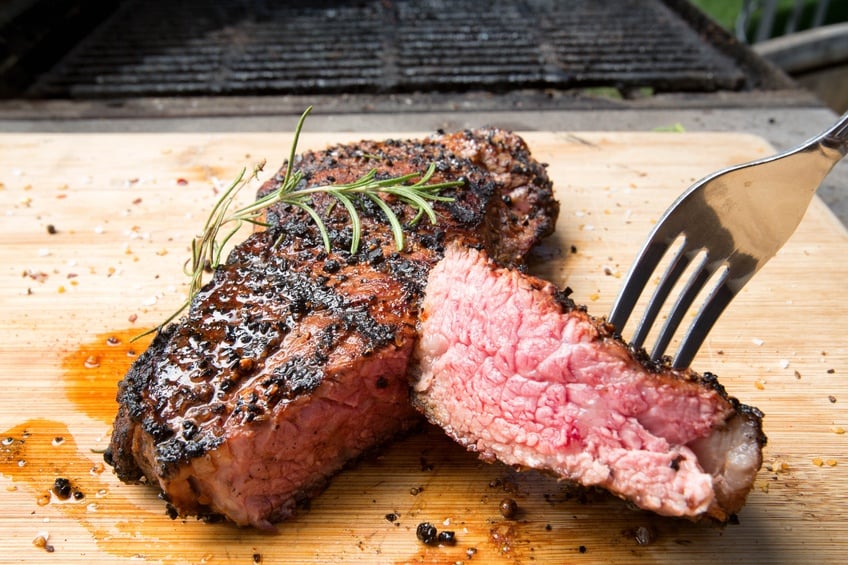 Inspired by Tuscan surroundings, Chef Matt Molina crafted this recipe, which he later shared with Food & Wine. After putting together a simple marinade, your steaks can be grilled and baked, or simply grilled. It yields between 4 and 6 servings.
Ingredients:
1 cup balsamic vinegar
½ cup plus 2 tablespoons extra-virgin olive oil
¼ cup finely chopped rosemary
1 (3 pound) porterhouse steak, about 4 inches thick
2 teaspoons kosher salt
2 teaspoons coarsely ground pepper
Directions: In a sturdy resealable plastic bag, combine the vinegar with ½ cup of the olive oil and the rosemary. Add the steak, seal the bag, and refrigerate overnight, turning the bag several times.
Preheat the oven to 425 degrees Fahrenheit and bring the steak to room temperature. Heat a grill pan. Remove the steak from the marinade and season with the salt and pepper. Rub the side with the remaining 2 tablespoons of olive oil. Grill over moderately high heat until nicely charred on the top and bottom, about 5 minutes per side. Transfer the steak to a rimmed baking sheet and roast for about 30 minutes, until an instant-read thermometer inserted into the tenderloin (the smaller section) registers 125 degrees Fahrenheit.
Alternatively, build a fire on one side of a charcoal grill or light a gas grill. Grill the steak over moderate heat for 5 minutes on each side. Transfer the steak to the cool side of the grill, close the lid and cook for 30 minutes longer. Transfer the steak to a carving board and let rest for 10 minutes. Slice the steak across the grain and serve immediately. A dark, plum or blackberry flavored Merlot will go well with this meal.
5. Steak and Potatoes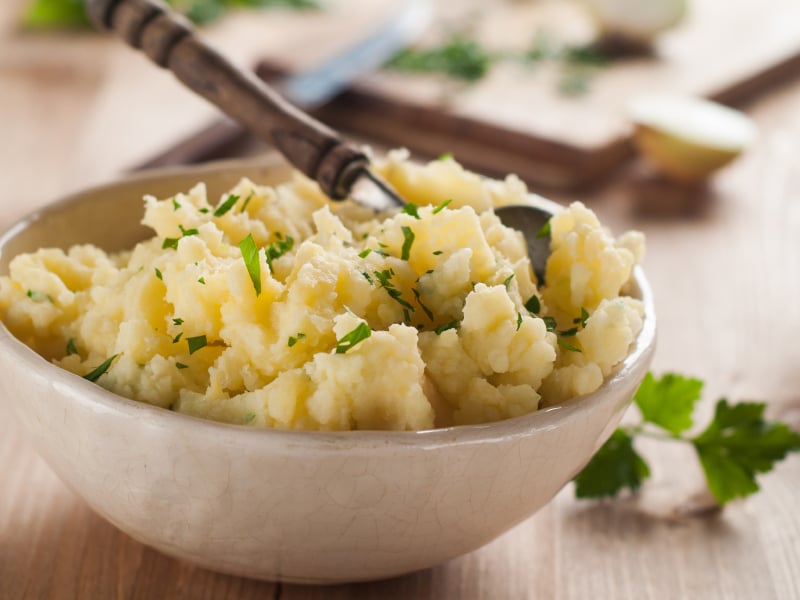 It sounds basic, but as usual, Bobby Flay had a few culinary tricks up his sleeve when he made a steak and potato meal for Today. This creamy mashed potato and steak dinner, flavored with a thyme butter compound, will serve 2, making it the perfect dish to whip up for date night.
Ingredients:
Steak
2 New York Strip Steaks (12 ounces each about, 1¼-inch thick)
Kosher salt and freshly ground black pepper
2 tablespoons canola oil or other neutral oil such as vegetable
Thyme Compound Butter
1 stick unsalted butter, slightly softened
2 teaspoons finely chopped fresh thyme leaves
Kosher salt and freshly ground black pepper
Mashed Potatoes
2 pounds Yukon Gold potatoes, peeled and cut into 2-inch dice
Kosher salt
1½ to 2 cups whole milk
1 stick cold unsalted butter, cut into tablespoons
Freshly ground black pepper
Directions: Remove the steaks from the refrigerator 30 minutes before cooking to allow the internal temperature of the meat to warm up. Season the steaks liberally on both sides with salt and freshly ground black pepper.
Preheat the oven to 400 degrees Fahrenheit. Heat the oil in a large cast iron pan over high heat until it begins to shimmer. Put the steaks in the pan, cook until golden brown and a crust has formed and don't attempt to turn for at least 3 minutes. Turn over continue cooking until golden brown the bottom is golden brown. Transfer to the oven and continue cooking until an instant read thermometer inserted into the center of each steak registers 135 degrees Fahrenheit (for medium-rare) or 140 degrees Fahrenheit for medium doneness. Remove the steaks to a cutting board and let rest 5 minutes before serving/slicing.
To make the thyme compound butter, combine the butter and thyme in a bowl and season with salt and pepper.
For the mashed potatoes, put the potatoes in a large saucepan, cover with cold water by 2 inches, and add 2 tablespoons of kosher salt. Bring to boil over high heat and cook until tender (a paring knife inserted into the potatoes meets with no resistance), about 25 minutes. Drain the potatoes well, return to the pan, and toss in hot pan to make sure the potatoes are dry.
When the potatoes are almost done cooking, put the milk in a small saucepan and bring to a simmer over low heat. Run the potatoes through a food mill set over a large bowl, stir in the butter, piece by piece until emulsified. Add half of the hot milk and stir using a wooden spoon until smooth, adding more milk as needed; season well with salt and freshly ground black pepper. Keep warm in a bowl set over simmering water. Try with an earthy Pinot Noir.
6. Ginger Flank Steak With Sake-Glazed Vegetables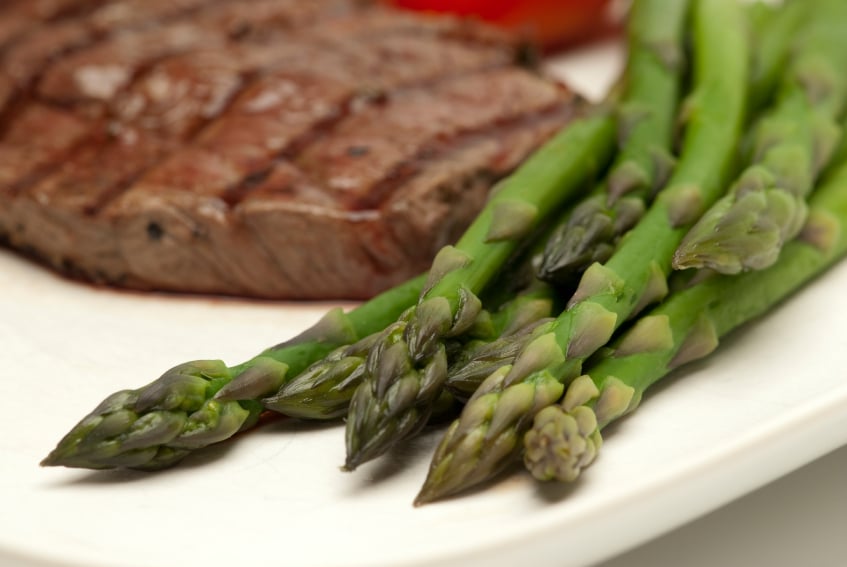 You've had steak and vegetables dozens of times, but with Bon Appétit and Epicurious you'll be taking the classic in a new direction with a bit of Japanese influence. You can start prepping one day in advance, marinading the steak in the fridge overnight. It yields about 6 servings.
Ingredients:
½ cup soy sauce
½ cup sake
¼ cup (packed) dark brown sugar
3 tablespoons minced peeled fresh ginger
1 tablespoon balsamic vinegar
4 garlic cloves, crushed
1 2-pound flank steak
1 pound asparagus, trimmed, cut into 1½-inch lengths
3 tablespoons peanut oil
2 red bell peppers, cut into 1-inch-wide strips
1½ pounds crimini mushrooms, halved, each half cut crosswise into ¼-inch-thick slices
4 green onions, cut into 1-inch lengths
2 teaspoons cornstarch
Directions: Combine first soy sauce, sake, dark brown sugar, ginger, balsamic vinegar, and crushed garlic cloves in 13 by 9 by 2-inch glass baking dish. Add meat. Cover and refrigerate at least 2 hours and up to 1 day. Let stand at room temperature 1 hour before continuing.
Cook asparagus in large pot of boiling salted water until crisp-tender, about 4 minutes. Drain. Rinse under cold water to cool. Drain again.
Heat 2 tablespoons peanut oil in heavy large skillet over medium-high heat. Add red bell pepper strips and sauté 3 minutes. Add crimini mushrooms and sauté until mushrooms are soft, about 5 minutes. Add green onions and asparagus and sauté until vegetables are tender, about 2 minutes longer. Transfer vegetables to serving platter. Tent with foil to keep warm.
Heat remaining 1 tablespoon peanut oil in same skillet over high heat. Remove steak from marinade; reserve marinade. Add steak to skillet and cook to desired doneness, about 4 minutes per side for medium-rare. Transfer to cutting board. Tent with foil and let stand 5 minutes.
Meanwhile, place reserved marinade in small saucepan. Whisk in cornstarch. Whisk over high heat until sauce thickens and boils, about 3 minutes. Remove sauce from heat. Season sauce to taste with salt and pepper.
Cut steak across grain on diagonal into ½-inch thick slices. Arrange steak slices atop vegetables on platter. Spoon some of sauce over meat and vegetables. Serve, passing remaining sauce separately. A Chilean Cab may just be the perfect match.
7. Chili-Rubbed Steaks and Pan Salsa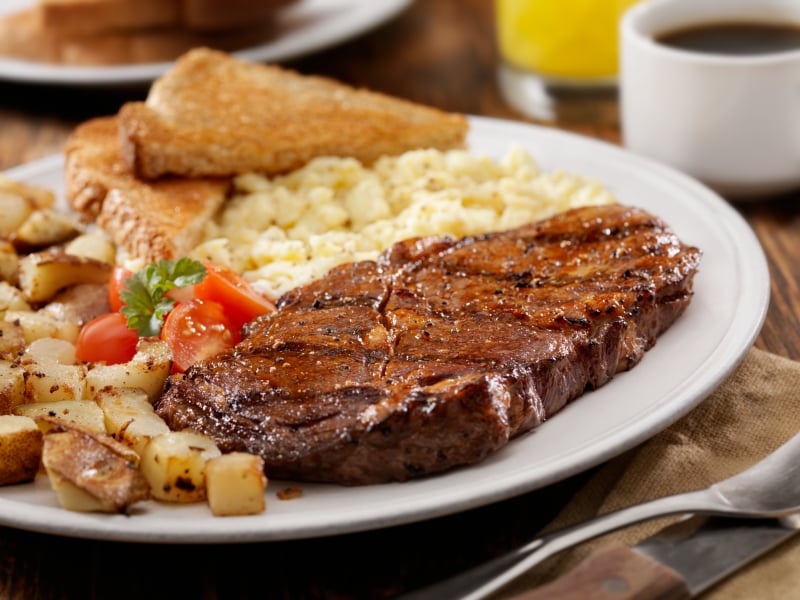 Spice up steak night with Eating Well. Your chili-rubbed steaks won't be so spicy that non-heat seekers will turn up their noses, and if you want to kick it up a notch, add a spicy pepper or two to the salsa. It serves 2.
Ingredients:
8 ounces, ½-inch-thick steaks, such as rib-eye, trimmed of fat and cut into 2 portions
1 teaspoon chili powder
½ teaspoon kosher salt, divided
1 teaspoon extra-virgin olive oil
2 plum tomatoes, diced
2 teaspoons lime juice
1 tablespoon chopped fresh cilantro
Directions: Sprinkle both sides of steak with chili powder and ¼ teaspoon salt. Heat oil in a medium skillet over medium-high heat. Add the steaks and cook, turning once, 1 to 2 minutes per side for medium-rare. Transfer the steaks to a plate, cover with foil and let rest while you make the salsa.
Add tomatoes, lime juice, and the remaining ¼ teaspoon salt to the pan and cook, stirring often, until the tomatoes soften, about 3 minutes. Remove from heat, stir in cilantro and any accumulated juices from the steaks. Serve the steaks topped with the salsa. Temper your tastebuds with a glass of a zesty Riesling.
More from Culture Cheat Sheet: