Exercise Like Jessica Simpson to Sculpt Lean Legs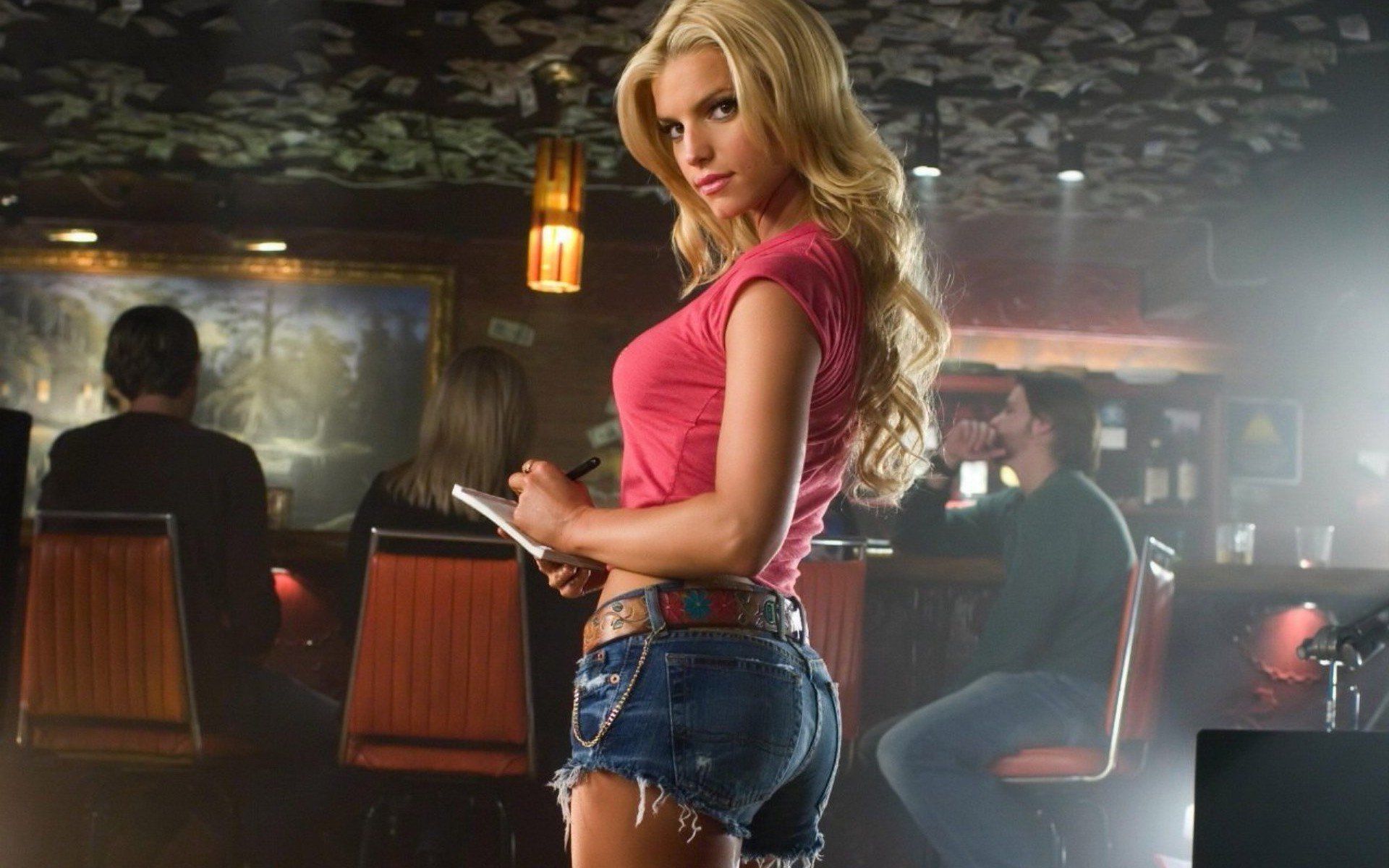 Jessica Simpson is an inspiration to everyone who has ever struggled with their weight (even a tiny little bit.) The 33-year-old has gotten some serious criticism in the past for her fluctuating weight, but this singer, actress, designer, and mother of two looks better than ever. Her secrets? A healthy attitude toward eating (she is a Weight Watchers spokesperson and user), regular workouts, and setting small, obtainable fitness goals. Ready to work your way toward a great physique of your own? Here are a few pointers to help get you started.
The Workout
When Simpson starred in the 2005 Dukes of Hazzard remake, she became famous for her perfectly sculpted legs. Almost 10 years later, she's back to rocking her Daisy Dukes. Along the way, she got some help from her personal trainer Harley Pasternak, who worked with her four days a week for 45 minutes. "It's a lot of resistance training, lots of lunges and squats. There are bursts of cardio throughout the workout as well," Simpson told USA TODAY. 
If you're hoping to create lean legs and a toned body, Pasternak recommends this routine, as shown in Fitness.
For hamstrings:
First, in order to have beautifully sculpted legs, cardio is a must. Pasternak suggests doing at least 30 minutes of cardio five times a week. Try cycling, running, in-line skating, and stair climbing — they'll all do wonders for your legs.
Lie face up on the floor with your arms at your sides, palms down, and calves on top of a stability ball. Engage your abs and roll the ball toward your body with your heels, lifting your hips. Once your heels are on top of the ball, slowly roll back to start, lowering your body to the floor. Do 20 reps and aim for three sets.
For glutes:
Add some hills to your walk, per

Fitness

. "Incline walking activates your glutes and hamstrings, plus it's easy on the knees," Pasternak says. If you're on a treadmill, set the incline to level eight, and walk at a pace of at least 3.5 mph for 30 minutes. You can also incorporate hiking, mountain biking, and climbing stairs.
Now, it's time to move on to a butt sculpting exercise. Stand on your left leg, two to three feet in front of a chair, with your right foot on the seat behind you, leaving a slight bend in your right knee. Keeping your hands by your chin and your chest up, bend your left knee 90 degrees as your right knee inches toward the floor. Hold for one count, and return to start. Do 10 reps, switch sides, and repeat. Aim for three sets per side.
You could also try the workout that got Simpson in tip-top shape for filming Dukes of Hazzard. She enlisted the help of trainer Michael Alexander, who put her on a workout regimen of squats, lunges, and weight resistance exercises, per People. Ready to give it a shot? Here are some moves to help get you ready for your own daisy dukes, as shown in People.
Begin with a five-minute warm-up, then head to weight-resistance exercises followed by 30 minutes of cardio on the treadmill.
Body-Weight Squats: Stand with your hands clasped in front of you. Do 25 reps for two or three sets. These will firm your glutes, hamstrings, and quads.
Forward Lunges: Step forward and back, alternating your feet, to tone your quads and glutes. Do eight to 10 reps, and aim for two to three sets.
Reverse Lunges: For a glutes and hamstrings workout, step back off a short box or step 14 times on each leg. Repeat two or three times.
Traveling Lunges: Walk across a room doing lunges with a straight back leg. You should be leaning forward slightly so your head is in line with your back leg.
Prone-Kneeling Leg Extension: Get on your hands and knees and have your spine straight, hands below the shoulders, and knees below the hips. Bring one leg up, creating a straight line from head to toe. Alternate legs for 10 reps, aiming for three sets.
Bicep Curls From a Lunge Position: Stand in a lunge position so that your back leg is on the ball of your foot. Holding your dumbbells in each hand, do 18 bicep curls for three sets. This position also works out your abs.
Lateral Raise From a Lunge Position: Immediately after the bicep curls, switch legs in the lunge position and raise your arms straight out to either side while holding dumbbells. Do 18 reps for three sets.
The Diet
As a Weight Watchers spokesperson (she first signed with the program while she was pregnant with her daughter Maxwell in 2011), she is, of course, a big advocate of the diet plan. In March, she announced that she had reached her goal weight after giving birth to a son, Ace, in May 2013. After Ace was born, Simpson began to get her body back to its pre-baby weight by using the Simple Start plan, a two-week program that doesn't require people to count points. It provides a shopping list and menu of options for meals and snacks, in addition a few splurges, per USA TODAY.
The plan is based on studies that say weight loss during the first month of dieting is predictive of short- and long-term weight-loss success. Simpson told USA TODAY she did well with the program, and then hopped back on the PointsPlus program, where she counts points. By using Weight Watchers, Simpson said she's learned about moderation and finding healthy alternatives.
"An indulgence for me is like, ice cream, so I can have a Skinny Cow for four points, and I know that that'll be the sugar that I want that day. Today we just had an eight-point lunch, and it was a faux spicy chicken sandwich from Wendy's but it wasn't from Wendy's — we made it in a healthy way," Simpson said during an ABC Newsinterview. For new and fun recipe Simpson looks to Weight Weight Watchers' digital magazine, MomFeeds, and has even developed some tips of her own, she reveals to ABC News. For example, Simpson loves pizza. Her solution? A healthier version: pizza on a tortilla.
If you're looking for a great recipe that is delicious and healthy, try making this Italian Baked Egg and Vegetable Ramekins recipe, one of Simpson's favorites from her Weight Watchers' plan, she tells Redbook. It makes four servings, contains 157 calories per serving, and has a 4 PointsPlus value for those of you counting points.
Italian Baked Egg and Vegetable Ramekins
Ingredients:
1 pound plum tomatoes, cut into 1-inch chunks
1 red bell pepper, cut into 3/4-inch pieces
1 zucchini, quartered lengthwise, cut crosswise into 3/4-inch chunks
1 onion, halved lengthwise, and sliced
2 large garlic cloves, minced
1/2 teaspoon dried basil
1/2 teaspoon salt
1/4 teaspoon black pepper
4 large eggs
1/4 cup grated fat-free Parmesan cheese
Directions: Heat the oven to 400 degrees Fahrenheit and spread a large, shallow roasting pan with nonstick spray. Put tomatoes, pepper, zucchini, onion, garlic, basil, salt, and pepper in the pan and spray with nonstick spray. Toss to coat. Roast, stirring occasionally, until vegetables are browed and crisp-tender, about 30 minutes.
Spray eight- or 10-ounce ramekins or custard cups with nonstick spray. Divide the vegetables evenly among cups. Make a well in the center of the vegetables and carefully break one egg into each cup. Sprinkle with Parmesan cheese. Place cups on the  baking sheet and bake until eggs are just set, 20 to 25 minutes. Added tip: To make it a meal, serve the baked eggs with reduced-calorie whole-wheat toast.
More From Wall St. Cheat Sheet: