Family-Style Dishes to Make for Dinner
Family-style dishes are perfect for entertaining — especially when you're hosting a big get-together. A well-done platter will save you time, creates a lovely centerpiece for your table, allows your guests to eat as much or as little as they'd like, and typically calls for budget-friendly ingredients. Ready to prepare your own perfect platter? Here are seven delectable, must-try family-style recipes.
1. Slow Cooker Lemon Garlic Chicken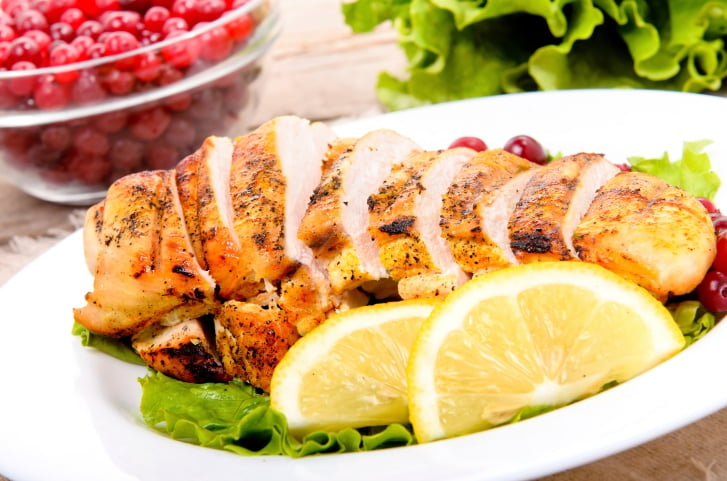 This recipe is simple and tasty, making it a great go-to dish. The Kitchn has created a recipe, which yields 2 to 4 servings (anticipate having some leftovers too) that is effortless. Rub the chicken with seasoning, add some lemon juice and chicken broth, and set the timer. When the tender chicken is done, you'll taste the perfect amount of lemon-garlic flavor in each tantalizing bite.
Ingredients:
Seasoning Rub
3 garlic cloves, minced
1 tablespoon extra virgin olive oil
1 teaspoon salt
2 sprigs thyme, leaves stripped and minced
Cooking Liquid
2 lemons, quartered
1 head garlic, cloves separated, but left in their skins
2 chicken bouillon cubes or 1 teaspoon bouillon paste, divided (optional for richer flavor)
2 sprigs thyme
2 tablespoons soy sauce
¼ cup chicken broth
2 sprigs rosemary
Gravy
Directions: Remove the bag of gizzards and discard (or reserve for stock.) Pat the chicken dry with paper towels. Mix all the seasoning ingredients together in a bowl. Gently work your fingers under the skin covering the breast meat and slide them back and forth to separate the skin from the meat without tearing it. Scoop up a dollop of the seasoning and work it under the skin covering both breasts. Rub any remaining seasoning over the drumsticks and thighs. Transfer the chicken to the slow cooker, breast-side up. Squeeze and reserve the juice from one of the lemons. Stuff the rinds into the cavity of the chicken along with one whole bouillon cube and a few garlic cloves. Crumble the other bouillon cube over the chicken and rub it into the skin. Arrange the remaining lemon quarters, the rest of garlic cloves, and the thyme around the chicken. Combine the reserved lemon juice, soy sauce, and broth, and pour it over the chicken.
Place the lid on the slow cooker and cook on high heat for 4 or for 6 hours (according to your slow cooker's instructions and particular settings.) Thirty minutes or so before the time is done, add the rosemary sprigs. Remove chicken from the slow cooker and allow it to rest on a baking sheet, tented with foil, for about 20 minutes. The wings and drumsticks may fall away as you lift the chicken; this is normal. While the chicken is resting, strain the cooking liquid into a sauce pan and bring to a rapid simmer. Scoop out a half cup of the liquid and whisk it with the flour in a separate bowl. Slowly pour the flour slurry back into the cooking liquid while whisking. Continue simmering and whisking until the gravy thickens. Taste and add salt and pepper as desired.
When ready to serve, remove the skin from the chicken and discard. Use your fingers to pull the meat away off the bones; it should come away easily with gentle pressure or use a knife as needed. Serve the breasts, thighs, and drumsticks right away and tear the remaining meat into shreds for using in leftovers. Serve with the gravy alongside.
2. Family-Style Summer Salad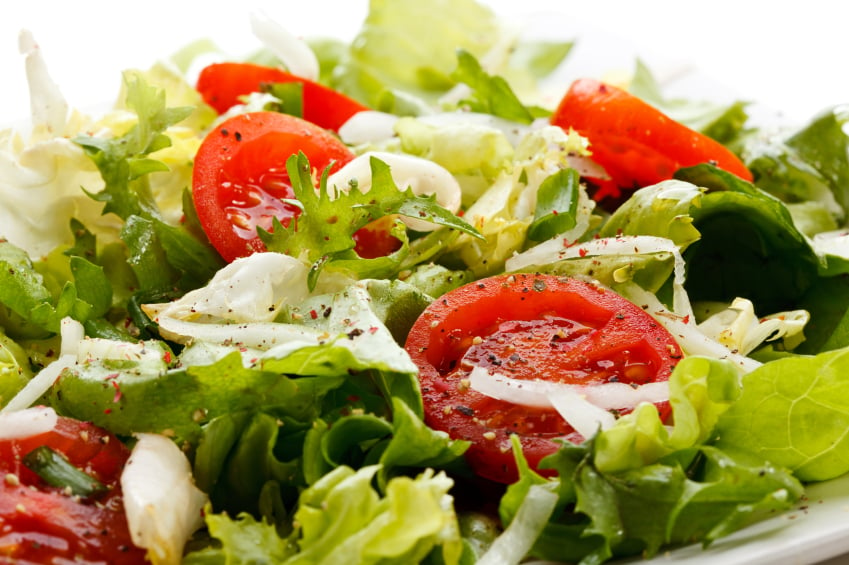 This platter is a great go-to for weeknight dinners. Filled with leafy greens and colorful veggies, a family-style salad is a delicious way to load up on nutrient-rich foods. Eat Boutique suggests adding Parmesan cheese, egg, or even grilled chicken or fish to make this delicious salad even heartier.
Ingredients:
Assortment of leafy greens: romaine, kale, chopped uniformly
Colorful additions of finely chopped radicchio and cherry tomatoes
Blanched french beans and peas
Boiled eggs halved
Parmesan cheese, grated or shaved
Handful of fresh herbs like dill, tarragon, or chives
Mustard dressing
1 teaspoon each of grainy mustard and sweet mustard
¼ cup white balsamic vinegar
¼ cup extra -virgin olive oil
½ teaspoon salt
¼ teaspoon sugar
Directions: Arrange all salad ingredients on a large serving platter and set aside. In a small bowl, whisk together both types of mustard, white balsamic, olive oil, salt, and pepper. Drizzle over salad and serve at once.
3. Cauliflower Mac and Cheese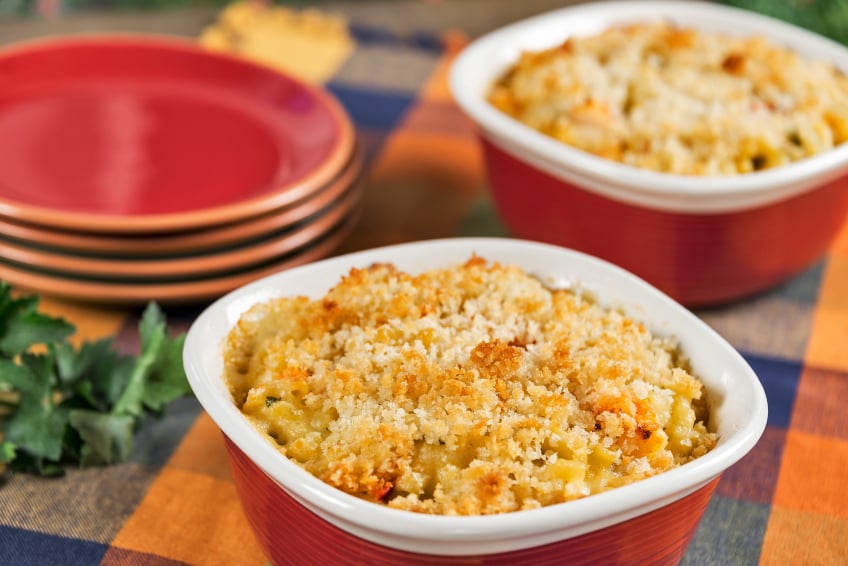 Hidden beneath delicious layers of gooey cheese and creamy noodles is cauliflower and carrots, resulting in a mac and cheese dish you don't need to feel guilty about. Good Housekeeping's recipe yields 6 main-dish servings, with each containing 345 calories and 9 grams of fat. There's also a solid 16 grams of protein per serving, and it provides you with 25% of your daily calcium. Eat up!
Ingredients:
1 head (1 ½ pounds) cauliflower, core discarded, florets cut into 2-inch pieces
4 medium (10 ounces) carrots, thinly sliced
1 cup unsalted vegetable broth
¼ cup reduced-fat cream cheese
1 teaspoon Dijon mustard
1 pinch cayenne (ground red) pepper
¾ cup Gruyère cheese, shredded
½ teaspoon salt
½ teaspoon pepper
12 ounce elbow macaroni
8 ounces (3 cups) small broccoli florets
2 medium plum tomatoes, cored, seeded, and chopped
¼ cup Parmesan cheese, freshly grated
Directions: Preheat the oven to 400 degrees Fahrenheit. Heat an 8-quart sauce pot of salted water to boiling on high. Add cauliflower and carrots to boiling water. Cook 15 minutes or until very tender. Meanwhile, in a blender, combine broth, cream cheese, mustard, cayenne, Gruyère, salt, and black pepper. With slotted spoon, transfer vegetables to blender. Purée until very smooth.
Add pasta to the same sauce pot of boiling water. Cook half the time the label directs, adding broccoli during the last minute of cooking. Drain; return to pot. Stir in cauliflower sauce and half of tomatoes. Spread in 2 and ½-quart shallow baking dish. Top with remaining cheeses and tomatoes. Bake 35 minutes or until golden brown on top and heated through.
4. Unstuffed Florentine Shells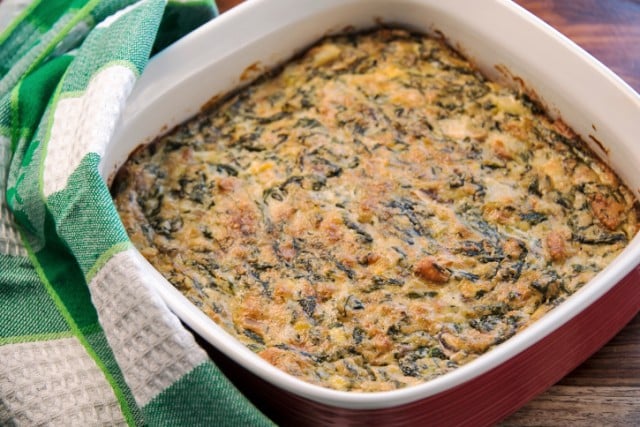 Every Day with Rachel Ray's recipe for unstuffed florentine shells provides bite after bite of delectable Italian-American spinach-stuffed shells, but without all of the work and hassle. This Italian platter-style dinner, which yields 6 servings, will quickly become a family favorite.
Ingredients:
1 (1 pound) bag organic frozen spinach, defrosted
1 tablespoon extra-virgin olive oil
3 tablespoons butter
1 small onion, finely chopped
3 cloves garlic, finely chopped
Salt and pepper
2 tablespoons flour
2 cups milk
Pinch nutmeg, or to taste
1 pound medium shell pasta
1 ½ cups fresh sheep's-milk or cow's-milk ricotta
½ pound mozzarella, diced or shredded
1 cup pecorino-romano or parmigiano-reggiano, shredded
Directions: Wring the spinach dry in a clean kitchen towel. Using your fingers, loosen the leaves. Bring a large pot of water to boil for the pasta. Place a rack in the upper third of the oven and preheat the broiler.
In a skillet, heat the olive oil, one turn of the pan, over medium. Melt the butter into the oil and when it foams, add the onion and garlic. Season with salt and pepper and cook, stirring, 3 to 5 minutes to soften. Stir in the flour and cook another minute. Whisk in the milk and cook until thickened, 5 to 7 minutes. Season with nutmeg and reduce heat to low.
Salt the boiling water and cook the pasta to al dente. Reserve ½ cup of the cooking water and add to the sauce to thin a bit. Add the spinach to the pasta pot, stir, then drain and toss with the sauce; season. Arrange in a casserole dish and dot with the ricotta. Top with the mozzarella and pecorino-romano and broil until browned, 6 to 8 minutes
5. Lamb Tagine with Green Olives and Lemon
This family-style Moroccan dish is filled with tasty flavors, including ginger, cumin, coriander, olives, and lemon. Food & Wine's recipe even cuts out a step that most stew recipes require; you don't need to brown the meat before braising it, which results in an easy-to-make dish. Looking for something to do with some of the broth? Drizzing it over couscous is a great way to utilize your leftovers.
Ingredients:
¼ cup extra-virgin olive oil
5 garlic cloves, minced
2 (2 ½-inch) strips of lemon zest
2 teaspoons ground ginger
2 teaspoons sweet paprika
2 teaspoons ground coriander
1 teaspoon ground cumin
1 teaspoon freshly ground black pepper
¼ teaspoon cayenne pepper
¼ teaspoon ground cloves
Pinch of saffron threads, crumbled
1 (3-inch) cinnamon stick
Kosher salt
3 ½ pounds boneless lamb shoulder, cut into 1-inch pieces
4 cups water
6 large carrots, thinly sliced
1 onion, cut into ¼-inch dice
2 cups pitted green Picholine olives, rinsed
1 cup flat-leaf parsley, chopped
1 cup cilantro leaves, chopped
3 tablespoons fresh lemon juice
Directions: In a large bowl, mix the olive oil, garlic, lemon zest, ginger, paprika, coriander, cumin, black pepper, cayenne, cloves, saffron, cinnamon stick, and 1 tablespoon of kosher salt. Add the lamb and toss to coat. Refrigerate for 4 to 6 hours. Scrape the lamb and spices into a tagine or a medium enameled cast-iron casserole; discard the lemon zest. Add the water, carrots, and onion and bring to a simmer. Cover and cook over low heat until the lamb is very tender, about 2 hours. Spoon off any fat from the broth. Stir in the olives, season with salt and cook for 2 minutes. Remove from the heat and stir in the parsley, cilantro, and lemon juice. Ladle into bowls and serve.
6. Easy Oven Fajitas
This Budget Bytes recipe roasts your meat and veggies to perfection, giving them a slightly charred edge that is super satisfying. Even better, this dish is loaded with healthy ingredients, so you don't need to feel guilty when you chow down. There's no need to stand by the stove while this fajita cooks; simply pop it in the oven, and prepare to enjoy a delicious dinner.
Ingredients:
Seasoning
1 tablespoon chili powder
½ tablespoon paprika
½ teaspoon onion powder
¼ teaspoon garlic powder
¼ teaspoon cumin
⅛ teaspoon cayenne pepper
1 teaspoon sugar
½ teaspoon salt
½ tablespoon corn starch
Fajitas
1 large onion, cut into ¼-inch wide strips
2 medium green bell peppers, cut into ¼-inch wide strips
1 medium red bell pepper, cut into ¼-inch wide strips
1 pound chicken breast, sliced into thin strips
2 tablespoon vegetable oil
1 medium lime
8 (6-inch) tortillas
½ cup sour cream (optional)
¼ bunch cilantro (optional)
Directions: Preheat the oven to 400 degrees Fahrenheit. In a small bowl, combine all seasoning ingredients and mix well.
Add onions, peppers, and chicken to a casserole and sprinkle everything with seasoning mix. Add oil and toss well to coat. Transfer to oven and bake for 35 to 40 minutes, stirring once, until chicken is fully cooked and vegetables are tender. Immediately squeeze juice from half the lime over meat and veggies.
Serve with tortillas, cilantro, sour cream, and additional lime juice.
7. Grilled Seafood Platter
Lobster, crab, scampi, clams, and scallops create the perfect seafood-themed platter. Included in this Taste.com.au recipe are flavorful seasonings such as parsley, basil, and garlic, in addition to a creamy, tantalizing avocado cream and a zesty seafood sauce. It's a great way to add a little pizzazz to any weeknight.
Ingredients:
1 cup extra virgin olive oil
2 garlic cloves, finely chopped
2 tablespoons chopped basil
Zest and juice of 2 lemons
4 blue swimmer crabs, halved, claws cracked
4 lobster tails or small whole lobsters, halved, cleaned
24 scampi, peeled (tails intact), deveined
32 green prawns, peeled (tails intact), deveined
12 ounces clams
12 scallops in the half shell
2 tablespoons chopped flat-leaf parsley
Avocado cream
2 ripe avocados, peeled, stoned, roughly chopped
½ cup thickened cream
1 garlic clove, chopped
Juice of 1 lime
Seafood sauce
1 Cup mayonnaise
Grated zest and juice of
1 small lime
1 tablespoon sweet chili sauce
1 tablespoon tomato sauce
Directions: Combine the oil, garlic, basil, lemon juice, and zest in a bowl, then season. Brush the marinade over the seafood. Heat a barbecue hotplate to medium-high. Cook the crab and lobster for 2 minutes, then add the scampi and cook for a further 2 minutes. Add the prawns and clams, and cook for 3 to 4 minutes, then add the scallops. When the clams open and the prawns and scallops are opaque, transfer all seafood to a platter. Serve with parsley, avocado, and seafood sauces.
To make the avocado cream, pulse ingredients in a food processor until smooth. Season to taste with sea salt and freshly ground black pepper. To make the seafood sauce, whisk the ingredients together. Season with salt and pepper.