Father's Day Feasts: 10 Recipes to Get You From Breakfast to Dessert
This year for Father's Day, we're covering all the bases. Perfect brunches, stellar lunches, amazing dinners, and superb sweets are all in order for you here. Make one, two, or almost all of them this year when you celebrate all the dads in your family. Mix and match dishes, let dad grill, or give him the night off — all are options with these 10 recipes!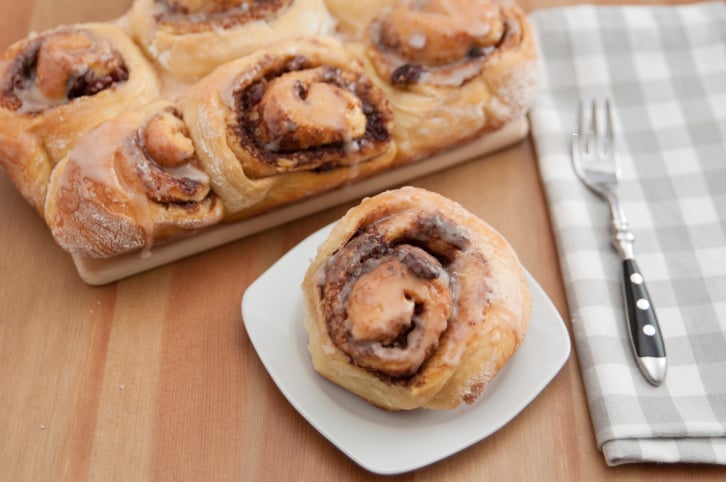 1. Cinnamon Rolls
Show off your sweet side at brunch with the cinnamon rolls from Williams-Sonoma and Family Meals. The prep work begins the night before, meaning you won't be waiting for hours in the morning for the dough to rise. All you'll have to do is take the 10 rolls out of the fridge an hour before baking, and then bake for 30 minutes — during that time, you'll make the glaze.
Ingredients:
Dough
1 tablespoon (1 package) active dry yeast
1/2 cup warm water (105 degrees Fahrenheit)
4 1/2 cups all-purpose flour, plus more as needed
4 eggs
1/4 cup granulated sugar
2 teaspoons kosher salt
8 tablespoons (1 stick) unsalted butter, at room temperature
8 tablespoon (1 stick) unsalted butter, melted
1/2 cup granulated sugar mixed with 1 tablespoon ground cinnamon
Vanilla Glaze
1 cup confectioners' sugar
1/2 teaspoon kosher salt
2 tablespoons unsalted butter, melted
2 tablespoons milk
1 teaspoon vanilla extract
Directions: To make the dough, in the bowl of a stand mixer, sprinkle the yeast over the water, allow to bloom for a few minutes, then whisk until smooth. Whisk in 1/2 cup of the flour. Cover with plastic wrap and let stand in a warm spot, about 30 minutes.
Add the eggs, granulated sugar, salt and the remaining 4 cups flour to the yeast mixture. Fit the mixer with the dough hook and knead on medium speed until smooth, 3 to 4 minutes. Add the room temperature butter and continue to knead, adding a little flour to reduce stickiness if needed, until the dough is smooth, 10 to 12 minutes. Cover the bowl with plastic wrap and let the dough rise until doubled, about 2 hours.
Butter a 9 x 13-inch baking dish. Transfer the dough to a floured work surface. Roll out into a 15 x 10-inch rectangle. Brush the rectangle with half of the melted butter, leaving a 2-inch-wide strip uncovered on one long side. Sprinkle the cinnamon sugar over the butter. Starting at the long side covered with sugar, roll up the rectangle snugly and pinch the seam together. With the seam facing down, cut into 10 equal pieces. Place the pieces, cut side up, in the prepared dish. Brush the rolls with the remaining butter. Cover with plastic wrap and let rise in the refrigerator overnight.
The next morning, remove the rolls from the refrigerator and let rise until half again as high, about 1 hour. Preheat an oven to 350 degrees Fahrenheit. Bake the rolls until golden brown, about 30 minutes. Let cool in the pan for 15 minutes. While the rolls are baking, make the vanilla glaze in a small bowl, sifting together the confectioners' sugar and salt. In a separate bowl, whisk together the butter, milk and vanilla, then stir into the sugar mixture to form a smooth paste. Spread the glaze over the warm rolls and serve immediately.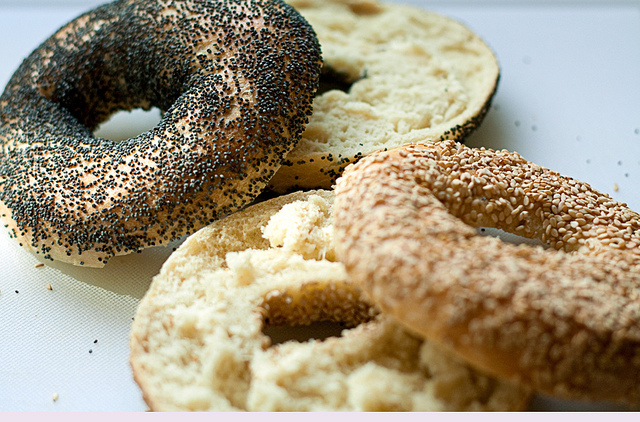 2. Bacon, Egg, Bagel Breakfast Bake
If you have a day's worth of activities planned for dad, you'll want a breakfast to pump everyone full of energy. It is still Father's Day though, so instead of a regular old breakfast sandwich, follow The Gourmand Mom's example and make a breakfast bake out of the ingredients instead. It yields 6 to 8 servings.
Ingredients:
1 tablespoon butter, softened
5-6 large bagels (any variety), chopped into 1-inch chunks
1 pound bacon, cooked and chopped
1 cup cheddar cheese, shredded
12 eggs
1 1/2 cups milk
1 teaspoon salt
1/2 teaspoon pepper
Directions: Preheat oven to 375 degrees Fahrenheit. Use a paper towel to rub the bottom and sides of a large (13 × 9) baking dish with the softened butter. Arrange 5-6 chopped bagels in the baking dish. They should mostly fill the baking dish. Scatter the bacon and cheese over the bagels. In a large mixing bowl, beat together the eggs, milk, salt, and pepper. Pour the mixture over the bagels, bacon, and cheese. Press down on the mixture, so that the bagels are mostly submersed in the egg mixture. Allow the mixture to rest for about 15-20 minutes in the refrigerator, so that the bagels absorb some of the egg mixture. Bake for about 45 minutes.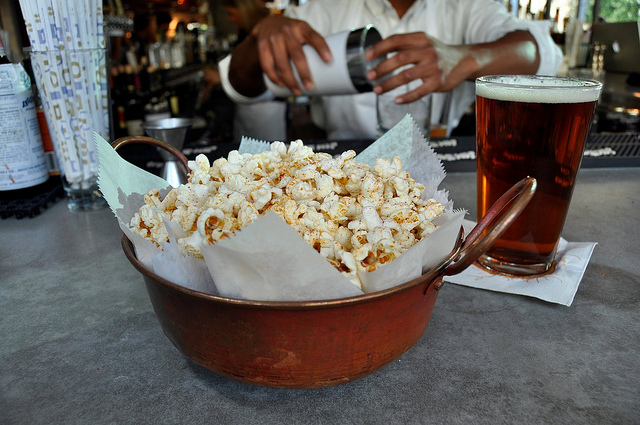 3. Cheesy Popcorn
For the dad who loves to snack and the family that loves horrible puns, get a fresh batch of popcorn ready for dear old dad. Cheesy will describe both the treat, and the emphasis you put on the "pop." It will all be forgiven though, because Food.com's recipe will be the savory snack everyone will want more of.
Ingredients:
2 quarts popped popcorn
3 -4 cloves garlic, minced
3 -4 tablespoons unsalted butter or 3 -4 tablespoons olive oil (or a mixture)
1/2 cup finely grated parmesan cheese
Salt
Directions: Place the popcorn in a large bowl and set aside. Sauté the garlic in the butter or oil for about 3 minutes, until golden. Pour over the popcorn and mix thoroughly. Stir in the cheese, add salt to taste, and toss again. Enjoy!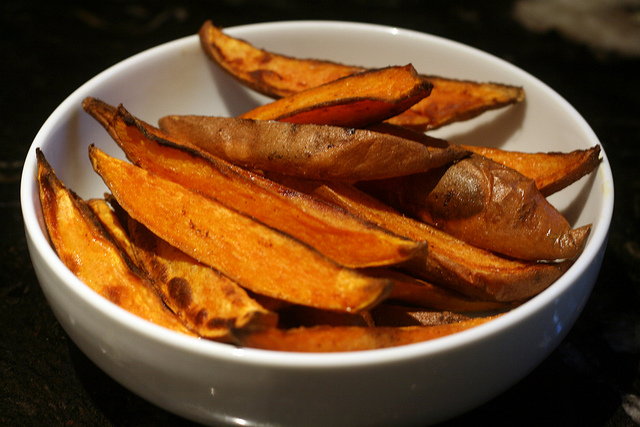 4. Grilled Sweet Potato Wedges 
When you've already fired up the grill, you might as well make a few side dishes outside, too — like the sweet potato wedges from Chow. Served with a sour cream and lime sauce, you have a side dish ready to star next to burgers, steaks, chicken — just about anything you can think of serving, really.
Ingredients:
2 pounds medium sweet potatoes, scrubbed
2 tablespoons vegetable oil, plus more for oiling the grill
1/2 teaspoon ground cumin
2 pinches cayenne pepper
2/3 cup sour cream
Finely grated zest of 2 medium limes (about 2 teaspoons)
1 teaspoon freshly squeezed lime juice
Kosher salt
Freshly ground black pepper
2 tablespoons coarsely chopped fresh cilantro
Directions: Place the sweet potatoes in a large pot of heavily salted water and bring to a boil over high heat. Reduce the heat to medium and simmer until a paring knife can easily be inserted, about 20 to 30 minutes. Drain the sweet potatoes in a colander in the sink and let cool slightly, about 10 minutes. Transfer to a baking sheet or large plate and arrange in a single layer. Refrigerate until cool, at least 1 hour.
Meanwhile, heat the oil in a small frying pan over medium heat until shimmering. Remove the pan from heat, add the cumin and cayenne, and stir to combine. Set aside to cool. Combine the sour cream, lime zest, and lime juice in a small bowl. Taste and season with salt and pepper as needed; refrigerate until ready to use. When the sweet potatoes are ready, heat a grill pan or outdoor grill to medium high (about 375 to 425 degrees Fahrenheit.)
Meanwhile, halve the sweet potatoes lengthwise. Cut the halves lengthwise into 1/2- to 3/4-inch-thick wedges and place in a single layer on a baking sheet. Stir the oil mixture to reincorporate the spices. Brush the cut sides of the potato wedges with the oil mixture and season generously with salt and pepper.
When the grill is hot, rub the grates with a towel dipped in vegetable oil. Place the sweet potato wedges on the grill in a single layer and cut-side down, cover the grill, and cook until grill marks appear, about 2 to 3 minutes. Flip the wedges to the other cut side, cover the grill, and cook until grill marks appear, about 2 to 3 minutes more. Transfer to a serving platter, dollop with the sour cream mixture, and sprinkle with the cilantro. Serve immediately.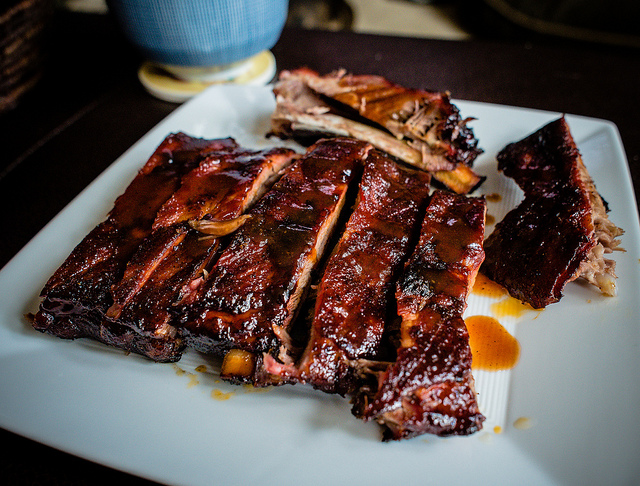 5. Jalapeño Ribs
For the spice-loving fathers out there, Taste of Home's jalapeño ribs are a must make this year. Serve with fresh corn on the cob, biscuits, coleslaw, or your favorite side dish. The sweet, spicy, saucy ribs will make enough ribs for four.
Ingredients:
4 teaspoons brown sugar
2 teaspoons chili powder
1 teaspoon salt
1 teaspoon paprika
1 teaspoon pepper
1/8 teaspoon garlic powder
3 1/2 to 4 pounds pork spareribs
Jalapeño Barbecue Sauce
2 cans (8 ounces each) tomato sauce
2/3 cup packed brown sugar
1/3 cup lemon juice
1/4 cup Worcestershire sauce
1 small onion, finely chopped
2 jalapeño peppers, seeded and finely chopped
2 teaspoons beef bouillon granules
Directions: In a small bowl, combine the first six ingredients; rub onto both sides of ribs. Place ribs, meat side up, on a rack in a foil-lined roasting pan. Bake at 325 degrees Fahrenheit for 1 1/2 to 1 3/4 hours or until tender. Meanwhile, in a large saucepan, combine sauce ingredients; simmer, uncovered, for 30-40 minutes or until thickened.
Grill ribs, uncovered, over medium heat for 10-15 minutes or until browned, basting with sauce and turning several times. Reheat remaining sauce and serve with ribs.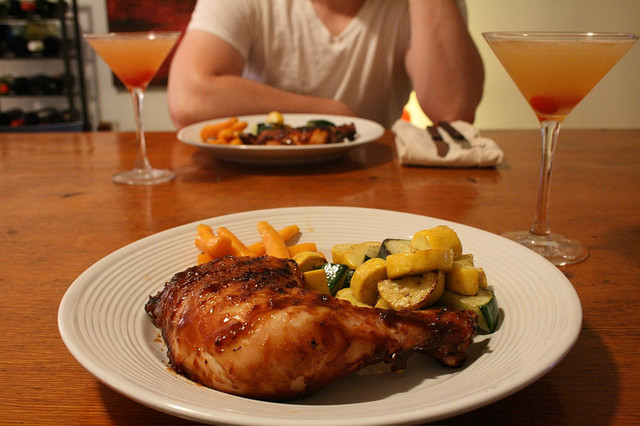 6. Peach Whisky Chicken
Take dad off grill duty for this recipe from The Pioneer Woman. It originally is served with mashed potatoes, and every part of the dish is topped off with more of the peach-whiskey barbecue sauce, but a side of pasta, or vegetables could be just as tantalizing alongside this supremely tender, succulent chicken. It serves six.
Ingredients:
2 tablespoons butter
2 tablespoons olive oil
12 chicken legs or thighs, bone in, skin on
1 yellow onion, diced
1 1/2 cups whisky
4 cups barbecue sauce
1 cup peach preserves
2 tablespoons Worcestershire sauce
4 peaches, pitted and sliced into 8 slices each
Mashed potatoes, for serving (if desired)
3 green onions, sliced thin, for serving
Chopped fresh parsley, for serving
Directions: Preheat the oven to 300 degrees Fahrenheit. Heat the butter and olive oil in a large skillet or pot over medium-high heat. Add the chicken pieces and cook until golden brown on all sides, about 5 minutes. Remove from the skillet and set aside. Add the onions to the skillet and stir and cook over medium heat until translucent, about 3 minutes. Pour in the whisky, taking care if you are cooking over an open flame. Cook for 3 minutes or so, allowing the whisky to cook and reduce.
Grab your favorite bottled barbecue sauce and pour it into the pan. Add the peach preserves, Worcestershire sauce and 1/2 cup water to the sauce, then whisk to combine. Add the chicken back to the pan. Then throw in the peaches. Cover the skillet with a lid or aluminium foil, and then roast in the oven until the chicken is tender and falling off the bone the sauce is beautiful and rich and the peaches are soft (about 1 1/2 hours.) That's how you know it's done! Serve the chicken (with potatoes if desired), spooning the sauce overtop. Sprinkle with green onions and parsley.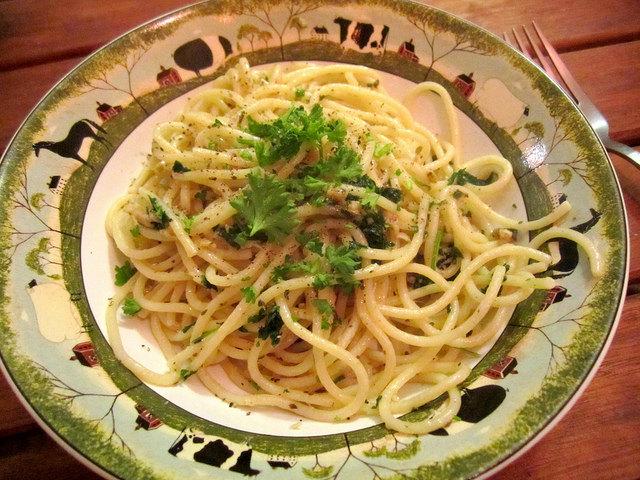 7. Lemon Spaghetti
If the grill master has decided that steak, fish, chicken, or just about any meat is on the menu and you're searching for a side try Giada de Laurentiis' lemon spaghetti. Zesty and easy, it is the perfect side dish for your Father's Day dinner. As a side, it serves six; if eating as a main, 4.
Ingredients:
2/3 cup olive oil
2/3 cup grated Parmesan cheese
1/2 cup fresh lemon juice (from about 2 lemons)
3/4 teaspoon salt, plus more to taste
1/2 teaspoon freshly ground black pepper, plus more to taste
1 pound spaghetti
1/3 cup chopped fresh basil
1 tablespoon lemon zest (from about 2 lemons)
Directions: First make the sauce, which can be done up to 8 hours ahead of time. If prepping ahead, cover and refrigerate until needed, then bring to room temperature before using. In a large bowl, whisk the oil, Parmesan cheese, lemon juice and 3/4 teaspoon of salt and 1/2 teaspoon of pepper to blend. Set the lemon sauce aside.
Bring a large pot of salted water to a boil. Add the spaghetti and cook until tender but still firm to the bite, stirring occasionally, about 8 minutes. Drain, reserving 1 cup of the cooking liquid. Add the spaghetti to the lemon sauce, and toss with the basil and lemon zest. Toss the pasta with enough reserved cooking liquid, 1/4 cup at a time, to moisten. Season the pasta with more salt and pepper to taste. Transfer to bowls and serve.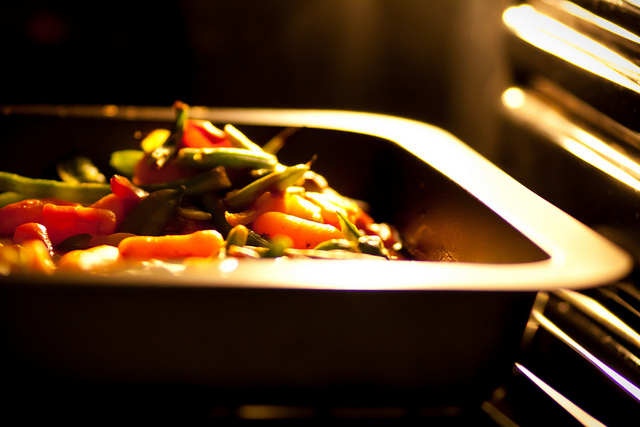 8. Roasted or Grilled Vegetables With Pineapple Sauce
Nothing is set in stone when it comes to this side dish from Spark Recipes. What you get is a framework where you can add and adjust based on your favorite blends of spices, vegetables, and cooking method. Sweetened with pineapple, and kicked up with spices, it serves six and is bound to be a hit — no matter how you make it.
Ingredients:
1 cup diced potato (peeled or unpeeled)
1 cup chopped bell pepper (any color)
1 cup chopped raw mushrooms
1 medium onion, chopped
1 cup cherry tomatoes
1 can pineapple chunks in natural juices
3 tablespoons olive oil
2 teaspoons chopped garlic
2 teaspoons dill weed
1 teaspoon celery salt or celery seed
1 1/2 teaspoons cayenne pepper (optional)
1 1/2 teaspoons garlic powder (optional)
1 1/2 teaspoons onion powder (optional)
Salt (to taste)
Pepper (to taste)
Directions: Chop the vegetables into similar sized chunks. Place all ingredients in large bowl. Do not drain pineapple. Mix thoughly, then drain all liquids.
To grill, either: 1. Place vegetables in grill-safe roasting pan or on wooden skewers that have been soaked in water and place on grill. Cook on medium high heat. Stir or turn every 5-10 minutes until tender.
Or, try: 2. Place vegetables on heavy duty aluminum foil sprayed lightly with cooking spray. Fold aluminum foil into a sealed pouch and place on grill. Use medium heat. Turn over every 5 minutes for 20 – 25 minutes.
To roast, preheat the oven to 400 degrees Fahrenheit. Place vegetables in roasting pan and bake. Stir vegetables every 10 minutes until tender.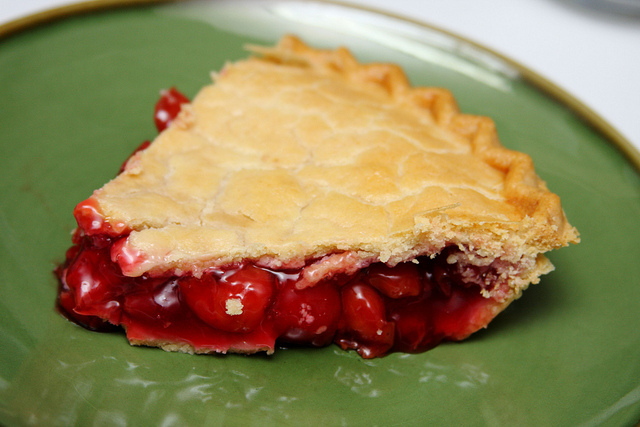 9. Cherry Pie
Top off Father's Day with a slice of cherry pie from this Food Network recipe. Mouthwatering on its own, cherry pie only gets better when you top with with a dollop of whipped cream, or serve it with a heaping scoop of fresh vanilla ice cream.
Ingredients:
4 cups fresh or frozen tart cherries
1 to 1 1/2 cups granulated sugar
4 tablespoons cornstarch
1/8 tablespoon almond extract (optional)
Your favorite pie crust, or pie dough recipe for 2 crust pie
1 1/2 tablespoons butter, to dot
1 tablespoon granulated sugar, to sprinkle
Directions: Place cherries in medium saucepan and place over heat. Cover. After the cherries lose considerable juice, which may take a few minutes, remove from heat. In a small bowl, mix the sugar and cornstarch together. Pour this mixture into the hot cherries and mix well. Add the almond extract, if desired, and mix. Return the mixture to the stove and cook over low heat until thickened, stirring frequently. Remove from the heat and let cool. If the filling is too thick, add a little water, too thin, add a little more cornstarch.
Preheat the oven to 375 degrees Fahrenheit. Divide prepared pie crust in half. Roll out each piece large enough to fit into an 8 to 9-inch pan. Pour cooled cherry mixture into the crust. Dot with butter. Moisten edge of bottom crust. Place top crust on and flute the edge of the pie. Make a slit in the middle of the crust for steam to escape. Sprinkle with sugar. Bake for about 50 minutes. Remove from the oven and place on a rack to cool.
10. Stout Float
Dad can enjoy a stout beer float with the other grown-up members of the family while the kids drink up root beer floats this Father's Day. For any adults with a serious love for chocolate, consider adding chocolate syrup to the stout floats, or using chocolate ice cream instead of vanilla. As Drink Mixer points out, you could even make milkshakes out of the combination.
Ingredients:
Vanilla ice cream
Stout beer, such as Guinness (1 bottle per float)
Root beer (1 can per float)
Directions: Put the ice cream in first, about 2-3 scoops per glass, then add the Guinness, or root beer, carefully. Wait for the head/fizz to go down then fill to top. Blend if you want a milkshake.
More From Wall St. Cheat Sheet: