FDA Will Help U.S. Food Labels Get a Much-Needed Facelift
Food labels: they are the first thing health-conscious consumers look for when they pick up a new product. Number of calories, grams of fat, grams of sodium — you name it, it's there, but what happens when those labels grow out of date? Is the information no longer relevant, the serving sizes no longer realistic? That's when those nutrition facts are due for an update, and luckily for us, an update they will get.
According to Bloomberg, the Food and Drug Administration is currently working through a nutrition content update that will reflect labels' first makeover in 21 years. The changes will include updates to the nutrition facts panel on the food sold in grocery stores, and will also revise some current serving sizes. The FDA has sent two proposals to the White House for review, and the details of the draft regulations have not yet been made public.
The changes come as more and more Americans adjust their eating habits and continue to become more health-conscious than ever. Back in 1993, the standard food label containing basic calorie counts and fat grams sufficed, but now that consumer wants to know more about their food, the FDA has had no choice but to change the format of the labels to keep up with the times. Bloomberg reports that the new labels will likely more sufficiently highlight calorie counts, differentiate between natural and added sugars, and make serving sizes more realistic. Serving sizes are especially a concern, because Americans tend to eater in bigger portions than they did 20 years ago, and thanks to advancements in obesity research, it has become clear that the nation needs to be better informed about their food choices in order to stem the upsurge in obesity. Advocates believe that more accurate calorie counts and serving sizes could help that.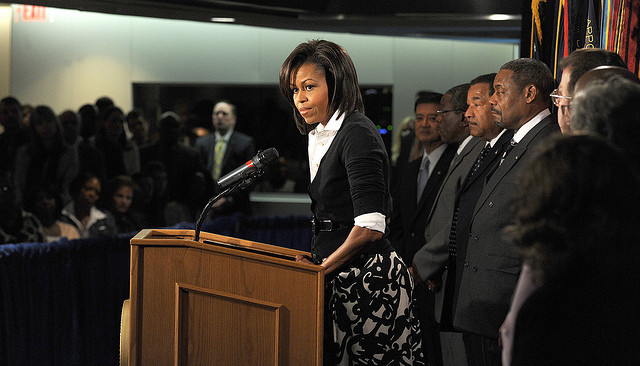 According to Bloomberg, the biggest push for updated food labels has come from the Obama administration, and not just the president himself. First Lady Michelle Obama was the woman who fought for front-of-package labeling in 2011, and now she and her team are continuing to push for uniform nutrition labels in their effort to reduce the U.S. obesity rate, which has more than doubled since 1980, according to the Centers for Disease Control and Prevention.
With that uptick in the obesity rate, many others are joining in on the fight to update labels so that the nutritional content is relevant and helpful. Even Brian Kennedy, a spokesperson for the Grocery Manufacturers Association, said via Bloomberg, "The public health perspective that led to the nutrition facts panel in the early 1990s has shifted over the past 20 years, away from total fat and fatty acids, and toward calories."
So now new food labels must reflect that change, and that is what the FDA is working on, hoping to make its advances open to the public by March 20. Bloomberg reports that according to procedure, the FDA first sends draft regulatory proposals to the White House's Office of Management and Budget, and the review can take up to 90 days. The FDA is then expected to make revisions and resubmit.
As noted before, expected changes to the food labels now include updates to calorie counts, changes to daily values like sodium, and a reevaluation of serving sizes. Robert Post, chief science office at Food Minds, believes that the serving size update will have the biggest effect on consumers, because dieters may now change their preferences for one brand versus another once realistic serving sizes are updated. He explains via Bloomberg, "We know that the quantities of food, the sizes of packages, and the actual amounts people are eating have changed in the last 20 years, so it's about time that we recognize we need new food intake data to work with."
News of new FDA-approved labels hasn't garnered much attention yet, but once the updates become public, consumers are expected to take better notice. Bloomberg highlighted in its report that according to the FDA website, the share of people who says they often use food labels rose to 54 percent in 2008 from 44 percent in 2002.
More From Wall St. Cheat Sheet: