7 Recipes For Freezer Meals You Can Heat and Serve in Minutes
The food remedy during a hectic week is a frozen entree, but this doesn't have to mean one you pick up in the grocery store. With a little planning and prepping, you can have homemade frozen meals at your fingertips. You'll want to be sure that you not only properly store the food, but that you also safely thaw it as well. FoodSafety.gov has a section devoted to frozen food, including the length of time you can freeze foods for, and other suggestions you may find useful. You'll need a few recipes to freeze so you can tailor that information to what you plan on putting on ice, and to help you out, we've found seven recipes worth the freezer space.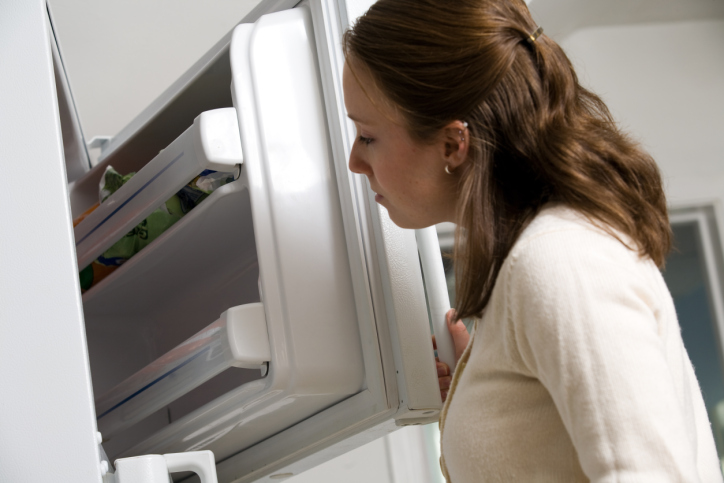 1. Chicken Tetrazzini
After baking the tetrazzini, Southern Living says to freeze the classic casserole in tupperware that is both freezer and microwave safe. Portion it out into single or family-sized servings for easy reheating.
Ingredients:
1½ (8 ounce) packages vermicelli
½ cup butter
½ cup all-purpose flour
4 cups milk
½ cup dry white wine
2 tablespoons chicken bouillon granules
1 teaspoon seasoned pepper
2 cups freshly grated Parmesan cheese, divided
4 cups diced cooked chicken
1 (6-ounce) jar sliced mushrooms, drained
¾ cup slivered almonds
Directions: Preheat oven to 350 degrees Fahrenheit. Prepare pasta according to package directions. Meanwhile, melt butter in a Dutch oven over low heat; whisk in flour until smooth. Cook 1 minute, whisking constantly. Gradually whisk in milk and wine; cook over medium heat, whisking constantly, 8 to 10 minutes or until mixture is thickened and bubbly. Whisk in bouillon granules, seasoned pepper, and 1 cup Parmesan cheese.
Remove from heat; stir in diced cooked chicken, sliced mushrooms, and hot cooked pasta. Spoon mixture into a lightly greased 13-by-9-inch baking dish; sprinkle with slivered almonds and remaining 1 cup Parmesan cheese. Bake for 35 minutes or until bubbly. Freeze in tupperware, or other container until ready to reheat.
2. Pesto-Tomato Pizza
Pizza has long been the answer for a crazy week, but that doesn't mean it can't be homemade too. You won't need delivery or DiGiorno when you make the freezer pizza from Prevention. It will serve 8.
Ingredients:
1 cup warm water (about 110 degrees Fahrenheit)
1 tablespoon active dry yeast
1 tablespoon sugar
½ cup yellow cornmeal
¼ teaspoon salt
2 tablespoons oil
2½ cups all-purpose flour
Topping
1 cup chopped fresh basil
½ cup soft bread crumbs
2 cloves garlic, halved
4 medium tomatoes, sliced
1 cup shredded low-fat mozzarella cheese
Directions: To make the dough: In a large bowl, combine the water, yeast, and sugar. Stir well. Let stand in a warm place for 5 minutes, or until foamy. Stir in the cornmeal, salt, and 1 tablespoon of the oil. Stir in up to 2¼ cups of the flour to make a kneadable dough. Turn the dough out onto a lightly floured surface. Knead, adding more of the remaining ¼ cup flour as necessary, for 10 minutes, or until smooth and elastic. Coat a large bowl with no-stick spray. Add the dough and turn to coat all sides. Cover loosely with a kitchen towel and set in a warm place for 15 minutes.
Preheat the oven to 450 degrees Fahrenheit. Coat two 12-inch round pizza pans with no-stick spray. Divide the dough in half. Roll each half into a 12-inch circle. Place the circles on the pizza pans. Brush the surface of each pizza with the remaining 1 tablespoon oil. For the topping in a blender or food processor, combine the basil, bread crumbs, and garlic. Process until smooth. Spread over the dough. Top with the tomatoes and mozzarella.
Bake for 20 minutes, or until the crusts are golden brown and the cheese is bubbling. To freeze, wrap the cooled baked pizzas in freezer-quality plastic wrap, then in freezer-quality foil. When you want to eat the pizzas, thaw overnight in the refrigerator. Remove the foil and plastic wrap. Bake at 400 degrees Fahrenheit for 15 minutes, or until hot.
3. Bean, Spinach, and Quinoa Burritos
Go vegetarian with your frozen dinner by making the burritos from Real Simple. To keep your frozen food safe, check out the tips provided by the University of Nebraska-Lincoln on using freezer bags to store food.
Ingredients:
1½ cups quinoa, rinsed
2 tablespoons olive oil
1 small onion, chopped
kosher salt and black pepper
2 teaspoons chili powder
2 (15.5-ounce) cans pinto beans, rinsed
¾ cup low-sodium vegetable broth
2 cloves garlic, chopped
2 (10-ounce) packages frozen chopped spinach, thawed and squeezed of excess liquid
8 (10-inch) tortillas or wraps
12 ounces sharp white Cheddar, grated (about 3 cups)
salsa, sour cream, and sliced avocado, for serving
Directions: Heat oven to 400 degrees Fahrenheit. Cook the quinoa according to the package directions. Meanwhile, heat the oil in a large skillet over medium heat. Add the onion, ½ teaspoon salt, and ¼ teaspoon pepper and cook, stirring frequently, until softened, 3 to 5 minutes. Add the chili powder and cook, stirring, until fragrant, about 1 minute. Add the beans, broth, and garlic and simmer, stirring occasionally, until most of the liquid has been absorbed, 2 to 4 minutes more. Fold in the spinach.
Dividing evenly, top the tortillas with the quinoa (about ½ cup each), bean mixture (about ½ cup each), and cheddar (about ⅓ cup each). Roll up into burritos; wrap each in heavy-duty foil and place on a baking sheet. Bake the burritos until warmed through, 15 to 20 minutes. Serve with the salsa, sour cream, and sliced avocado. The uncooked wrapped burritos can be frozen in freezer bags for up to 3 months. To reheat, remove from foil and microwave on high until warmed through.
4. Veggie Lasagna Rollups
For another vegetarian-friendly freezer dinner, you can prepare the lasagna rollups Ree Drummond demonstrated on the Food Network. Use 8-by-4-inch aluminum foil loaf pans for baking and freezing so you aren't sacrificing any of your everyday cooking equipment to the freezer.
Ingredients:
1 pound lasagna noodles
nonstick cooking spray, for spraying baking sheet
Sauce:
2 tablespoons olive oil
4 cloves garlic, minced
1 medium onion, diced
1 red bell pepper, diced
24 ounces white mushrooms, chopped
2 yellow squash, diced
2 zucchini, diced
½ cup white wine
½ teaspoon crushed red pepper flakes
salt and freshly ground black pepper
1 (28-ounce) can diced tomatoes, drained
¼ cup tomato paste
¼ cup chopped fresh parsley
Ricotta Mix:
32 ounces ricotta
½ cup grated Parmesan
2 large eggs
salt and freshly ground black pepper
1½ pounds shredded fresh mozzarella
grated Parmesan, for sprinkling
Directions: First, cook the noodles according to the package instructions. Spray a baking sheet with cooking spray. Drain the noodles and transfer them to the prepared sheet. For the sauce, heat the olive oil in a large skillet over medium heat. Add the garlic and onions and cook for a minute. Add the red peppers and saute for another minute or so. Add the mushrooms, yellow squash and zucchini and cook for a few minutes. Pour in the wine, add the red pepper flakes and some salt and pepper and stir. Pour in the tomatoes, using your hands to squeeze and crush the tomatoes, and add the tomato paste. Stir to combine, bring to a simmer and let simmer for 20 minutes or so. Stir in the parsley.
For the ricotta mix, in a bowl, combine the ricotta, Parmesan, eggs, ¼ teaspoon salt and some pepper. To assemble, take a foil loaf pan and spoon in ¼ to ½ cup of the sauce on the bottom of the pan. Lay out 3 noodles and spoon ¼ cup of the ricotta mix on each and spread evenly. Roll each noodle tightly and place the rolled noodles in the loaf pan on top of the sauce. Top with more sauce and sprinkle with shredded mozzarella and Parmesan. Repeat with the remaining ingredients. Cook immediately, or cover with foil and freeze.
If cooking immediately, heat oven to 350 degrees Fahrenheit. Bake, uncovered, until bubbly, about 25 minutes. To cook frozen, remove the loaf pans from the freezer and bake, covered, at 350 degrees Fahrenheit for 40 minutes. Uncover and bake until the cheese is nice and bubbly, an additional 10 minutes.
5. Turkey Burgers
If you have a little more time on your hands, consider Eating Well's turkey burgers. To make the burgers ahead of time, do everything except grill the patties. You can keep them individually wrapped in the freezer for up to three months, thaw in the refrigerator before cooking. The homemade mayonnaise however, only keeps in the fridge for about two days, so you'll want to make that closer to when you plan on having the burgers, or on the day of if you have time.
Ingredients:
2 slices whole-wheat sandwich bread, crusts removed, torn into pieces
8 ounces white mushrooms
3 teaspoons extra-virgin olive oil, divided
1 medium onion, finely chopped
2 cloves garlic, minced
1 pound lean ground turkey breast
1 large egg, lightly beaten
3 tablespoons chopped fresh dill
1½ tablespoons whole-grain mustard
½ teaspoon salt
¼ teaspoon freshly ground pepper
6 whole-wheat buns
6 lettuce leaves
6 tomato slices
Scallion-Lemon Mayonnaise
¼ cup nonfat sour cream
2 tablespoons low-fat mayonnaise
1½ tablespoons chopped scallions
½ teaspoon freshly grated lemon zest
1 teaspoon lemon juice
pinch of salt, or to taste
freshly ground pepper to taste
Directions: To prepare burgers: Place bread in a food processor and pulse into fine crumbs. Transfer to a large bowl. Pulse mushrooms in the food processor until finely chopped. Heat 2 teaspoons oil in a large nonstick skillet over medium-high heat. Add onion, garlic and the mushrooms; cook, stirring occasionally, until tender and liquid has evaporated, about 10 minutes. Add to breadcrumbs and let cool completely, 15 to 20 minutes. Preheat grill to medium-high (if eating day of).
Add ground turkey, egg, dill, mustard, ½ teaspoon salt and ¼ teaspoon pepper to the mushroom mixture; mix well with a potato masher. With dampened hands, form the mixture into 6 patties, ½-inch thick, using about ⅛ cup for each.
Oil the grill rack. Brush the patties with the remaining 1 teaspoon oil. Grill until no longer pink in the center, about 5 minutes per side. (An instant-read thermometer inserted in the center should register 165 degrees Fahrenheit.) Meanwhile, split buns and toast on the grill for 30 to 60 seconds. Serve burgers on buns with the mayonnaise, lettuce and tomato.
To prepare mayonnaise, combine sour cream, mayonnaise, scallions, lemon zest, lemon juice, pinch of salt and pepper in a small bowl; whisk until blended.
6. Breakfast Sandwiches
You can skip the drive-through on your way into work because your breakfast sandwich will be coming from your freezer thanks to Food.com. With the measurements below, the recipe makes 32 sandwiches, but the measurements easily halve if you do not have the room in your freezer for that many sandwiches.
Ingredients:
4 (16⅓ ounce) cans refrigerated buttermilk biscuits
20 eggs
2 pounds ground sausage
16 slices cheese (sharp cheddar was used in the original)
dry mustard (to taste)
pepper (to taste)
garlic salt (to taste)
butter or margarine
Directions: Bake biscuits according to package directions. While biscuits are baking start browning sausage. In a mixing bowl combine eggs dry mustard and pepper. Add egg mixture to the browned sausage and cook until eggs are done. After biscuits have cooled cut them in half and spread with butter. Sprinkle buttered biscuits with garlic salt but do not add the salt to the eggs while they are cooking, the salt will make the eggs rubbery.
Cut cheddar cheese slices into fourths. Put one fourth of cheese slice on bottom half of biscuit. Spoon a small amount of cooked egg and sausage mixture onto the bottom half of each biscuit (on top of cheese). Place another fourth of a cheese slice on top of the egg and sausage mixture (putting the cheese on this way keeps the sandwich together when it is reheated). Place top of biscuit onto sandwich.
Wrap each sandwich in wax paper and put them in large freezer bags. Place them in the freezer. To reheat, leave sandwich in wax paper and microwave on high for approximately one minute to a minute and a half.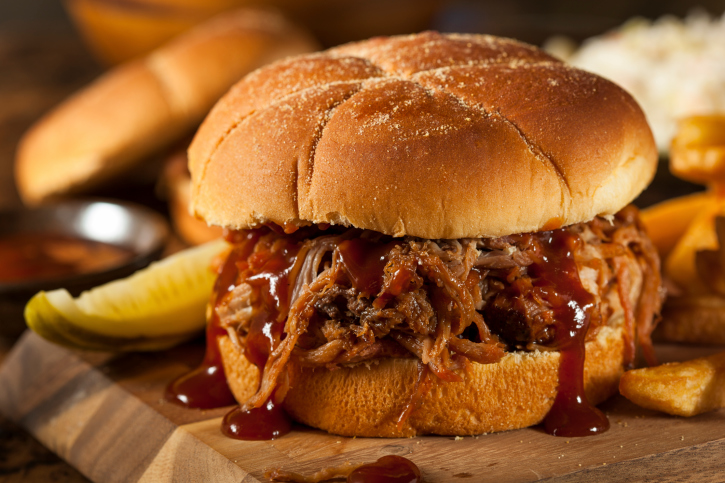 7. Pulled Barbecue Chicken
Southern Living explains that when you make shredded chicken, once it is completely cooled you can store it in the freezer for up to three months. With that in mind, use Oxmoor House's recipe for pulled chicken, slowly cooked in the crockpot. You can serve the chicken with all your usual fixings like coleslaw or as sandwiches. The recipes yields 8 servings.
Ingredients:
3 cups thinly sliced onion
1 teaspoon canola oil
1¾ pounds skinless, boneless chicken breast halves
1 cup ketchup
2 tablespoons cider vinegar
2 tablespoons molasses
1 tablespoon Dijon mustard
1 teaspoon onion powder
1 teaspoon ground cumin
½ teaspoon garlic powder
½ teaspoon hot sauce
Directions: Place onion a 4-quart oval electric slow cooker. Heat a large nonstick skillet over medium-high heat. Add oil to pan; swirl to coat. Add half of chicken, and cook 3 to 4 minutes on each side or until golden brown. Place chicken in a single layer on top of onion. Repeat procedure with remaining chicken. Combine ketchup and next 7 ingredients (through hot sauce); pour over chicken. Cover and cook on low for 4 hours until chicken is tender and sauce is thick. Remove chicken from slow cooker. Shred chicken with 2 forks, and stir into sauce. Cool completely before freezing.
More from Wall St. Cheat Sheet:
Want more great content like this? Sign up here to receive the best of Cheat Sheet delivered daily. No spam; just tailored content straight to your inbox.