Grilled Pizza: 5 Pies to Put on the Grates
It's almost summertime, so you know what that means. Two words: grilling season. Some look forward to summer's longer days, warmer temperatures, and fresher produce; others adore the season only because it means they can put anything and everything on their grill grates, and if that somebody is you, then you've come to the right place.
All you need to make grilled pizza is some store-bought or homemade dough, some olive oil, and of course, your toppings of choice. The varieties of pizza you can make on the grates are truly countless, so we've rounded up five to get you started. Happy grilling!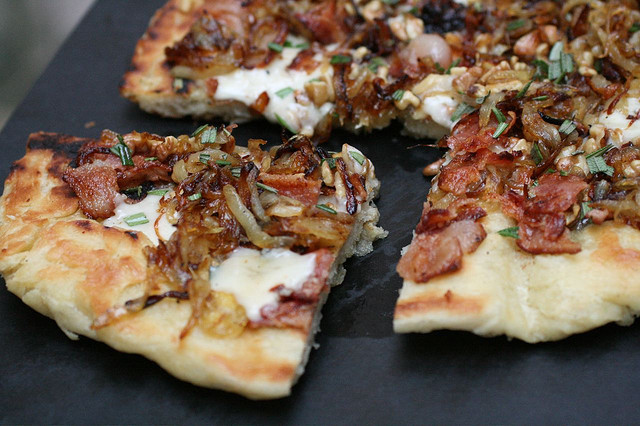 1. Classic Grilled Margherita Pizza
We can't start this list any other way than detailing how you can master the perfect Margherita pizza on the grill. Luckily, we have a recipe from Food Network to help. Like we said before, as long as you have a capable grill, grilled pizza is a cinch to master, and it takes hardly any time at all. This recipe details how you can make homemade dough, as well, but if you're feeling lazy one night, feel free to take a shortcut and buy your own store-bought dough.
Ingredients:
6 ounces pizza dough
1/4 cup extra-virgin olive oil, for brushing and drizzling
1/2 teaspoon minced fresh garlic
1/2 cup loosely packed shredded fontina
2 tablespoons freshly grated Pecorino Romano
6 tablespoons chopped canned tomatoes, in heavy puree
8 basil leaves
Pizza dough
1 tablespoon active dry yeast
6 cups high-gluten flour
2 1/2 teaspoons kosher salt
extra-virgin olive oil
Directions: Prepare a hot charcoal fire, setting the grill rack 3 to 4 inches above the coals. On a large, oiled, inverted baking sheet, spread and flatten the pizza dough with your hands into a 10- to 12-inch free-form circle, 1/8-inch thick. Do not make a lip. You may end up with a rectangle rather than a circle; the shape is unimportant, but do take care to maintain an even thickness.
When the fire is hot (when you can hold your hand over the coals for 3 to 4 seconds at a distance of 5 inches), use your fingertips to lift the dough gently by the Two corners closest to you and drape onto the grill. Catch the loose edge on the grill first and slide the remaining dough into place over the fire. Within a minute, the dough will puff slightly, the underside will stiffen, and grill marks will appear. Using tongs, immediately flip the crust over onto the coolest part of the grill. Quickly brush the grilled surface with olive oil. Scatter the garlic and cheeses over the dough and spoon dollops of tomato over the cheese. Do not cover the entire surface of the pizza with tomatoes. Finally, drizzle the pizza with 1 to 2 tablespoons of olive oil.

Slide the pizza back toward the hot coals, but not directly over them. Using tongs, rotate the pizza frequently so that different sections receive high heat; check the underside often to see that it is not burning. The pizza is done when the top is bubbly and the cheese melted, about 6-8 minutes. Serve at once, topped with the basil leaves and additional olive oil, if desired.
To make pizza dough: Sprinkle the yeast over 1/2 cup warm (105 to 110 degrees Fahrenheit) water and allow it to dissolve and activate, about 5 minutes. Combine the flour and salt and mound it onto a cool work surface, creating a high, walled well in the center. Combine the yeast mixture with 1 1/2 cups of cool water and pour into the well. Slowly begin to mix the water and flour, a little at a time, moving your fingers in short, counter-clockwise circles around the border of the water. When the dough is firm enough to hold its shape, scrape the remaining flour over it and knead until the mass is smooth and shiny, approximately 7 minutes.
Transfer the dough to a bowl that has been brushed with olive oil. Brush the top of the dough with olive oil to prevent a skin from forming, cover the bowl with plastic wrap, and let rise in a warm place away from drafts until doubled in bulk, about 2 hours. Punch down the dough and knead once more. Let the dough rise again for about 40 minutes, punch down again, and form dough into four balls.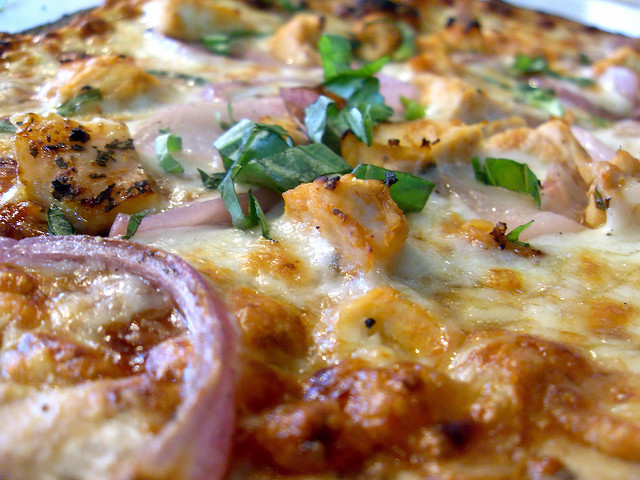 2. Grilled BBQ Chicken Pizza
Now we're talking. Could there ever be a more perfect pie? This recipe from Pillsbury.com just about screams summer, and let's just say you'll have one too many friends and family members who will be willing to share this dish with you when you grill it up. Next time you can't decide between chicken or pizza for dinner, have the best of both worlds and make both. This pizza comes together in no time, and it'll be gone even quicker.
Ingredients:
1 refrigerated artisan pizza crust
cooking spray
2 cups coarsely chopped, cooked chicken breast
3/4 cup barbecue sauce
2 cups shredded reduced-fat mozzarella cheese (8 ounces)
1/2 cup thinly sliced red onion
1 tablespoon chopped fresh parsley or cilantro, if desired
Directions: Heat gas or charcoal grill. Cut 18-by-12-inch sheet of heavy-duty foil; place on large cookie sheet. Spray foil with cooking spray. Unroll dough onto foil. Starting at center, press out dough into 14-by-10-inch rectangle. Spray dough with cooking spray. Turn dough rectangle over directly onto grill rack; peel off foil and return foil to cookie sheet, sprayed side up. Cook uncovered over medium-low heat 2- 4 minutes or until bottom is golden brown. (Watch carefully to prevent burning.) With wide metal pancake turner, turn crust over. Cook 1 to 2 minutes longer or until bottom is set but not brown. Carefully remove from grill; place browned side up on foil. Close grill.
In medium bowl, place chicken and barbecue sauce. Using two forks, toss until chicken is coated with sauce. Top crust evenly with chicken mixture. Sprinkle with cheese; top with red onion. Slide pizza from foil onto grill. Cover grill; cook 3-5 minutes longer or until crust is golden brown and cheese is melted. Sprinkle with parsley. To serve, cut into six rows by three rows.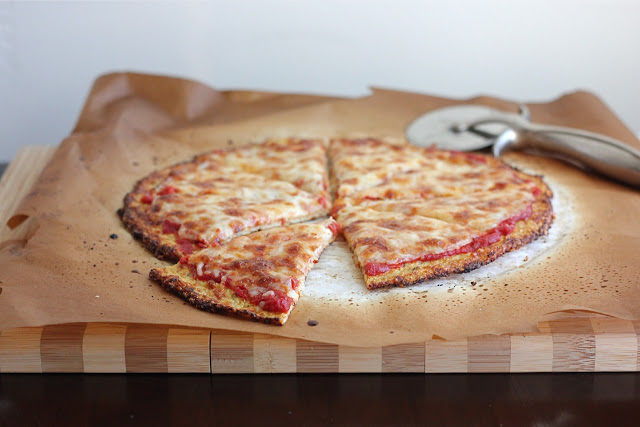 3. Smoky Corn and Black Bean Pizza
Got some vegetarians on your hands? Feed them this Smoky Corn and Black Bean Pizza from Eating Well. The flavors in this pizza complement each other so well that you won't even miss the meat, and the mozzarella on this pie isn't so bad, either. If you're looking for a healthy alternative for your typical meat-and-cheese-laden pizza, give this recipe a try. You're getting your vegetables in along with your whole wheat grains, and you even get a little kick from the smoked corn.
Ingredients:
1 plum tomato, diced
1 cup canned black beans, rinsed
1 cup fresh corn kernels, (about 2 ears)
2 tablespoons cornmeal
1 pound prepared whole-wheat pizza dough
1/3 cup barbecue sauce
1 cup shredded mozzarella, preferably smoked mozzarella
Directions: Preheat grill to medium. Combine tomato, beans, and corn in a medium bowl. Sprinkle cornmeal onto a large baking sheet. Stretch the dough into about a 12-inch circle and lay it on top of the cornmeal, coating the entire underside of the dough. Transfer the crust from the baking sheet to the grill. Close the lid and cook until the crust is puffed and lightly browned on the bottom, 4-5 minutes. Using a large spatula, flip the crust. Spread barbecue sauce on it and quickly sprinkle with the tomato mixture and cheese. Close the lid; grill until the cheese is melted and the bottom of the crust is browned, 4-5 minutes.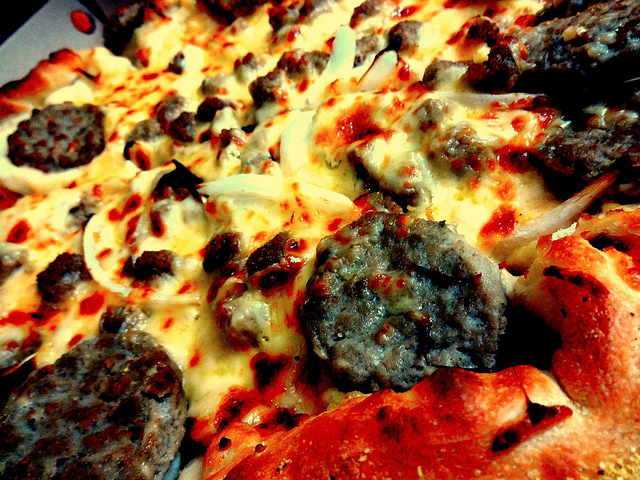 4. Roasted Pepper and Spicy Sausage Pizza
Appealing again to meat lovers, we come to this Roasted Pepper and Spicy Sausage Pizza from Chow.com. Somehow we imagine you'll have no trouble chowing down on this. There's nothing much better than spicy Italian sausage, and when you throw it on a pizza along with two types of cheese and peppers, then you really have a pie. Like the rest of our recipes, this pizza comes together in no time and tastes just as good as it looks. Hope you like your pizza hot!
Ingredients:
For the chile oil
1/4 cup extra-virgin olive oil
1 teaspoon red chile flakes
For the pizza
14 ounces basic grilled pizza dough
olive oil, for brushing
kosher salt, for sprinkling
2/3 cup basic pizza sauce
1/4 cup Parmesan cheese, grated on the smallest holes of a box grater (about 3/4 ounce)
1 cup basic roasted bell peppers, medium diced
8 ounces spicy Italian sausage, casings removed, cooked, and crumbled
8 ounces low-moisture mozzarella cheese, shredded
Directions: For the chile oil, heat oil in a small frying pan over low heat until hot, about 1 minute. Add chile flakes and remove from heat. Let cool to room temperature. Strain through a fine mesh strainer if desired, then transfer to a container and cover until ready to use.
For the pizza, heat half of a gas or charcoal grill to high (about 400 degrees Fahrenheit) and the other half to low (about 300 degrees Fahrenheit). Divide dough in half and roll into 2 rounds about 1/4-inch thick and 10 inches in diameter. Brush the top of one round with olive oil and sprinkle with salt.
Lay dough oiled side down on the hotter half of the grill and brush the top with oil and sprinkle with salt. Grill without moving until grill marks form on the bottom of the dough, about 2 minutes.
Flip dough with a spatula or tongs to the cooler half of grill. Spread half of the sauce evenly over the dough, sprinkle 1 tablespoon of the Parmesan cheese over the sauce, then top with half of the peppers, half of the sausage, and half of the mozzarella. Cover and grill, rotating if necessary to avoid any hot spots, until dough is lightly charred and cheese is melted, about 8-10 minutes. Transfer pizza to a cutting board, sprinkle 1 tablespoon more of the Parmesan over top, drizzle with desired amount of chile oil, slice, and serve. Repeat with second round of dough and remaining toppings.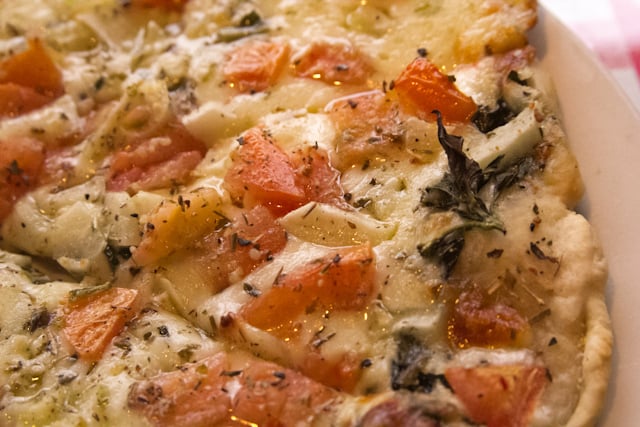 5. Grilled Heirloom Tomato and Goat Cheese Pizza
Last up is one more vegetarian pizza, but this one really packs a punch thanks to one little ingredient we like to call goat cheese. Goat cheese takes this Grilled Heirloom Tomato and Goat Cheese Pizza from My Recipes to a whole new level by perfectly complementing the heirloom tomatoes, mozzarella cheese, and garlic that is also sprinkled onto a pre-made dough crust.
Ingredients:
1 (13.8-ounce) can refrigerated pizza crust dough
cooking spray
1 garlic clove, halved
1 large heirloom tomato, seeded and chopped (about 10 ounces)
1/2 cup (2 ounces) shredded part-skim mozzarella cheese
3/4 cup (3 ounces) crumbled herbed goat cheese
Directions: Prepare grill to medium heat. Unroll dough onto a large baking sheet coated with cooking spray; pat dough into a 12-by-9-inch rectangle. Lightly coat dough with cooking spray. Place dough on grill rack coated with cooking spray; grill 1 minute or until lightly browned. Turn crust over. Rub with garlic; sprinkle with tomato and cheeses. Close grill lid; grill 3 minutes. Serve immediately.
More From Wall St. Cheat Sheet: