Happy Hiking: 8 of the Best Trails in the U.S.
Hiking is one of the best ways to get some exercise and enjoy all that nature has to offer. Throughout the U.S., there are beautiful landscapes just waiting to be explored. Take time to get out and experience these beautiful trails, some of which are smooth and easy, while others are more technical and challenging. Before you hit the trails, just remember to bring plenty of water, good shoes, healthy snacks, and some sunscreen. Happy hiking!
1. Denali National Park
This trail is for the super-experienced hikers out there. Alaska's Denali National Park provides hikers with some of the most rustic and rugged land in the U.S. "Denali is not like most national parks. Hikers here aren't typically cruising along on well-marked, cut trails. This is Alaska, after all, and as such, most of the hiking in Denali is trail-less," according to Discovery News. What can you expect when hiking through Denali? True backcountry hiking. Expect to create your own path and proceed with caution.
Along the way, it's very possible that you could experience uneven terrain and thick brush, which have the potential to add miles to your trip. This is by no means recommended for a novice hiker, but it is certainly a trail that an experienced hiker will appreciate. If you're a less experienced hiker looking for an easier (but still great) trail to hike, try Sitka National Historical Park Trail, which spotlights Native American and Russian history, per USA Today. You'll see totem poles and Sitka Spruce, and the trail circles back along the pretty Indian River.
2. Enchanted Rock
You can enjoy all that Texas has to offer exploring Enchanted Rock just outside of Fredericksburg. With a batholith that rises 425 feet above ground and magnificent views all around, Enchanted Rock is the perfect place for families, leisurely hikers and overnight campers to visit, according to Fodor's Travel. The Enchanted Rock State Natural Area includes a four-mile trail for hiking, and a straight climb to the top if you venture up the great granite dome. Fodor's Travel writes that hikers may be able to find a few places to climb along the back side of the rock too, but keep a watchful eye out for snakes.
3. Sag Valley Forest Preserve
Found thirty minutes from Chicago, the Sag Valley Forest Preserve is a hilly, 78-mile nature preserve decked out with ponds and plenty of trails. "But it's the 126-step limestone staircase at Swallow Cliff that attracts athletic hikers looking to feel the burn long after they've headed back home," Self writes. Look for the pebbles (but don't touch them!) that are along the massive staircase – it's what people use to keep track of their laps.
During your hike, you'll notice a large chunk of the single track is made up of decaying wood-chips, which makes for soft and bouncy padding beneath your feet, says Runner's World. The trails can be a little bit confusing – they tend to meander and crisscross – making it sometimes difficult to navigate, so be sure to bring your map! You'll also have plenty of chances to experience nature's beauty in peaceful solitude. 
4. Mossy Ridge Trail in Percy Warner Park
Look just outside of Nashville's cityscape, and you'll find Percy Warner Park just west of town. What should you expect? Breathtaking views filled with rolling hills, grassy fields and horse paths, making it the perfect place for hikers. According to Fodor's Travel, this is also a great place for families who are just hoping to take an easy stroll and enjoy the day. The Mossy Ridge Trail is a four-mile loop that provides an abundant assortment of views. There are very few rigorous hills to climb, so while this is perfect for beginners, it may not be challenging enough for experienced hikers.
Here's a bonus tip: If you'd prefer to end your hike heading downhill, head to the right at the trail head and continue the loop from there, Fodor's Travel suggests. The woods along the trail offers plenty of shade, views of natural springs and grassy meadows, and beyond the trail, there's a park that offers picnic tables and a playground.
5. Mahoosuc Notch Trail
Found in Maine, the Mahoosuc Notch Trail, which is part of the Appalachian Trail, provides hikers with a route that is best described as majestic and rugged. This seven-mile out-and-back trail is best done in the summer or fall, suggests Men's Health. Keep an eye out for the mile-long stretches of granite boulders that the trail is well known for – it's considered to be the toughest part of the Appalachian Trail. This is one of those trails that's best to leave to intermediate-level hikers. Men's Health definitely recommends leaving kids under 10 at home for this one.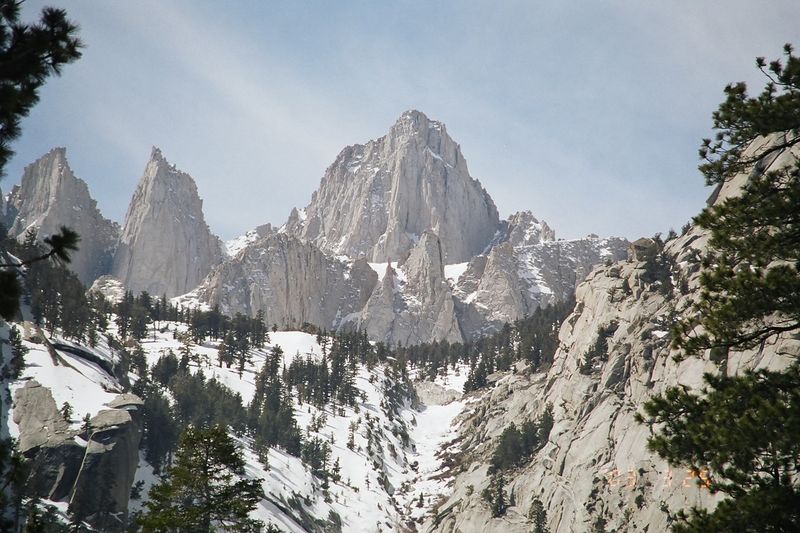 6. Mount Whitney
"Only three hours from Los Angeles, Calif., Mount Whitney holds the distinction of being the tallest mountain peak in the lower forty-eight. If you want to get that peak experience, you're going to have to make the 22-mile (35.4-kilometer) round-trip hike on its 100-year-old trail to the summit," writes Discovery News. Should you decide to attempt it, this is a trail that is only for the very serious and experienced hikers out there. Altitude sickness and fatigue play a huge role in this hike – only half of 16,000 people who attempt it each year are able to reach the summit.
As you've probably guessed, Mount Whitney is really tall. It is, in fact, 14,497 feet above sea level. It will test you every step of the way, from the challenging river crossings to the boulders to the snowfield you'll hit before reaching the summit. If you're one of the brave souls who is able to reach the top, spend some time soaking up the beautiful 360-degree view that only you and few others are privy to. Just save enough energy for the way down.
7. Superior Hiking Trail
You can hike from Duluth, Minn., straight to the Canadian border if you're up for a 277-mile hike. There are thirty trailheads and eighty-six backcountry campsites peppered throughout, making it a perfect place for a daytime hike or an overnight stay. (Note: you probably shouldn't expect to tackle all 277 miles at once.) What makes this trail so special? Beautiful views of Lake Superior, one-of-a-kind bluffs and cliffs, rivers and waterfalls galore, and trails that wind through forests of birch, aspen, maple, spruce, and balsam, writes Men's Health. "This trail is quite simply the best long hike in the country between the Continental Divide and the AT."
8. Pacific Crest Trail
Among the "Big Three," this trail covers more than 2,600 miles from California, Oregon and Washington. A hiking excursion on the Pacific Crest Trail will show you the desert's true beauty, Sierra Nevada's unique glaciated expanses and the volcanic peaks of the Cascade Range. Thousands of hikers and equestrians enjoy this trail each year, according to the Pacific Crest Trail Association.
This expansive trail is good for day and section hiking that can be done in a day or a weekend, as well as long-distance hiking for the hardcore hikers out there. The best times to hike it are from late April to late September, the Travel Channel suggests. 
More From Wall St. Cheat Sheet: