5 Hash Recipes Beyond Corned Beef and Potato
When it comes to cooking, there are two types of hash: One has diced vegetables and, often, meat browned together in a pan and usually served for breakfast. The other contains very finely shredded meat, usually pork, cooked into a thick stew or swimming in barbecue sauce and served over rice in the south. We're talking about the first.
It's most commonly presented as corned beef hash at a diner, but it's not a dish solely confined to corned beef and potatoes. Hash is one of the best uses for leftover vegetables, whether they ever made it into last night's dinner. In these recipes, we expand the horizons of hash into awesome meals just begging to be topped with a fried or poached egg.
1. Red Flannel Hash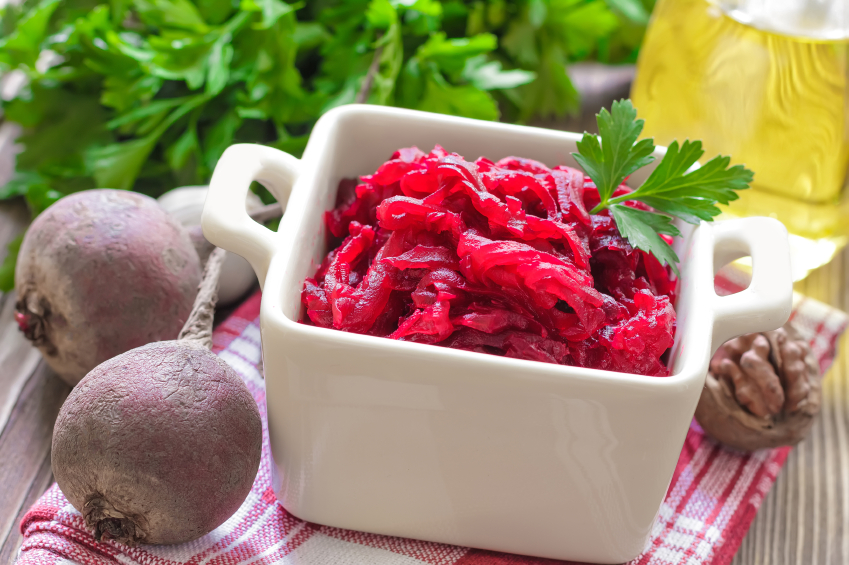 The next step up from corned beef hash is flannel hash, made with beets and a bit of pure chile powder, preferably ancho, like in this recipe from Food & Wine. Fresh corned beef is better than canned corned beef, but use what you have to. Potatoes can be left unpeeled or can be peeled. Definitely peel the beets.
Ingredients:
1½ pounds all-purpose potatoes
2 medium beets
1 pound corned beef, finely diced
1 medium onion, finely chopped
1 teaspoon pure mild chile powder, preferably ancho
Salt and freshly ground pepper
6 tablespoons unsalted butter
6 large eggs
Directions: Cover the potatoes with water in a medium saucepan, and boil until the potatoes are just tender, about 20 minutes. Drain and let cool so you can handle potatoes. Finely chop. Cover the beets with water in a separate saucepan and boil until tender, about 20 minutes. Drain and let cool slightly; peel and finely chop the beets.
Toss the potatoes and beets with the corned beef, onion, and chile powder in a large bowl; season with salt and pepper.
Melt the butter in a large cast-iron skillet. Add the corned beef mixture and cook over medium heat. Avoid stirring until the mixture is golden and crusty on the bottom, about 10 minutes. Using the back of a large spoon, make 6 evenly spaced pockets in the hash. Crack an egg into each depression, cover the skillet and cook until the eggs are just set, about 5 minutes. Serve immediately.
2. Crispy Hash Breakfast Skillet
Trade your corned beef for bacon in this recipe from Sally's Baking Addiction. It helps get that super crispy texture that is, arguably, the best part of a good hash. Sally describes herself as a bit of a hash snob, so you know she's really thought out this dish. Elect to shred your own potatoes for this rather than using frozen hash browns, as they can get a bit gummy after a while in the skillet. Make sure to give it a good squeeze, too, to get rid of the excess moisture that can impede good crisping. For extra appeal, she adds diced bell peppers and smoked gouda.
Ingredients:
2 medium Russet or Yukon Gold potatoes
3 strips bacon
1 large bell pepper, chopped
¼ teaspoon salt
¼ teaspoon ground pepper
4 large Eggland's Best eggs
⅓ cup shredded smoked Gouda cheese
Chopped fresh or dried parsley
Directions: Preheat oven to 400 degrees Fahrenheit. Shred the potatoes. Place on a clean towel, wrap them, and squeeze them out over the sink. You want to get rid of as much moisture as you can. Transfer the potatoes to a plate lined with paper towels. Cook in the microwave on high for 2 minutes. Set aside.
Lay the bacon on a large skillet and turn the heat on low. Cook the bacon on both sides just before it becomes crispy. Remove from heat, reserve the grease, and set bacon on a plate lined with paper towels. Once the bacon is slightly cool, chop it up.
Turn up the stove heat to medium, adding bacon grease. When bacon grease begins to simmer, add the shredded potatoes. Stir to coat and then spread them evenly in the pan. Allow to cook for about 2 minutes, untouched. Add the bell pepper, salt, and black pepper. Stir once or twice, then flatten ingredients using the back of a spatula. Allow to cook untouched for 3 minutes. Stir, then cook for 2 more minutes.
Continue cooking until the potatoes are nice and brown. Stir in the chopped bacon and cook for 2 minutes. Remove skillet from the heat and flatten out the top of the hash using the back of a spatula. Using the back of a spoon, make 4 shallow indentations into the hash.
Crack an egg into each indentation. Top with shredded cheese. Transfer skillet to the oven and bake until the egg whites set, about 8 to 10 minutes. Season with salt and pepper to taste and top with the parsley. Serve.
3. Crispy Potato, Chorizo, and Green Chili Hash With Avocado and Eggs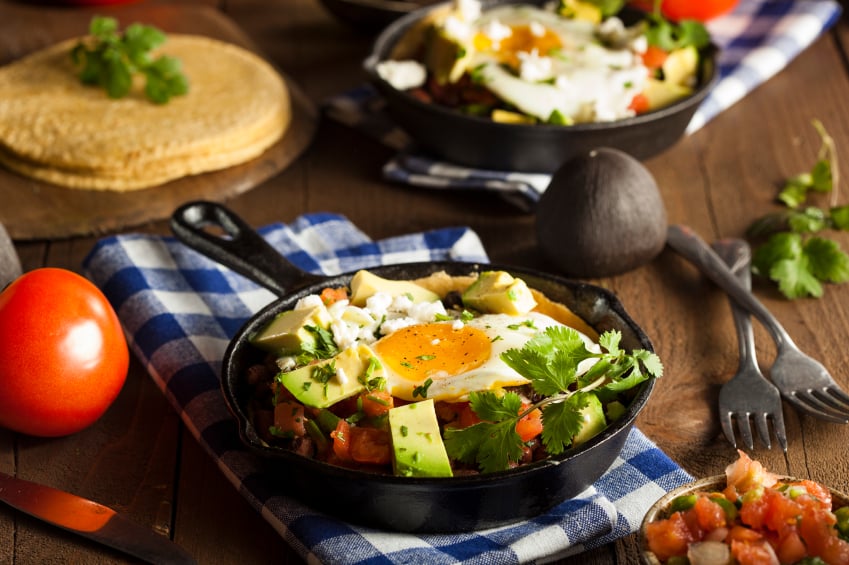 This recipe from Serious Eats introduces a little spice to your hash. For the crispiest potatoes, grab some Russets, but know that they're quick to fall apart. To preserve the shape while still getting a little crispness, rely on Yukon Golds. This recipe asks you to cook everything separately. It may seem like a waste of time, but it ensures that everything is perfectly cooked. Use Spanish chorizo, a cured pork sausage, rather than raw ground Mexican chorizo for this dish.
Ingredients:
1½ pounds potatoes, cut into ¾- to ½-inch dice
2 tablespoons distilled white vinegar
Kosher salt
4 ounces Spanish chorizo, diced
¼ cup vegetable, canola, or olive oil, divided, plus more as needed
½ teaspoon ground cumin
¼ teaspoon ground paprika
Freshly ground black pepper
6 scallions, white and light green parts cut into 1-inch lengths, greens sliced and reserved separately
1 poblano pepper, cut into ½-inch dice
4 eggs
¼ cup roughly chopped fresh cilantro leaves
½ small avocado diced
½ cup homemade or store-bought salsa verde for serving, optional
12 warm corn tortillas for serving, optional
Directions: Preheat oven to 375 degrees Fahrenheit. In a large saucepan, place potatoes and cover with 2 quarts cold water. Add vinegar and 2 tablespoons kosher salt. Bring to a boil. Once boiling, reduce to a simmer and cook until barely tender, about 5 minutes after coming to a boil. Drain potatoes in a colander and let drain for 2 minutes.
In a cast-iron skillet, place chorizo chunks and place over medium heat. Cook, stirring, until chorizo is crisp and fat has rendered out, about 10 minutes total. Remove chorizo with a slotted spoon to a large bowl, leaving fat in skillet. Set chorizo aside.
When potatoes are drained, add 3 tablespoons oil to skillet and heat over medium-high heat. Add drained potatoes and cook, stirring and tossing occasionally, until potatoes are deep brown and crisp on all sides, about 20 minutes total. Add cumin and paprika and cook, stirring, until fragrant, about 30 seconds. Season to taste with salt and pepper. Transfer potatoes to bowl with chorizo and set aside.
Add remaining tablespoon oil to skillet and heat over high heat until shimmering. Add scallion whites and light greens and poblano and cook, stirring occasionally, until charred, about 2 minutes. Season to taste with salt and pepper; transfer to bowl with potatoes and chorizo. Toss contents of bowl and return to skillet. Make 4 wells in potato mixture.
Break 1 egg into a small bowl and slide into a fine mesh strainer over the sink. Swirl egg very gently until excess loose white drains away. Carefully add to one of the cavities in the skillet. Repeat with remaining three eggs.
Drizzle eggs with a few drops of oil, season with salt and pepper, and transfer to oven. Cook until whites are barely set but yolks are still runny, about 10 minutes. Remove from oven and garnish with sliced scallion greens, chopped cilantro, and avocado. Serve immediately with salsa and tortillas.
4. Chickpea and Potato Hash
For a vegetarian hash just as satisfying as a meaty hash, look no further than this light chickpea and potato hash from Eating Well. This is awesome as a transcultural brunch dish served with warm pita and a cucumber salad with mint and yogurt, but it's just as good on its own for a more impromptu meal. For convenience, this recipe calls for frozen shredded hash brown potatoes, but feel free to shred your own — just don't forget to wring them dry.
Ingredients:
4 cups frozen shredded hash brown potatoes
2 cups finely chopped baby spinach
½ cup finely chopped onion
1 tablespoon minced fresh ginger
1 tablespoon curry powder
½ teaspoon salt
¼ cup extra-virgin olive oil
1 (15-ounce) can chickpeas, rinsed
1 cup chopped zucchini
4 large eggs
Directions: In a large bowl, combine potatoes, spinach, onion, ginger, curry powder, and salt. In a large nonstick skillet, heat oil over medium-high heat. Add the potato mixture and press into a layer. Cook, without stirring, until crispy and golden brown on the bottom, 3 to 5 minutes.
Reduce heat to medium-low. Add in chickpeas and zucchini, breaking up chunks of potato, until just combined. Press back into an even layer. Carve out 4 wells in the mixture. Break eggs, one at a time, into a cup and slip one into each indentation. Cover and continue cooking until the eggs are set, 4 to 5 minutes for soft-set yolks.
5. Harvest Hash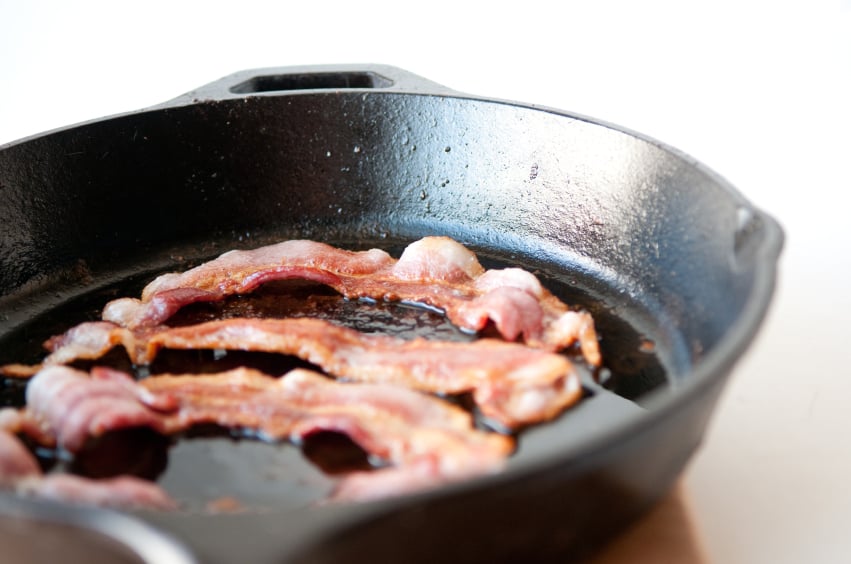 This hash from The Vermont Farm Table Cookbook is just about everything you could possibly want in a delicious hash. This particular hash comes from the Warren General Store, a small town in Mad River Valley. It's smoky and sweet and big and bold and earthy all at once. This dish can feed a crowd, so don't worry about running out. Just make sure to use a big skillet.
Ingredients:
1 pound Brussels sprouts, trimmed and halved
3 pounds butternut squash, peeled, seeded, and diced
1 large sweet potato, peeled and diced
2 medium red potatoes, peeled and diced
3 tablespoons olive oil
12 ounces maple-cured bacon, cut into ½-inch strips
3 McIntosh apples, peeled, cored, and diced
1 shallot, diced
2 garlic cloves, minced
1 tablespoon chopped fresh thyme
1 cup apple cider
4 ounces cheddar cheese, shredded
Directions: Preheat oven to 350 degrees Fahrenheit. Lightly grease a baking sheet. In a large bowl, add the Brussels sprouts, squash, sweet potatoes, red potatoes, and olive oil and toss to coat. On the baking sheet, spread the vegetables in a single layer and season generously with salt and pepper. Roast the vegetables, stirring occasionally, until fork tender, about 50 minutes.
In a large skillet over medium-high heat, cook the bacon until crisp. Reduce heat to medium and add the apples, shallot, garlic, and thyme. Sauté until soft and translucent, about 3 minutes. Add the vegetables and cider, bring to a simmer, and cook until the cider is absorbed, about 1 minute. Season with salt and pepper to taste. Serve with cheddar sprinkled on top.