6 Breakfast Recipes For Healthy Meals You Can Take to Work
A healthy breakfast sometimes falls by the wayside when time is tight, but that shouldn't be your excuse for sinking your teeth into donuts and muffins at your desk just because you had no extra time to prepare your morning meal at home.
Instead of breaking your health pact by 9 a.m. and indulging on the always available donuts and muffins at work, pack one of these six healthy breakfasts that can easily be prepared in the office and eaten at your desk. They're not fussy or fancy, but they are appetizing, and they're guaranteed to keep you coming back for healthier breakfast options more and more.
1. Oatmeal or Overnight Oatmeal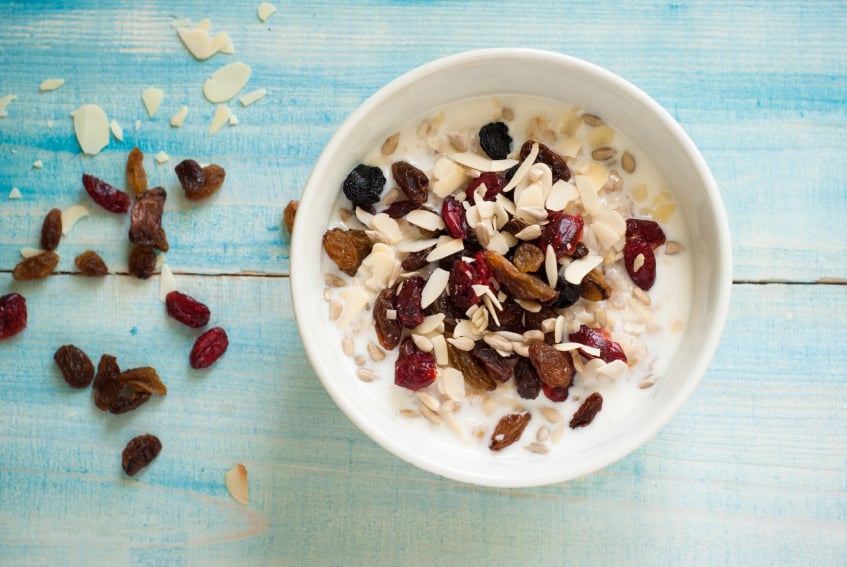 Perhaps one of the best breakfasts you can easily prepare in the office kitchen and enjoy morning after morning at your desk is hot oatmeal. A steaming bowl of oats is comfort food at its best, and it'll warm you right up, whether the weather outside is brisk, or your office is just over air conditioned. Oatmeal can seem daunting to prepare, but all it really takes is ½ cup of dry oats, 1 cup of water, and 3 minutes in the microwave. Sprinkle some cinnamon and brown sugar on your hot cereal when it's ready, and you're good to go. Whole grain oats are healthy and satiating thanks to the fiber and protein profile of the breakfast, and the ways you can customize them are endless.
You also have the option of preparing overnight oats if you like your oatmeal cold, and/or don't want to use the office microwave. Simply put, overnight oats are oats that are prepared the night before, allowing them to absorb the liquid they are soaked in. Some people make overnight oats with dairy milk; others prepare water or almond milk. Some add yogurt to their overnight oats to amp up its protein content, others let the breakfast be. Here's a recipe from Kath Eats to get you started.
Ingredients:
⅓ cup rolled oats
⅓ to ½ cup milk
⅓ cup plain yogurt
½ banana
½ tablespoon chia seeds
Pinch salt
Pinch cinnamon
See recipe directions at Kath Eats. 

2. Breakfast Smoothies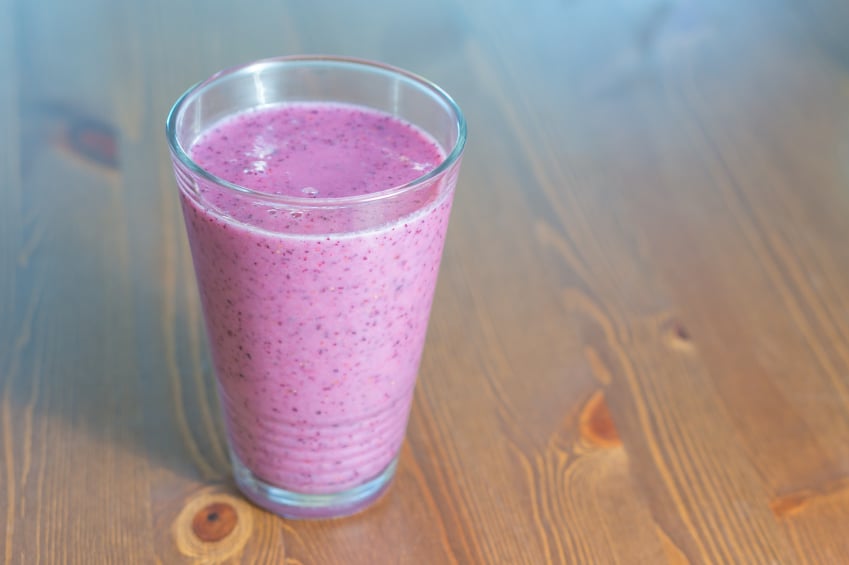 Smoothies are great in that they are completely customizable and can hide the taste and texture of less appetizing healthy ingredients (hello, spinach); however, they also can turn accidentally indulgent if the wrong add-ins are thrown into the mix.
If you're trying to start your morning out on the right foot, pay close attention to what you throw in the blender, and be careful to throw more fruits and veggies in, rather than milk and juice. And if you're unsure what path to go down, search the Internet for solid recipes such as this Blueberry Basic Smoothie, featured in Fitness Magazine. 
Ingredients:
1 cup blueberries
¼ cup basil leaves
½ cup spinach leaves
1 frozen banana
2 cups unsweetened almond milk
See recipe directions at Fitness Magazine. 
3. Homemade Granola and Greek Yogurt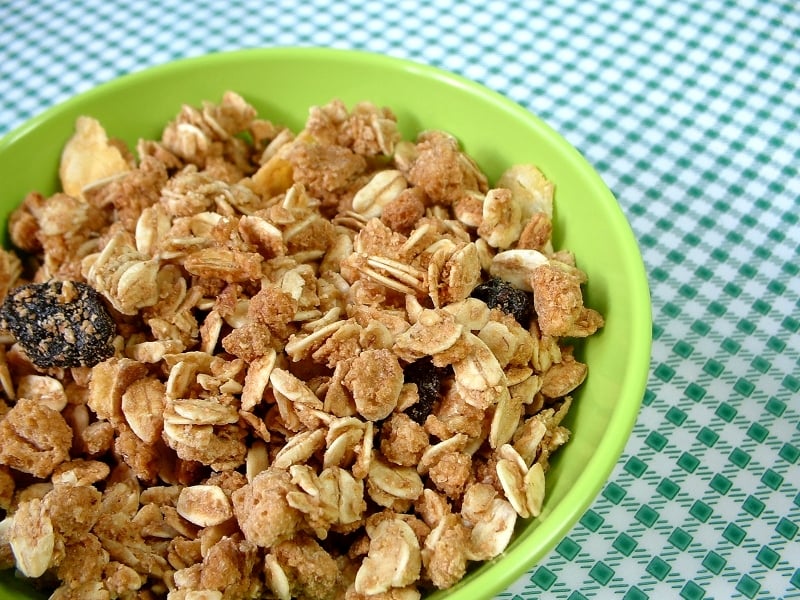 While sitting at your desk first thing in the morning, you can also go the Greek yogurt route and get your protein in early. Greek yogurt is good on its own, but it's especially appealing when berries and a handful a granola are thrown into the mix, so instead of pouring yourself yet another bowl of sugary cereal, consider replacing your guilty carb pressure with granola.
Granola can be a healthy alternative to stock cereal, as long as it is prepared the healthy way, and if you bake a batch every Sunday for the week ahead, all you need to do on workday mornings is grab your yogurt to go alongside your granola. Here's a granola recipe highlighted on A Cozy Kitchen to get your started.
Ingredients:
1 cup almonds, chopped
½ cup walnuts, chopped
¼ cup macadamia nuts, chopped
¼ cup sunflower seeds
1 tablespoon, plus 1 teaspoon, black sesame seeds
¼ cup coconut oil
¼ cup honey
¾ teaspoon salt
½ cup goldenberries
¼ cup goji berries
See recipe directions at A Cozy Kitchen. 
4. Five-Ingredient Granola Bars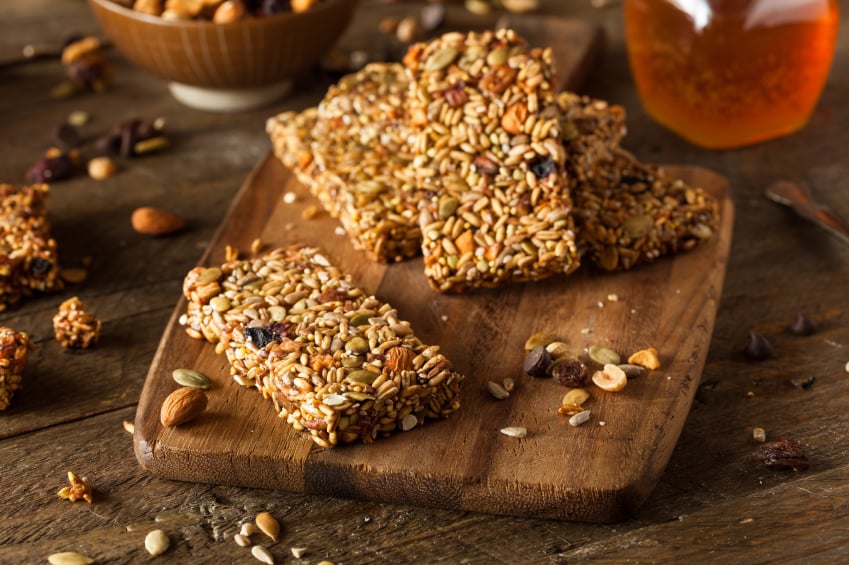 You can also form that granola from the previous recipe into bars and have those alongside your coffee in the morning. Minimalist Baker has the recipe for five-ingredient granola bars that come together in 15 minutes or less, and this breakfast is definitely healthy.
Devoid of added sugar, unpronounceable ingredients, and unappetizing preservatives, these bars are a delicious crunchy treat to enjoy in the morning.
Ingredients:
1 cup packed dates, pitted
½ cup honey
½ cup creamy salted natural peanut butter
1 cup roasted, unsalted almonds, roughly chopped
1½ cup rolled oats
See recipe directions at Minimalist Baker. 
5. Egg Muffins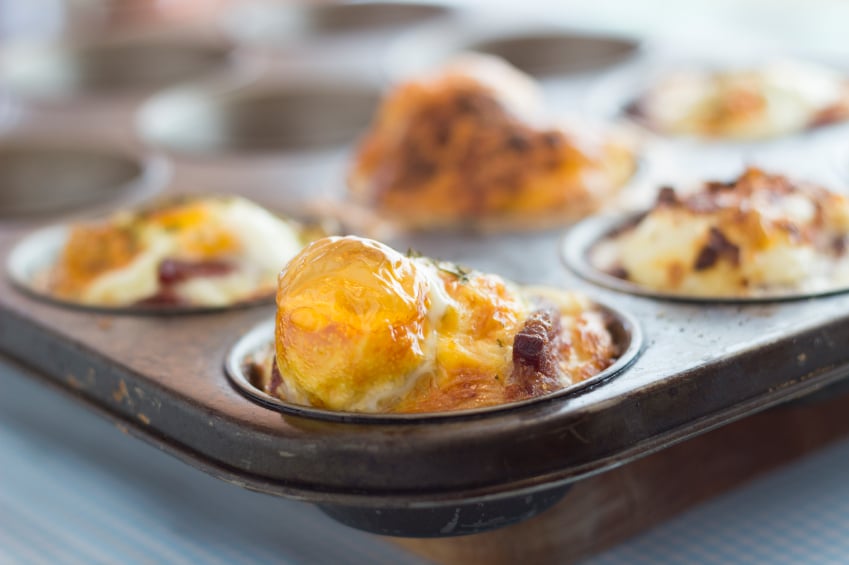 Eggs can also make their way into healthy desk breakfasts, and Heather from Multiply Delicious proves it with this recipe for Egg Muffins. Many people are familiar with brunch frittatas or egg stratas, but what they don't realize is what they usually enjoy only on Saturday and Sunday mornings can also be a weekday breakfast when prepared in muffin tins rather than large skillets.
When you know you have a busy week ahead, take the time to prepare these egg muffins that will last in the refrigerator for days. These muffins are high-protein, low-carb, will keep you satiated all morning, and are delicious. You'll thank us later for highlighting this recipe — just don't blame us if you start getting jealous stares from your coworkers.
Ingredients:
2 mild chicken sausages, removed from casing
¼ cup red bell pepper, diced
¼ cup carrots, grated
½ cup fresh spinach, chopped
2 to 3 tablespoons fresh basil, diced
½ teaspoon sea salt
¼ teaspoon fresh ground pepper
10 to 12 pastured eggs
See recipe directions at Multiply Delicious. 
6. Buckwheat Bakes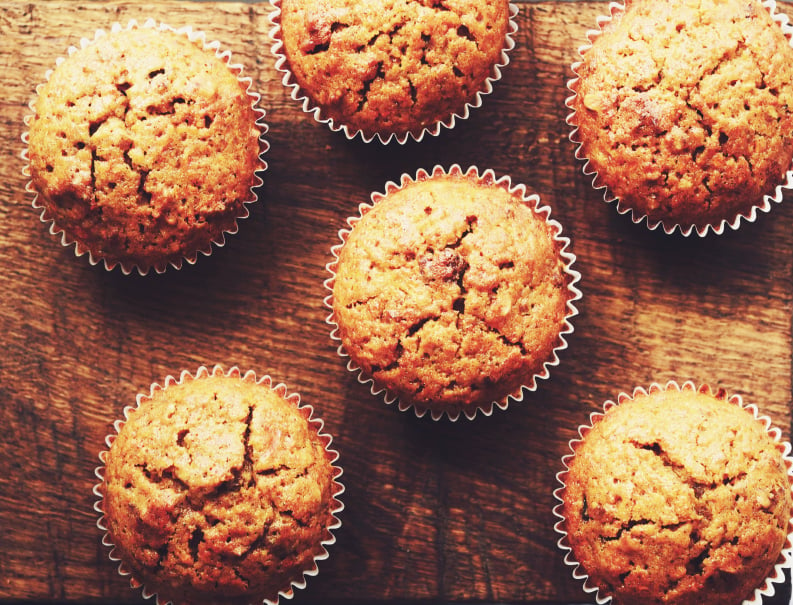 Last but not least: Buckwheat Bakes. Never heard of them? You're in for a (healthy) treat. Buckwheat bakes are different in that — although they somewhat resemble a muffin or other baked good — they're actually much more dense thanks to the buckwheat flour used in them. The bakes are extremely customizable, and can be made as healthy or as decadent as you wish, but whatever way you bake them, they're a good option for the office because they freeze well, hold their shape, and can easily be prepared ahead of time and warmed up in the office microwave whenever it's time for breakfast.
Here's a recipe for a Banana Bread Buckwheat Bake from Edible Perspective to get you started. This healthy morning meal is only sweetened by banana, and that just leaves more room for the toppings that can go on it.
Ingredients:
5 tablespoons raw buckwheat flour
1½ tablespoons almond meal
1½ tablespoons chopped walnuts
¾ to 1 teaspoon cinnamon
¼ teaspoon baking powder
½ medium banana
1 large egg
3 tablespoons milk
½ teaspoon vanilla extract
See recipe directions at Edible Perspective.