Healthy Granola Bar Recipes Using 4 Ingredients or Less
Granola bars are the perfect snack. They're great to take on the go, are a wonderful addition to lunch, and when made with the proper ingredients, are a great source of vitamins and minerals. The only downside to homemade granola bars is that they often require a long list of steps and an overwhelming amount of ingredients, which can prevent you from making them on a regular basis. But granola bars don't have to be high maintenance. In fact, four ingredients and a few minutes of prep time are all you need to prepare these six granola bar recipes.
1. 4-Ingredient No-Bake Chocolate Peanut Butter Granola Bars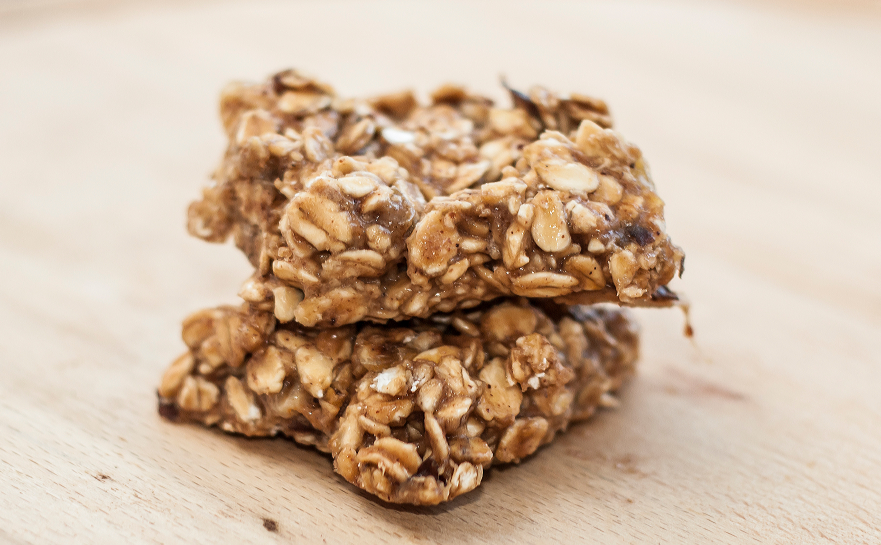 Is your kitchen stocked with old-fashioned oats, peanut butter, honey, and chocolate chips? If so, you can easily make these four-ingredient bars. Practical Stewardship notes that this recipe can even be tweaked to meet a myriad of dietary needs from gluten-free (using certified gluten-free oats) to dairy-free with the right chocolate chips. "This recipe will be as healthy as your chocolate chips, so opt for dark chocolate chips for optimal healthiness."
For bars that are vegan, use maple syrup or agave in place of honey. Dietary flexibility isn't the only benefit to these bars, they're also easy to prepare. Melt your peanut butter and honey, combine them with the oats and chocolate chips, mash the granola bars into a pan, let cool, and enjoy.
Visit Practical Stewardship for this recipe.
2. 4-Ingredient Banana Oat Bars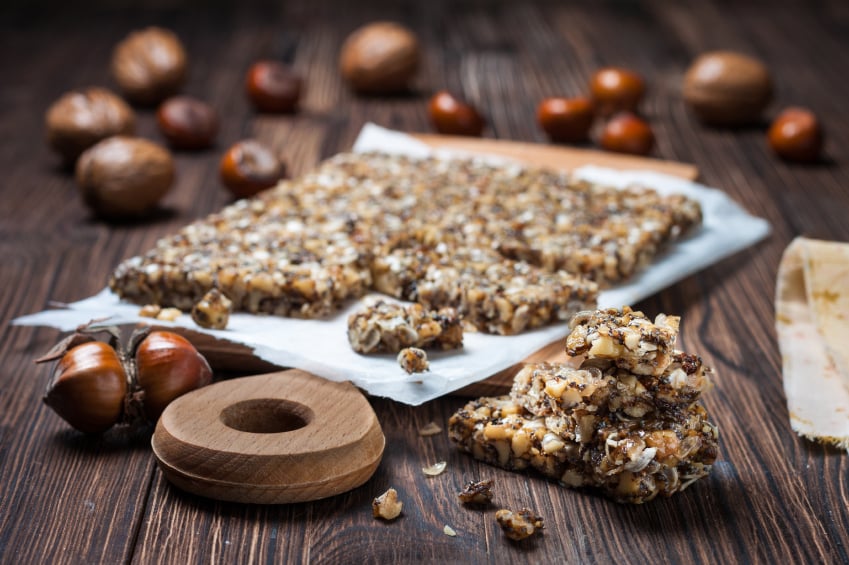 Bananas replace the sugar, eggs, and fat in these simple granola bars. You can also incorporate a few add-ins, such as vanilla, salt, and cinnamon to The Kitchn's recipe, which was adapted from Friesen Cold. "These optional ingredients all add a little extra dimension, but the essential recipe is still really just four ingredients: bananas, oats, dates, and chopped nuts. (I mean, you could argue that it's just three: I think you could leave the nuts out without a problem.)" To make this recipe, mash your bananas, mix your ingredients together, bake for 30 minutes, and enjoy!
Visit The Kitchn for this recipe.
3. Peanut Butter and Honey Chewy Granola Bars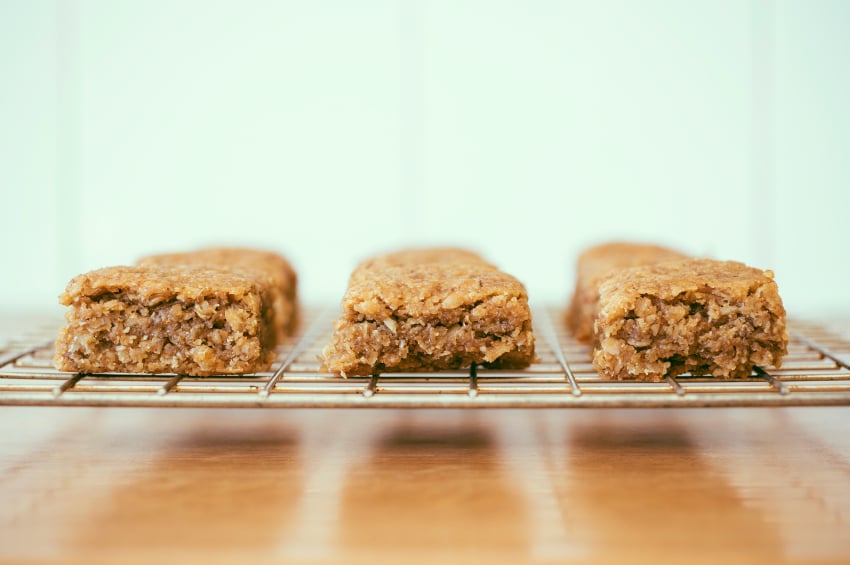 Make wholesome granola bars using three ingredients and minimal effort. Detoxinista's recipe calls for oats, peanut butter, and honey, but there are plenty of substitutions that work just as well. For example, you can use your favorite nut butter in place of peanut butter, and brown rice syrup or maple syrup can be used instead of honey.
Detoxinista notes that sea salt is another great addition to these bars, which are "naturally sweetened and loaded with fiber, so they won't spike your blood sugar the same way a store-bought bar might. Plus, they're gluten-free — as long as you make sure to buy oats that are certified gluten-free." These bars will last at room temperature for about a week, and can be stored in the freezer for up to six months.
Visit Detoxinista for this recipe.
4. Granola Bars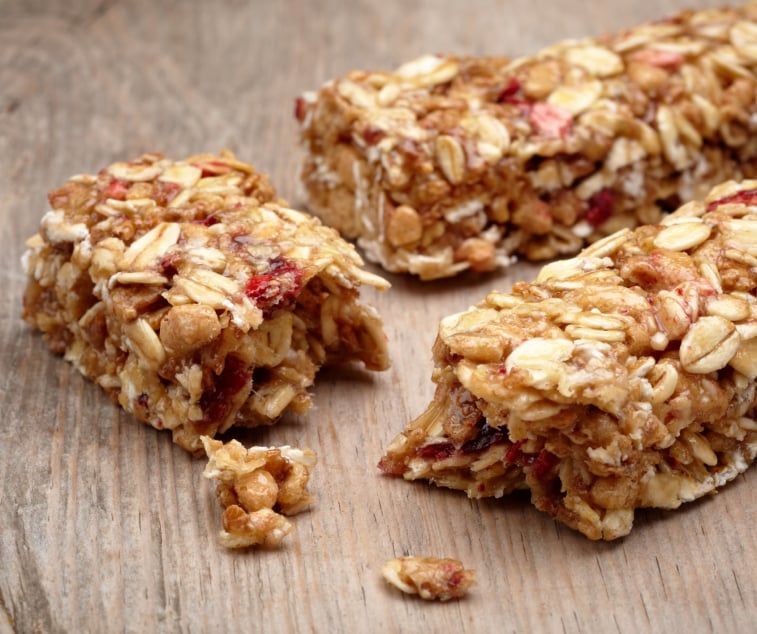 These granola bars work wonderfully as a pre-workout snack or as a midday pick-me-up. It Doesn't Taste Like Chicken notes that "they are lightly sweet, chewy while still having the crunch of nuts and oats, and I love adding some dried fruit for a little burst of fruity deliciousness every now and then." Homemade granola bars tend to be a bit more crumbly than store-bought versions, so be sure to wrap them tightly or pack them in an air-tight container. This recipe was adapted from Minimalist Baker.
Visit It Doesn't Taste Like Chicken for this recipe.
5. 4-Ingredient Granola Bars
A Love a Fare's 4-Ingredient Granola Bars will brighten your day. Consisting of tropical mango passion granola, cranberries, sun butter, and agave nectar, these bars "are super easy to make and the only reason I added cranberries was for color. I need a little color in my food. It makes all the difference." Not only do cranberries give your bars a pop of color, but they also provide them with many noteworthy nutrients.
Health says that cranberries can help keep your heart healthy, and they contain antioxidants and anti-inflammatory compounds that protect the brain from age-related memory and coordination loss. Runner's World notes that cranberries may inhibit cancer cell growth by causing the harmful cells to die off, and can work to boost your mouth health by preventing harmful acid production. As tempting as it may be to dig into these bars immediately after preparing them, let them set in the freezer for at least 30 minutes first. This will prevent them from being overly crumbly.
Visit a Love a Fare for this recipe.