Healthy Lunches You Can Make in a Microwave
Tired of eating frozen lunches and peanut butter and jelly sandwiches for your midday meal? Break out of your boring weekday lunch routine by preparing healthy, wholesome meals in the microwave. Simply prepare your ingredients the night before, then zap them the next day. You can even utilize your office microwave to create nutritious five-star lunches at work. These seven recipes ensure you never have to settle for a bland midday meal again!
1. Fresh Burrito Bowl
You don't need to visit Chipotle to satisfy your burrito bowl cravings. This meal even works for those who need to head to the office. Bring some precooked chicken breast, fresh produce, Greek yogurt, salsa, and spices to work with you, and you can make your own in less than 10 minutes. PopSugar's healthy lunch recipe contains 350 calories, 3.8 grams of fat, 8.3 grams of fiber, and 42.6 grams of protein.
Ingredients:
¼ cup black beans
1 teaspoon chicken broth
Pinch of cumin
Pinch of cayenne
Pinch of garlic powder
½ cup red cabbage, sliced thin
3 ounces precooked grilled chicken breast, sliced thin
2 tablespoons nonfat Greek yogurt
2 tablespoons fresh salsa
Fresh cilantro, for garnish
Sliced green onions, for garnish
Head to PopSugar for the full recipe.
2. Microwave Frittata
Ham, onion, pepper, and eggs create a filling frittata that will curb your midday hunger. Taste of Home's recipe yields 4 servings, so cut the ingredients down accordingly if you only need a single-serving size.
Ingredients:
1 tablespoon butter
1 cup cubed fully cooked ham
½ cup chopped onion
¼ cup chopped green pepper
4 eggs, lightly beaten
Salt and pepper, to taste
Head to Taste of Home for the full recipe. 
3. Homemade Single-Serve Microwave Macaroni and Cheese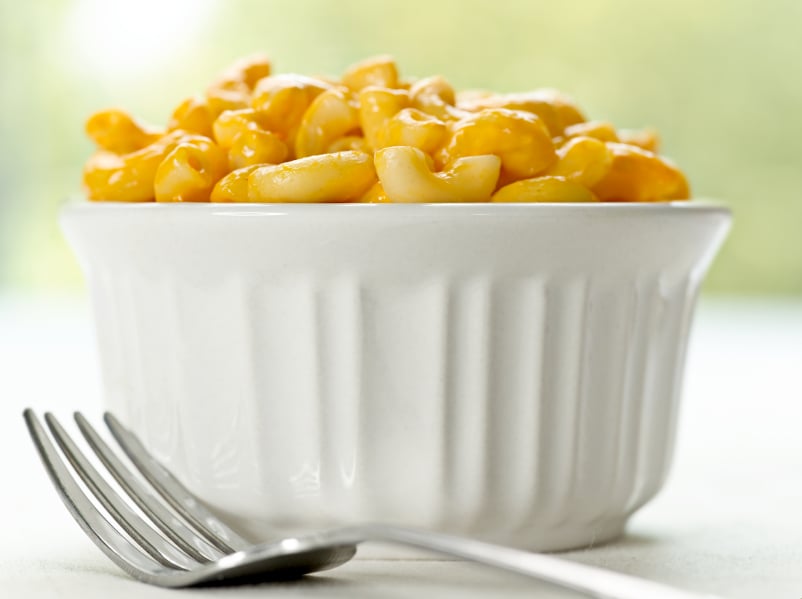 Ella Claire creates a healthy version of Easy Mac you can make without boiling a massive pot of water. If you're hoping to make your whole-wheat pasta dish even healthier, use reduced-fat cheese instead of the full-fat version. Be sure to use a large mug or bowl when preparing this dish; it will boil over otherwise!
Ingredients:
⅓ cup whole-grain elbow macaroni
⅓ cup, plus ¼ cup water
⅓ cup shredded cheddar jack cheese
About 2 teaspoons milk
Head to Ella Claire for the full recipe. 
4. Make Ahead Wraps
You can make Food.com's rice and bean-filled wraps ahead of time and freeze them individually. When you're ready to enjoy a wrap for lunch, bring one to work and heat it in the microwave. Joy Bauer notes that heart-healthy beans are high in soluble fiber, folate, magnesium, potassium, and protein. To make your lunch even more nutritious, use whole-wheat tortillas in place of flour tortillas. The recipe yields 16 servings.
Ingredients:
1 cup uncooked brown rice
4 cups water
1 (4-ounce) package southwest seasoning
4 (15-ounce) cans black beans
2 (15½-ounce) cans pinto beans
1 (10-ounce) can whole kernel corn
1 (10-ounce) jar salsa
16 (10-inch) flour tortillas
1 teaspoon cumin
Salt and pepper
1 teaspoon garlic powder
1 teaspoon oregano
1 onion, chopped
1 cup cheddar cheese, shredded
1 cup monterey jack cheese, shredded
Head to Food.com for the full recipe. 
5. Braided Salmon
Thanks to your microwave, you can make a well-seasoned and moist salmon fillet to enjoy for lunch. If you'd like to cut down on prep time, omit the braiding step and cut your fillet into four pieces instead. You can also adjust the ingredients accordingly if you only want a single-serving size. One serving of Cooking Light's dish contains 258 calories, 12.7 grams of fat, and 32.6 grams of protein.
Ingredients:
2 teaspoons finely chopped fresh ginger
½ teaspoon salt
½ teaspoon peanut oil
1 (1½-pound) skinless salmon fillet
½ cup chopped green onions
2 teaspoons low-sodium soy sauce
1 teaspoon dark sesame oil
Head to MyRecipes to get this full recipe from Cooking Light. 
6. Asian Chicken Salad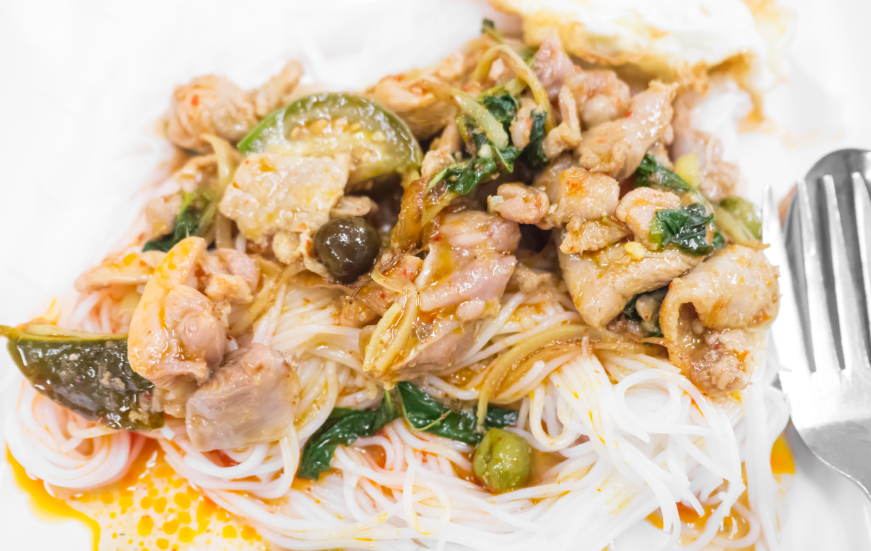 Create a nutritious Thai-inspired lunch that consists of rice noodles, fish sauce, zesty seasonings, peanuts, and chicken. Good Housekeeping's recipe via Delish yields 4 serving, with each containing 350 calories, 15 grams of fat, 7 grams of fiber, and 27 grams of protein. Similar to the others, we suggest adjusting the ingredients if you only want a single-serving portion.
Ingredients:
4½ ounces vermicelli rice noodles
¼ cup lower-sodium Asian fish sauce
3 tablespoons fresh lime juice
2 tablespoons packed light brown sugar
¼ teaspoon crushed red pepper
2 cups shredded, skinless rotisserie chicken meat
4 cups thinly sliced Napa cabbage
2 cups shredded carrots
½ cup fresh mint leaves
½ cup fresh cilantro leaves
½ cup unsalted roasted peanuts, chopped
Head to Delish to get this full recipe from Good Housekeeping.
7. Chicken and Mushroom in Spicy Tomato Sauce
After preparing chicken and mushroom in spicy tomato sauce, you won't be able to go back to bland frozen lunches. Sanjeev Kapoor's recipe, which is in the cookbook Microwave Cooking Made Easy and via Total Beauty, is filled with zesty spices, chicken, veggies, and flavorful sauces. No Lean Cuisine compares to this mouth-watering dish!
Ingredients:
About 2 cups boneless chicken, cut into 1-inch pieces
10 to 12 quartered mushrooms
1 large tomato
3 to 4 spring onions
5 cloves garlic
2 tablespoons butter
Salt to taste
¾ cup tomato purée
1 tablespoon crushed red chilies
1½ teaspoons Worcestershire sauce
5 to 6 crushed black peppercorns
2 teaspoons honey
¼ teaspoon dried oregano
2 to 3 stalks of green onions, chopped
Head to Total Beauty for the full recipe.