Helpful Tips for Buying Fish, Plus 17 Recipes for Cooking It
If you're looking for versatile, healthy proteins to cook with, fish is one of the best options around. Everything leading up to eating it, though, can be pretty daunting. Choosing which type of fish, the cut, and the freshest piece is enough to be a little overwhelming at the fish counter, but with overfishing and the environmental and health concerns of some fish farms, choosing sustainable fish tips the scale into definitely overwhelming. To arm you with information about your options and what to look for at the fish counter, here are tips for choosing fish and 17 recipes for once you've brought it home.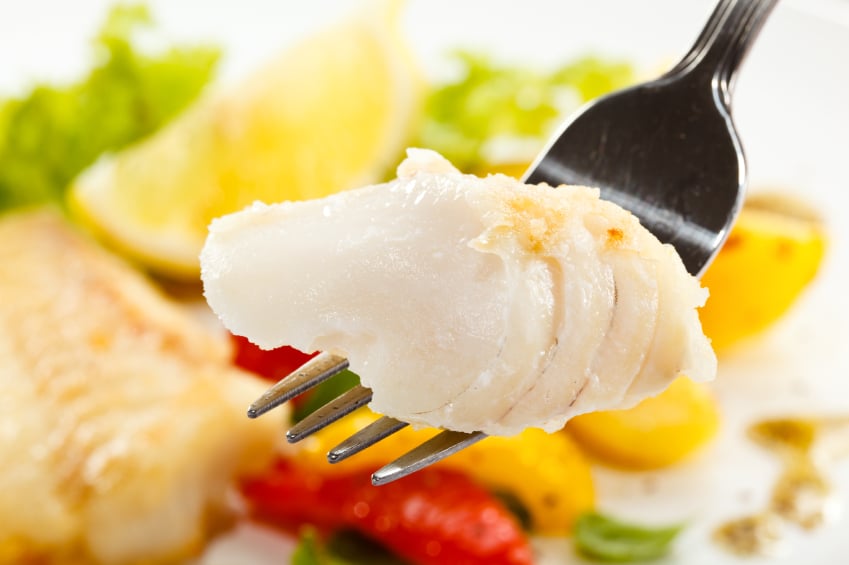 Types of fish
Though there's a bit of subjectivity involved in flaky versus medium flaky versus meaty and oily, these are general categories that fish tend to fall into. These are the "groups" that most recipes will call for when not identifying a single type for the dish, and you can usually go a little rogue and swap one for another. There will be differences in taste, of course, but the general properties are the same. Though by no means a fully comprehensive list, Cooking Light distilled Mark Bittman's 11 categories of fish into a much more manageable but still descriptive five:
White, lean, and flaky: Black sea bass, branzino, flounder, rainbow smelt, red snapper, tilapia, rainbow trout, whiting, and perch. Leite's Culinaria has an elegant and quick recipe for flounder with lemon-butter sauce that can be successfully used for any of the fish on this list, though they also make for some of the best grilled fish tacos, like in this recipe from Food & Wine.
White, lean, and firm: Pollock, catfish, grouper, haddock, cod, halibut, sole, striped bass, and swordfish. These fish are great for grilling very simply with just a bit of lemon juice, as shown by Martha Stewart's recipe for grilled striped sea bass. Cod, sole, and haddock are also shoo-ins for a traditional fish and chips meal, like this one with a side of minted mushy peas from Jamie Oliver.
White, firm, and oil-rich: Albacore tuna, white sea bass, Chilean sea bass, lake trout, lake whitefish, and white sturgeon. For a really fun way to serve albacore tuna, make these tuna steak sliders from the crew of Pike Place Fish via Epicurious. To highlight the melt-in-your-mouth qualities of these fish, try a lightly seared but still rare preparation version, like this sesame tuna from Cooking Light, or this baked Chilean sea bass with cajun seasoning from Food.com.
Medium color and oil-rich: Arctic char, coho salmon, mahi mahi, sockeye salmon, and yellowfin tuna. These medium-firm, meaty fish are best served up with a medium-rare to medium cook, often benefiting from a bit of time in a hot oven and served simply in a white wine and butter sauce. But they also stand up to more serious sauces like the pink chile mayo in these mahi mahi tacos from The Food Network or the mint yogurt sauce in this recipe for seared arctic char with lamb-cherry hash from The Daily Meal.
Dark and oil-rich: Anchovies, bluefin tuna, herring, mackerel, farmed and king salmon, sardines, and skipjack tuna. These fish are attention-grabbing stars. Though bluefin tuna is incredibly overfished — more on that later — king salmon can be cooked to perfection with crisp, crackly skin and tender, moist, flavorful meat like in this recipe from Serious Eats for crispy salmon with steamed bok choy and basil-caper relish. Fresh or oil-packed Spanish anchovies have none of the brown hairiness of other varieties and are a staple tapas plate either fried or, as in this recipe from Gourmet via Epicurious, served cured with roasted red peppers.
Identifying freshness
Not only is freshness important for a great-tasting meal, it's also crucial from a food safety standpoint. The FDA has some simple guidelines for identifying freshness when looking at raw fish and shrimp. First, only buy fresh fish if it's refrigerated or displayed on a thick bed of fresh ice with good drainage, not puddled in water; unless it's still alive, your fish really shouldn't be swimming anymore. The fish should smell fresh and mild, not "fishy," sour, or of ammonia — though this is tough if you're in a big fish market and everything smells fishy, so that's where the next visual and tactile clues come in.
If the fish is whole, look for eyes that are clear and bulge like eyes should. Cloudy and sunken or shriveled eyes are a sure sign of deteriorating fish that is definitely not fresh. Both whole fish and fillets should have firm, shiny flesh and bright red gills with no milky slime. The flesh of a fish that is not fresh will be soft, discolored, and dull, and the gills will be on their way to turning brown or even black. Many fish in the white and lean category (shrimp, too) should be translucent, and the darker, oily fish should have a definitive brightness to the flesh tone.
Sometimes, the freshest fish is frozen fish, and this can be true even if you live on the water. These days, a lot of fish are frozen immediately after they're pulled out of the water, which is often marked FAS, or Frozen at Sea. Another good acronym to be on the lookout for is IQF, which stands for Individually Quick Frozen. When buying frozen fish, check that there is no accumulated frost. This is a sign that the fish was thawed, usually due to poor handling, and improperly refrozen. For more information on buying and cooking frozen fish, see our article What You Need to Know About Cooking Frozen Fish.
Shrimp take particularly well to being frozen and quickly thawed in running water, and either sautéed or grilled like in this recipe for barbecued spiced shrimp with tomato salad from Food & Wine. Some fish fillets can be cooked straight from the freezer without thawing, as shown by Serious Eats' managing culinary director, Kenji Lopez-Alt, in his article for Cooking Light, where he broils miso-glazed frozen salmon to charred perfection.
Sustainability
Overfishing is a serious concern the world is facing, and some fish farms are definitively hazardous to both the environment and health. According to the Monterey Bay Aquarium, nearly two-thirds of the world's assessed fish stocks require rebuilding, and a major concern to the organization in regards to farmed fish is the sheer amount of wild-caught fish needed to feed carnivorous fish like salmon and tuna. The U.S. has a strong regulatory system on fish farms, which gives consumers a standard baseline of sustainability and confidence of oversight not necessarily true of farms in countries like China.
Consumer action is an essential tool for change in the industry and has shown promising effects on the way fisheries operate. Seafood Watch, Monterey Bay Aquarium's program founded to empower and inform consumers in making sustainable choices at the fish counter, has an often-updated list of recommendations. It has a user-friendly and comprehensive mobile app that helps you make purchasing decisions right at the grocery store, too. It also provides printed and PDF pocket guides for every state, and its general recommendations are updated monthly to account for seasonality.
Alaskan salmon is a sustainable buy, and delicious grilled in this brown sugar soy glaze from Market Day. Yellowfin tuna isn't as prestigious as bluefin, but it's a much more ethical choice and great in this recipe from The Food Network, served grilled with pineapple salsa. Black cod or sablefish from Alaska or Canada is wonderfully buttery when cooked up in this recipe for miso-marinated black cod from The Kitchn out of Nobu's cookbook. American catfish, too, is a sustainable pick, and what would Southern cooking be without it? Though it can take some skill to keep this bottom-feeder from tasting muddy, this Southern Living recipe for cajun-baked catfish is a keeper.
More from Life Cheat Sheet:
Want more great content like this? Sign up here to receive the best of Cheat Sheet delivered daily. No spam; just tailored content straight to your inbox.