Hipster Holiday Party Essentials and 18 Recipes You Haven't Tried
Hipster Christmas is a thing. It's full of ironic obscurity and held on the Saturday before Christmas because really, dates are so mainstream. Gather your favorite mustachioed friends, put on some old Rat Pack Christmas music, don your skinny jeans and ugly Christmas sweaters, and eat well with these recipe ideas for your own Hipster Christmas party. Share this with your friends and make it a potluck, and if you're going to do a gift exchange, at least make sure it's a tacky gift swap.
Appetizers
Instead of putting out bowls of something pedestrian like chips (unless they're homemade beet chips like these from The Minimalist Baker) or pretzels (unless they're soft, authentic, lye-dipped pretzels like these from Fine Cooking), go with spicy roasted edamame. These — recipe from Busy in Brooklyn — are shelled so your guests aren't tethered to the discard bowl and coated in sriracha and wasabi powder.
A cheese platter with sourdough and homemade pickles. The cheeses should be local and artisanal, and the sourdough should be seriously sour. If you don't have access to good sourdough, go for a really crusty and naturally leavened or a dark pumpernickel. The Kitchn has some solid tips for a great cheese plate, such as what to include and hitting up the odds-and-ends bin to keep it cheap. The Kitchn also has a great selection of recipes for a homemade relish tray to serve alongside your cheese platter.
Get on it and make these Stout-Bacon Jam Jalapeño Poppers from The Beeroness. These take some time and some care, so start at least a day ahead of your party. They use two different styles of beer: An imperial stout and an IPA. Buy bombers of both and have little beer shots to pair with your poppers.
Mains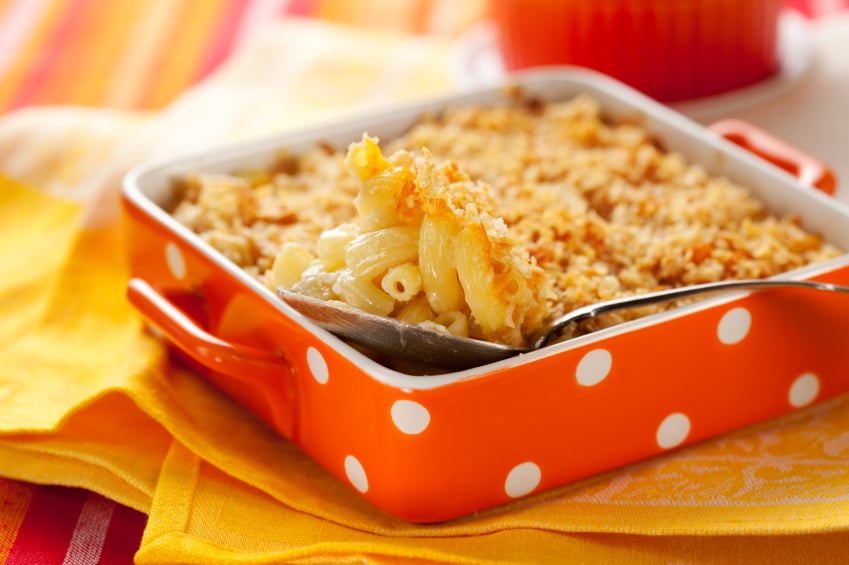 Korean barbecue sliders are a must, and so is pork. Switch up traditional beef bulgogi for these Spicy Pork Bulgogi Sliders from Host the Toast. They're topped with kimchi slaw, wasabi mayo, and sriracha, and they pair particularly well with a cold PBR in an ugly sweater koozie.
It's important to be sensitive to your friends' food restrictions and choices. This Baked Vegan Mac and Cheese is made with cashew cream and nutritional yeast from The Simple Veganista. You can make this gluten-free, too, by substituting with gluten-free pasta and bread crumbs. Feel free to put out DIY mix-ins like bacon or pork belly, or veggies like chard ribbons and chopped green onions.
Turn a cheaper cut of free range chicken — the wings — into these Schezwan-Style Chicken Lollipops from Savory and Sweet Food and serve with crispy Fried Brussels Sprouts with Chili Fish Sauce from the White on Rice Couple.
Desserts
Fair Trade Chocolate S'mores with homemade graham crackers like these from Brown Eyed Baker and vegan marshmallows like these from Inhabitots.
Christmas cookies are a must, but don't bother with traditional gingerbread men and snowflake sugar cookies. Ugly Christmas sweater cookies or mustachioed Christmas tree cookies are clearly on point for your party, and it can be a fun DIY activity. Best hipster cookie maker wins. Tips on decorating ugly Christmas sweater cookies can be found at PopSugar, and swank-ify your plain-Jane Christmas tree sugar cookies with mustaches, like these from Small Indulgences via HipsterChristmas.com.
Doesn't anyone make good, old-fashioned English trifles anymore? Is fruit cake ironic yet? If these float your handcrafted wooden boat like vintage cardigans, try this Boozy Christmas Fruit Cake from Flourishing Foodie or a traditional English Sherry Trifle recipe from Amanda's Cookin'.
Drinks
For a festive drink, make vegan horchata, because eggnog is so mainstream. Noshon.it did a 4-recipe taste test, and this was their favorite. Bonus points if you talk about the history of Horchata, starting with post-ancient Egypt and ending with your local taco truck.
An ironically big batch of a punchbowl-style prohibition-era cocktail using small-batch, locally distilled liquor. We like handcrafted fizzes and flips, too, but you want to enjoy the party instead of whipping egg whites all night for each individually shaken drink. Try a French 75 for a festive bubbly cocktail from Cocktails for a Crowd via Epicurious, a foghorn from Petite Chablis for gin drinkers,  or a Seelbach from Imbibe for bourbon boozers. For one big, slow-melting ice cube, use your bunt pan.
Can you really have a Hipster Christmas Party without PBR in an ugly sweater koozie? You can buy them here, but really, why aren't you knitting your own?