6 Homemade Pasta Sauce Recipes You Can Make From Scratch
How do you like to dress your pasta? Everyone has his or her favorite sauce of choice. Whether you like a red sauce, a green kind, a creamy one, or one of the oil-based variety, we have you covered. If you're feeling ambitious in the kitchen, and/or want to impress some guests, whip out your apron and make one of these sinfully savory homemade pasta sauce recipes. You might be intimidated by homemade sauce at first, but once you make it one time, we can promise you'll never go back to cans again.
1. Classic Homemade Red Sauce
We'll start with a classic, highlighting this recipe from Table for Two that the developer calls "Great Grandma's Pasta Sauce." After one spoonful of this rich dressing, you'll soon learn that Great Grandma really knew what she was talking about. Do yourself a favor, step away from the Hunts's canned sauce, and get your stove simmering. This red sauce will have your home smelling like heaven, and we can promise you this: Comfort food never tasted so good.
Ingredients:
1 pound 80/20 ground beef OR 90/10 ground beef
1 (6 ounce) can tomato paste
6 ounce water
1 (24 ounce) jar tomato puree
5 to 6 cloves garlic, minced
2 tablespoons granulated sugar
Pinch of dried oregano
Pinch of onion powder
Pinch of garlic powder
Handful of fresh basil, chopped
Salt and pepper, to taste
Directions: Sauté garlic until soft and fragrant in 2 tablespoon of olive oil, about 2 minutes, in a large stockpot. Add meat in with the garlic, browning until the meat has been thoroughly cooked through, about 5 minutes. Season with salt and pepper. Pour in the tomato paste, tomato puree, and seasoning, including the fresh basil. Stir to mix well. Fill the 6-ounce can from the tomato paste with water and pour it in the stockpot. Let the mixture simmer, uncovered, for 2 or more hours, stirring occasionally.
2. Pesto Sauce
Next up is a fresh pesto sauce formula from All Recipes. It sure looks healthy, and tastes great, too. Gather your six ingredients and turn on your food processor. This recipe only requires one step, and will make you feel like Top Chef.
Ingredients:
3 cups fresh basil leaves
1½ cups chopped walnuts
4 cloves garlic, peeled
¼ cup grated Parmesan cheese
1 cup olive oil
salt and pepper to taste
Directions: Blend together basil leaves, nuts, garlic, and cheese in a food processor. Pour in oil slowly while still mixing. Stir in salt and pepper.
3. Tomato Cream Sauce
Ready for some cream? We hope so, because we're highlighting this tomato cream sauce from The Pioneer Woman, a recipe developer who really can't steer you wrong. Calling for a full cup of cream, garlic, olive oil, butter, and cheese, Ree isn't messing around with this one, but if you're going to go the cream sauce route, you've got to go big, and with this decadent recipe, you can do just that.
Ingredients:
2 tablespoons olive oil
2 tablespoons butter
1 whole medium onion, finely diced
4 cloves garlic, minced
2 cans (15 ounces) tomato sauce
salt and pepper, to taste
dash of sugar
1 cup heavy cream
Grated parmesan or Romano cheese, to taste
Fresh basil, chopped
1½ pounds fettuccine
Directions: Cook pasta, following package directions. Drain, reserving 1 cup of pasta water. Over medium heat, warm butter and oil. Add onions and garlic; sauté for a minute. Pour in tomato sauce and add salt, pepper, and sugar to taste. Stir and cook over low heat for 25 to 30 minutes. Remove from heat and stir in cream. Add cheese to taste, then check seasonings. Stir in pasta and chopped basil. Serve immediately.
4. Rich No-Cream Wild Mushroom Pasta Sauce
Or, if you're counting calories a bit more and are interested in a healthier sauce option, you can always try this rich no-cream wild mushroom sauce from The Kitchn. As you might've guessed from its title, this recipe doesn't call for any cream, but instead utilizes white wine, broth, wild mushrooms, and a handful of spices, to yield a taste explosion in your mouth. You might be tempted to go the decadent route when you're choosing between this mushroom sauce and the aforementioned creamy one, but we're just warning you, this healthy dressing may end up surprising you.
Ingredients:
1½ ounce package wild mushrooms
1 cup chicken, vegetable or beef broth, boiling
1 cup white wine
2 tablespoons butter, divided
3 (8 ounce) packages of white button or portobello mushrooms, washed and chopped
4 large shallots, minced
4 large cloves of garlic, minced
2 tablespoons chopped sage
3 tablespoons flour
½ cup chopped flat-leaf parsley
Salt and fresh ground black pepper
Directions: In a glass bowl or measuring cup, crumble dried mushrooms and pour the boiling broth over them. Let steep for at least 20 minutes. Drain and reserve the drained liquid. Mix the drained liquid with the white wine.
In a large skillet, heat a tablespoon of butter over medium-high heat. Add the chopped button or portobello mushrooms and let sit, without stirring, for about four minutes or until they have thoroughly browned on one side. Stir and let them cook on the other side (without stirring) for about four minutes. Add the shallots, garlic, sage, and steeped wild mushrooms. Turn the heat to low; cook until they are all fragrant and soft.
Add the second tablespoon of butter and, when melted, add the flour. Stir rapidly, letting the flour thicken with the butter into a paste. Slowly pour in the mushroom broth and white wine, whisking rapidly. Cook over medium-low heat, whisking, until the mixture thickens. It should thicken to the consistency of a thick gravy.
Add the chopped parsley, stirring until wilted. Season to taste with salt and pepper. Serve immediately over pasta with plenty of fresh Parmesan.
5. Garlic-and-Oil Sauce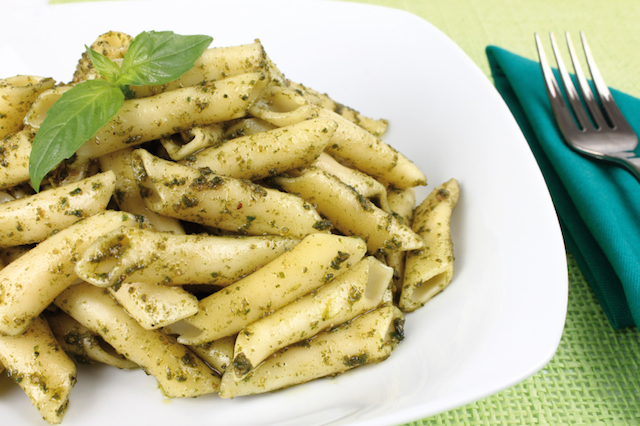 You also have the option of dressing your pasta with this simple sauce recipe from Rachael Ray, herself – a creation she calls "garlic and oil sauce." Can you guess what it contains? Garlic, olive oil, parsley, and salt are the only four players in this recipe that promises to knock your pasta out of the park. Even better, it requires just one step. Pull out your skillet and prepared to be amazed.
Ingredients:
⅓ cup extra-virgin olive oil
¼ cup chopped flat-leaf parsley
1 tablespoon finely chopped garlic
¾ teaspoon salt
Directions: In a small skillet, combine ⅓ cup extra-virgin olive oil, ¼ cup chopped flat-leaf parsley, 1 tablespoon finely chopped garlic and ¾ teaspoon salt over medium-high heat. Once the garlic sizzles, remove from the heat. Makes ⅓ cup.
6. Pasta with Lemon Butter Garlic Sauce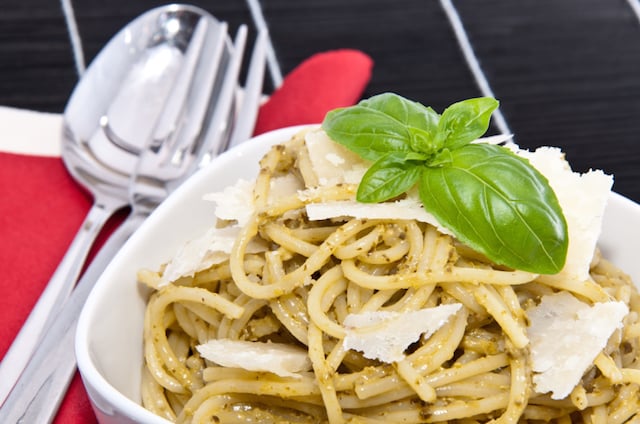 This last one is a zinger. Did you know citrus paired well with carbs? Now you do. Try this lemon butter garlic sauce from Magnolia Days on top of your spaghetti and get ready to be a lemon-based sauce convert. Cream might be rich, pesto might be fresh, and olive oil might be buttery, but sometimes, lemon can also reign supreme.
Ingredients:
12 ounces dried pasta
¼ cup unsalted butter
3 to 4 garlic cloves, minced
1 teaspoon chopped fresh thyme leaves
3 tablespoons olive oil
3 tablespoons fresh lemon juice
Grated zest from ½ lemon
½ teaspoon salt
3 ounces (about 3 cups) baby arugula leaves
¼ cup toasted pine nuts
Shaved parmesan cheese for garnish
Directions: Boil a large pot of salted water. Cook pasta and drain. In the same large pot over medium heat, melt the butter, cook an additional 1 to 2 minutes. If you want browned butter, cook until it has a light brown color.
Add the garlic and thyme, stir, and cook until fragrant, about 1 minute. Don't over-brown the butter or garlic. Remove the pot from the heat. Add the olive oil, lemon juice, lemon zest, and salt. Stir to combine. Add the pasta, arugula, and pine nuts and toss to coat with the sauce. The arugula will wilt. Transfer pasta to a serving bowl, platter, or individual plates. Top with shaved parmesan cheese. Serve immediately.