Hot Out of the Oven: 7 Food Trends for 2014
We're almost two full months into 2014, and it's time we make some food statements. The year 2013 was of the cronut and the bacon everything. As for this year, several experts have weighed in. The National Restaurant Association's annual What's Hot culinary forecast predicts menu trends for the coming year, and for 2014, the NRA surveyed nearly 1,300 professional chefs to find out what the hottest menu trends will be. Publications like Kitchen Daily also have experts on the job, and many of their predictions match those of Restaurant.org's.
So, where will the winds of 2014 take us, food-wise? You're about to find out. Here's to hoping you're all about meat, tea, gluten-free, and everything in between.
1. Exotic Meats
The first trend we'll dissect is the expected emphasis on exotic meats, as both Restaurant.org and Kitchen Daily predict consumers getting down and dirty with the grub in 2014. The farm-to-table concept is hardly a new schtick, but both Sterling Rice-Group analysts and members of the American Culinary Federation believe that this movement will pick up speed this year, placing more and more exotic meats on consumers' plates. Small-scale producers are also expected to get in on the game (no pun intended), and will expand into meats like goat, rabbit, and pigeon, says Kitchen Daily.
These meats will serve as new feel-good protein choices, and if we know anything about the modern foodies, it's that they tend to like their protein. Thanks to daring dishes served by the influx of meat-specializing restaurants popping up all over the U.S., eaters are really getting a taste for the next best exotic meats, and that's a trend that's here to stay.
2. Tea Time
What else is brewing for 2014? That'd be tea, both teams of experts say. Sure, tea has been bubbling for years now, but experts are now predicting this warm beverage will regain popularity, just as it regains a new time — namely, low tea time. According to Kitchen Daily, because more and more consumers are now snacking their way through the day rather than eating three solid meals, the Food Channel believes a fourth meal called low tea will be one of this year's hottest food trends. Low tea is a light meal or snack of brunch-type fare that is served around 4 p.m., and is especially perfect for entertaining guests.
It may even go beyond drinking tea. NPR says that we may be eating tea in 2014, as well. The publication notes that tea leaves will be big in entrees, desserts, and cocktails this year. Bottoms up.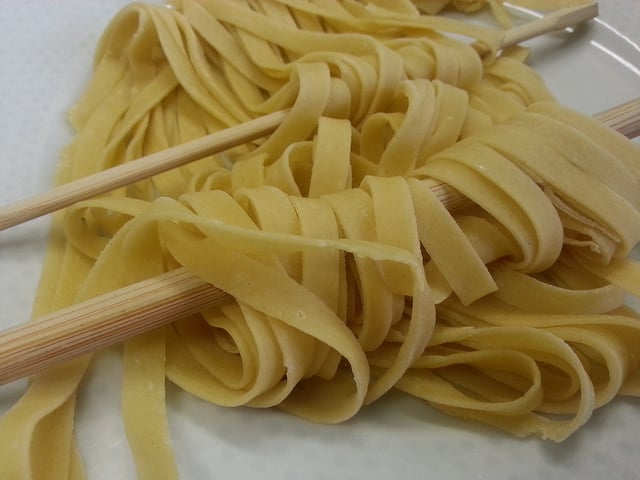 3. Non-Wheat Noodles
Another curve ball experts expect 2014 to throw: non-wheat noodles. It's no secret that consumers showed an uncanny enthusiasm for jumping off the gluten train in 2013, and that trend is expected to continue in 2014, yielding a food that is one our ancestors likely never predicted — and likely never would have wanted to know about: non-wheat noodles. Though foodie restaurants typically don't like to accommodate the pickiest of eaters, experts believe they'll make things simpler this year and put pasta made from non-wheat alternatives like quinoa, rice, and buckwheat on their menus to make the gluten allergy a non-issue. Since that pesky protein is so 2012.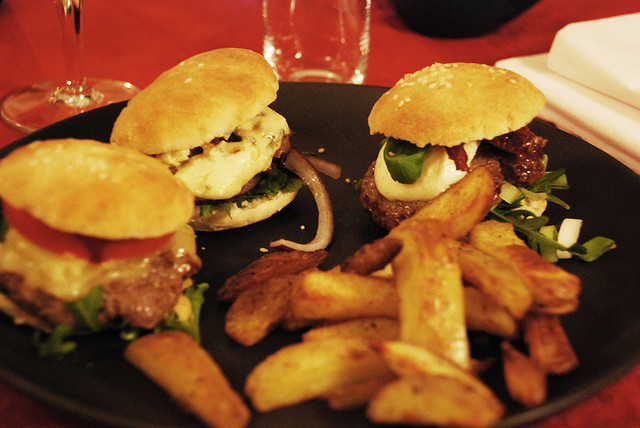 4. Healthy Kids Meals
Speaking of "healthy" food trends, we should note that all experts across the board agree that there will be an emphasis on children's access to healthy meals in 2014. Long gone are the days when restaurants simply slap a greasy burger on kids' plates. No, now they're working on improving the palates of the young ones by offering them healthier alternatives, and not just by putting pizza, burgers, and fries on the menu. Forbes agrees. Late in 2013, it named healthier kids' meals one of its top-10 food trends for 2014, recognizing that parents are fighting back against childhood obesity, and are asking restaurants to help. Sides of apples, yogurt, and baked fries will become the norm in 2014.
5. Ice Cream Sandwiches
But don't worry, 2014 won't be all about healthy choices. You'll have to leave room for dessert, too, and that's where ice cream sandwiches come in. Yes, you heard right — ice cream sandwiches. The year 2013 was all about donuts and chocolate. But 2014? We're veering into ice cream land. The trend might sound out of left field, but experts from both Kitchen Daily and the National Restaurant Association have noted that ice cream sandwiches are expected to go big this year. In addition, in an article by Entrepreneur published back in November 2013, Andrew Freeman, CEO of a San Francisco-based hospitality consulting firm, was already predicting that cupcakes, donuts, and croissants were on their way out, and ice cream sandwiches and biscuits are on their way in.
6. Local Everything
There is also now an emphasis on sourcing and growing everything locally, and that will not change this year. In fact, the trend will only gain more traction, experts say. Not only will locally sourced meat and seafood — along with locally grown produce — continue to pop up on menus, there will even be a bigger stress on hyper-local produce, meaning more and more restaurants will be tending to their gardens.
This is the kind of food trend that not only benefits the consumers, but also the producers. The country's farms are expected to make gains in 2014, and many believe that restaurants will especially follow the style of the Midwestern food movement, which is all about the simple and hearty cooking of root vegetables, steak and other locally sourced ingredients, as reported by Kitchen Daily.
7. Ancient Grains
Lastly, a note about the ancient grains — because quinoa certainly isn't going anywhere, and what's more, its cousins are expected to make themselves better known in 2014, too. Thanks to the popular paleo and gluten-free diets, more consumers have been turning to quinoa to get their gluten-free grain fix, but there are also grains like chia and freekah that can be tapped into if they're really trying to go back into the past for the health of the future. The National Restaurant Association believes that ancient grains such askamut, spelt, and amaranth will especially make a name for themselves this year, so get 'em before they're hot.
More From Wall St. Cheat Sheet: