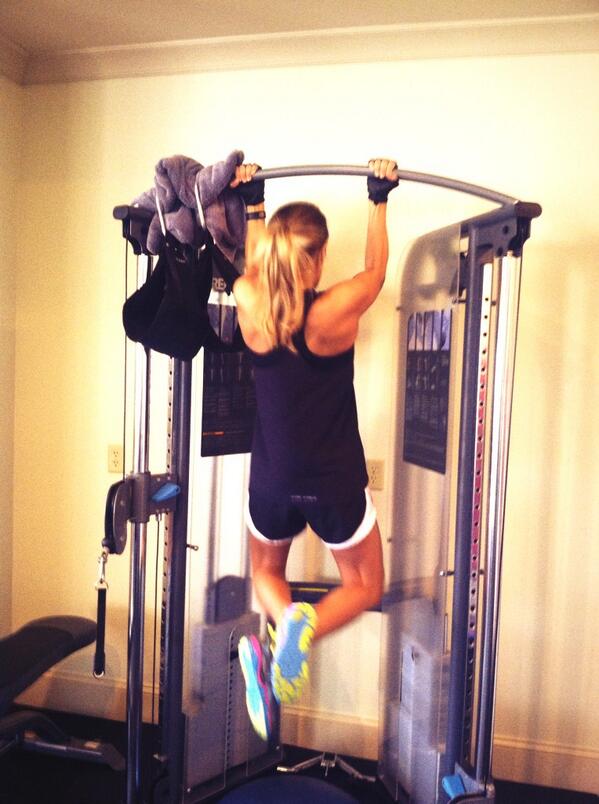 We gave up hope of having her voice years ago, but we haven't given up on being as fit as Carrie Underwood. The singer and former American Idol contestant has some of the best legs in country music, and just look at her doing those pull-ups! Thankfully, Underwood hasn't attempted to keep her routine or diet a secret. She and her trainer, Erin Oprea, have been incredibly willing to share the moves that keep the country singer physically fit.
In March, the duo opened up to Glamour for a feature on Underwood's favorite leg moves. It starts out with a squat move that transitions into a lunge (15 per side), followed by cherry pickers, performed while holding a kettlebell. Up next are one minute of skater hops, then lateral lunges (15 per side). After that, Underwood uses a bosu ball for bosu jumps. All of that was just a warm-up for the last two moves, 40 pulsing sumo squats and five stair squat-and-jumps.
All are good moves and make for a workout you will seriously feel the next day — but these exercises alone won't sculpt legs to rival Underwood's. Spot reduction frustrates trainers as one of many fitness myths that will not go away. The American Council on Exercise says that if you are lean already, after performing moves that  "tone" or "reduce" one specific area, you may see more defined muscles develop. However, if the goal is to use targeted moves to blast fat in that area, you'll be out of luck. No matter how hard we try, we can't convince the body to lose fat in one area versus another. To sculpt more muscle and increase fitness, you need to work out your whole body — exactly what Underwood does.
She told Women's Health that she makes fitness part of her daily routine, trying to get in six morning sessions a week while on tour. She rattled off a list of different types of cardio: boxing, running, using an elliptical, biking — not to mention the workout she gets if she is on stage preforming. But Underwood doesn't limit herself to cardio. She does strength training moves like those listed in Glamour and is a fan of kettlebell workouts. "They don't take up much space and work a lot of different muscles," Underwood said to Women's Health.