6 Buckwheat Recipes and Why You Need to Be Eating This Superfood
Buckwheat is a fruit seed growing in popularity, and for good reason. Many health experts now consider it a superfood and as Care2 explains, not only is buckwheat gluten-free — making it a good alternative for those with allergy restrictions — it's also free of chemicals, full of easily digestible proteins, and a good substitute for fat in many processed foods. Even better, some experts believe that buckwheat may help diabetes, thanks to its ability to slow glucose absorption.
While buckwheat used to be a seed few enlisted in their recipes, more and more food formulas are now cropping up that call for the fruit seed, whether in its groat or ground form. On the baking front, buckwheat flour has become a popular alternative to all-purpose and whole-wheat flour, and on the cooking side of things, buckwheat is also an ingredient many people eat for breakfast, lunch, and dinner (as groats). If you, too, want to jump on the buckwheat bandwagon, check out these 6 recipes that will help you get your wheels rolling. Some of these recipes are more complex than others, but they're all satisfying and delicious.
1. Raw Breakfast Buckwheat Porridge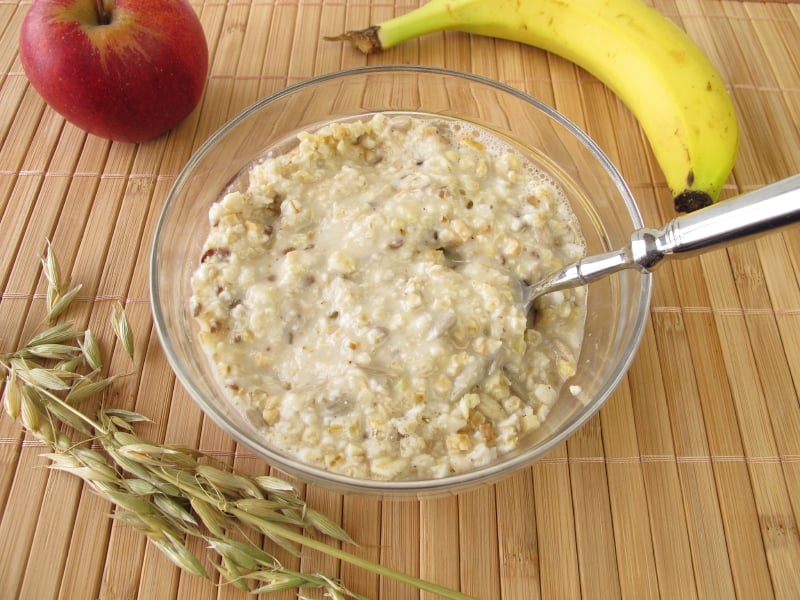 First up is a breakfast idea brought to us from Food 52. If you're growing tired of oatmeal, try this soul-soothing morning meal instead. Similar to oatmeal, this breakfast porridge will fill you right up thanks to fibrous groats, and it's a breakfast that is completely customizable. This recipe in particular yields a raw, cold variety of breakfast porridge that is perfect for mornings that are too warm for hot cereal, and it doesn't even require use of a microwave or stovetop.
Ingredients:
2 cups raw buckwheat groats, soaked overnight, drained, and rinsed
1 cup almond milk
¼ cup maple syrup
1 teaspoon cinnamon
1 vanilla bean, seeds scraped out, or 1 teaspoon vanilla extract
1 tablespoon ground flax meal
Pinch sea salt
⅓ cup shredded, unsweetened coconut
Directions: Place the buckwheat groats in a food processor and pulse a few times to break down. add the almond milk, maple syrup, cinnamon, vanilla bean, flax, and sea salt, and process till the mixture has a smooth consistency (but with some texture remaining). Pulse in the coconut and adjust seasonings. Divide porridge into four bowls and serve, topped with fresh berries, chopped nuts, or sliced bananas.
2. Banana-Apple Buckwheat Muffins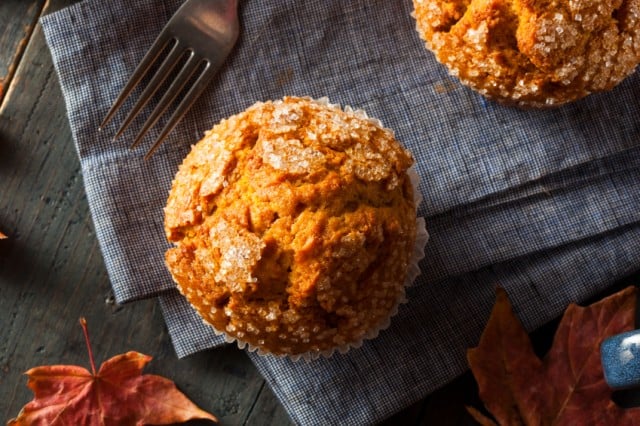 Here's another way to get your buckwheat in the A.M. Enter: banana-apple buckwheat muffins from Martha Stewart. This baked good is delicious, nutritious, full of fiber, and gluten-free.
Ingredients:
½ cup buckwheat flour
2 teaspoons baking powder
1 teaspoon ground cinnamon
¼ teaspoon coarse salt
4 large eggs
1 banana, mashed
½ cup honey
1 sweet apple, such as honeycrisp, peeled, cored, and finely diced
½ cup chopped walnuts
Directions: Heat oven to 350 degrees Fahrenheit. Line a 12-cup muffin pan with paper liners. In a bowl whisk together flour, baking powder, cinnamon, and salt. In another bowl whisk together eggs, banana, and honey. Mix the wet ingredients into the dry, then fold in apple and walnuts.
Pour batter to the tops of lined cups. Bake until deep golden brown and a toothpick comes out clean, about 30 minutes. Let cool on a wire rack.
3. Buckwheat Pancakes
Another great breakfast option is buckwheat pancakes. Aside from the buckwheat flour, this pancake recipe calls for all the regular baking staples, and can be made with or without an egg, depending on allergy restrictions or taste preferences. Next time you're in the mood for a different kind of hot cake, try these buckwheat pancakes from Simply Recipes and you won't be sorry.
Ingredients:
Vegetable oil for coating the pan
¾ cup buckwheat flour
¾ cup all-purpose flour (can sub with buckwheat flour for a 100% buckwheat pancake)
3 tablespoons sugar
½ teaspoon salt
1 teaspoon baking soda
3 tablespoons unsalted butter, melted
1 egg (optional)
2 cups buttermilk
Directions: Heat a well-seasoned griddle, cast iron skillet, or stick-free pan on medium heat. Whisk together the dry ingredients — the flours, sugar, salt, and baking soda — in a large bowl. Pour the melted butter over the dry ingredients and start stirring. Beat the egg with a fork and stir it into half of the buttermilk. Add the buttermilk/egg mixture to the dry ingredients, then slowly add in the rest of the buttermilk as needed to get to the right consistency for your batter. Stir only until everything is combined. Do not overmix.
Put a small amount of vegetable oil on the pan or griddle and spread it around with a paper towel to coat. Ladle the batter onto the hot surface to the desired size, about 4-5 inches wide. Reduce the heat to medium-low. Allow the pancake to cook for 2-3 minutes on this first side. Watch for bubbles on the surface of the pancake. When air bubbles start to rise to the surface at the center of the pancake, flip the pancake. Cook for another 1-2 minutes, or until nicely browned.
4. Buckwheat Garden Salad
On to lunch and light dinner ideas, we come to this sophisticated salad recipe from The Healthy Foodie. This garden salad is satiating and chock full of veggies. Instead of relying on tried-and-true grains and seeds like rice and quinoa, try buckwheat in your salad next time.
Ingredients:
1 cup buckwheat groats
2 cups water
½ teaspoon salt
½ chayotte, finely diced
12 large green olives, pitted and quartered
1 small yellow bell pepper, diced
1 cup broccoli florets, chopped
¼ cup red onion, finely chopped
50 grams walnut, chopped
½ cup fresh dill, chopped
2 tablespoons fresh mint, chopped
Juice of 1 lime
2 tablespoons white wine vinegar
1 tablespoon olive oil
½ teaspoon salt
½ teaspoon black pepper
Directions: In a small saucepan, bring water and salt to a boil. Add buckwheat groats, reduce heat, cover, and cook until all water has absorbed, about 10 minutes. Remove lid and allow to cool for at least 30 minutes. You can also cook your buckwheat groats the previous day and let them cool overnight. Add all ingredients, including cooled buckwheat to a large mixing bowl. Mix until well-combined. Serve immediately or refrigerate for a few hours (or overnight) to allow for flavors to develop.
5. Stir-Fried Buckwheat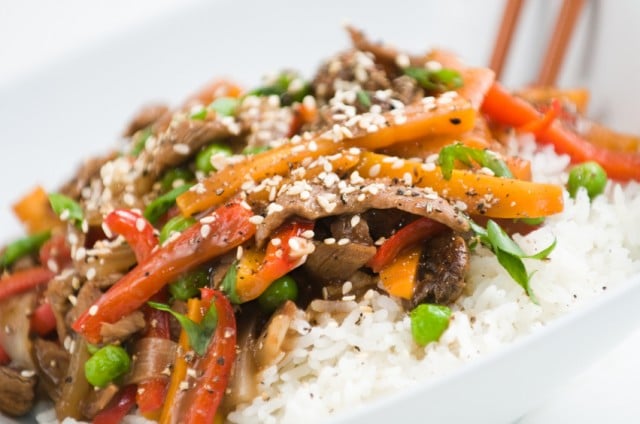 It's time to give this stir-fried buckwheat recipe from Grain Mains by Bruce Weinstein and Mark Scarbrough, via Epicurious, a try. The buckwheat groats can be prepared the day of or 2 days in advance, and the ingredients for the stir-fry come together just as easily as they typically do. This recipe from Epicurious serves 4 and only requires 15 minutes of active cooking time, making it the perfect healthy, weeknight meal.
Ingredients:
1 cup buckwheat groats
1 large egg, lightly beaten
2 cups reduced-sodium vegetable broth
2 tablespoons soy sauce (regular or reduced-sodium)
2 tablespoons unseasoned rice vinegar
1 teaspoon Asian chile paste or sambal
1 teaspoon sugar
2 tablespoons toasted sesame oil
6 scallions, thinly sliced
2 garlic cloves, minced
1 tablespoon minced fresh ginger
2 large carrots, shredded through the large holes of a box grater
1 red bell pepper, seeded and chopped
½ pound green beans, cut into ½-inch pieces
Directions: Pour the groats into a large bowl and mix in the egg until they are well-coated, all the grains separated from one another. Heat a large, dry saucepan over medium heat. Pour in the coated groats and stir over the heat for 2 minutes to set the egg. The groats should still be separate from each other. Pour in the broth and increase the heat to high. Bring to a boil. Cover, reduce the heat to low, and simmer until the liquid has been absorbed and the groats are tender, about 15 minutes.
Spread the buckwheat on a large rimmed baking sheet and cool for 10 minutes to make sure the grains stay separate, rather than glomming onto each other. Meanwhile, whisk the soy sauce, vinegar, chile paste, and sugar in a small bowl. Heat a large wok over medium-high heat. Swirl in the oil, then add the scallions, garlic, and ginger. Stir-fry for 30 seconds. Add the carrots, bell pepper, and green beans. Stir-fry until crisp-tender, about 2 minutes. Add all the buckwheat. Continue stir-frying for 1 minute. Pour in the soy sauce mixture and bring to a simmer, tossing and stirring for 1 more minute.
6. Sweet Potato Burgers
Our last recipe is for buckwheat sweet potato burgers from Meghan Telpner. These burgers will fill you up without weighing you down. Vegetarian burgers never tasted so good.
Ingredients:
1½ cups dry buckwheat
3 cups water
1 teaspoon sea salt
1 large onion, finely chopped
4 tablespoons toasted sesame oil or extra virgin olive oil, divided
1 celery stalk, finely chopped
2 to 3 leaves of kale
1 large carrot, grated
2 large sweet potatoes, cubed, steamed or boiled until tender, and mashed
¼ cup almond butter, tahini or almonds ground in a coffee grinder
2 tablespoons tamari or soy sauce
Directions: Preheat oven to 350 Fahrenheit. Dry roast the buckwheat in a pot for 5 minutes, stirring now and again. Add the water and salt and bring to a boil over high heat. Reduce heat to low, cover and cook until water is absorbed and kasha is soft, about 15 minutes.
Meanwhile, sauté onion in 1 tablespoon of oil over medium heat until softened then add celery and carrots. Add kale, cook for additional 5 minutes. Stir everything together. Form into patties and place on parchment paper lined cookie sheet. Bake burgers for 20 minutes on one side, remove from oven, and turn over. Bake for another 20 minutes until lightly browned and slightly firm.
More from Culture Cheat Sheet: