Kids in the Kitchen: 6 Recipes and Ideas for Mini Chefs
School is almost out, and kids will be home for the summer. As you plan activities for their vacation days, consider getting them involved in the kitchen. When the proper precautions are taken, kids can safely join in on helping to prepare a meal or bake dessert. Julie Negrin, a nutritionist, told the Food Network that although parents may need to give themselves a bit of extra time when bringing kids into the kitchen, the extra set of little hands doesn't have to slow them down too much.
Negrin recommends having a child work station setup and setting age-appropriate tasks like washing vegetables and stirring for the younger set, with duties increasing in complexity as they age. You know your kids best and will know when they are ready to graduate from cutting out shapes in dough to scrambling eggs, so take the ideas in these six recipes, tailor them to your kitchen, and get cooking!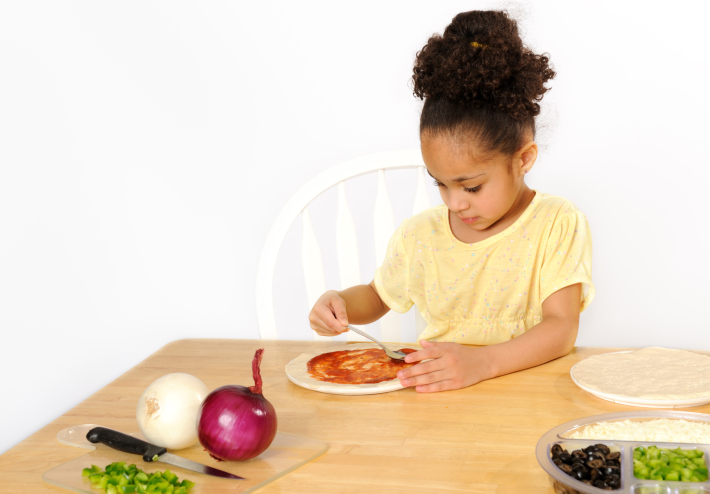 1. Pita Pizzas
Let the kids layer all the toppings on this pita pizza from Kraft. The adult on hand can handle taking the pizzas in and out of the oven and making sure they are cool enough to work with before handing the pizzas over to the kids after the first baking.
Ingredients:
2 whole-wheat pita breads
2 teaspoons fat-free Italian dressing
¼ cup pizza sauce
4 mozzarella slices
¼ cup each chopped green peppers, sliced fresh mushrooms, and sliced red onions
Directions: Preheat oven to 375 degrees Fahrenheit. Place pitas on baking sheet; brush with dressing. Bake 8 minutes, or until lightly browned. Top with remaining ingredients. Bake for 4-6 minutes or until mozzarella slices begin to melt.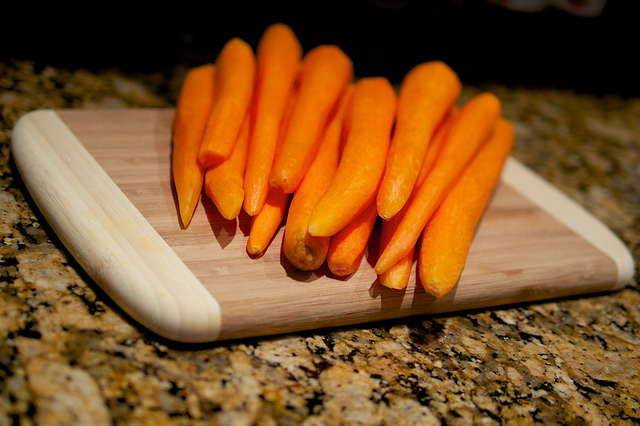 2. Oven-Baked Carrot Fries
Kids are more likely to eat their fruits and vegetables when they help prepare them, so try making The Kid's Cookbook's (via Williams-Sonoma) "fries" with fresh carrots. Have an adult peel and cut the carrots while the mini sous chef measures out the remaining ingredients and combines them in the bowl. Kids can help spread the mixture over the carrots, too.
Ingredients:
1½ pounds carrots (10 medium)
2 tablespoons olive oil
2 teaspoons finely chopped fresh rosemary
1 teaspoon sugar
½ teaspoon salt
pinch of freshly ground pepper
Directions: Be sure an adult is nearby to help. Preheat oven to 425 degrees Fahrenheit. Line a jelly-roll pan or baking sheet with aluminum foil. Using a sharp knife and cutting board, cut away the tip and end of each carrot. Place one carrot on the board and hold with one hand. Holding a vegetable peeler in the other hand, run it over the carrot, always peeling away from you. Turn the carrot as needed to peel completely. Repeat with the other carrots.
Using the sharp knife, cut one carrot in half crosswise. Next, cut each half in half lengthwise. Finally, cut each half in half lengthwise again. You will end up with 8 sticks from the carrot. Repeat with the other carrots.
In a bowl, combine the carrot sticks, olive oil, rosemary, sugar, salt, and pepper. Stir with a rubber spatula until the carrot sticks are evenly coated with all the other ingredients. Dump the carrots onto the foil-lined jelly-roll pan, scraping out any herbs clinging to the sides of the bowl. Spread the sticks out as much as possible. Bake until the carrots are tender and well browned, about 20 minutes. Using oven mitts, remove the pan from the oven. Serve the carrot fries hot or at room temperature.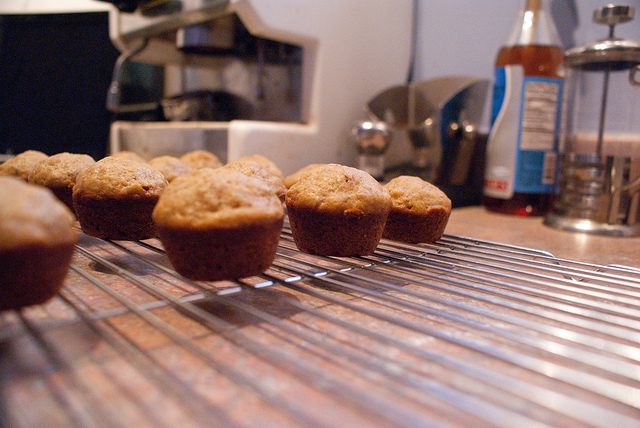 3. Mini Donut Muffins
Children will love these mini donut muffins, and parents will love that they are serving baked — not fried — donuts to their kids. From AllRecipes.com, this recipe yields get 24 mini donuts and a lot of fun in the kitchen. Kids can measure, mix, and roll, making this an easy, hands-on recipe for all ages.
Ingredients:
½ cup white sugar
¼ cup margarine, melted
¾ teaspoon ground nutmeg
½ cup milk
1 teaspoon baking powder
1 cup all-purpose flour
¼ cup margarine, melted
½ cup white sugar
1 teaspoon ground cinnamon
Directions: Preheat oven to 375 degrees Fahrenheit. Grease 24 mini-muffin cups.Mix ½ cup sugar, ¼ cup margarine, and nutmeg in a large bowl. Stir in the milk, then mix in the baking powder and flour until just combined. Fill the prepared mini muffin cups to about half full.
Bake in the preheated oven until the tops are lightly golden, 15-20 minutes. While muffins are baking, place ¼ cup of melted margarine in a bowl. In a separate bowl, mix together ½ cup of sugar with the cinnamon. Remove muffins from their cups, dip each muffin in the melted margarine, and roll in the sugar-cinnamon mixture. Let cool and serve.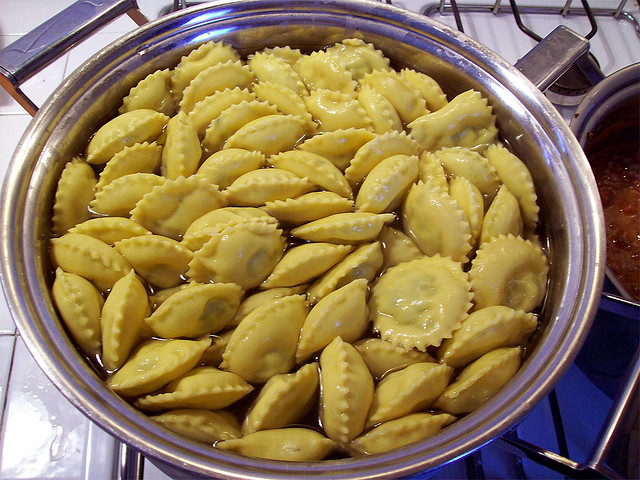 4. Lasagna Cupcakes
The Kids Cook Mondays is a great resource for anyone intent on having their children in the kitchen. With recipes broken down by age range and meal, parents can quickly see how much hands-on time children have with each dish. Suitable for ages 8 to 11 are these lasagna cupcakes, which are made using store-bought ravioli.
Ingredients:
8 ounces frozen spinach or kale, thawed
3 tablespoons olive oil, divided
2 garlic cloves, minced
½ onion, diced
24 large ravioli
1 egg, lightly beaten
½ cup grated parmesan cheese
4 cups tomato sauce
1½ cups low-fat grated mozzarella
Directions: Adult: Preheat oven to 400 degrees Fahrenheit. Bring a large pot of salted water to a boil over medium-high heat.
Kid: Line 12 muffin tins with cupcake liners or parchment paper. Squeeze all the liquid out of the thawed spinach or kale over a sink.
Adult: Place 2 tablespoons of olive oil in a large skillet over medium heat. Add the garlic and onions to the skillet and cook for 3-5 minutes, or until golden. Add the spinach and cook 1-2 minutes more, or until wilted. Transfer the spinach-onion to a plate and let cool.
Together: When spinach has cooled, fold the egg and parmesan cheese into the spinach mixture.
Adult: Drop the ravioli in the boiling water and cook for half the time directed by the package instructions. Drain, transfer to a bowl and toss with the remaining tablespoon olive oil.
Together: Drop 1 ravioli in each muffin cup, top with a tablespoon of spinach, a tablespoon of cheese, and a dollop of tomato sauce. Finish each with another ravioli, another dollop of tomato sauce and a pinch of grated mozzarella. Transfer to the oven and bake 20 minutes, or until hot and bubbling. Heat the remaining tomato sauce to serve on the side and enjoy.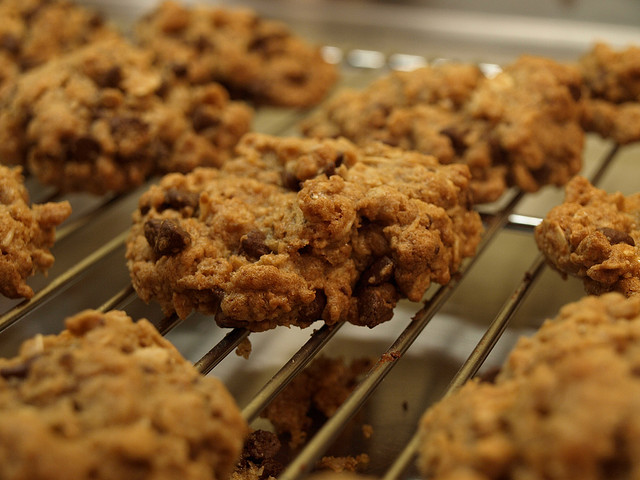 5. Chocolate Chip Oatmeal Cookies
You can bake with kids, too, and teach them the importance of food safety and how to handle dough containing raw eggs. Whether they are helping you measure ingredients or place the cookies on the baking sheet, children will love assisting you to make these chocolate chip oatmeal cookies from Food Network – and will gobble them up once they are ready!
Ingredients:
1 cup all-purpose flour
½ teaspoon baking powder
½ teaspoon baking soda
¼ teaspoon salt
2 cups rolled (old-fashioned) oats
½ cup coarsely chopped pecans
8 tablespoons (1 stick) unsalted butter, at room temperature
½ cup lightly packed light brown sugar
½ cup granulated sugar
1 large egg
¼ cup maple syrup
½ teaspoon vanilla extract
¾ cup semisweet chocolate chips
Directions: Set two racks in the middle and upper thirds of the oven and preheat to 350 degrees Fahrenheit. In a medium bowl, stir the flour, baking powder, baking soda, salt, oats, and pecans together with a whisk or fork.
In a large bowl, beat the butter, brown sugar, and granulated sugar together for 30 seconds, until blended. Beat in the egg until smooth and barely fluffy. With mixer running on medium high, drizzle in the maple syrup and vanilla until incorporated. Turn the mixer down to its lowest setting and gradually add the flour-oatmeal mixture. Blend just to combine, then mix in the chocolate chips.
Drop walnut-size balls of dough onto a nonstick or parchment-lined cookie sheet at 3-inch intervals. With moistened fingers, flatten and round out the cookies a little. Bake for 9 minutes, turning the pan once for even baking. The cookies are done when they are lightly browned on top. Set the cookie sheets on a rack to cool.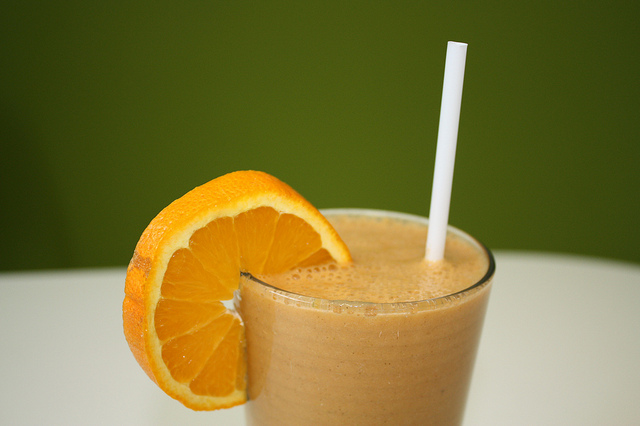 6. Sunshine Smoothies
Rachel Ray's Yum-O! is another place parents can search when looking for kid-friendly recipes and ideas. There, one user described how with a smoothie, kids can gather up the ingredients, put them in the blender, and push all the buttons while the adult retains control over the blender itself and does any necessary cutting. This sounds like the perfect healthy way to cool off on a hot day, so test out Sally's Baking Addiction's citrusy smoothies with the help of your kids.
Ingredients:
1 frozen ripe banana, previously peeled and sliced
¼ cup orange juice
2 oranges, peeled and sliced
1 cup frozen mango chunks
½ cup frozen or fresh pineapple chunks
Directions: Blend the frozen banana chunks and orange juice together until thick, creamy, and smooth, about 3 minutes. Scrape down the sides of the blender as needed. Add the oranges, mango, and pineapple. Blend until combined.
More From Wall St. Cheat Sheet: