Leafy Greens Guide: 5 Recipes, and the Benefits of 4 Vegetables
Work your way toward hitting your daily serving of vegetables by adding more leafy greens into your eating routine. High in nutrients and low in calories, leafy greens can give your diet a substantial health boost. Several varieties can be grown year-round, so you can always be eating seasonally when you add those particular leafy greens to your recipes. The vitamins and minerals in each varies by plant, and they have so many more uses that just salads. Keep reading for new takes on four leafy greens and their respective health benefits.
1. Chard or Swiss Chard: Swiss Chard with Raisins and Almonds
According to the Center for Urban Education about Sustainable Agriculture, you'll be able to purchase Swiss chard year-round because it is always in season. Seattle Market Gardens says that the green is great for vitamin A, can prevent inflammation, and is a good choice for bone health. On top of that, consuming Swiss chard can promote better lung and digestive health, too.
Enjoy your Swiss chard with a hint of sweetness and a slight crunch by preparing it with raisins and almonds, like in this side dish recipe from Gourmet via Epicurious.
Ingredients:
½ large onion, sliced lengthwise to ¼ inch thick (1 cup)
2½ tablespoons extra-virgin olive oil, divided
¼ teaspoon Spanish smoked paprika
2 pounds Swiss chard, center ribs discarded and leaves coarsely chopped
½ cup golden raisins
½ cup water
¼ cup coarsely chopped almonds with skins
Directions: Cook onion with ¼ teaspoon salt in 2 tablespoons oil in a 5- to 6-quart heavy pot over medium heat, stirring, until softened. Sprinkle with paprika and cook, stirring, 1 minute. Add chard in batches, stirring frequently, until wilted, then add raisins and water. Cook, covered, stirring occasionally, until chard is tender, about 7 minutes. Season with salt.
Cook almonds in remaining ½ tablespoon oil in a small, heavy skillet over medium-low heat, stirring frequently, until golden, 3-5 minutes. Sprinkle almonds over chard.
2. Collards: Collard-Wrapped Burritos 
Collards are another "any time of the year" vegetable, which Jill Nussinow calls "under-appreciated." Speaking to WebMD, Nussinow said that this is because people do not know much about them outside of the South, where collards are a staple. Nutritionally, they pack the same punch than the better-known green kale but have a stronger taste. Fox News elaborates on that nutritional profile, listing vitamins C, E, and K as being found in collards, along with beta-carotene and omega-3 fatty acids. Like other dark, leafy greens, collards have been associated with a decreased risk of certain cancers, including lung, colon, prostate and breast cancer.
Take your greens and turn them into a burrito by following this recipe from Spark Recipes. Vegetarian, filling, and full of other good-for-you ingredients like quinoa, vegetables, and black beans, it makes 10 servings and can be altered to suit your preferences.
Ingredients:
1 teaspoon fine grain salt
10 large collard leaves, thickest part of stem trimmed
1¾ cups water
1 cup quinoa
1 tablespoon extra virgin olive oil
2 teaspoons minced garlic
½ teaspoon ground cumin
½ teaspoon ground coriander
1 tablespoon olive oil, plus more for pan
1 (20-ounce) can black beans
1 carrot, shredded
3 scallions, chopped
2 Roma tomatoes, chopped
1 red bell pepper, chopped
¼ teaspoon freshly ground black pepper
1 pound reduced-fat sharp cheddar, shredded (about 3 cups)
Directions: Preheat oven to 350 degrees Fahrenheit . Spray a 9-by-13-inch ovenproof serving pan with olive oil. Bring a pot of water to a boil; add a few pinches of salt. Submerge the collards for 2 minutes in boiling water. Drain and set the collard leaves aside.
In a medium saucepan with a lid, add 1¾ cups water and the quinoa. Cook, covered, over medium-low heat for 20 minutes. Set aside and leave covered. Meanwhile, heat 1 tablespoon olive oil in a large sauté pan over medium heat. Sauté the garlic, cumin, and coriander for 1 minute. Add the beans, carrot, scallions, tomatoes, bell pepper, salt, and pepper. Let cook for 5 minutes, stirring occasionally. Remove from heat and let cool. Add a splash of water if mixture gets too dry.
Lay one collard flat, vein side up. Spoon 2 tablespoons of quinoa, then 3 tablespoons of the bean mixture, onto the trimmed end of the collard and sprinkle with cheese. Fold each side over the filling and roll like a burrito. Repeat with remaining collard leaves. Arrange the burritos in the serving pan and bake, covered with foil, for 20 minutes or until heated through.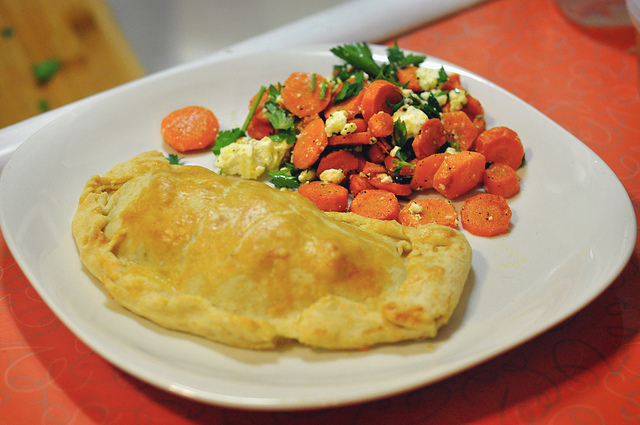 3. Kale: Spinach and Kale Turnovers
Trendy and nutritious, the health benefits of kale are widely touted these days. Joy Bauer on her website says that since kale is a top-notch carbohydrate that is also low in calories, diabetics can use it to help manage type 2 diabetes. For people who want to shed a few pounds, kale is a must-include, and with nutrients like beta-carotene, lutein, and zeaxanthin, kale keeps your skin, eyes, hair, and nails in their healthiest state. Your bones and teeth will also be stronger thanks to the vitamin K and calcium found in kale.
With these turnovers from Cooking Light, you'll be getting a two-for-one leafy green dish. The power of spinach is combined with kale for a tasty turnover snack or side.
Ingredients:
2 teaspoons olive oil
1 cup chopped onion
1 garlic clove, chopped
3 cups chopped kale (about 1 small bunch)
1 (6-ounce) package fresh baby spinach
½ teaspoon freshly ground black pepper
¼ teaspoon salt
⅛ teaspoon ground nutmeg
¾ cup (3 ounces) crumbled feta cheese
1 (11.3-ounce) can refrigerated dinner roll dough
cooking spray
2½ tablespoons grated fresh Parmesan cheese
Directions: Preheat oven to 375 degrees Fahrenheit. Heat olive oil in a large skillet over medium-high heat. Add onion; sauté 10 minutes or until tender and lightly browned. Add garlic; sauté 2 minutes. Add kale and spinach; sauté 8 minutes or until kale is tender. Stir in pepper, salt, and nutmeg. Remove from heat; cool slightly. Stir in feta.
Separate dough into 8 pieces. Roll each dough piece into a 5-inch circle. Spoon about ⅓ cup kale mixture on half of each circle, leaving a ½-inch border. Fold dough over kale mixture until edges almost meet. Bring bottom edge of dough over top edge; crimp edges of dough with fingers to form a rim. Place turnovers on a baking sheet coated with cooking spray. Lightly coat turnovers with cooking spray; sprinkle each turnover with about 1 teaspoon Parmesan. Bake for 18 minutes or until golden brown. Let stand at least 5 minutes before serving; serve warm or at room temperature.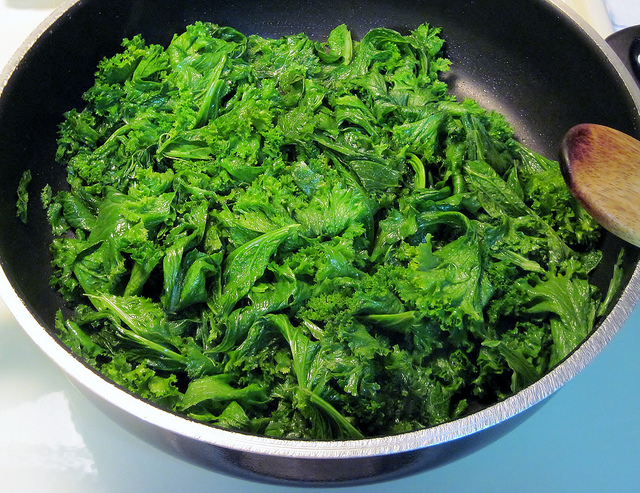 4. Mustard Greens: Penne with Bacon and Mustard Greens
This spicy, leafy vegetable comes from the same plant that gives us mustard seeds, and as a result of grinding those seeds, mustard. But it is the vegetable, not the seed, we are concerned with. In addition to vitamins B6, C, and E, Seattle Market Gardens says mustard greens are also a good source of folic acid, calcium, carotenes, manganese, copper, and fiber. Vitamin C, according to Penn State University, is a possible cancer-fighting vitamin. Animal tests have indicated that eating foods high in vitamin C prevents nitrosoamines from forming in the stomach. Nitrosoamines cause cancer in animals, and vitamin C might be able to prevent their formation in humans as well as animals.
Toss your peppery greens into a pasta dish, like this one from CBSOP. It originally called for frozen mustard greens, and if you plan on buying frozen, not fresh, thaw and drain the greens before cooking.
Ingredients:
1 pound penne or penne rigate pasta
½ pound bacon, cut into ½-inch pieces
1o ounces mustard greens
2 tablespoons tomato paste
1 onion, chopped fine
3 cloves garlic, minced
1/4 cup chicken stock
1 pinch Italian seasoning
¼ teaspoon crushed red pepper flakes
2 tablespoons extra virgin olive oil
Freshly grated Parmesan cheese, to taste
Salt and pepper, to taste
Directions: Cook penne according to package directions. Drain well but do not rinse. Cook bacon in a large skillet over medium-low heat until it is cooked through but not crispy. Remove from grease and place on paper towels to drain. Reserve 1 tablespoon bacon fat. Discard or store the rest. Add olive oil to skillet and stir to combine with bacon fat. Add onion and garlic, stirring until onion is translucent and garlic is fragrant. Add tomato paste and stir through. Return bacon to pan and toss well. Add greens and stir until heated through. Add Italian seasoning, red pepper flakes, chicken stock, salt, and pepper. Taste for seasoning — it is OK if it is a bit oily at this stage. Add pasta and toss to coat well. Grate approximately ¼ cup Parmesan cheese over pasta and toss well. Serve hot with additional Parmesan on top if desired. Enjoy!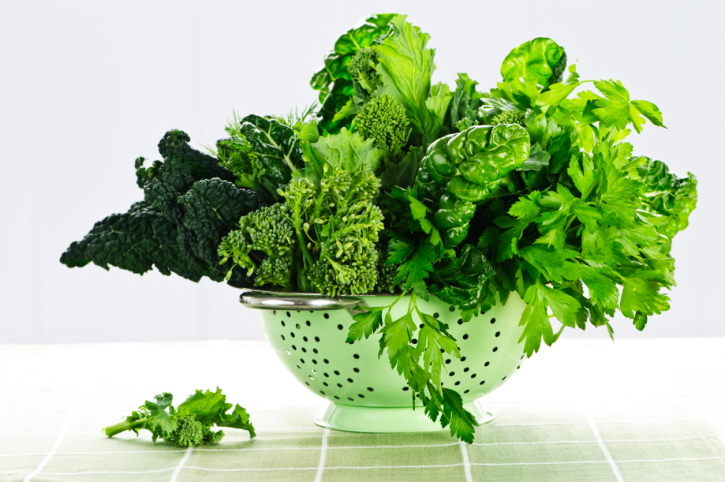 5. Southern Greens
If you follow this recipe from Michael Symon and The Cooking Channel, nothing will be holding you back from getting a dose of all the various nutrients in the above four leafy greens in one Southern-style side dish.
Ingredients:
1 pound bacon, diced
2 Spanish onions, sliced
4 cloves garlic, sliced thin
1 pound collard greens
1 pound kale
1 pound mustard greens
1 pound Swiss chard
1 teaspoon red chile flakes
1 large pinch salt
¼ cup red wine vinegar
1 teaspoon sugar
Hot sauce (such as Sriracha)
Directions: In a large Dutch oven, add the bacon to the pan over medium heat and cook until the fat begins to render. When the bacon is almost crisp, add the onions and sweat for 3 minutes. Add the garlic and sweat for an additional minute. Remove the tough stems of the greens and discard. Roughly chop the greens and tender stems and add them to the pan with the chile flakes and a large pinch of salt. Cover and cook over low heat for 10 minutes. Remove the lid and add the vinegar and sugar. Put the lid back on and cook for an additional 30 minutes. Remove from the heat and check your seasoning; if it's not spicy enough for you, add your favorite hot sauce to taste.
More From Wall St. Cheat Sheet: